The Drift lounge can be discovered, together with a spectacular bay view, inside the vertical resort of the multi-awarded Hilton Pattaya Hotel, in the popular seaside city of Pattaya near Bangkok. The journey through the hotel's interior encourages spatial contemplation. From the cave-like ground lobby to the first encounter with the mesmerising main lobby on level 16, the interior is one that commands respect.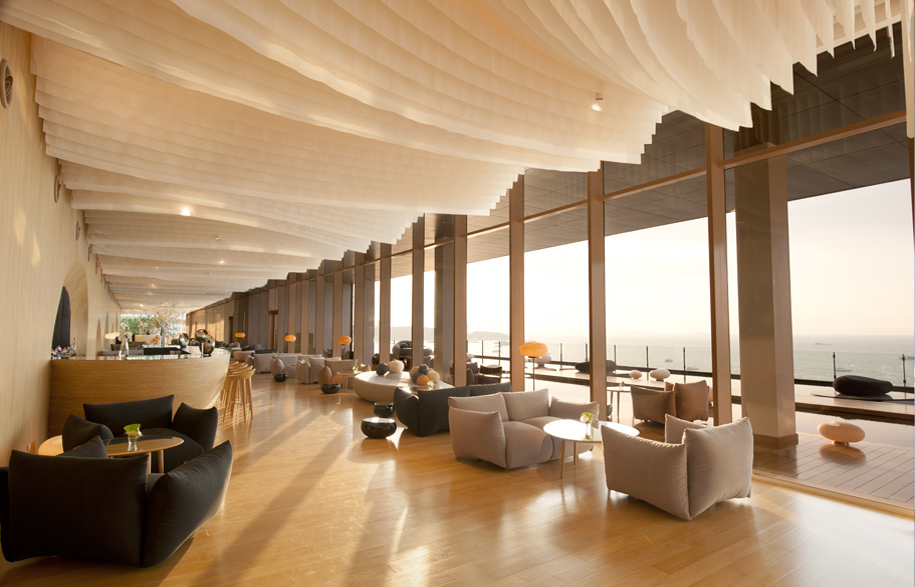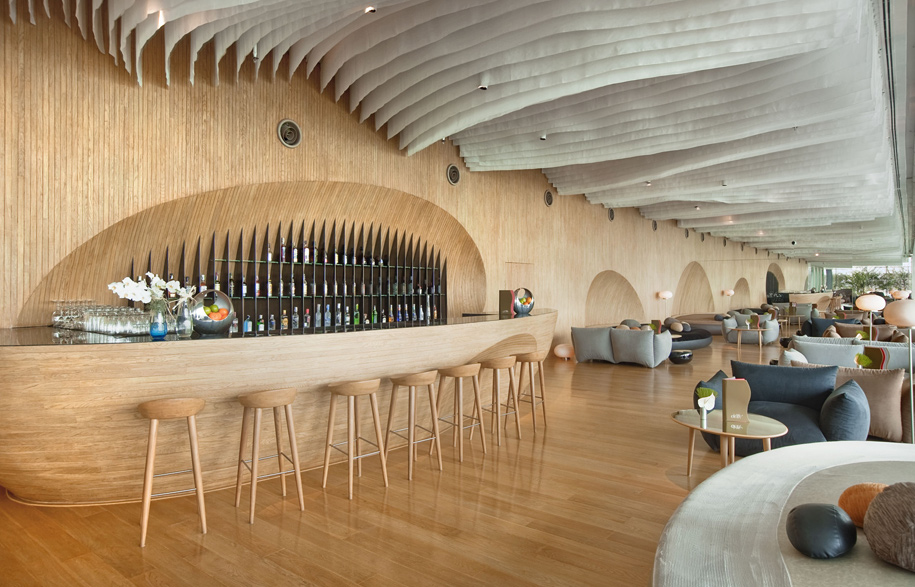 The main lobby is a harmonious space inspired by natural elements, with pebble stone-inspired furniture and lights, and rug patterns reminiscent of tide marks on the sand. The feature architectural intervention covers the entire ceiling plane, where an abstracted rippling effect made from heavy fabric installations recalls large sand dunes.
"Specifically, we were inspired by the idea of a person standing in shallow water and looking up at the sky towards the light, with the sand and pebbles beneath their feet," says Amata Luphaiboon, Principal, Department of Architecture Co Ltd. "When choosing a colour scheme we opted for soft, pale hues to reflect the neutral tones of sand, wood and pebbles. The aim was to replicate within the lobby the feeling of walking along the beach."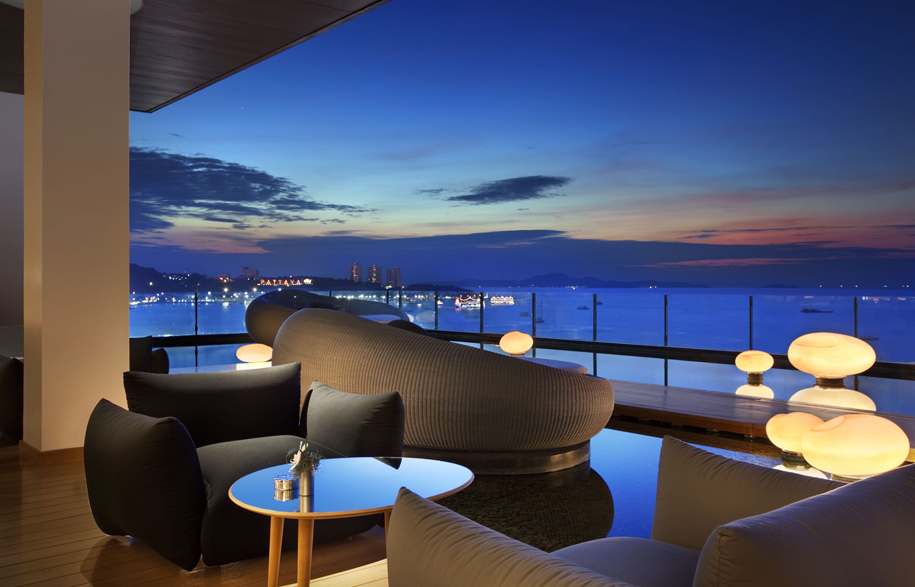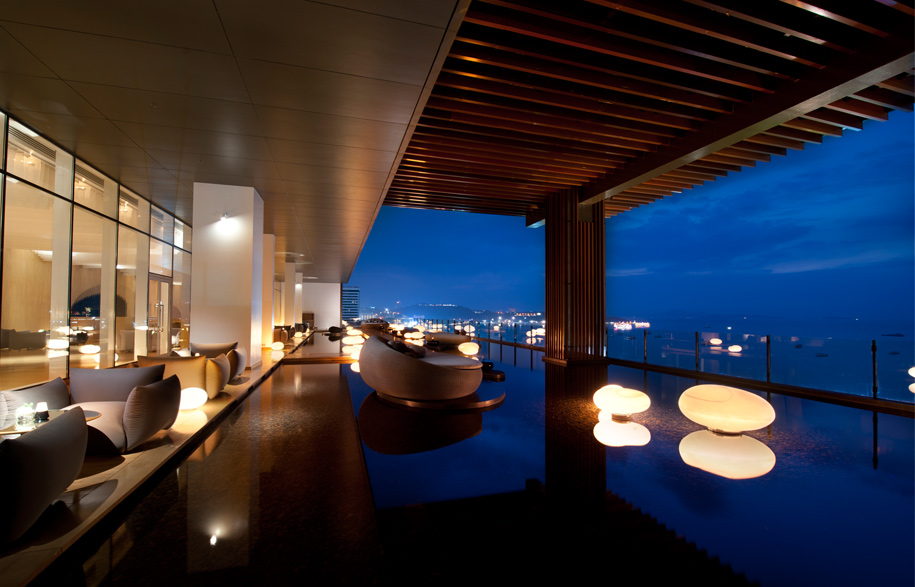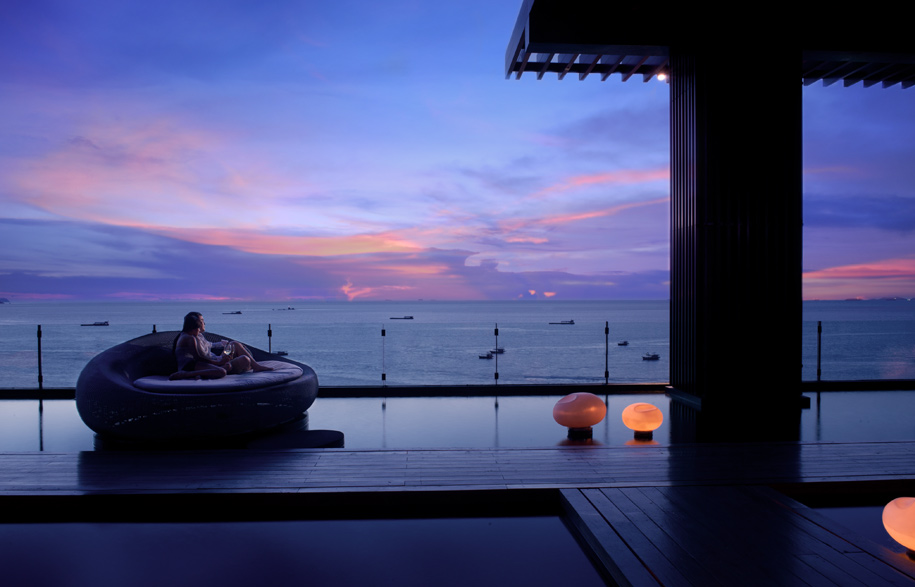 With the visual flow from within the Drift lounge always beckoning towards the seafront, the soft colour scheme of the interior landscape complements, but never overshadows, the natural beauty of the bay outside. Each time a breeze passes through the door to the outdoor lounge area, the fabric installations gently flicker, and the sea whispers to the interior space, an audible sign of their intimate relationship. The lounge then becomes part of the journey, a border space between the natural beauty of the bay view in the front, and the mesmerising interior landscape behind.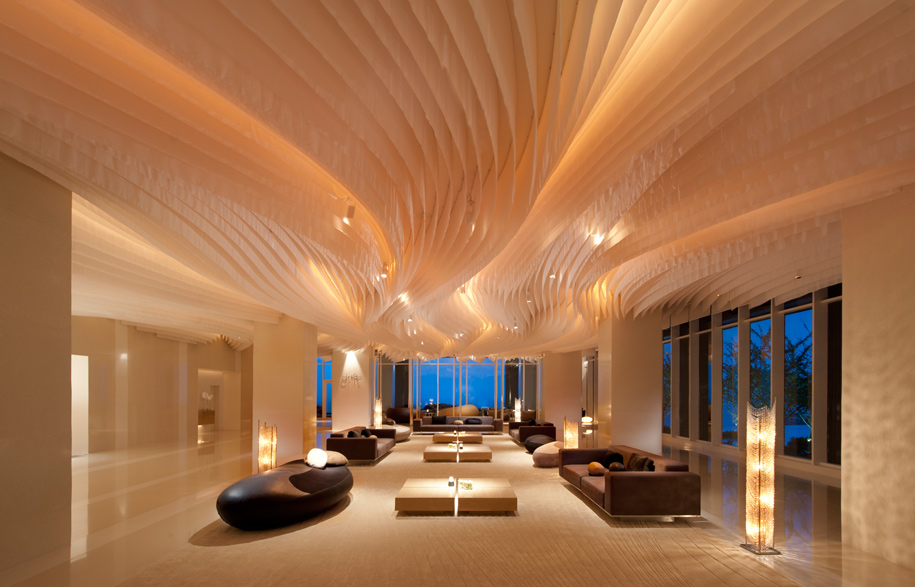 The lounge is divided into two spaces of indoor and outdoor seating, faintly separated by full-height glass that emits daylight throughout the room. The finishing of the interior comes with a full-height mirror on one end, to elongate the visual length caused by the flow of the ceiling from the lobby area. On the other side the backdrop is a wooden wall with alcoves for oversized, recessed  daybeds. The outdoor space then opens up to the sea vista in a parallel manner, with the combination of a calming, shallow and reflective pond sprinkled with pebble-like chaise lounges and lamps.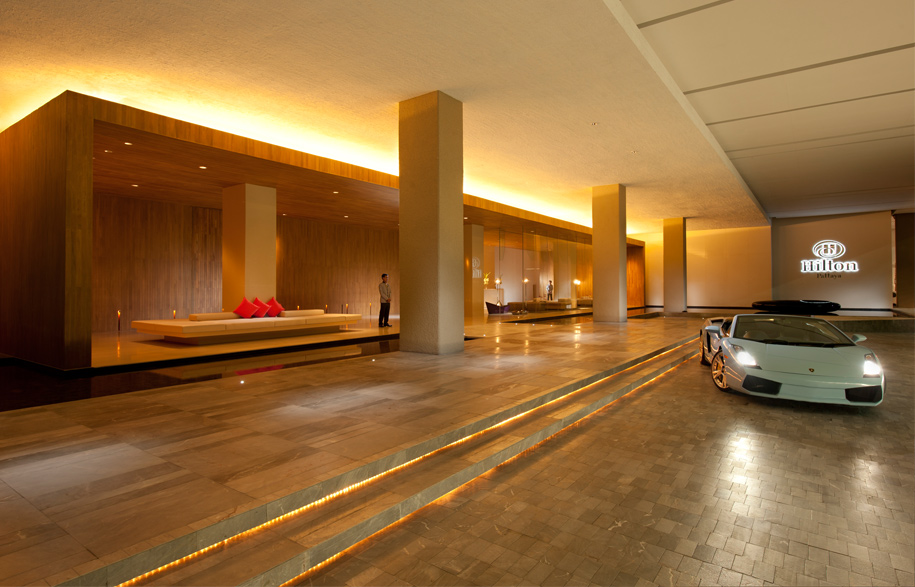 Though the idea of a day spent in a high-rise building by the beach could be deemed challenging, the Hilton has contradicted such thought with the Drift Lounge. Its abstracted interior landscape and spectacular panoramic view rather seems a much more sophisticated place than the crowded reality on the beach.
Hilton Pattaya Hotel
hilton.com
Tags: Architecture, Bangkok, coastal, hotel, Interior Design, Thailand
---