Conceptually responding to the division of a heritage estate in Ivanhoe, the existing double-storey masonry structure has been integrally woven into the adjoining home of the same proportion through a parting wall. In doing so, a portion of the original structure is retained to establish this relationship, while the modern architectural addition is linked through visual weight and finish.  
Exploring the client's craft as both a concreter and structural engineer, the addition is a modern counterpart to the original. Using in-situ concrete, the architecture embodies a similar solidity, mass and arrangement of windows to the original brick portion of the building. Additionally, a large portion of the façade has been realised as an underpoured and raw concrete wall.
Referencing the torn aspect of the brickwork through expressed formwork that is proportionally similar to the bricks, the wall is raked to conceal a rooftop balcony with views of the city skyline.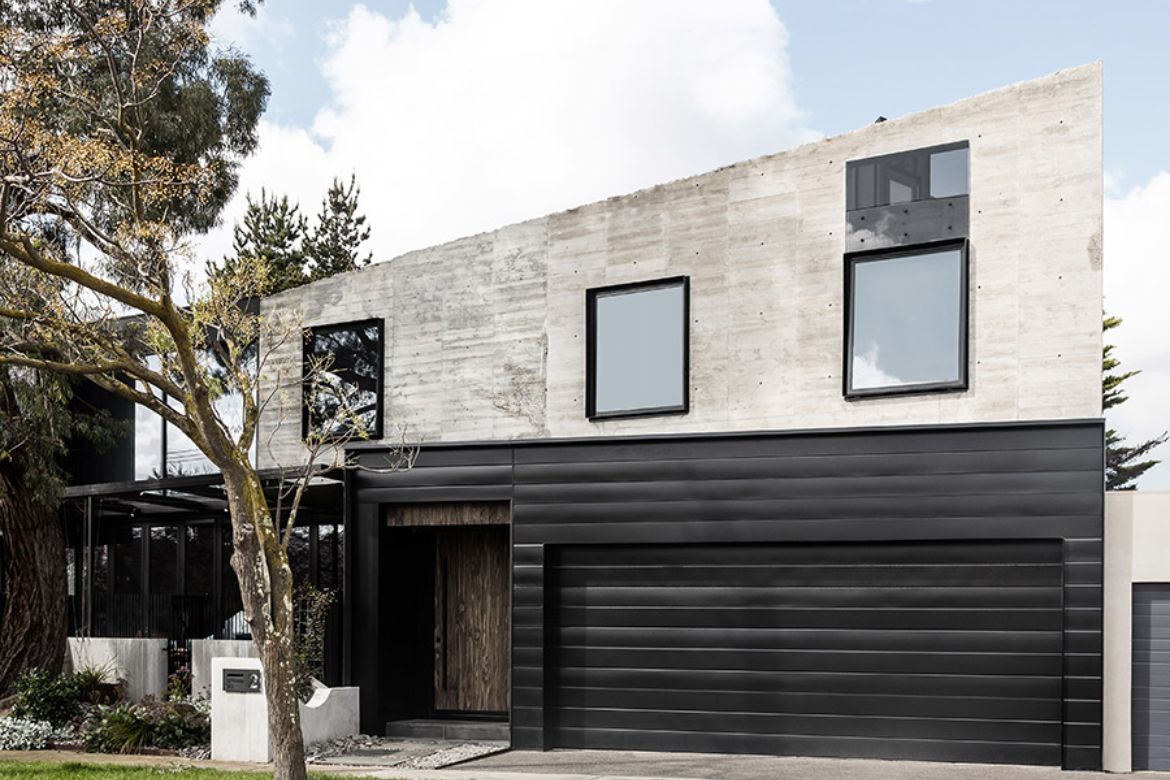 Entering the home through a large alcove there is a solid sense of arrival with a heavily patterned timber door and detailing that speaks to the surrounding gum trees. Here, the horizontal lines of the double black garage have been extended to create a porte-cochere of sorts, with solid giving way to blades as they shift over the entry space. A void is created between the old and new to introduce light and warmth to the centre of the home and makes a feature of the beautiful old eucalypt. 
The interior is elegantly realised with minimalist aesthetics giving drama and scale. The centrepiece is an extraordinary staircase in black steel that sweeps through the space with a large sculptural gesture. A yellow chair is placed for optimal contrast and the joyful insouciance of this splash of colour in an achromic interior can't be beaten. Concrete continues as a feature with expressed formwork slightly softened, but continuing to hold true to the honest expression of materiality.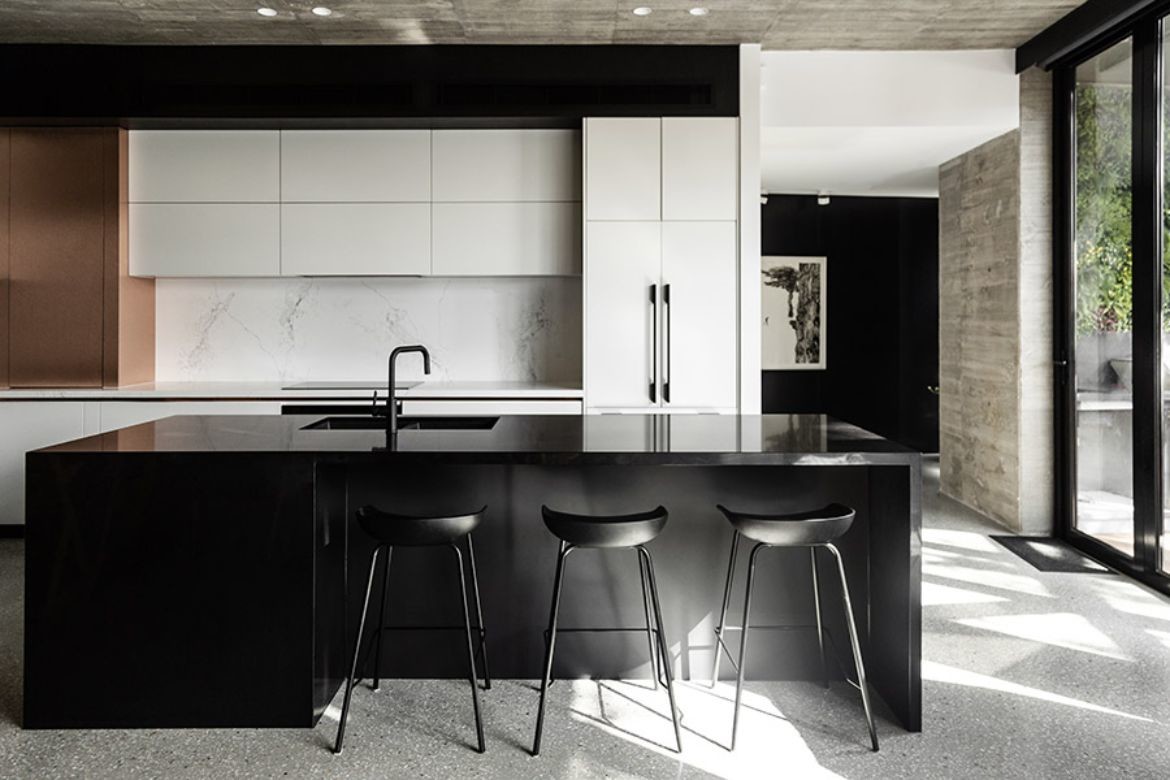 A black island and white cabinetry in the kitchen are eased by the introduction of a lightly veined white marble. Again, the solution is elegant without taking from the drama of the bold geometrics. The warmth of timber has been introduced to this portion of the home with a slatted screen cladding the ceiling and wall adjacent to the stair void. Worked around windows and apertures, the screen extends through the entire house from upper to lower floors.
The timber dining table and stairs within the black steel, continue this warmth, while an array of black mesh pendant lamps punctuate the space with a sculptural presence to match that of the staircase.
Large black steel framed glass doors open to a deck, while robust steel doors and walls punctuate the home with their calm strength. And this is what defines the home. It is beautiful, yes, from a modernist aesthetic view, but it is also incredibly calm and inviting with a built-in hush and cool that sits in harmony with the ancient eucalypt.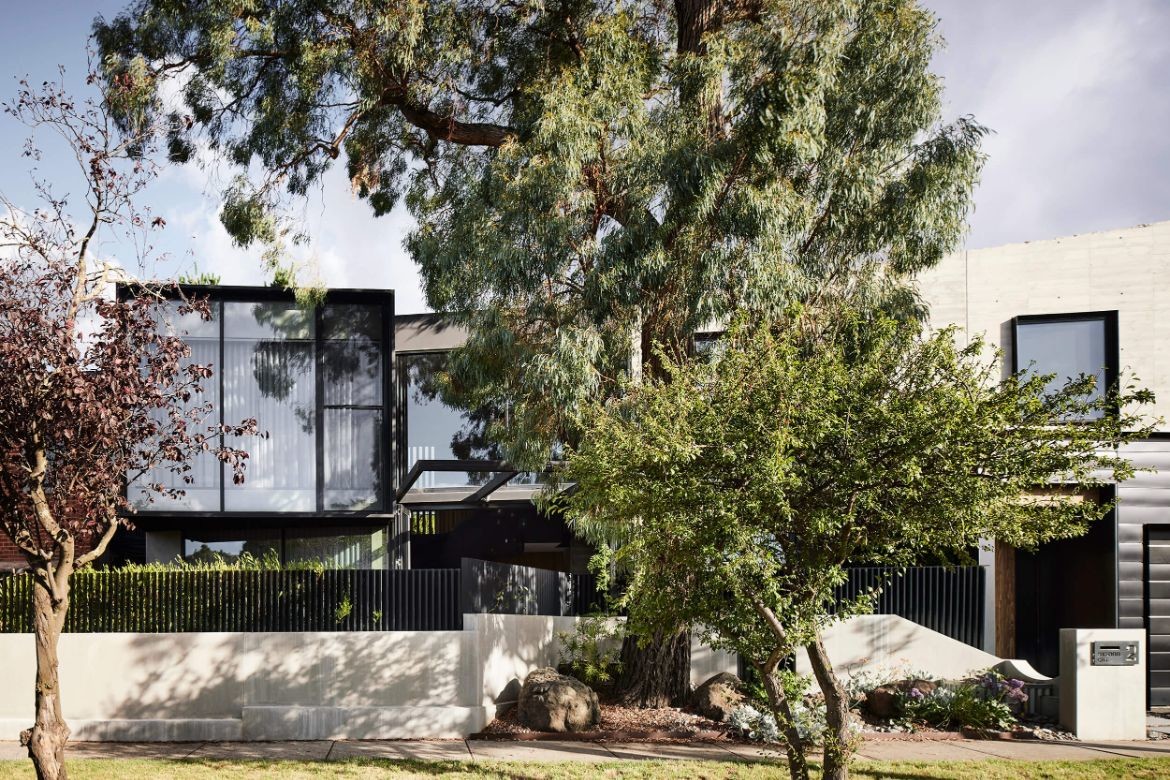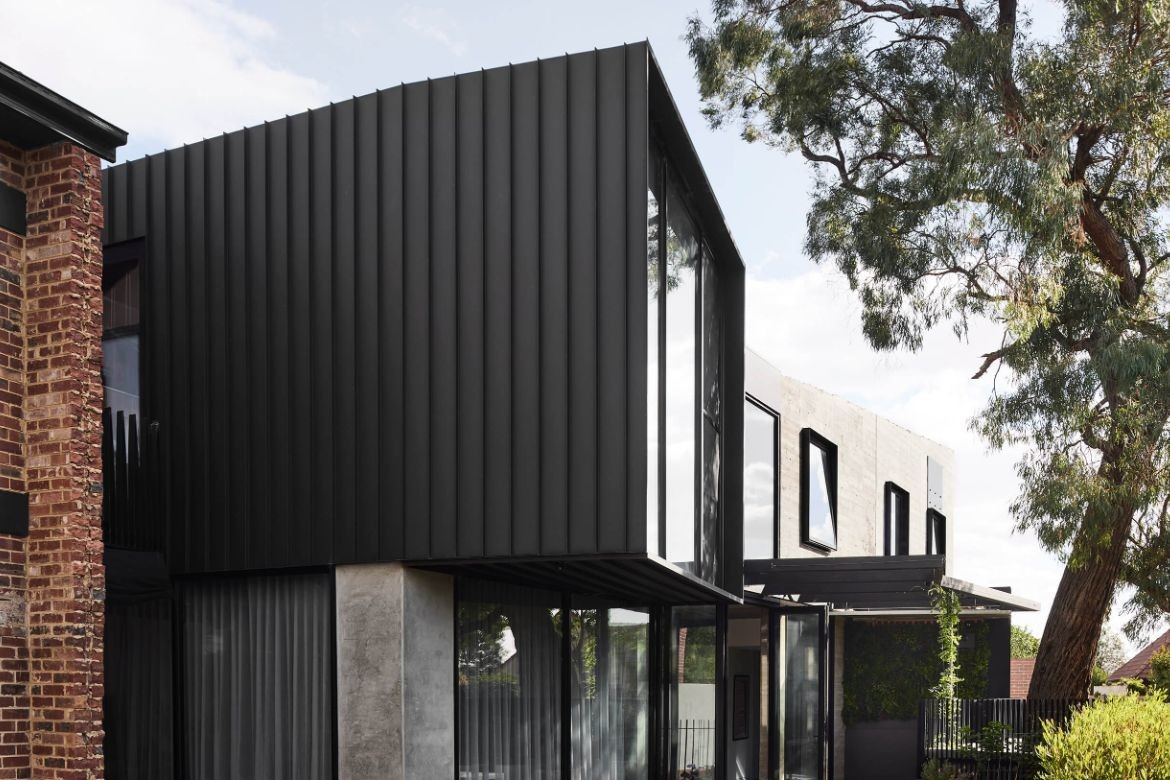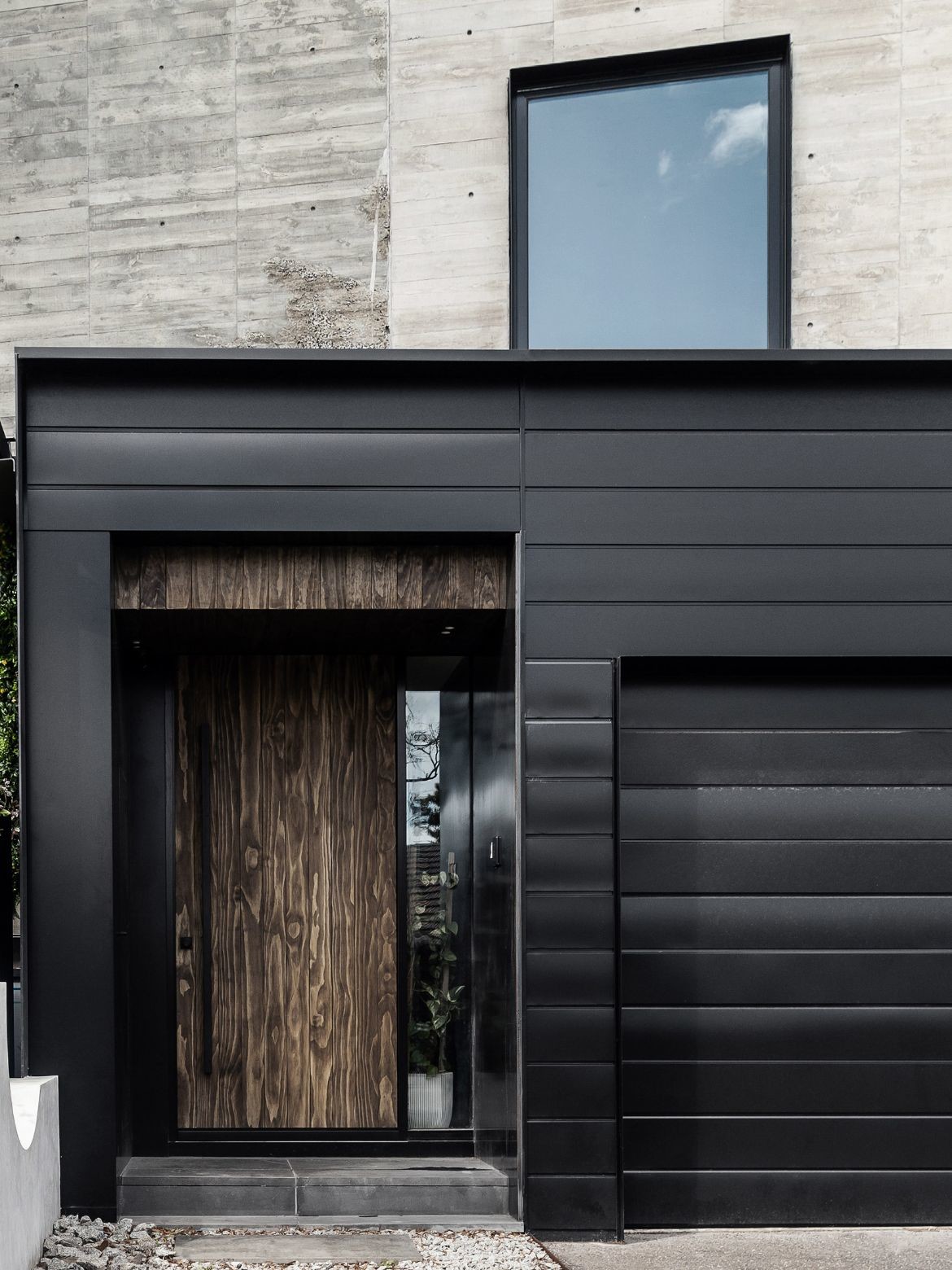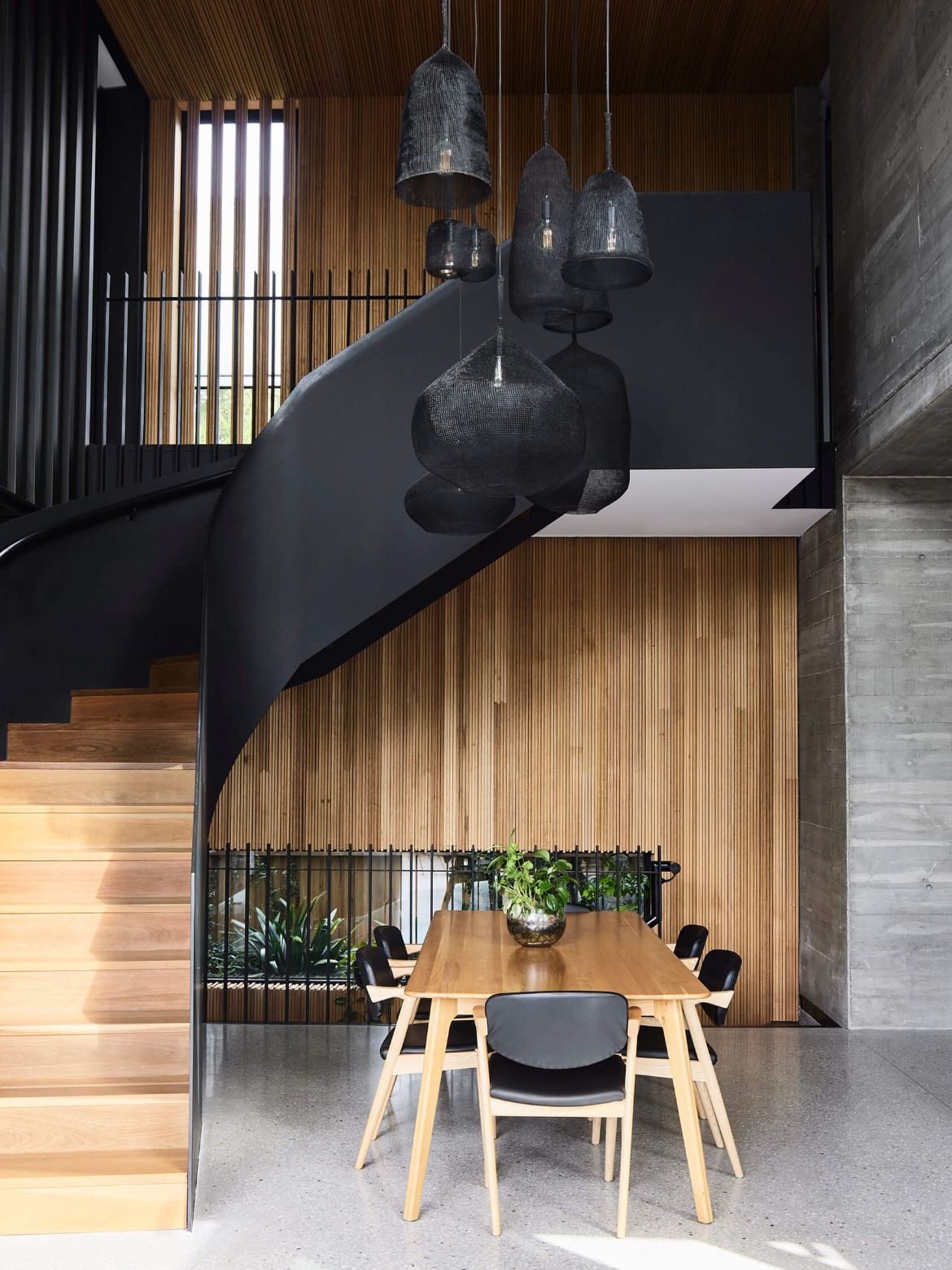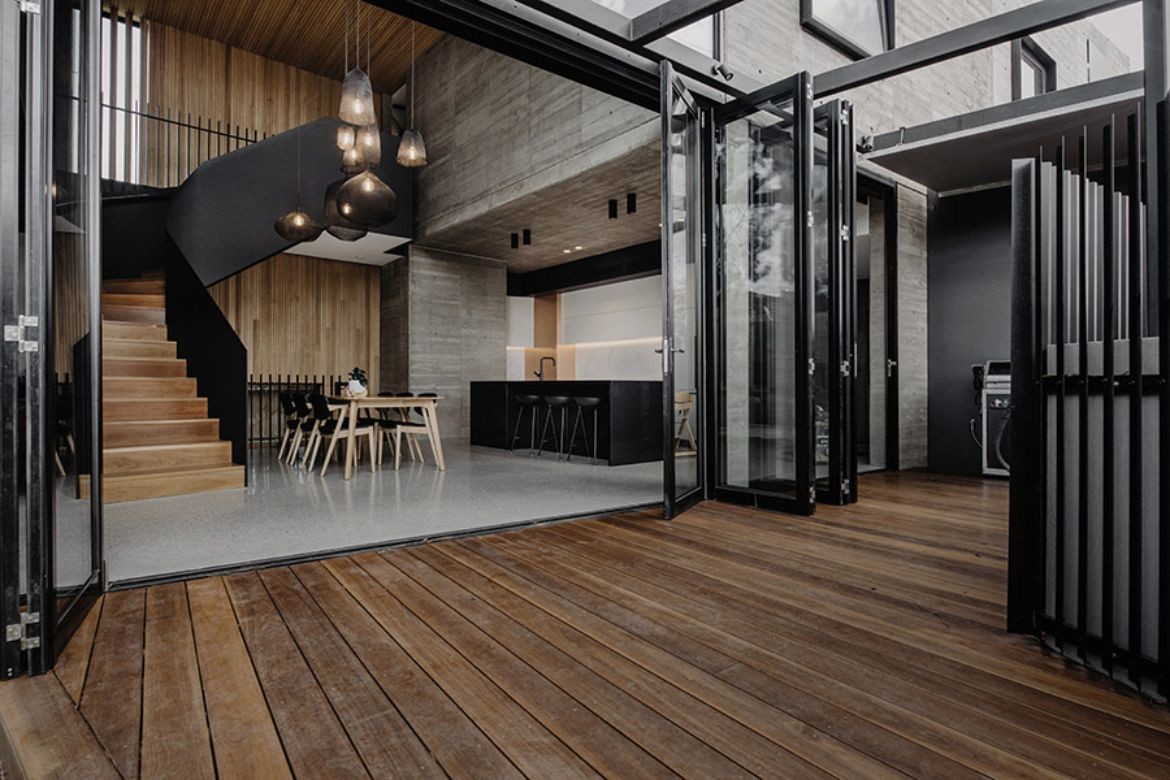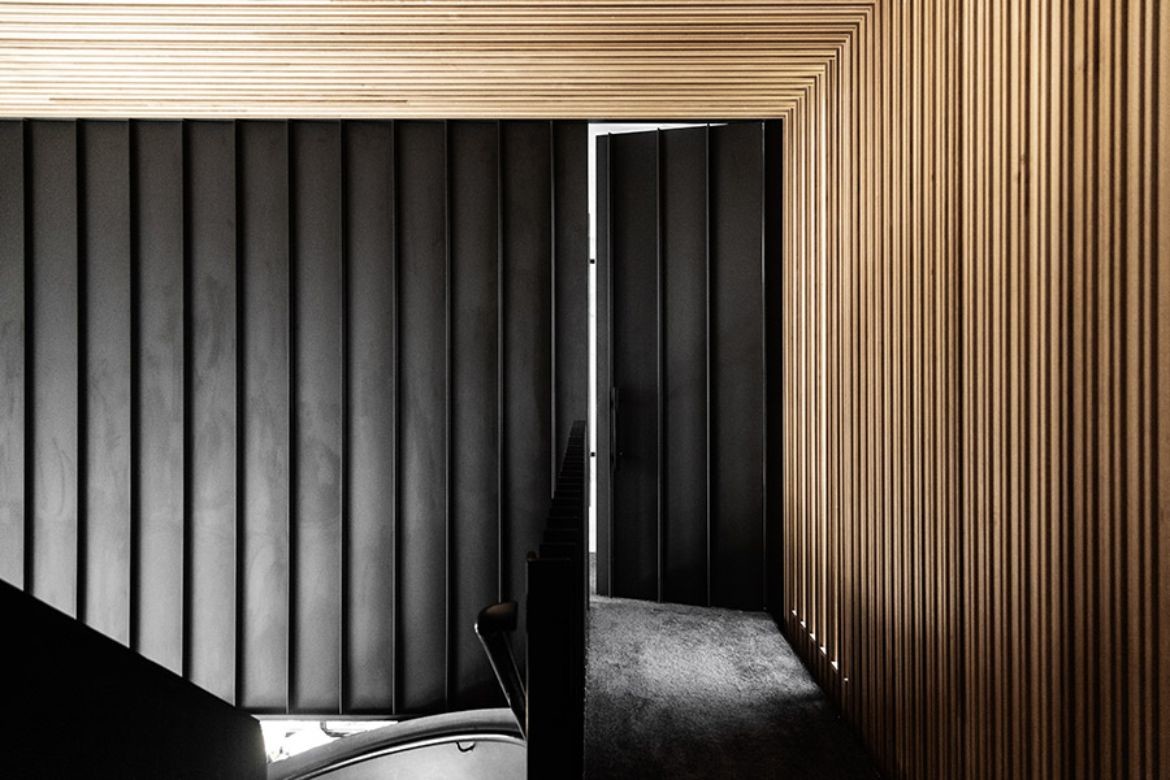 Project details
Architecture & interiors – Splinter Society
Photography – Sharyn Cairns
We think you might like to read about more homes designed by Splinter Society
---