In the valley of Victoria's Strathbogie Ranges, a stallion stud farm has been given a new lease on life, with one of its outbuildings transformed into a family home. Light, bright and spacious, this renovation blends old and new into a considered reimagining, where finishes are luxurious and heritage features hint at the building's past life.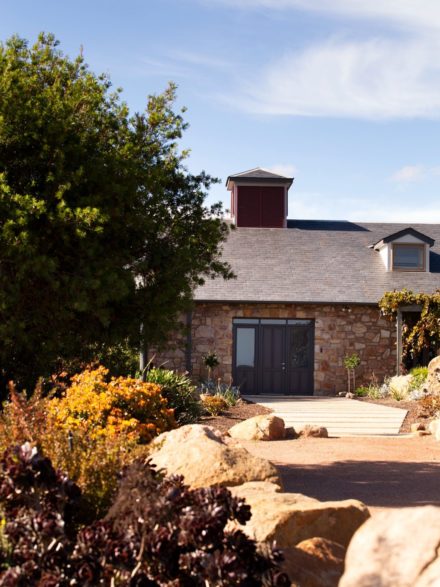 Interior designer Merinda Garrett was given a brief to completely renovate the equine space, transforming it into a family home with plenty of room for entertaining. With just three months to complete the project, she drew inspiration from the landscape and the country lifestyle: opting for fixtures, finishes and furnishings that would frame views and create a visual dialogue with the surrounding environment.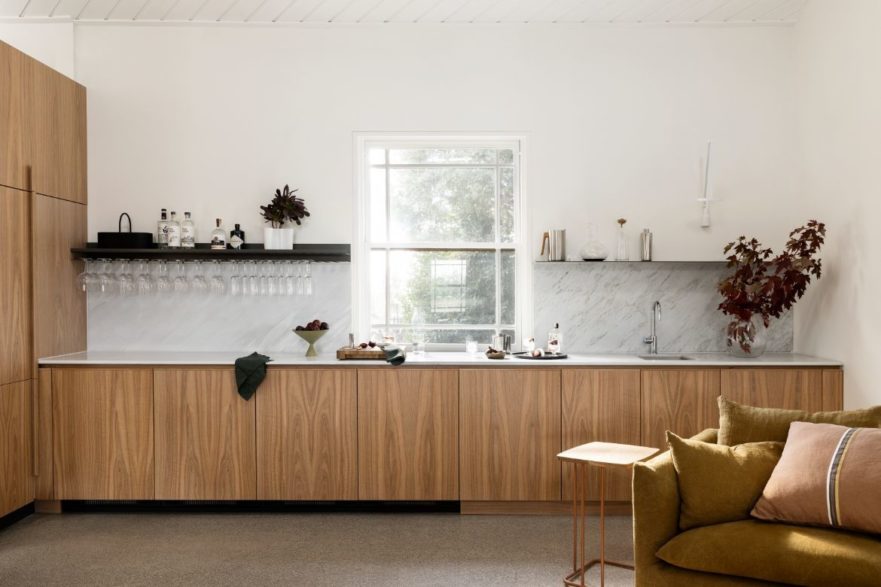 The timeline also demanded careful consideration of specification choices, with a need to work with brands who could enhance the entire design process. Australian brand Cantilever was chosen throughout much of the home. Known for their capacity to deliver whole-home joinery solutions, Cantilever's hand-made, build-to-order approach provided the design flexibility needed and the craftsmanship desired.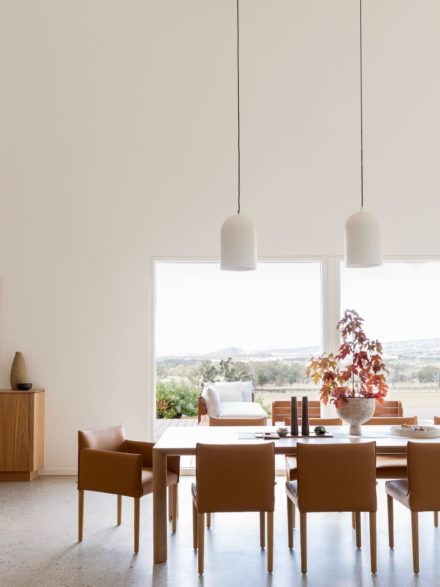 The result was a harmonious take on rural Australian design. Original windows and soaring ceilings speak to vernaculars of barns and stables, while polished concrete and soft white walls inject a sleek edge drawn from modern city apartments. Open spaces and multiple living areas allowed Merinda to play with scale, bringing in statement light fixtures and elongated furniture settings that draw the eye to aspects within the home and the farmland beyond. Here, colours are drawn from earth hues but elevated to sit within a contemporary environment. From a base layer of whites and greys; browns, greens and deep blues have been carefully layered, with natural stone and polished timber tying the colours and materials together.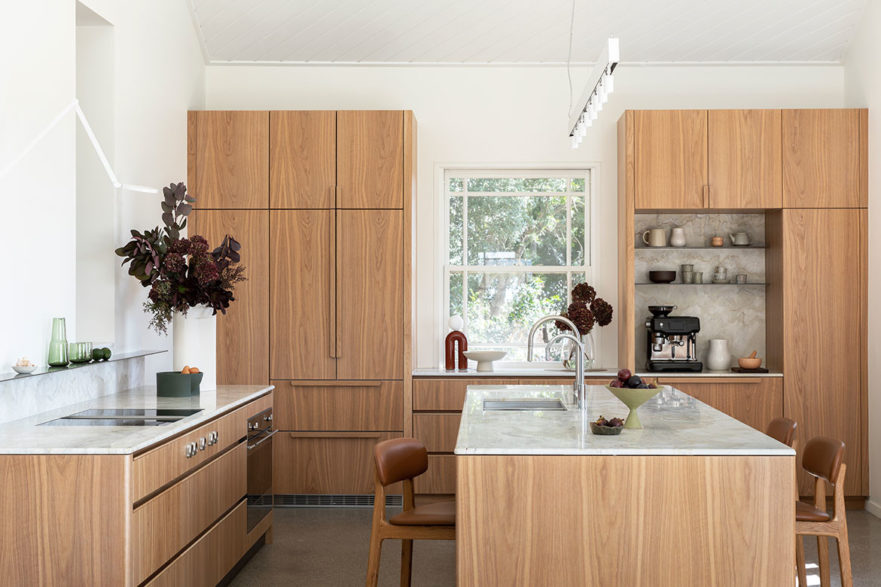 In the kitchen, volumes of American oak fill the generous space, providing ample room for both cooking and entertaining. Zones for cooking, preparation and storage are arranged around the buildings' existing windows, with the kitchen's segmented u-shape orientating it toward an expansive outlook over the horizon.
Designed as the anchor of the home's many spaces, the kitchen brings visual depth and textual finesse with the help of Cantilever's EDIT system. Completed with an exquisite craftsmanship that matches the laborious work of the building's original structure, Cantilever provided an effortless extension to the sensitive balancing of old and new. From an integrated cooktop and solid storage solutions, to a generous island bench and dedicated coffee niche, Cantilever provided bespoke solutions that were able to be configured to the home's unique layout. The timber frontages soften the home's minimalism while finger pulls and curved corner detailing add a sense of luxury that juxtaposes the typical rural outbuilding.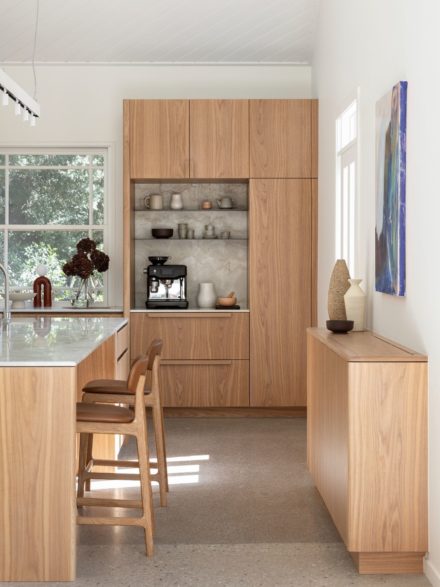 Cantilever's holistic and flexible approach to design also allowed for continuity in the open-plan layout, with the dining and living space also featuring the brand's designs. EDIT's dedicated bar solution meets the client's brief for an entertainer's home, with an inbuilt sink and units for refrigeration and drink and glassware storage. In the living space, EDIT pieces provide additional storage and thoughtful home automation. Here, the clients have achieved a hidden television effect, with a custom solution from Cantilever and Future Automation allowing for the family television to be stored and accessed via the EDIT sideboard.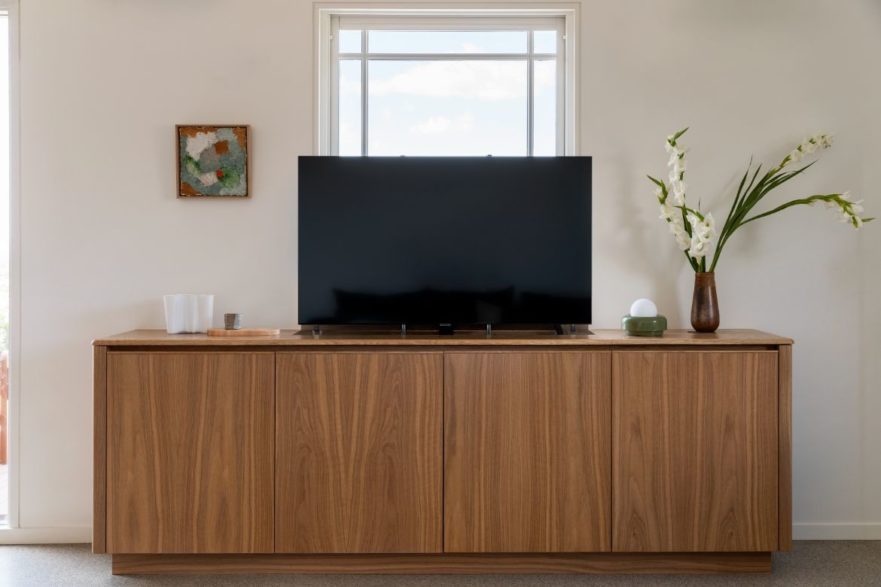 Taking full advantage of the home's endless views, the design team created an outdoor living area that extends into the Australian landscape. A sleek and durable outdoor kitchen from Cantilever makes an aesthetic statement against the home's black and stone facade, while the integrated fridge and barbeque ensures entertaining is made simple, with the hosts never too far from the guests, whether they be dining inside, outside or even taking a dip in the resident drop pool, complete with enviable views over Victoria's Goorum Falls range.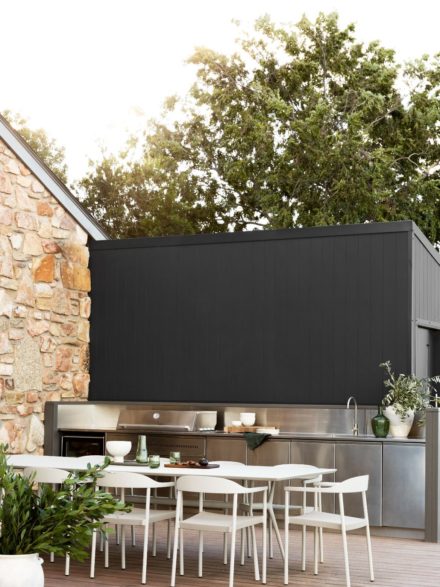 This is a space that brings city living to regional Victoria, where thoughtful design plays homage to a rugged landscape and craftsmanship and materiality embed a sense of luxury that turns a stud farm into a home.
Discover more of Cantilever's approach to joinery, manufacturing and interior specification.
Cantilever
Shoot photography: Martina Gemmola
Shoot styling: Kylie Forbes
Joinery: Cantilever Interiors
Interior Design: Merinda Garrett
---