Above: The bach sits in a clearing surrounded by dense native trees and ferns.
If New Zealand is considered 'remote', drifting in the expanse of the Great Southern Ocean, then Great Barrier Island is even more so. About a three-hour ferry ride north-east of Auckland, it was named by Captain Cook for the barrier it forms between the Hauraki Gulf and the open sea.
Despite this remote existence, Great Barrier Island is home to a population of 850, with regular visitors adding to the numbers. Kim Bannister and Frances McClure are two such visitors; their respective families have been making the trip to the island for years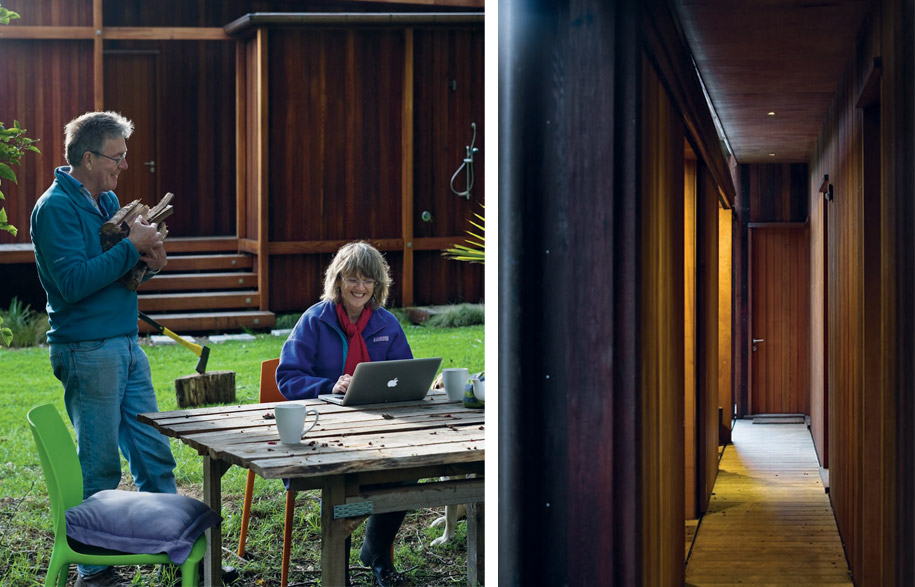 Left: Kim and Frances enjoy their bach as often as they can.
Right: The hallway acts as an artery from which the bedrooms branch off.
Their connection to the island became more permanent when they found an area that would be the site of a future 'bach' – a local term for a modest holiday home. Inhabited by large Puriri trees, Eucalypts and Nikau, it had everything – the look of a sub-tropical New Zealand rainforest, native bush on one side, open fields to the other and a creek running through it.
Kim and Frances invited architect, Paul Clarke of Crosson Clarke Carnachan Architects (CCCA), for a visit. "We visited the site, walked over it and I camped overnight; we chose a fabulous space to build the house, on a green field," Clarke recalls. "The thing I loved about this was the proximity to the dense bush and the privacy – it really did feel like you were removing yourself."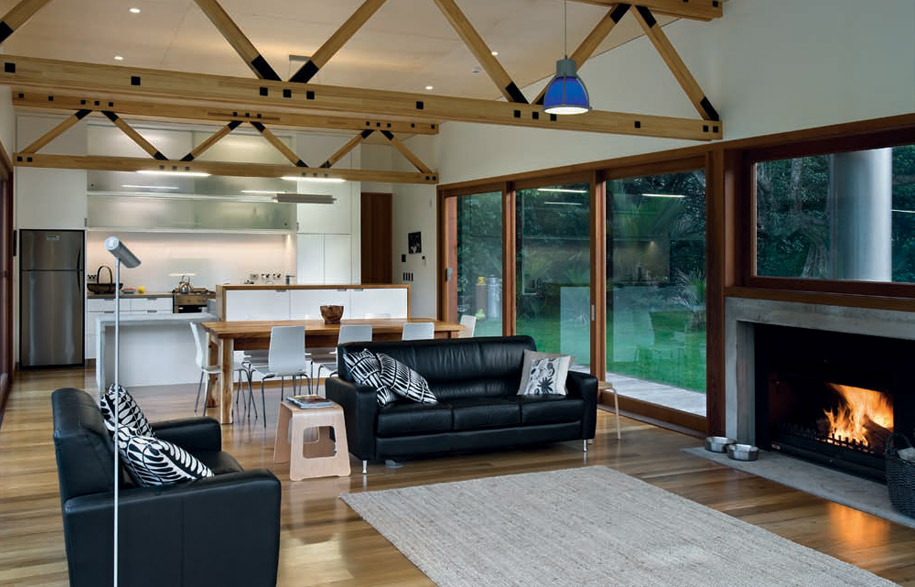 The large internal area has a rural feel about it.
Once the site was chosen, the concept of the bach began to take place. Completely off the grid, with no water, power or phone, Clarke says there was "the freedom of not being too much like a normal house. It was about the experience of actually going away and having something that was quite different". Although, the remoteness also presented a logistical challenge, with many of the materials needing to be transported from Auckland.
With Great Barrier being over 60 per cent Department of Conservation-managed land, there was a sustainable approach to the planning, design and materials, which helped streamline the appearance and function of spaces, as well as the energy used throughout. A project of rustic elegance was inspired.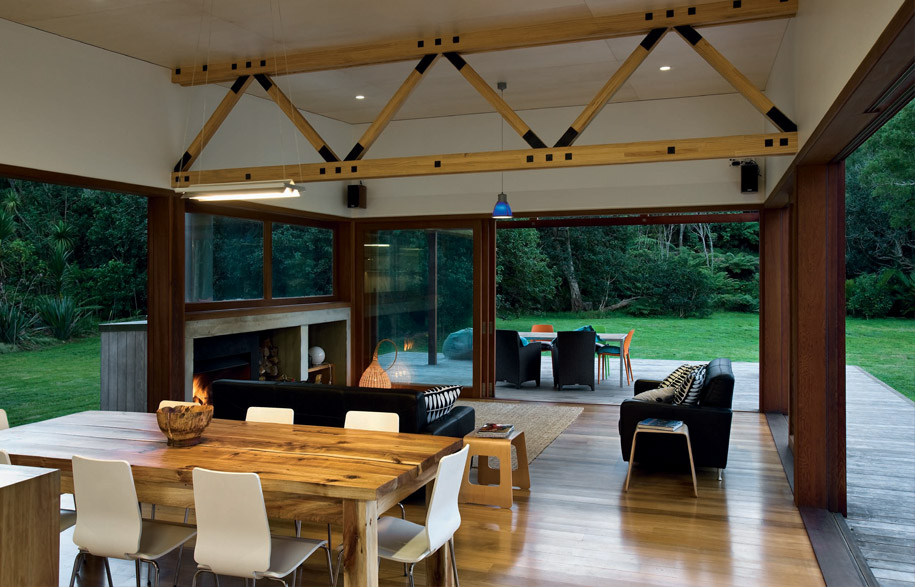 Internally, there is still a connection to the outdoors through a series of glass sliding doors.
The idea was to be completely surrounded by the environment, a sense of living on a massive verandah with an enclosing roof. "We tried to do something incredibly simple," Clarke says. So CCCA designed a series of rooms coming off a passage that leads on to an open plan living space, "where everybody congregates and comes together."
Although simple, the spaces are reconfigurable and maximise potential. An outdoor bathroom provides facilities for any extra guests who want to camp on the site, and a pizza oven catches the late afternoon sun on the western side.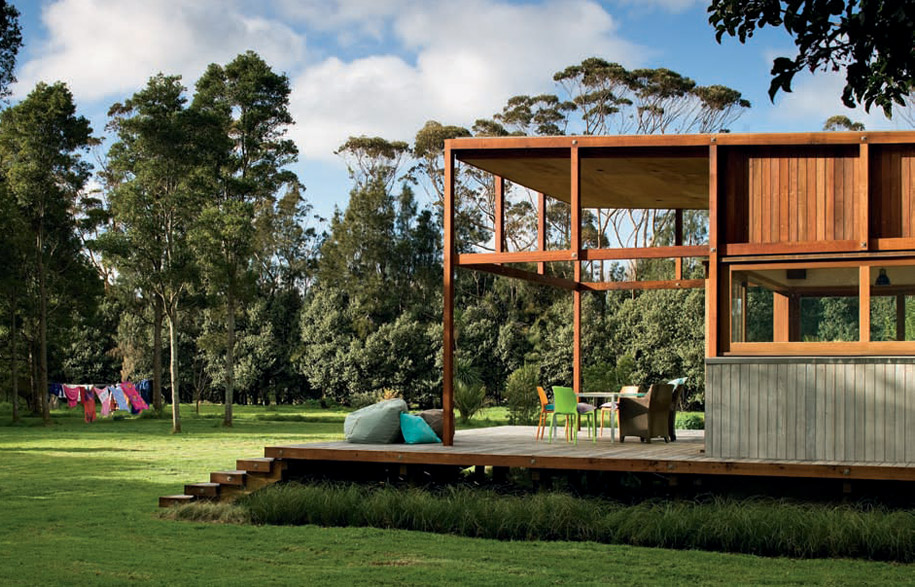 Simple living was the aim, with a focus on the surrounding landscape.
The external frame of Western Red Cedar is not structural, but expresses the internal form and also "hides the roof so you don't see any bulky flashing work you would typically see," Clarke says. "We tried to maximise on the idea of that framework to create the outdoor room, that celebration at the end."
For Kim and Frances, their steady long-distance relationship with the land itself inspired a desire to live as holistically as possible. For them, this meant a deep responsibility to the materials selected and consideration for the surrounding environment. Complementing these motivations, they carried their focus on the locality through to sourcing the labour for the building process. "We've always used local tradesmen, including the builders, plumbers, electricians, landscapers, nurseries, carriers, building supplies, woodworkers, millers, gibstopper, painter, equipment hire, bridge builders, treefellers, labourers, etc.," Frances explains.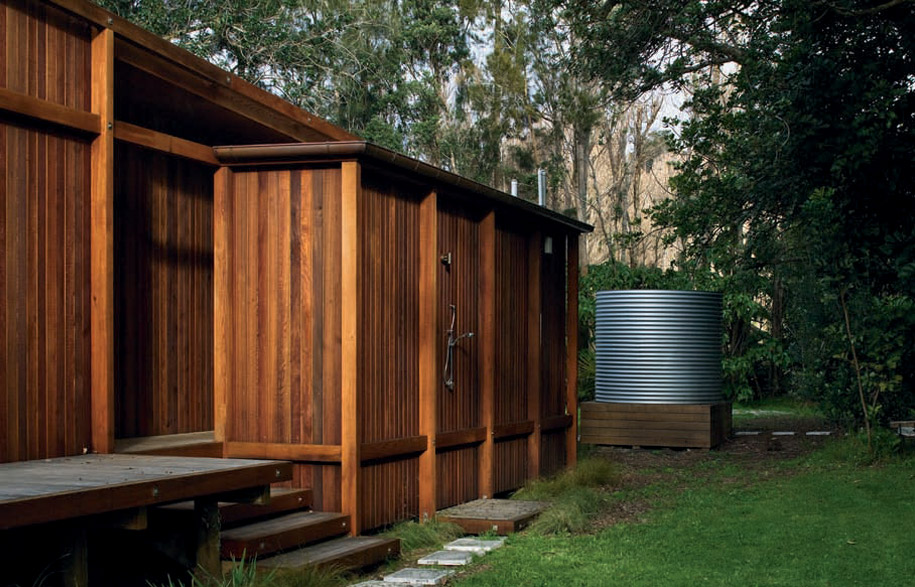 An outdoor shower further connects the living experience with the environment.
Sustainability is approached through diverse elements, including energy conservation, timber sourcing and water and waste management, all of which CCCA integrated into their design. The temperature is regulated through wool-based insulation and low-E glass that absorbs and retains heat during winter months, while the efficient Jetmaster fireplace is fuelled with carbon that has been extracted from the onsite atmosphere.
Many elements in the home have a story, which has now become intrinsically intertwined with their own. Timber laminate in the kitchen was derived from 13 Tasmanian Blackwoods that were storm damaged on the site in 2007, while the largest planks were "sawn up, log-grabbed, milled, transported, dried and lovingly crafted into a unique [dining and outdoor table] piece using a chain of local people," Frances explains. In addition, sustainable Vitex timber certified by the Forest Sustainability Council was sourced from the Solomon Islands and used for decking and internal flooring.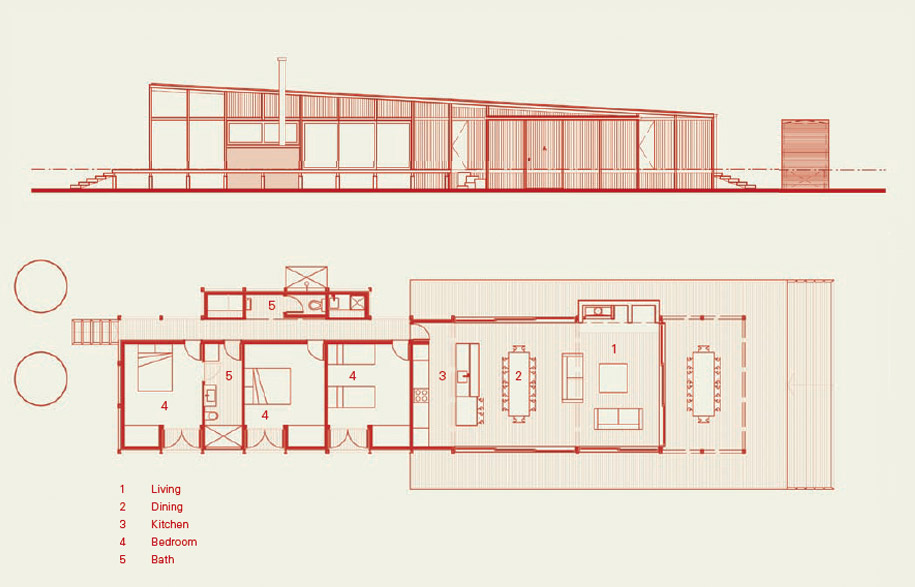 The concept and building of this bach seems like a completely organic process, like something that occurs in nature. As Frances says, "there is a sense of community involvement, interest and pride in this piece and indeed the whole house, which everyone knows about and many have inspected."
It is homes like these, thoughtfully approached, sensitively designed and lovingly crafted, that have a positive energy flow beyond the physical sense. Now that the project is complete, Frances and Kim, selfdescribed 'temporary custodians of the land', continue their symbiotic relationship with the environment, as they "lie in the bath… as the sun fades and the moon rises in the starry ceiling of leaves, sipping shiraz and listening to the birds going to bed".
Bliss.
Photography: Simon Devitt
simondevitt.com
Architecture Firm: 
Crosson Clarke Carnachan Architects
ccca.co.nz
Design Architect:
Paul Clarke
Project Architect:
Brent Hore
Builder:
Offshore Homes (Shane Heney)
Engineer:
CMR Engineers (Chris Rose)
Time to Complete:
Approx. 1 year
Total Floor Area including Decks:
250m2 CCCA (64 9) 302 0222 ccca.co.nz
Furniture:
Furniture supplied by owner, mainly from Ikea, ikea.com.
Finishes:
Cladding, door and window joinery Cedar from JSC Timber, jsctimber.co.nz. Decking/Flooring Vitex from South Pacifi c Timber, southpacifi ctimber.co.nz, stained with Dryden's WoodOil, dryden.co.nz. Ceiling Poplar ply internally and Cedar externally from Plytech, plytech.co.nz. Walls Gib with paint fi nish from Resene, resene.co.nz. Benches concrete by Offshore Homes, and stainless steel by AJ Leslie & Co, (64 9) 479 4662. Timber joinery with white lacquer finish and detailing in Blackwood sourced off the property, by AJ Leslie & Co.
Lighting:
Throughout LEDS and fluorescent recessed fittings from Brightlight LED Lighting Solutions, brightlight.co.nz.
Fixtures: Fireplace Jetmaster with insitu concrete surround from The Fireplace, thefireplace.co.nz.
Tags: Architecture, holiday home, Home Architecture, House Architecture, New Zealand, Residential Architecture, wood
---