At first glance of the attractive grey bricked Qing Dynasty façade of The Temple House, one could be forgiven for assuming the hotel and residence is a renovated place of worship. Although the property does incorporate seven heritage buildings, near-by Daci Temple, a monastery from which it gets its name, is not one of them.
The façade is in fact the entrance to the home of a Qing Dynasty translator. Latticed timber windows and balconies have been beautifully restored on either side to the shaded path to the lobby, with a small art gallery featuring local artists on one side and a mini library containing a curated selection 1,000 English language books and 1,000 Chinese language books to the other.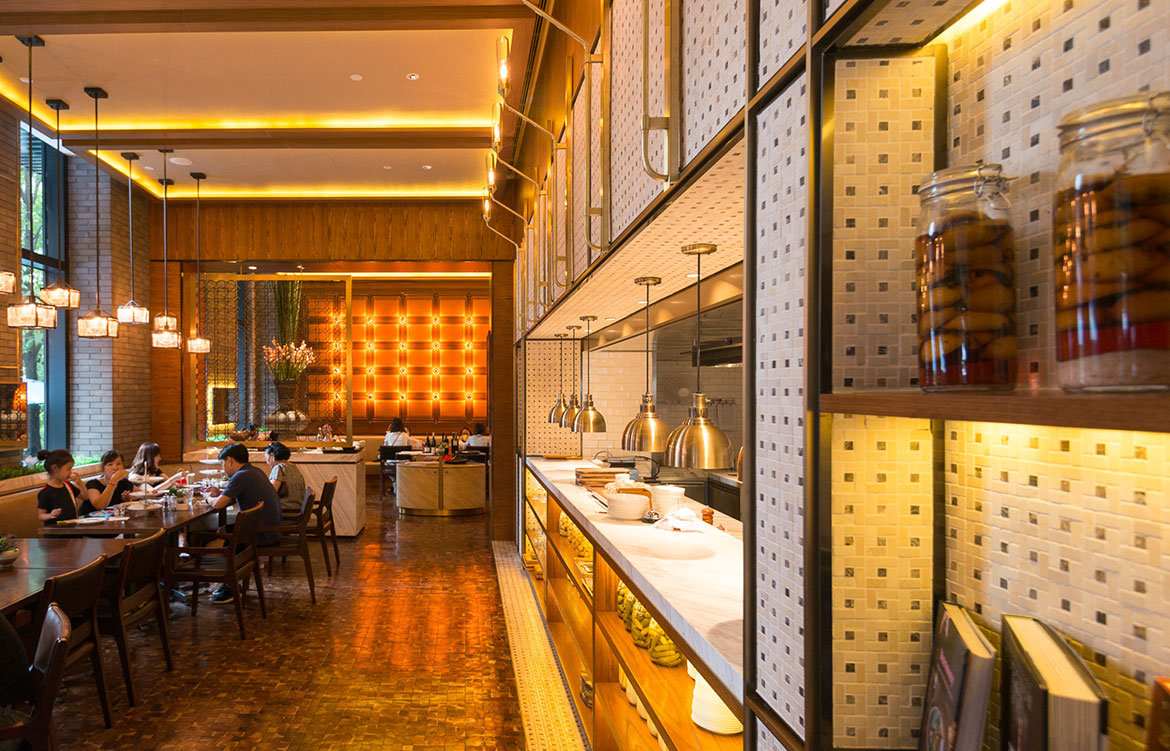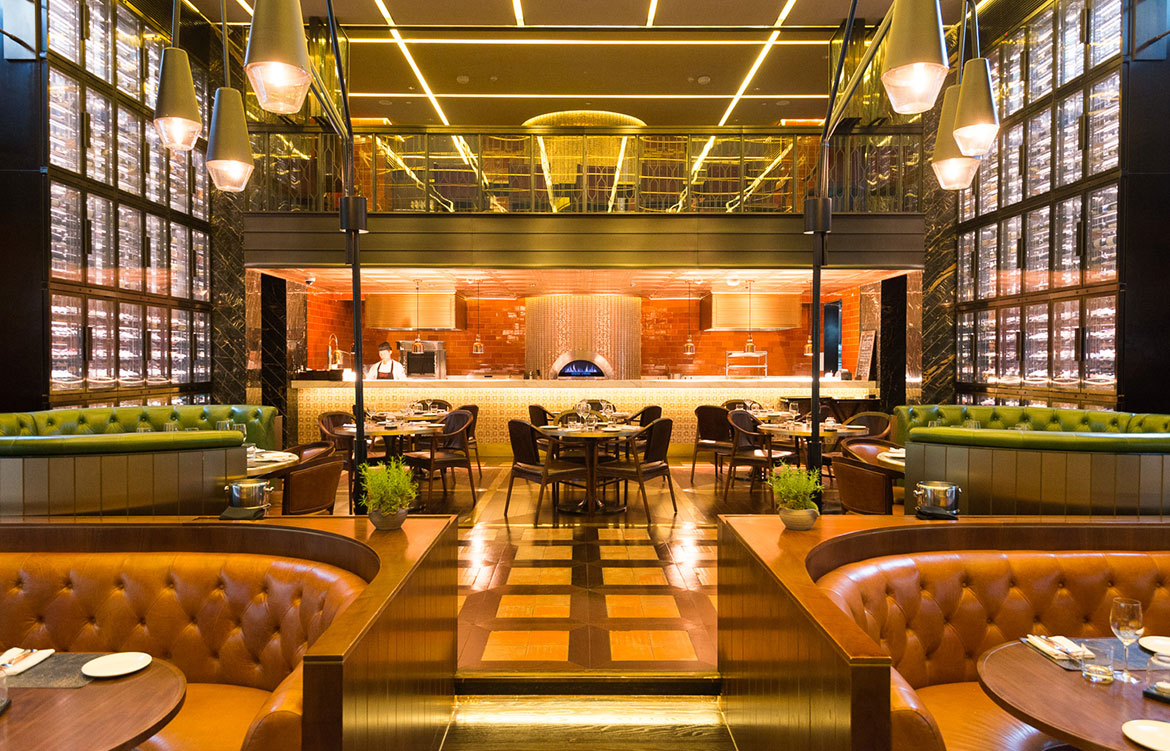 The London based MAKE Architects have created a property that utilizes shiheyuan courtyard homes, within the same quadrangle template found throughout Chinese architecture from humble family dwellings to Beijing's Forbidden City. The bulk of the development puts a modern twist on this concept with glass towers, camouflaged with a grey forest themed pattern over floor to ceiling windows, overlooking a green lawn with a sunken garden.
This lush landscaping serves the original desin brief, which, according to Katy Ghahremani, director of MAKE, was to create an urban resort, "more tranquil than [the] elegant Upper House in Beijing and [the] trendy Opposite House in Hong Kong."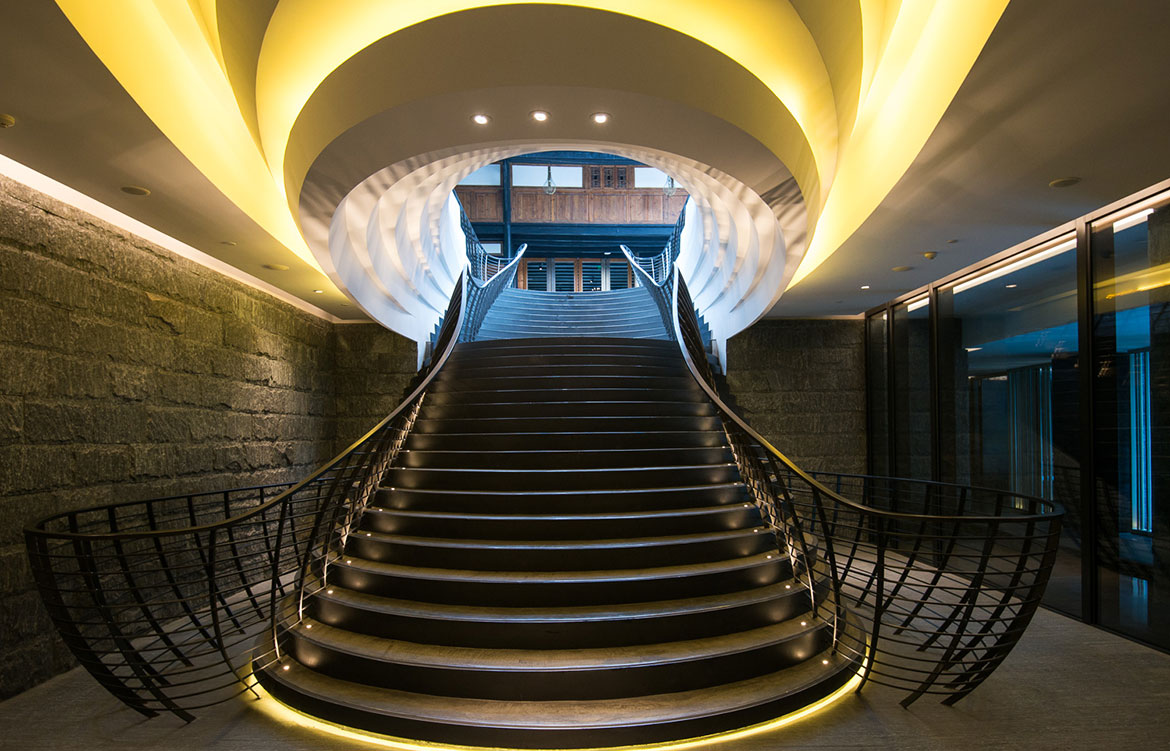 NYC firm AvroKO is responsible for the F&B interiors which include Mi Xun Teahouse, attached to the Spa and located in two courtyard homes that were still inhabited 15 years ago. Ornamental Chinese Traditional Medicine draws are a main feature of the teahouse, a vernacular reference also seen in Beijing's Opposite House lobby, designed by Kengo Kuma and Associates. The Jazz Age appears to be the leading inspiration behind Tivano Italian restaurant, which looks onto the sunken garden and JING, the hotel bar. Both establishments feature ample angular leather seating and light fittings that evoke art deco.
One the properties design centerpieces are four round, terraced mounds of green lawn topped with circular skylights that provide lighting for underground areas while echoing Sichuan's famed rice terraces. At ground level, slim, grey oblong bricks are used to complement the heritage elements.
"We took our main design inspiration from Chengdu itself – its rich history, celebrated traditions and lush landscape", says Ghahremani. "Establishing a distinct sense of place was a defining factor of Swire's brief, as was delivering an up-market aesthetic on a small scale and ensuring the guest experience came above everything else."
Photography by Dave Tacon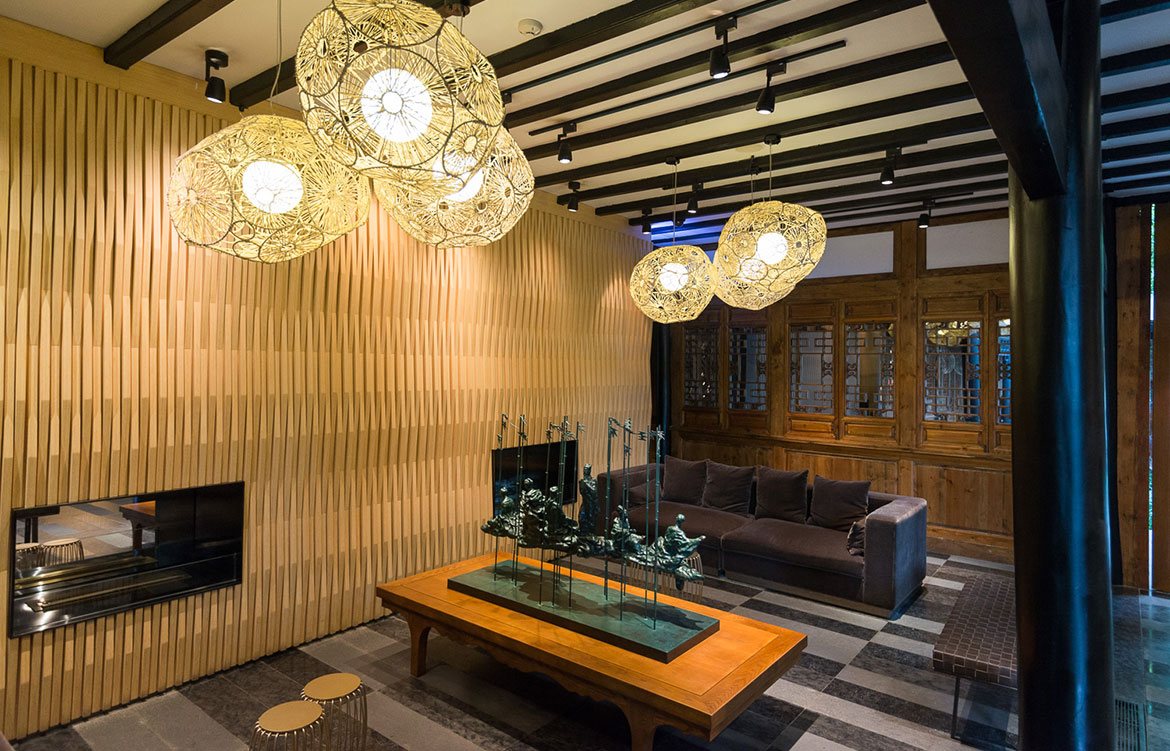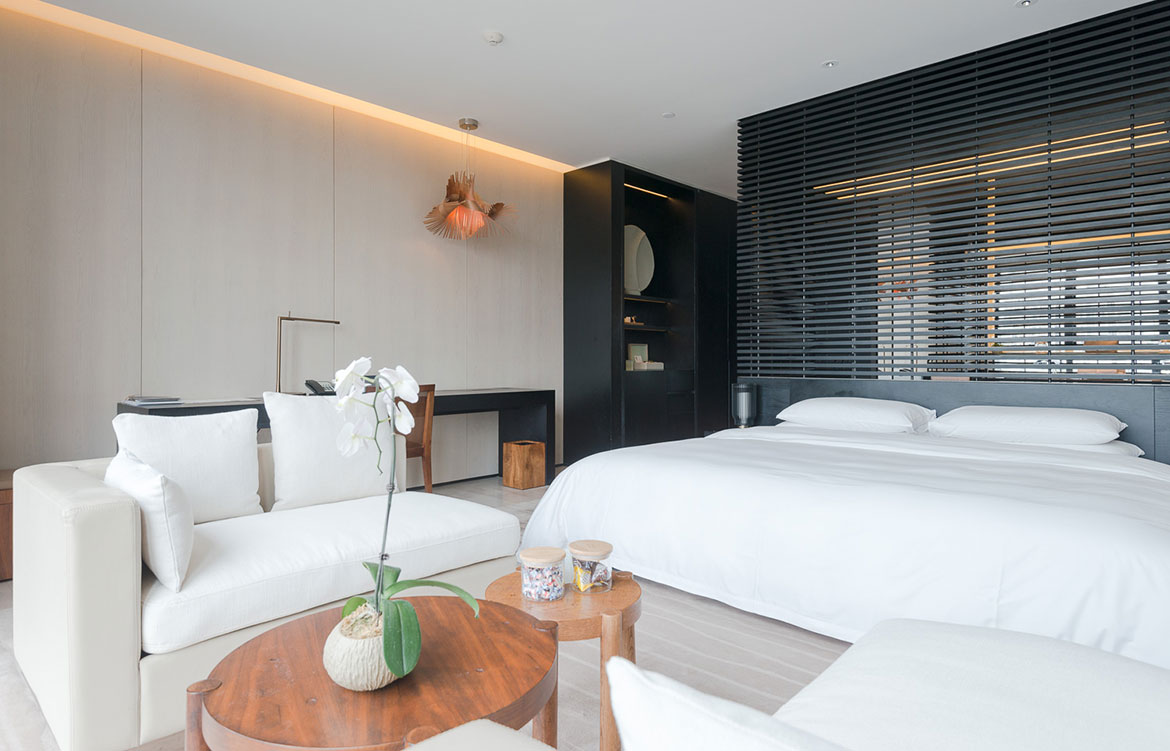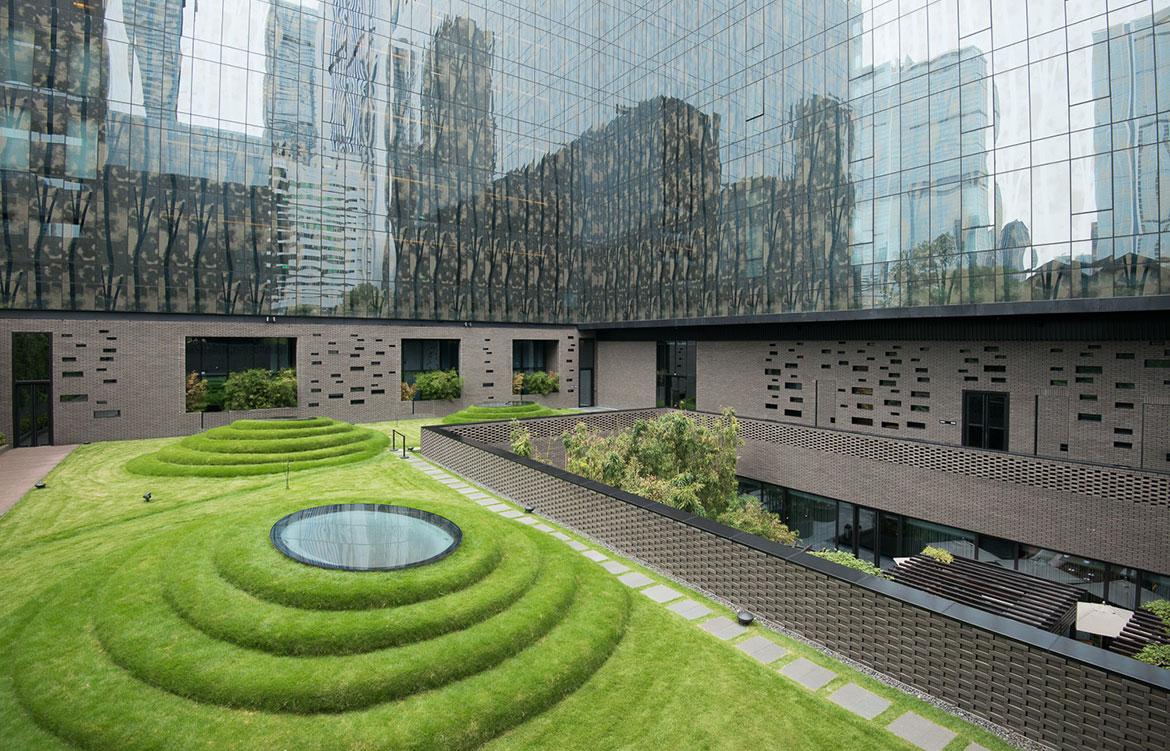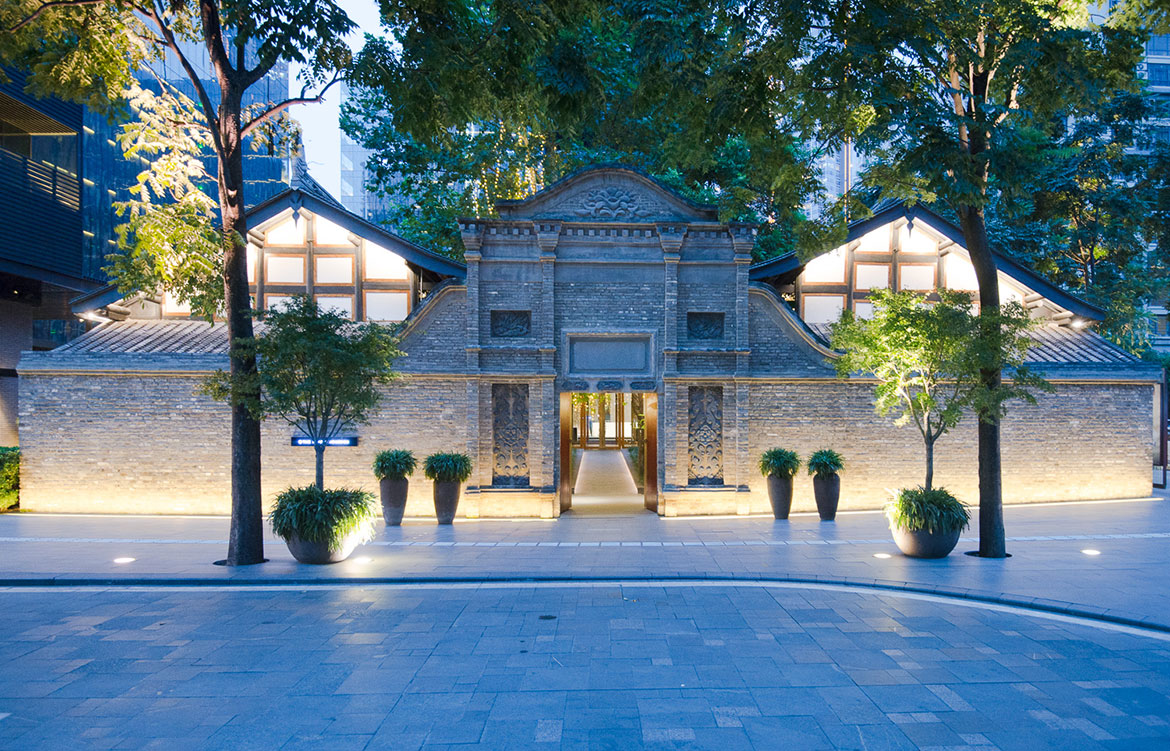 ---