Home to a dress circle of retail outlets, cafes, designer hotels and purveyors of high-end goods, South Yarra is a popular destination for Melbourne locals and visitors alike. The suburb's fashionable Chapel Street–Toorak Road junction could be described as the pulse of the precinct encompassing, among other things, The Como Melbourne, a boutique hotel that sits within the Signature series of Accor's MGallery Collection.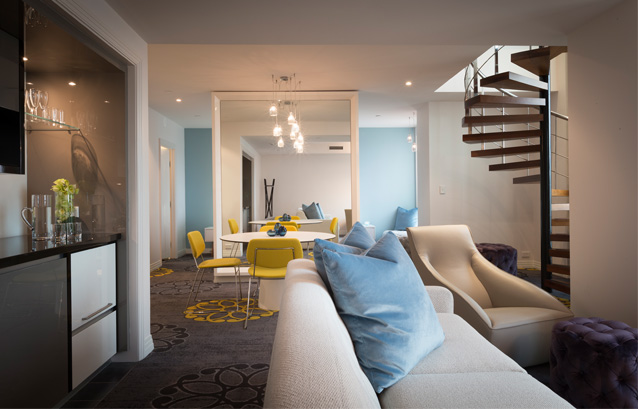 Boasting a 23-year tenure, The Como Melbourne is popular among patrons for its spacious rooms, extra deep bathtubs, secret Japanese gardens and notably, its recent interior refurbishment.
Embarking on the refurbishment of the hotel was a slow and painstaking process, with the hotel booked out more often than not, and management opting to keep the hotel open while simultaneously renovating floor-by-floor.
 Melbourne design studio Elsie + Betty are well versed in the design of contemporary hospitality fit-outs and undertook a considered briefing and design development period on The Como.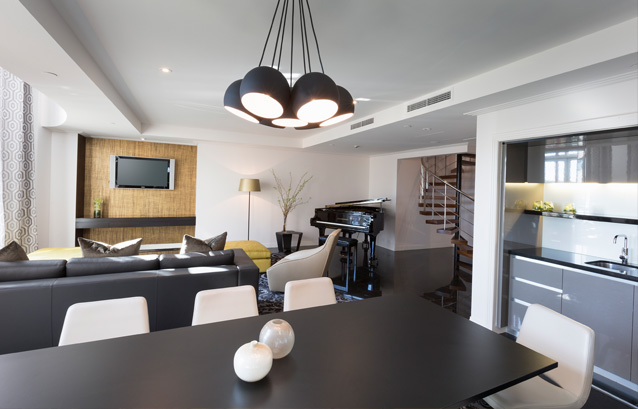 Its original Japanese cultural themes and interior aesthetic provided a strong frame of reference for Elsie + Betty's Valentina Kopilas who says: "We were inspired by the strong Japanese theme and Japanese gardens which lead off the rooms." Here she highlights design details such as the recurring maple leaf motif found within many of the rooms.
The hotel building, shaped in a semi-circle, houses myriad room configurations across multiple levels. Taking this into account, The Como commenced its renovations with the utmost tact, transforming its many spaces floor-by-floor, over a 7-month period.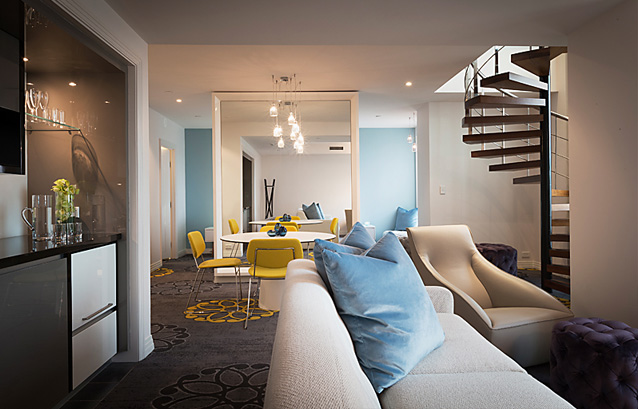 While rooms sport new interior structures and furnishings (many of which are sourced from notable Australian designer-retailers such as Jardan), the designers chose to retain some of the more iconic features, such as the extra deep Japanese style bathtubs – "all original, but resurfaced," notes Kopilas.
The most exciting of The Como's accommodation is its exclusive penthouses, of which there are three, each fit-out to a theme of Pearl, Gem and Gold.
Here high-end European pieces from Space Furniture are complemented by custom-patterned rugs from Brintons.
The penthouses are spread across two levels; the upper levels of Pearl and Gem housing luxury bathing and showering areas, with a sauna room to top it off. By far the most opulent of all three is Gold, an entertainer's playground complete with baby grand piano.
While the bedrooms are very much the highlight of the hotel, Kopilas highlights the corridors as her favourite design element.
"They have such a great mood when you walk in, with their beautiful halo lights and Brintons custom-patterned carpet."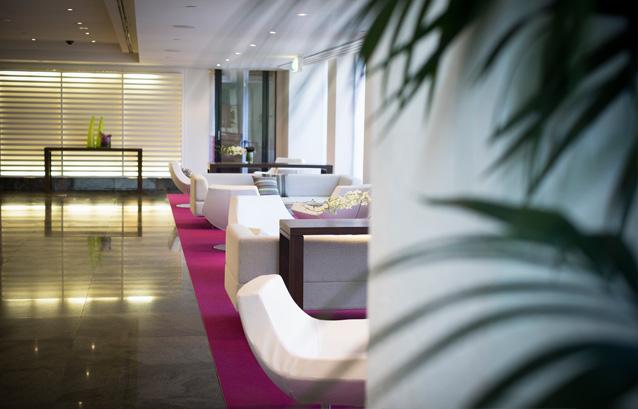 True to word, the corridors are spacious and inviting, populated with colourful breakout areas featuring richly upholstered occasional seating, decorative pendants and distinctive graphic panels.
Tags: Como
---