The Penny Drop sits at the base of the new Australian Tax Office building in Box Hill, its name playing on the concept of the 'penny dropping' from the pockets of the ATO office above. Kylie Dorotic and Alicia McKimm, directors at We Are Huntly, have used art deco light fittings and warm textured surfaces to great effect, with a circular theme running throughout in reference to Chinese symbology and its spatial proximity.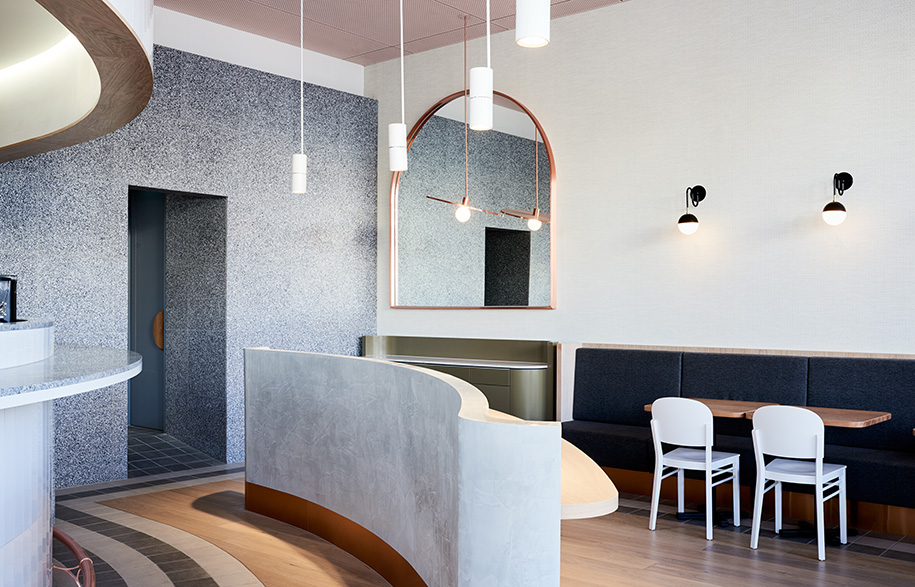 "The space planning was a direct response to the concept of the penny dropping," explains Dorotic. "The curved form of the bar and seating layout that surrounds it echoes the 'ripple effect' – the same effect the owners hoped The Penny Drop would have on Box Hill and its residents."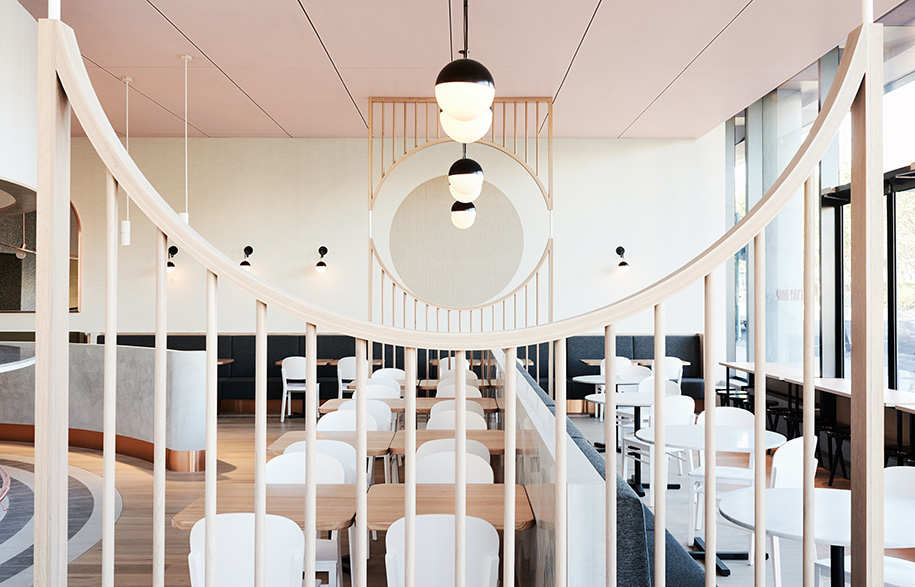 Situated at the base of the commercial building, We Are Huntly's challenge was to activate the shop front to instill life into the empty 350 sqm shell. The 100-seat cafe, restaurant and bar needed to be "a transitional space", which would cater for the morning coffee and takeaway trade, those dining at lunch and dinner or popping in for a drink after work.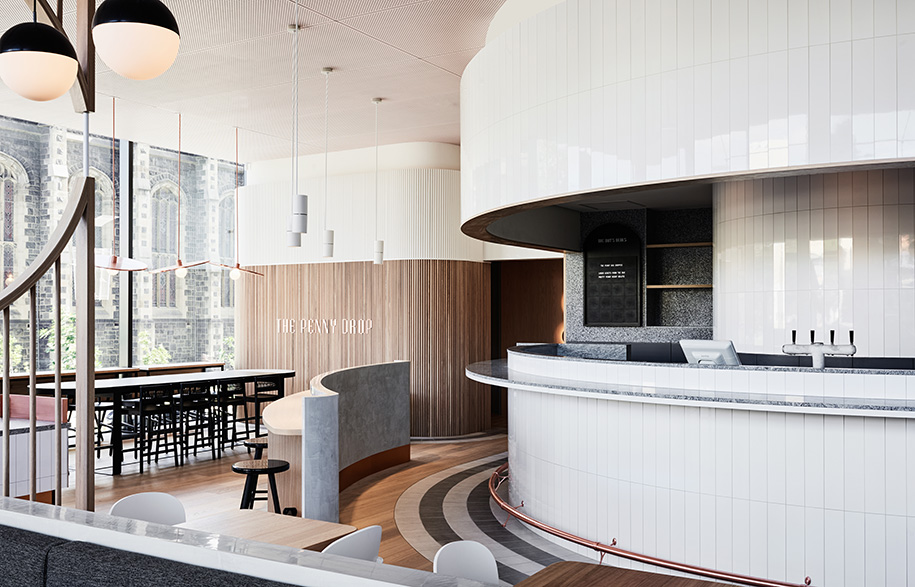 "The coordination of services was extensive," explains Dorotic. "It was important that The Penny Drop had three separate service zones: kitchen, bar and a coffee counter with a takeaway offer. With this to consider we created a combination of seating areas that would cater for individuals as well as large groups, offering flexibility." This sees design solutions in the form of a large, curved marble bar encircled by an outer rim of seating, both small and large tables with enough room between each to talk comfortably, one large communal table and a coffee counter.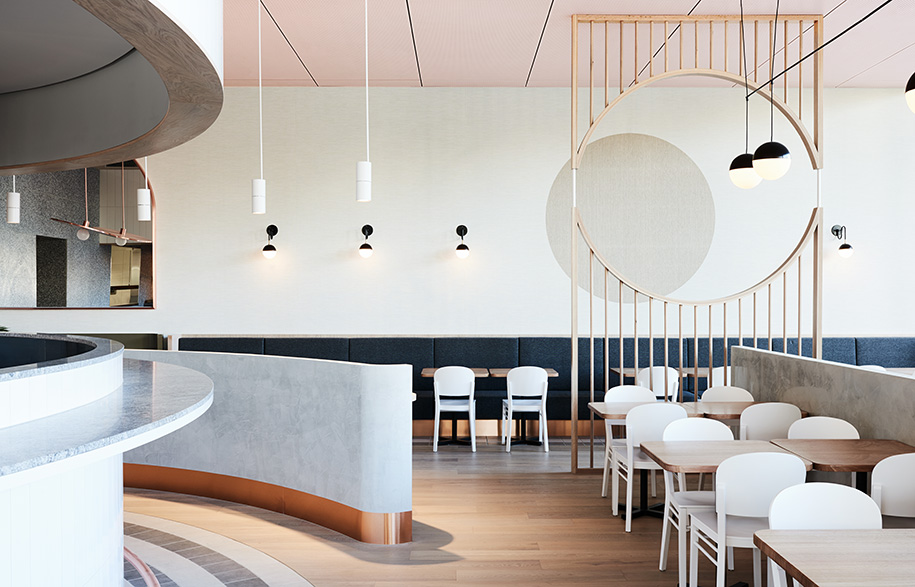 Designed in collaboration with Melbourne graphic design studio Pop & Pac, the interior responds directly to the brand identity. "The brand is subtly instilled within moments of the floor plan, joinery, textures and custom fittings such as the copper disk pendant, deliberately tilted like they were paused in motion," says Dorotic.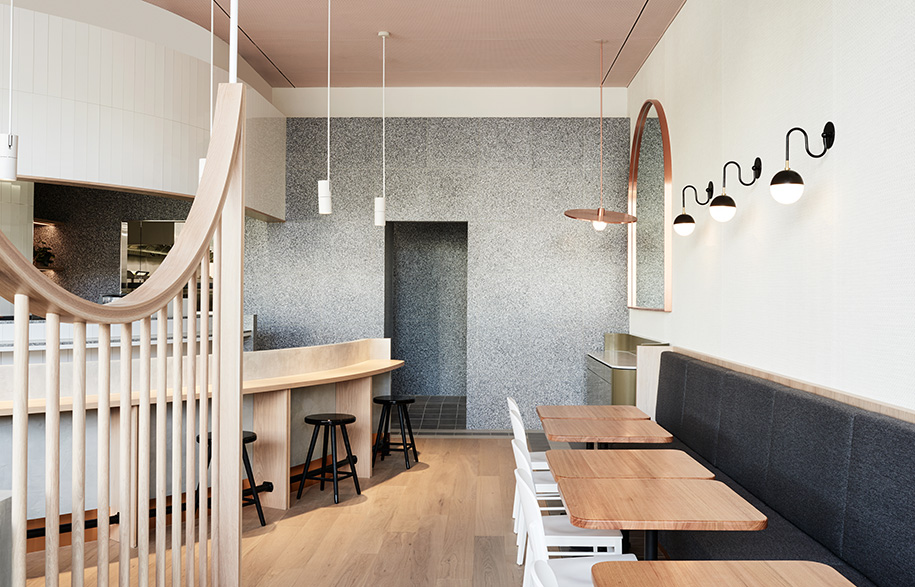 Dorotic and McKimm set out to achieve a warm inviting space, "something that was unexpected and destinational". The pair have used a restrained selection of materials, bringing warmth, light and surprise to the space. Custom light fittings, timber screens and warm yet hardy material choices in the form of blonde timber, marble and copper add both a soft and sharp contemporary feel, with sweeping curves, pink and grey hues and natural light lending an additional softness to the interior.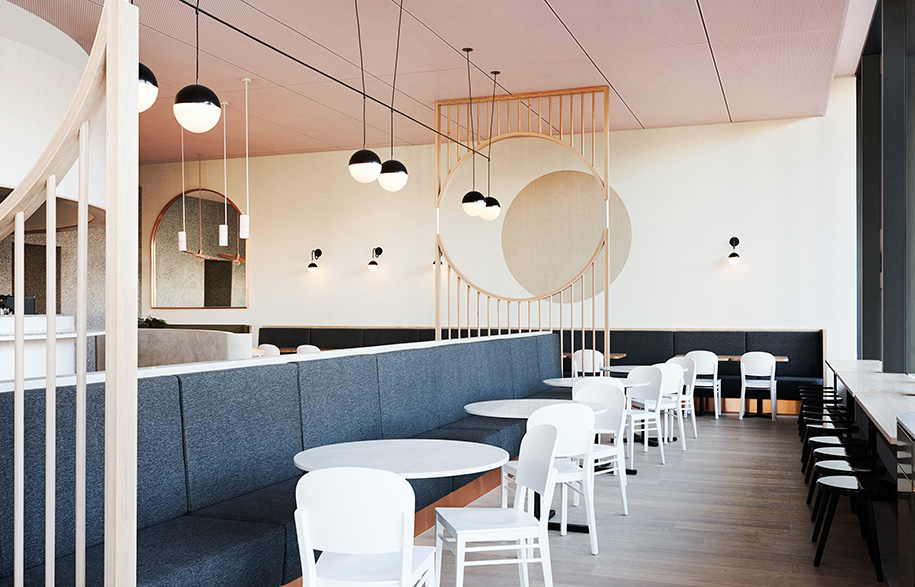 We Are Huntly have crafted a vibrant and comfortable cafe space, which many would find hard to leave. Quite simply, The Penny Drop is just another example of how these shared environments have become an ingrained part of our culture and a destination in their own right. "…The cafe environment often becomes an extension of a home, a working environment or a place to dine with friends," shares Dorotic. "By creating a welcoming interior we are encouraging the community to be inspired and find use in these considered spaces that are ever changing."
The Penny Drop
thepennydrop.com.au
We Are Huntly
wearehuntly.com.au
Words by Ashley Tucker.
Photography by Brooke Holm.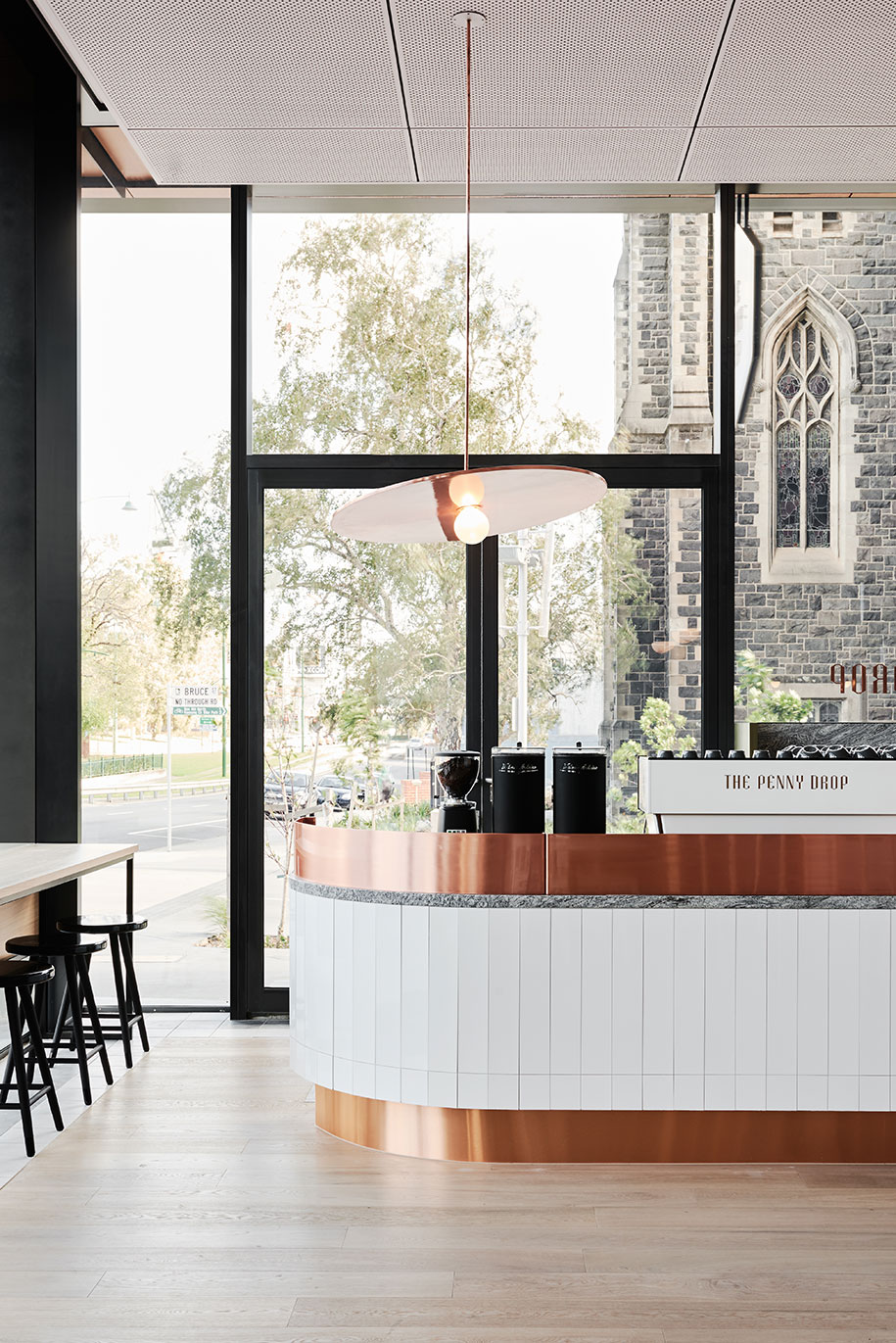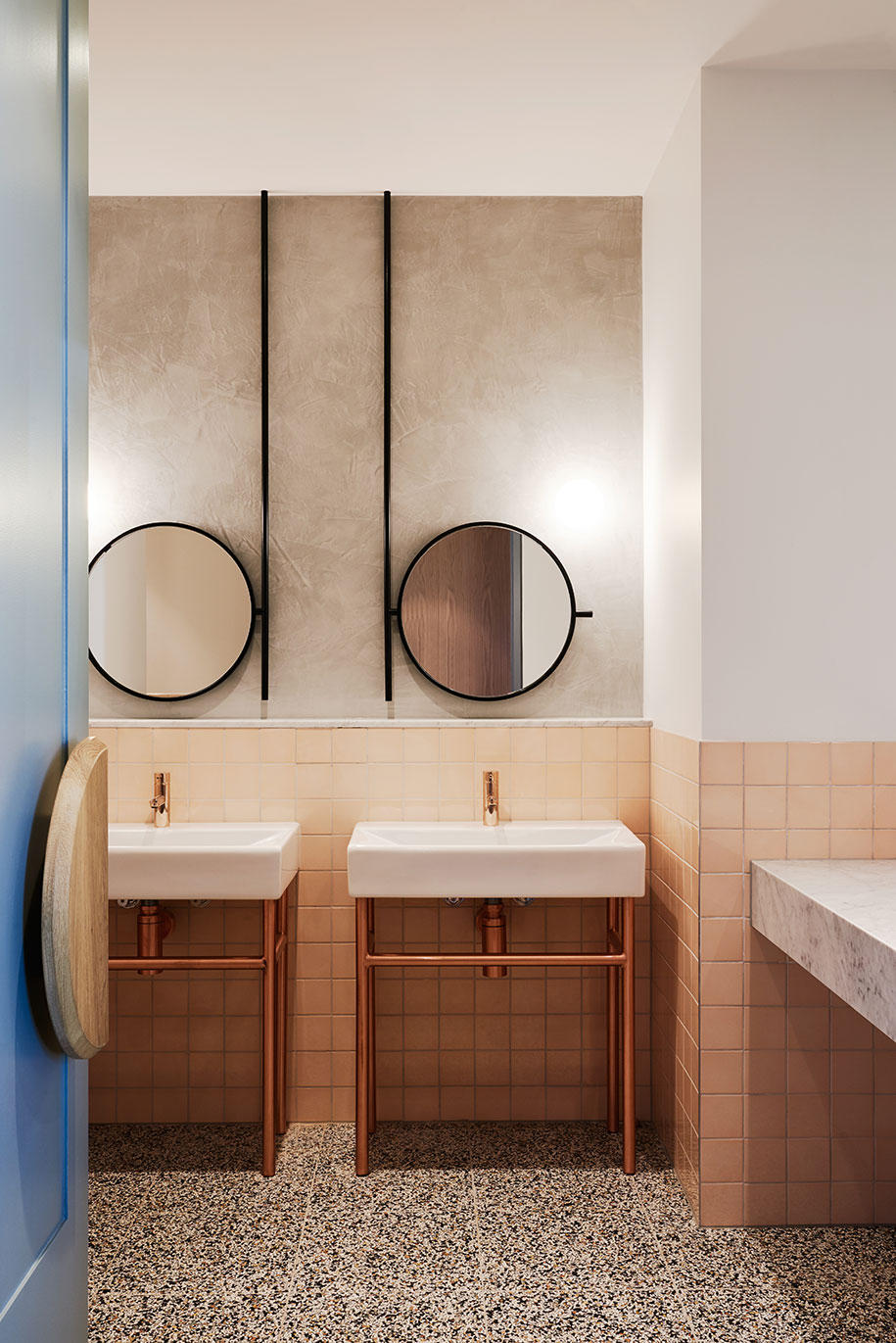 ---