Home, for Colin and Joy Seah, needed to be a retreat from the city and a very busy work schedule. Jointly running the spatial-design practice, Ministry of Design (MOD), the Seahs wanted to be in the heart of the city, yet able to withdraw to find peace and renewal. Their apartment provides intimate settings for simple daily routines, elevating living to an art form.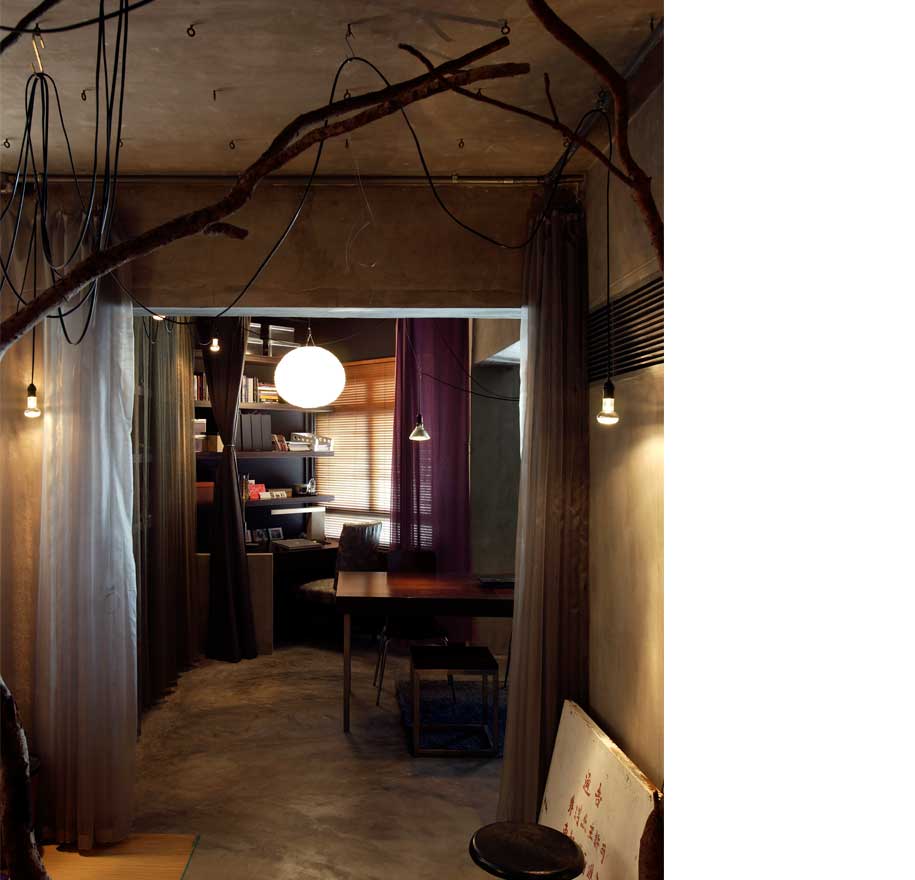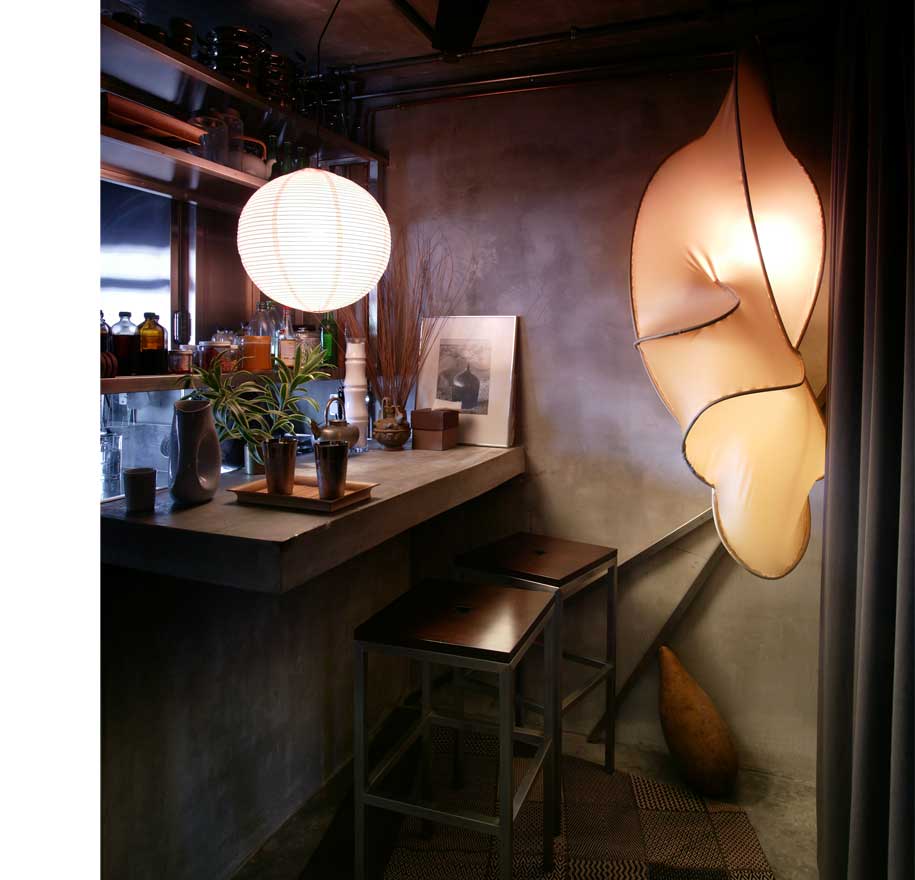 Like much of the population, the Seahs grew up on a housing estate outside the CBD. As a young couple buying their first home, they preferred to be close to their office in Chinatown and the activity of the city. The government had recently opened up plots of land in Little India, building several new apartment blocks.
As the historic and cultural centre of Singapore's Indian community, Little India is full of local businesses, temples and shophouses. They co-exist to create a wonderfully diverse and colourful neighbourhood. Seah and his wife Joy were drawn to this character and purchased a top floor apartment on Klang Lane. Changing the standard interior to suit their needs was an opportunity for Seah to test highly conceptual ideas within a residential brief.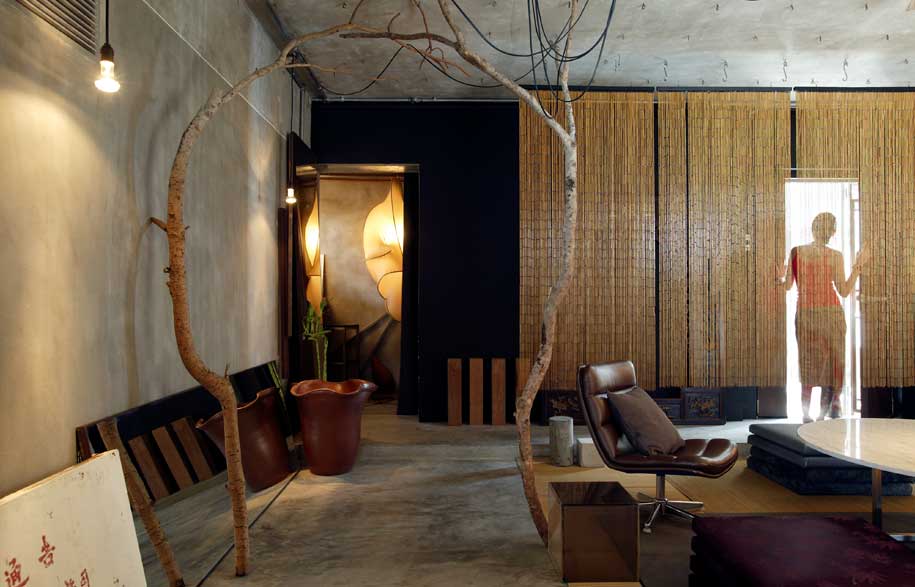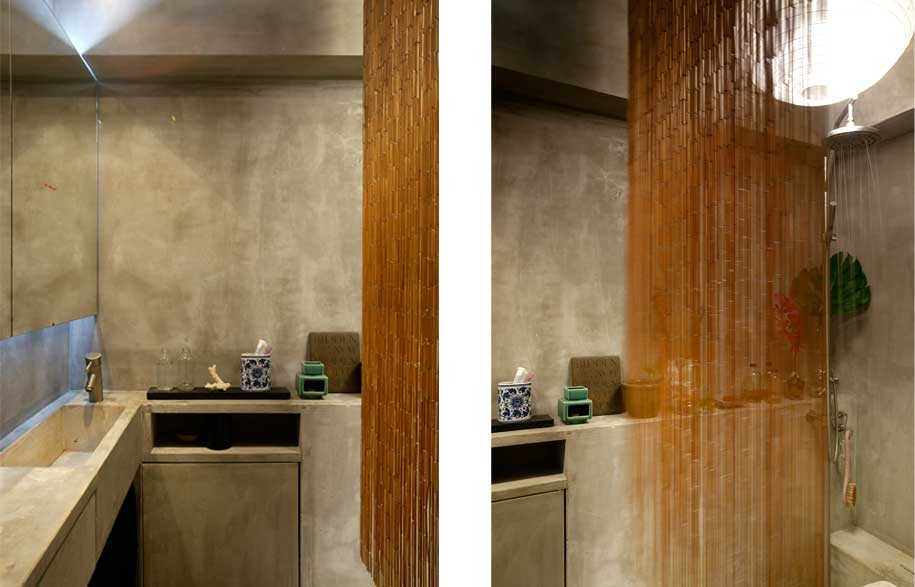 When Colin set up MOD, his avant-garde design quickly attracted significant commissions, most notably the Sho U restaurant and New Majestic Hotel in Singapore. Both went on to receive international acclaim. "We have an ethos to question, disturb and re-define. So style and issues of that nature come very secondary to issues of 'How do we re-invent typology? How do we re-contextualise something?"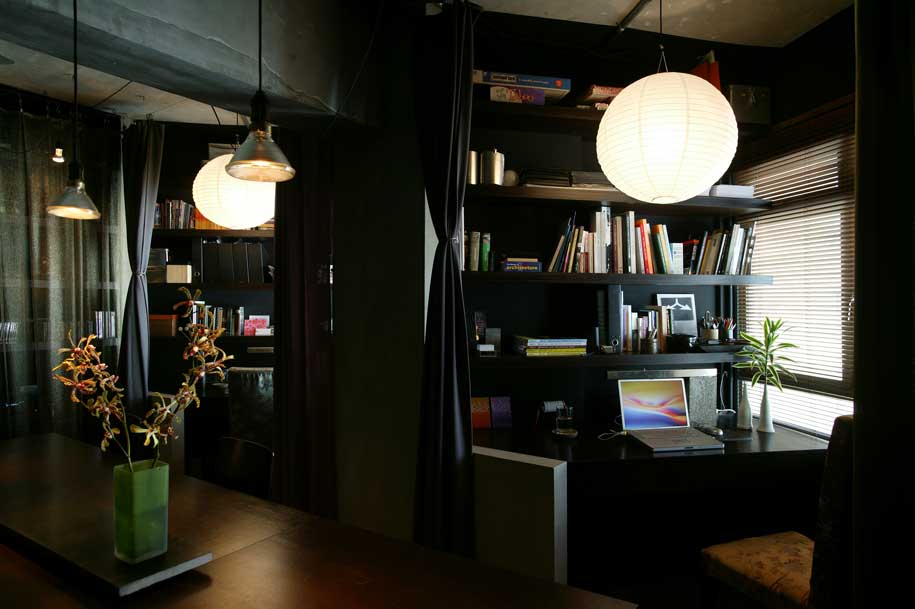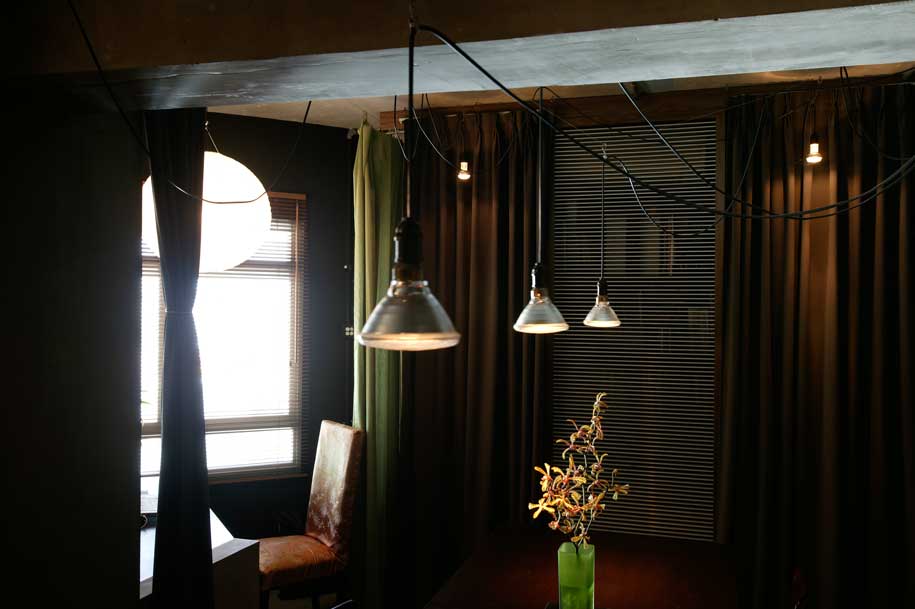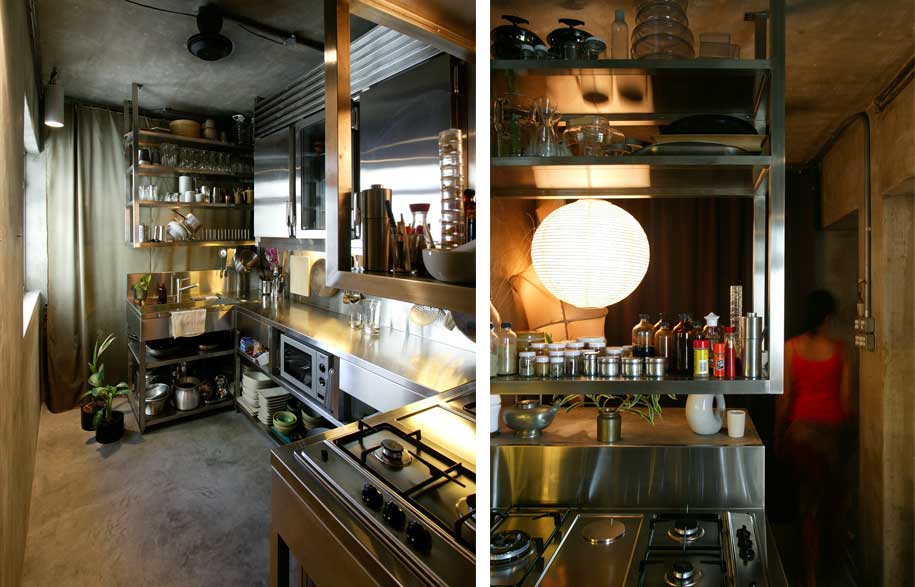 Theatre became the conceptual basis from which the interior could be re-created at will. They demolished as many walls as possible and ground back surface finishes to reveal the concrete shell. This neutral background is the stage against which changing settings and atmospheres play out. This allows for not only daily cycles, but also for long-term evolution in personal tastes and collections. Much of the character of the apartment is created by fabric, lighting and objects, which can be completely and easily substituted without expensive structural work.
The theatre metaphor also offered a way to dramatise the experience of everyday rituals. As a young couple buying their first home, everything felt so new and exciting. "I felt life was so precious, there was a desire to celebrate every single gesture whether it was just the banal act of cleansing, sleeping, lounging, cooking or whatever." Moody lighting, dark colours and theatrical thresholds serve to heighten this experience.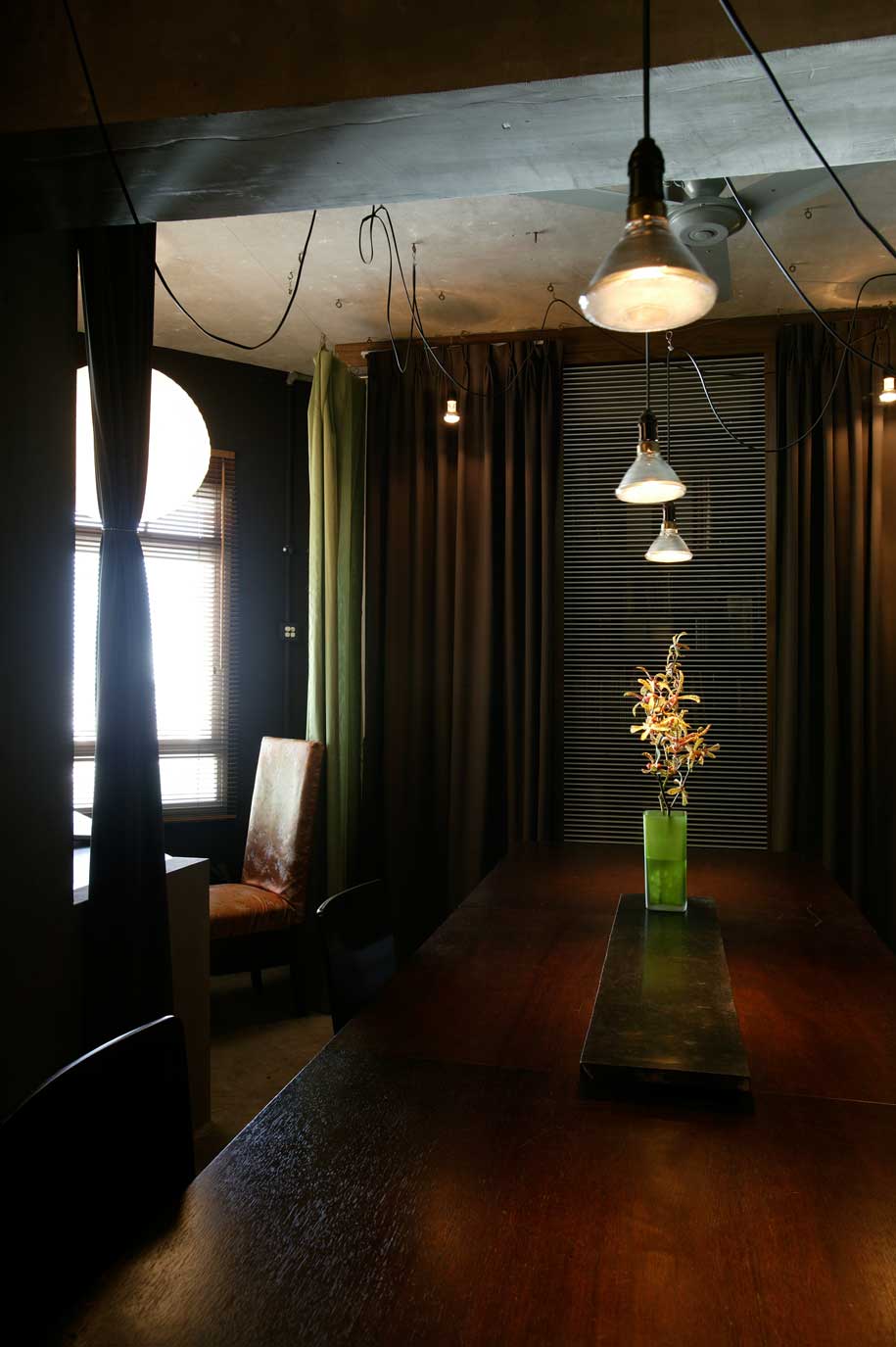 Entry from the lift lobby is on to a raised catwalk that travels down one side of the living space. This zone has the greatest flexibility and has been re-arranged many times. From the catwalk, the kitchen can be accessed to the right, to the left, a meandering route takes you through the dining space and towards the bedroom. Finding the bedroom, however, is another matter. Like backstage in a theatre, heavy curtaining obscures what lies behind. "The funniest thing," says Seah, "is people who have no trouble finding their way around a busy city, get lost in the bedchamber. They forget which curtain they came through, they try and walk out through the wardrobe!"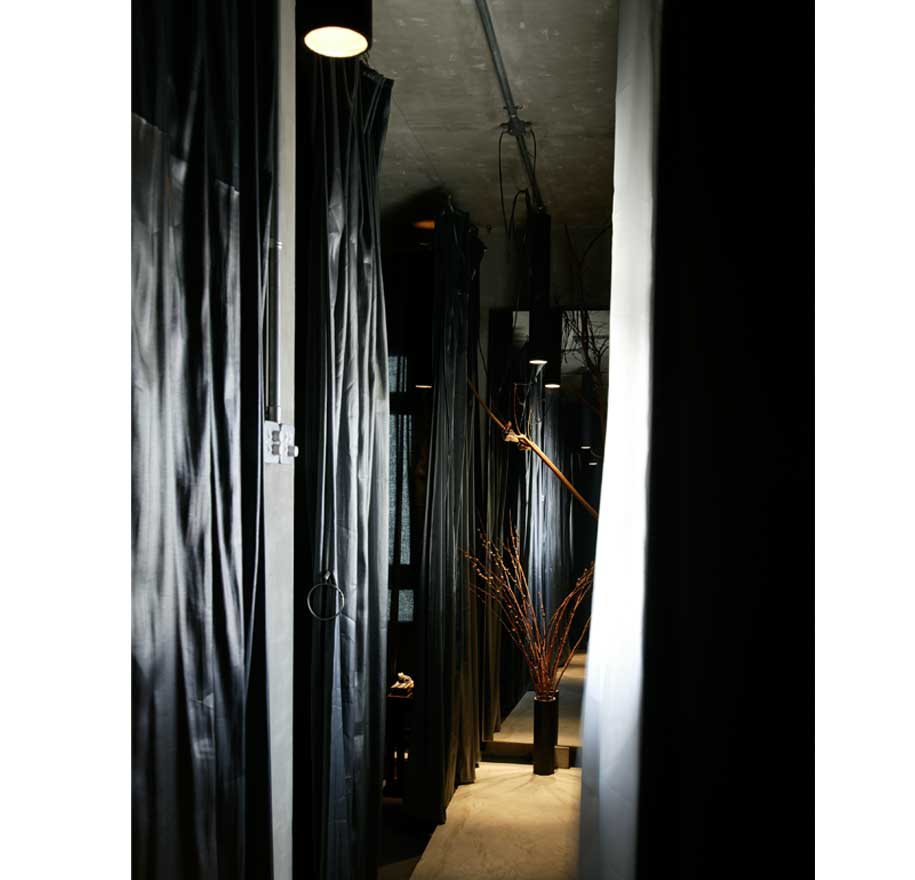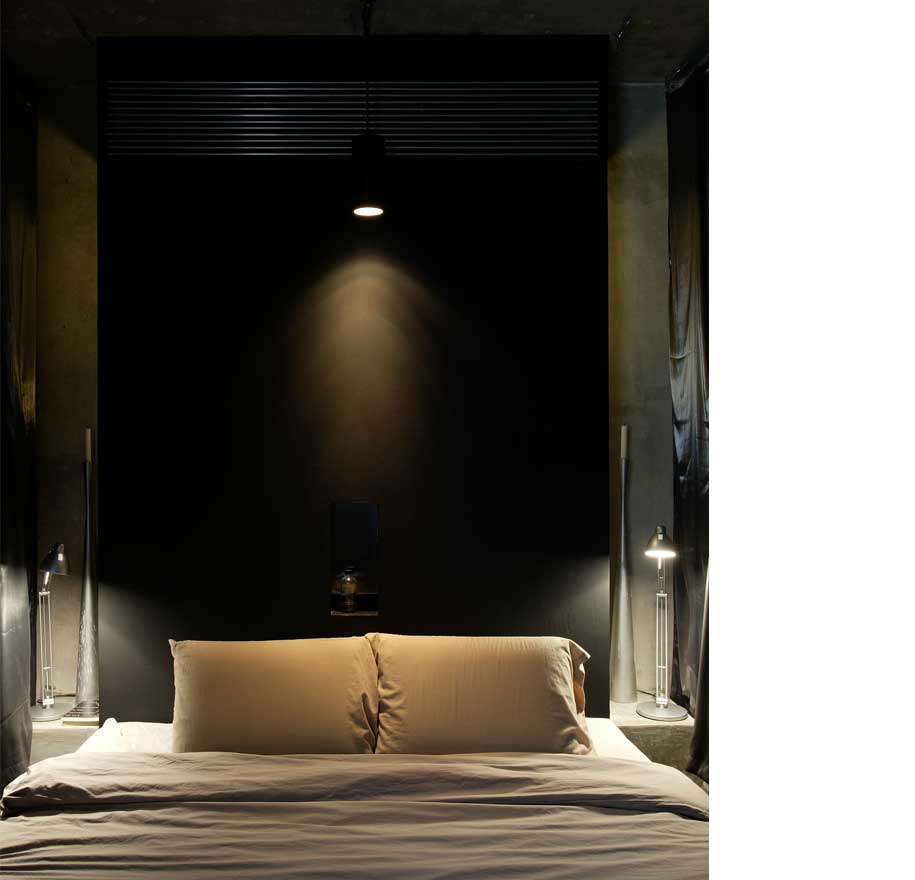 Throughout the living zone, ceiling hooks allow for lighting, art objects and screens seem to be located almost anywhere. Electrical cables hang down as sculptural objects. Most of the furniture is custom- made and modular so it can be moved to create a different setting for events such as a birthday parties.
As a retreat in which to relax and unwind, a palette of rich, earthy colours was selected. Curtaining is used extensively, softening edges, filtering sound and light. The fabrics can be pulled across openings to act as room dividers. Around the perimeter they conceal shelving and act as a textural backdrop. They veil, screen and mystify, creating a subtle spatial layering.
The bedroom is completely cloaked in black fabric, creating an incredibly dramatic atmosphere. "It is the most sacred, the most private space," says Seah. "Once you close all the curtains behind you it is literally just a bedchamber – no views to the outside, it is like a cocoon."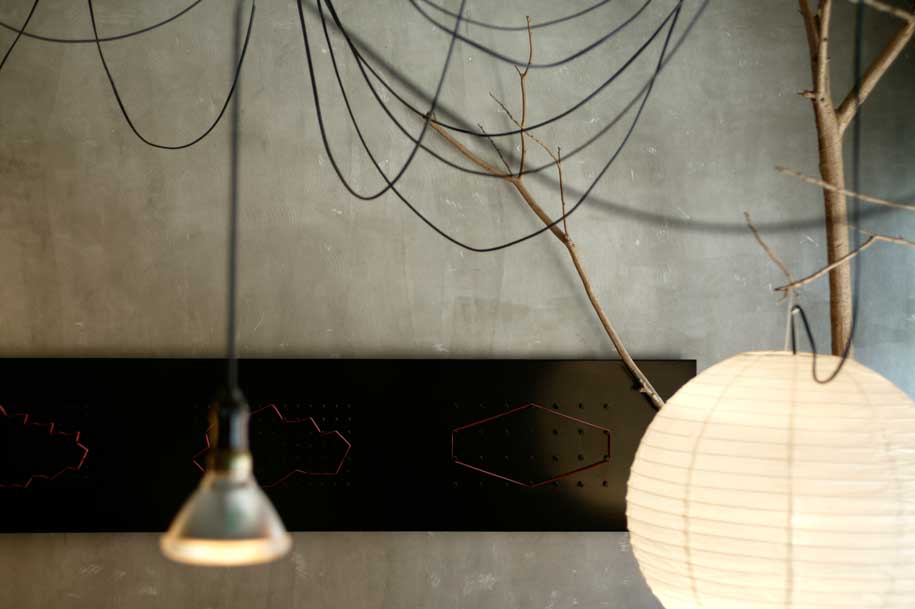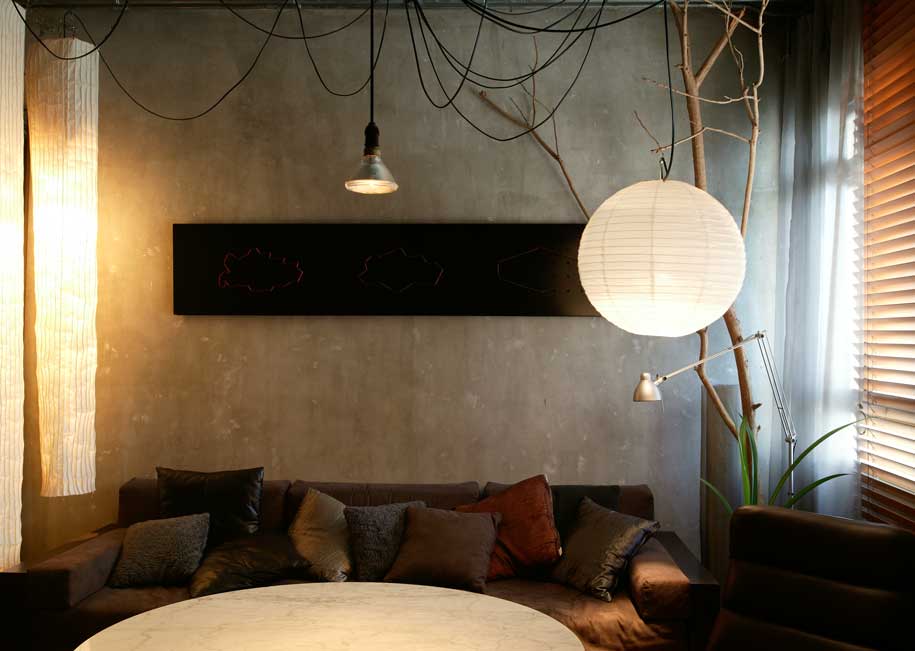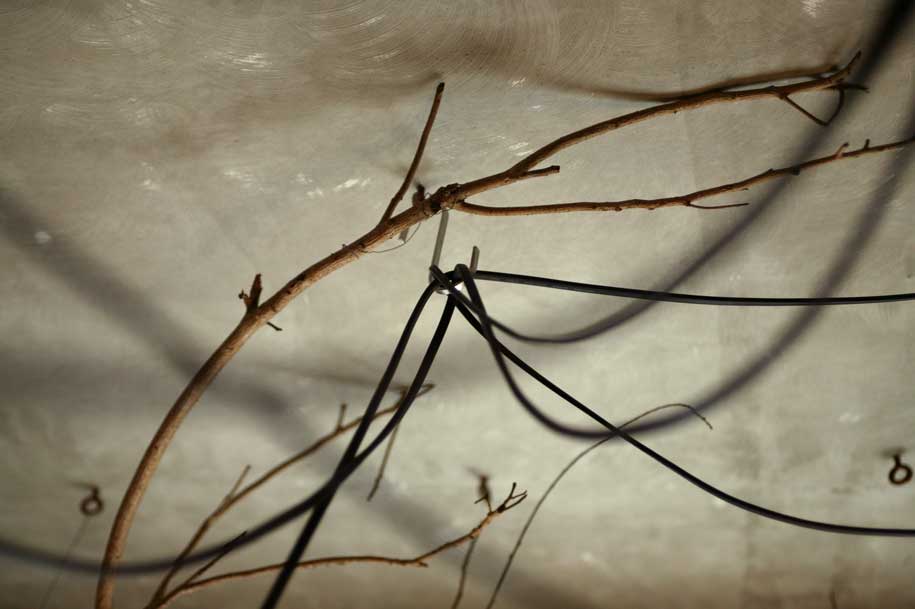 The apartment is just over 80m2, yet it seems much bigger. A visual depth is created by vertical elements. Catwalks and full-height mirrors give unexpected views. All these devices combine to create a sense of disorientation, blurring edges and increasing the perception of size. Seah says friends often over estimate the floor area by 25-50%.
Furniture and sculptural lights were designed by MOD and made specifically for the apartment. Objects have been collected over time and find a natural home within the space, rather than from any orchestrated approach. Seah loves finding objects around the city and in the markets. An abandoned sign creates a beautiful ready-made art work. Its cracking paint and pictograms look so poetic, yet ironically it reads 'Warning. Don't park here. The Management.' Fallen tree branches were hauled back to the apartment and installed for their beautiful sculptural qualities. "It's a little bit like a work in progress. If things around them don't work anymore, we re-adjust them and fine tune."
The Klang Lane apartment is a place of contrast – restrained yet luscious, industrial yet romantic, inwardly oriented yet set in the city – a stage against which the art and beauty of life can be expressed.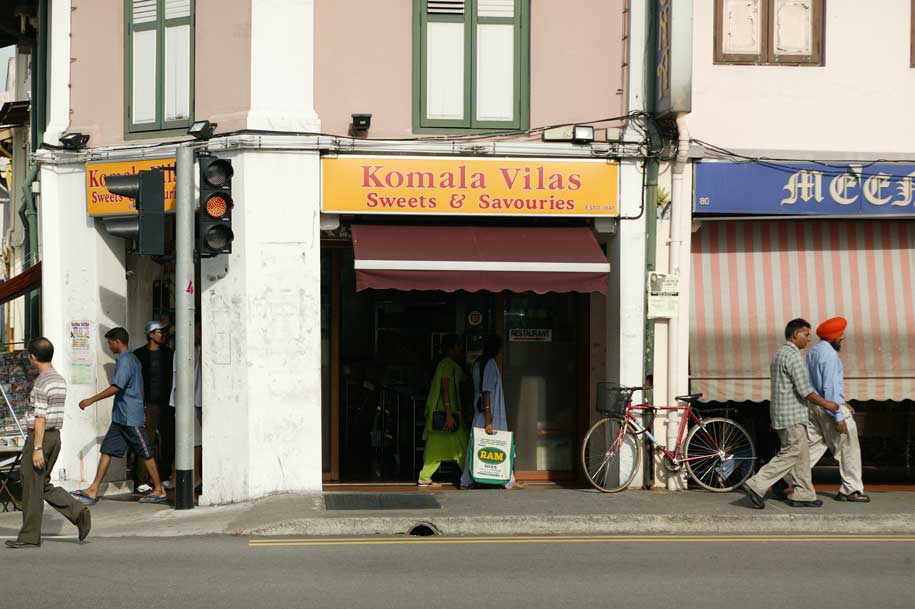 ---
Photography by
Simon Devitt
DROPBOX
---
Architect: Ministry of Design
Design Architect : Colin Seah
Builder: Interior Composite
Lighting: Custom-made by MOD
Bathroom Fixtures : Sim Siang Choon
Ministry of Design
modonline.com
Tags: apartment, Architecture, Home Architecture, House Architecture, Interior Architecture, Interior Design, Ministry of Design, residential, Residential Architecture, Singapore
---