Inspired by the 'cultural memory of the existing building' and a commitment to sustainability, the architects have created a modern and efficient home with a touch of Victorian charm. Rather than simply restore certain features (though they have where they could), what existed has been built into the makeup of the entire design.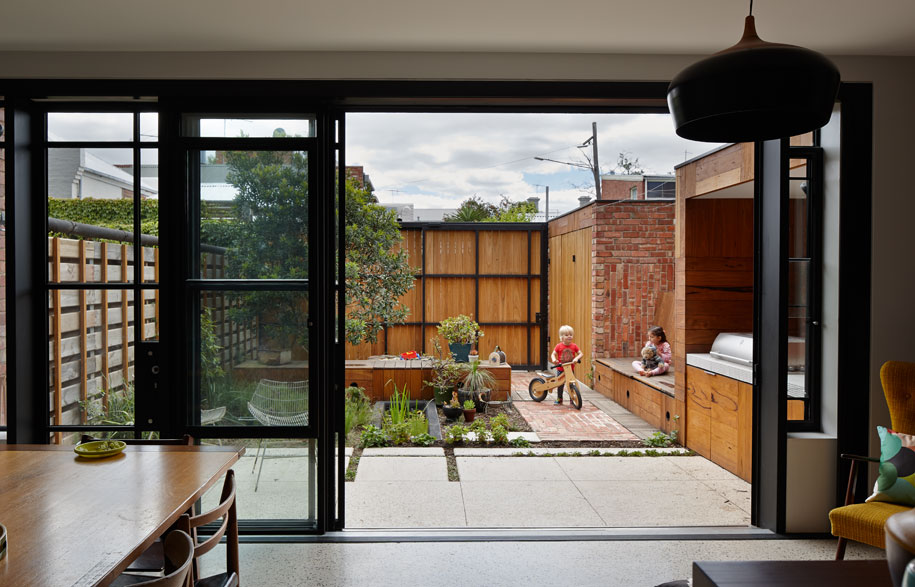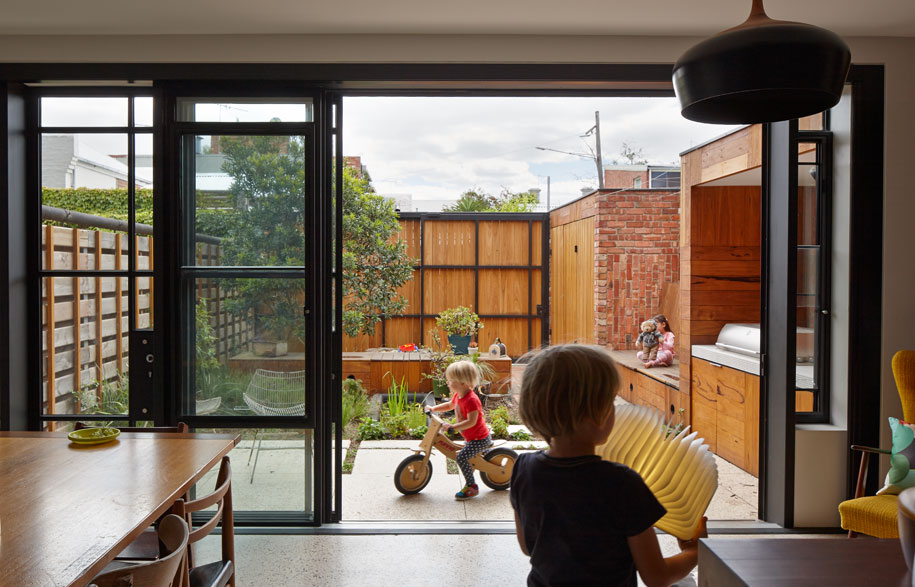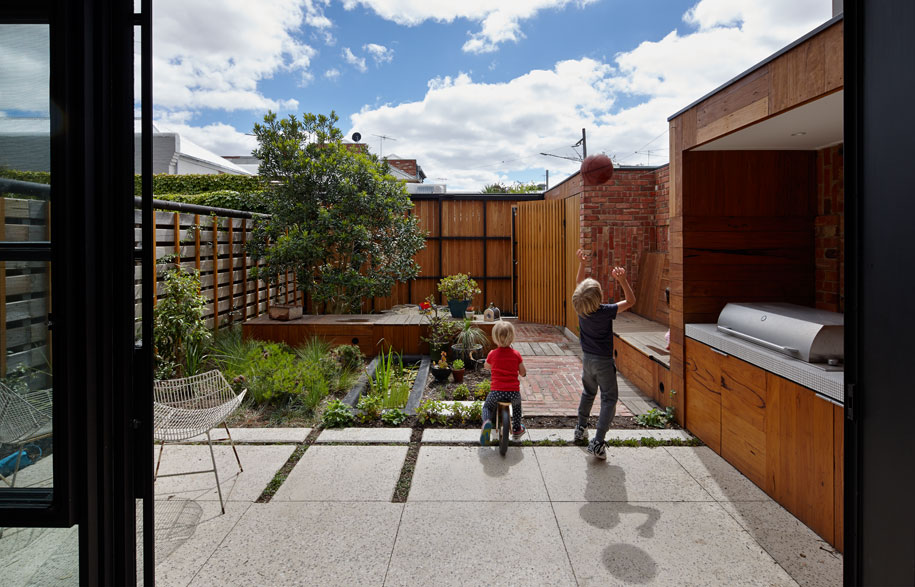 An approach borrowed from the surrealist technique 'Cubomania' – a surrealist method of making collages in which a picture or image is cut into squares and the squares are then reassembled without regard for the image – the architects have catalogued, re-used and re-invented demolished building materials to create something new and uniques. "The technique is evident in the external brickwork, garden and is followed through within the carefully detailed internal spaces," says Architect Emma Young. "Elements which could not be retained and would otherwise have been discarded were up-cycled in interesting ways and are now represented as part of the design metabolism."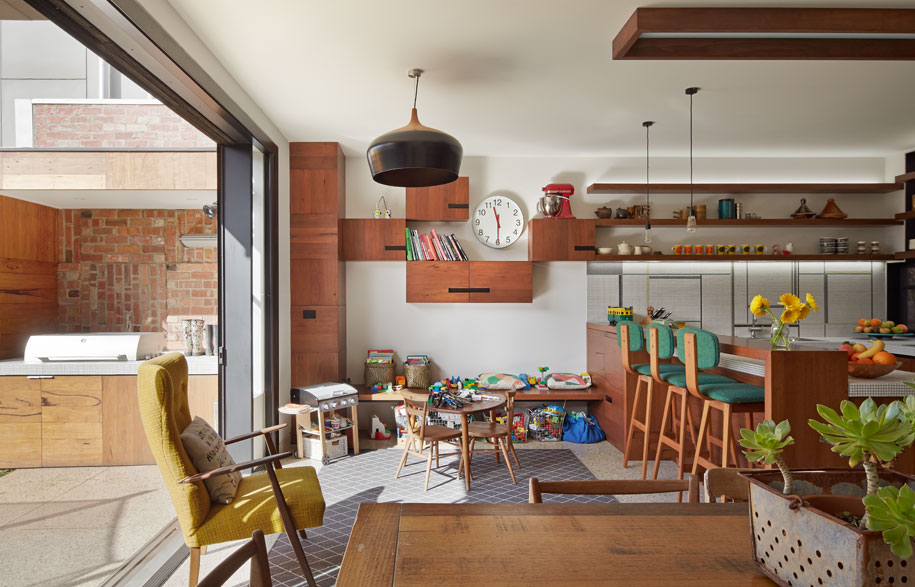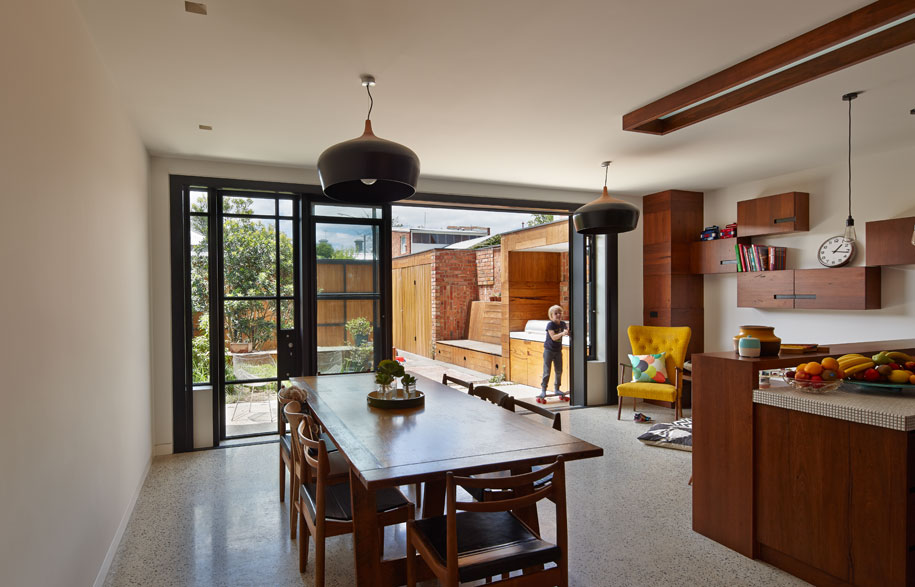 "The intention was to use the old materials in a way that did not disguise their original purpose and therefore provides an accessible display of innovative upcycling."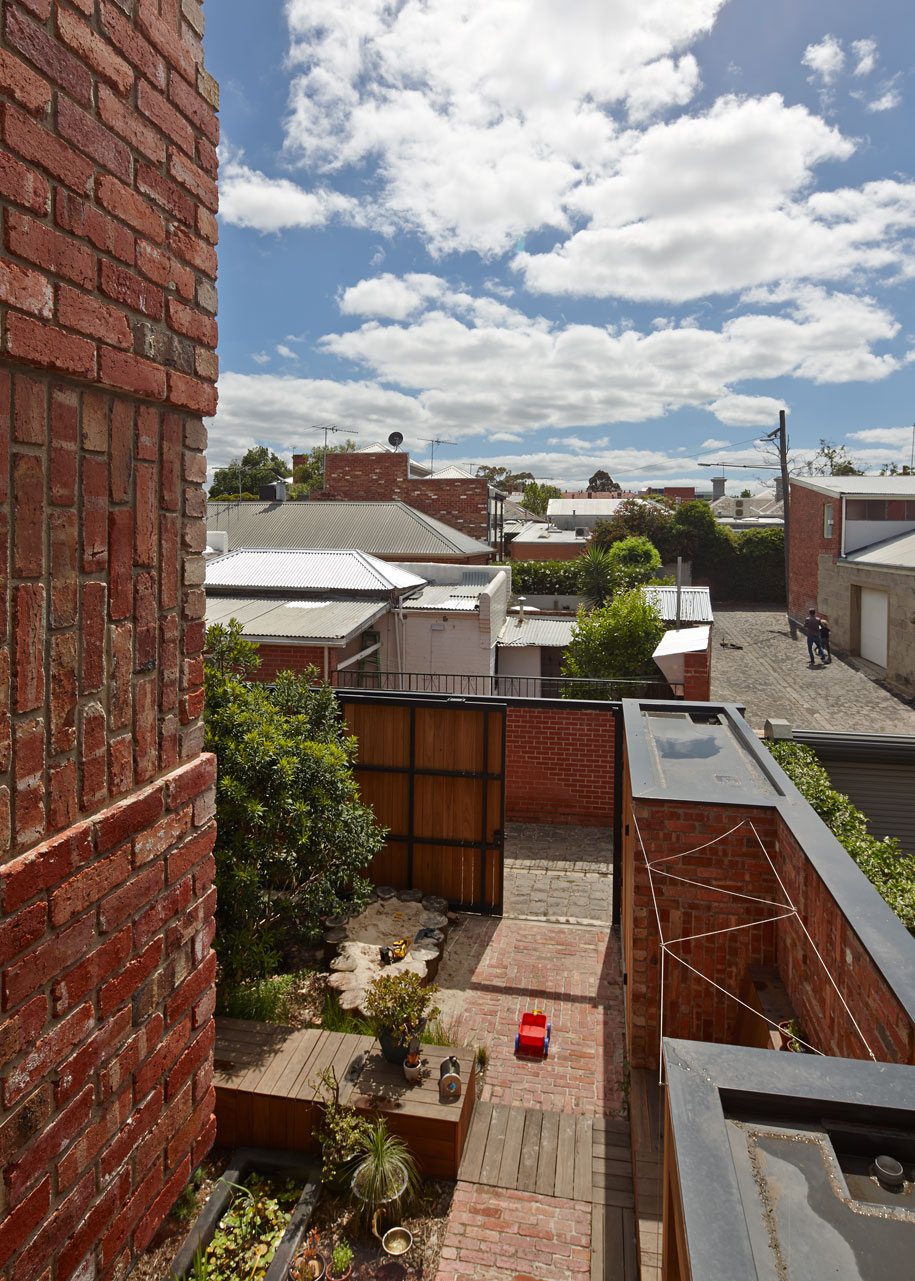 "The intention was to use the old materials in a way that did not disguise their original purpose and therefore provides an accessible display of innovative upcycling. Slate roof tiles salvaged from the old roof now form part of the new façades and the old security screens have been assembled to form a privacy & sun screen over the new rear window. Face kitchen joinery is made from upcycled timber flooring, salvaged during demolition. Even the existing bluestone slabs from doorstops have been re-used as fireplace hearths. A modern and bright black-white was chosen internally to create a clean, simple background for the feature design elements." It seems like the perfect solution to a beautiful but crumbling home.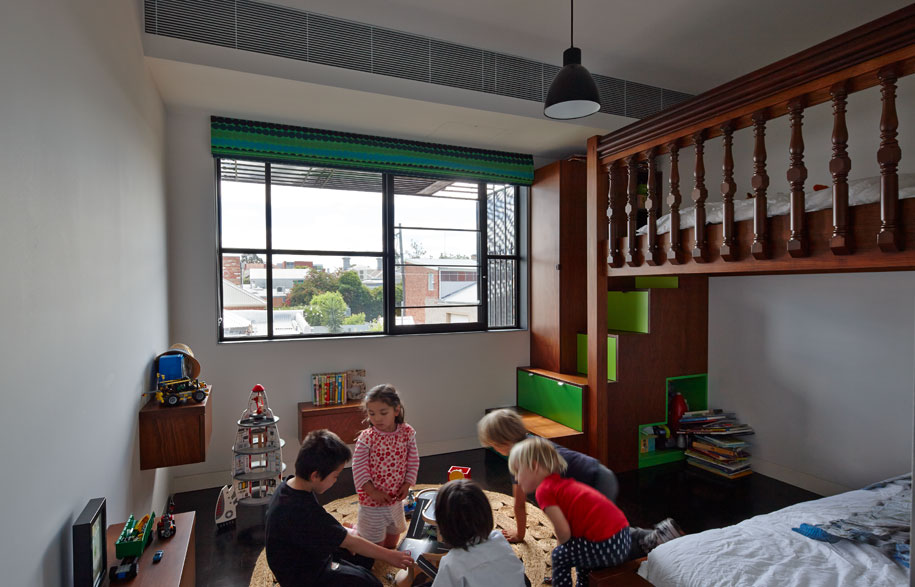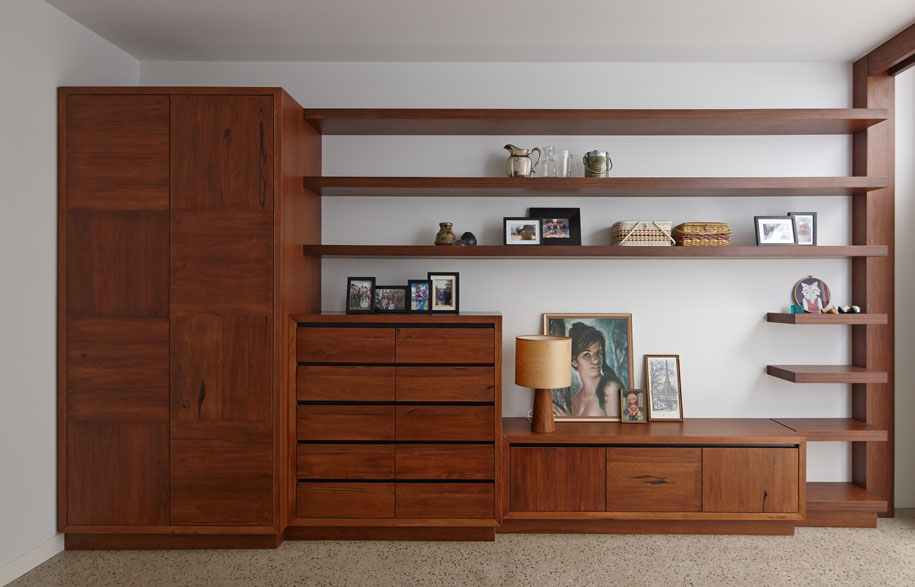 The approach is also ideal for a the brief that called for a sustainable home. "The "Cubomania" and Upcycling (adaptation & re-use) techniques minimise embodied energy by balancing of the quantity of demolished materials against those brought in to replace them." Windows that remained in the Heritage listed front part of the house were all retro-double glazed, for example, and "those which were salvaged prior to demolition retained their original glass and formed a new 3 storey lightwell which feeds light and air into a new habitable basement & also acts as a thermal chimney."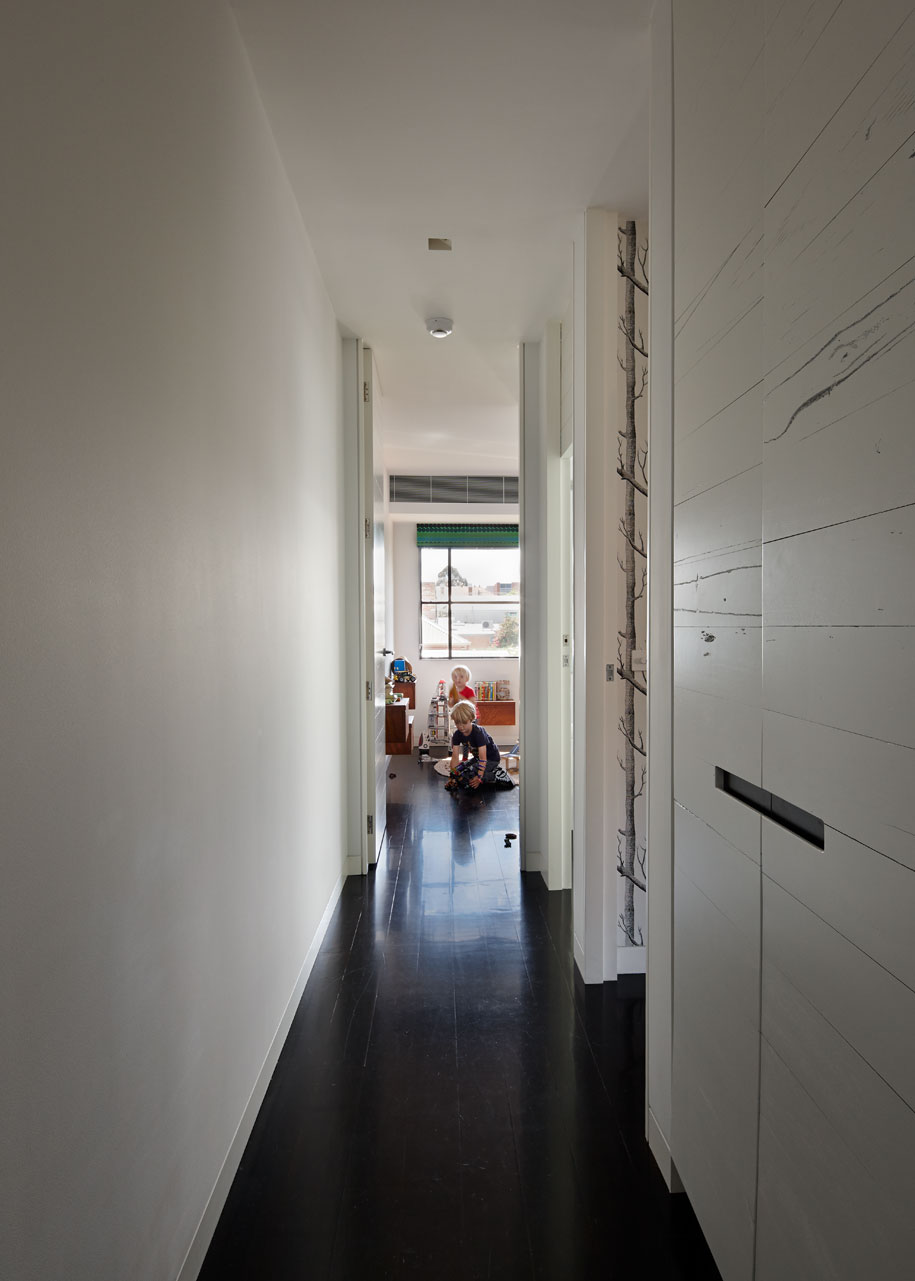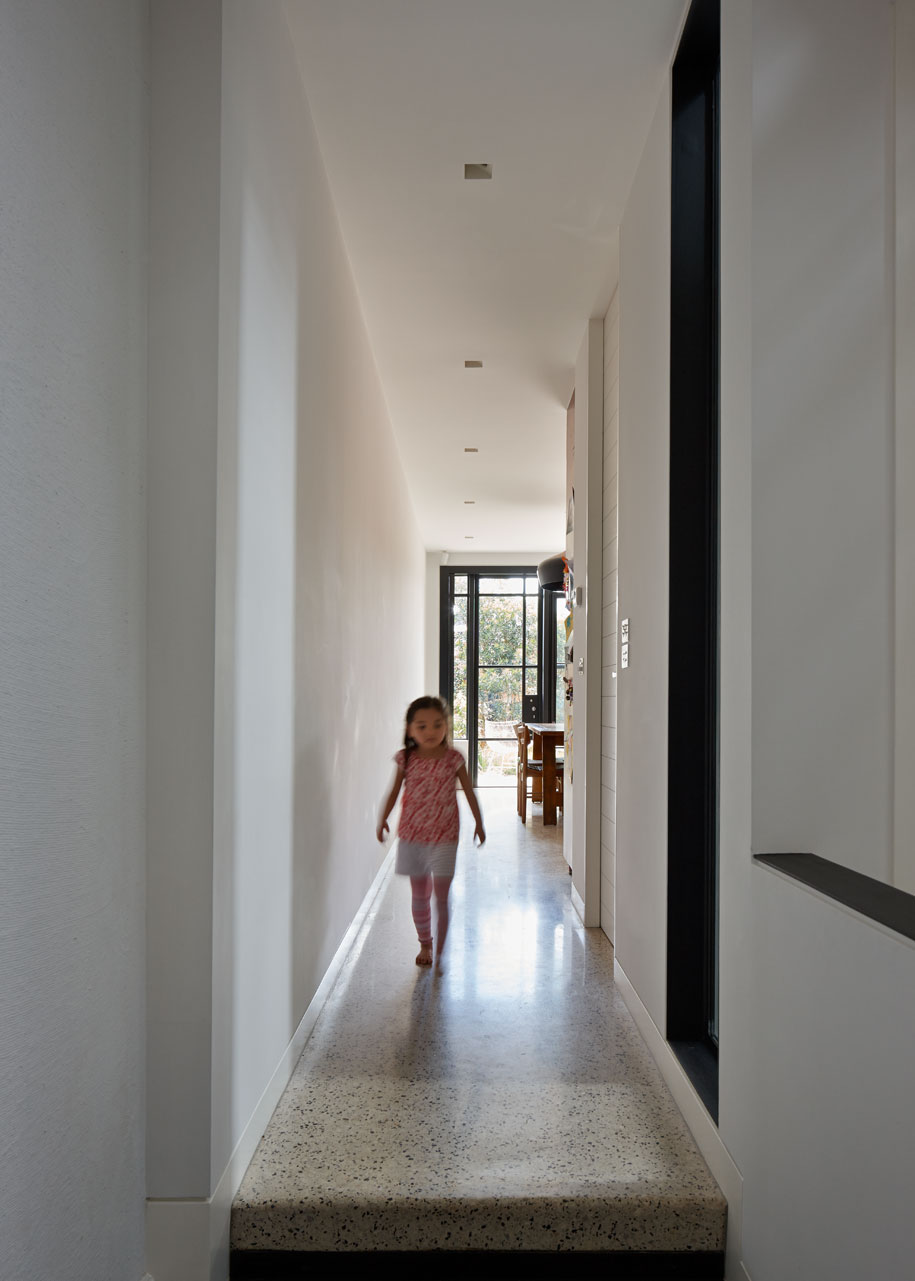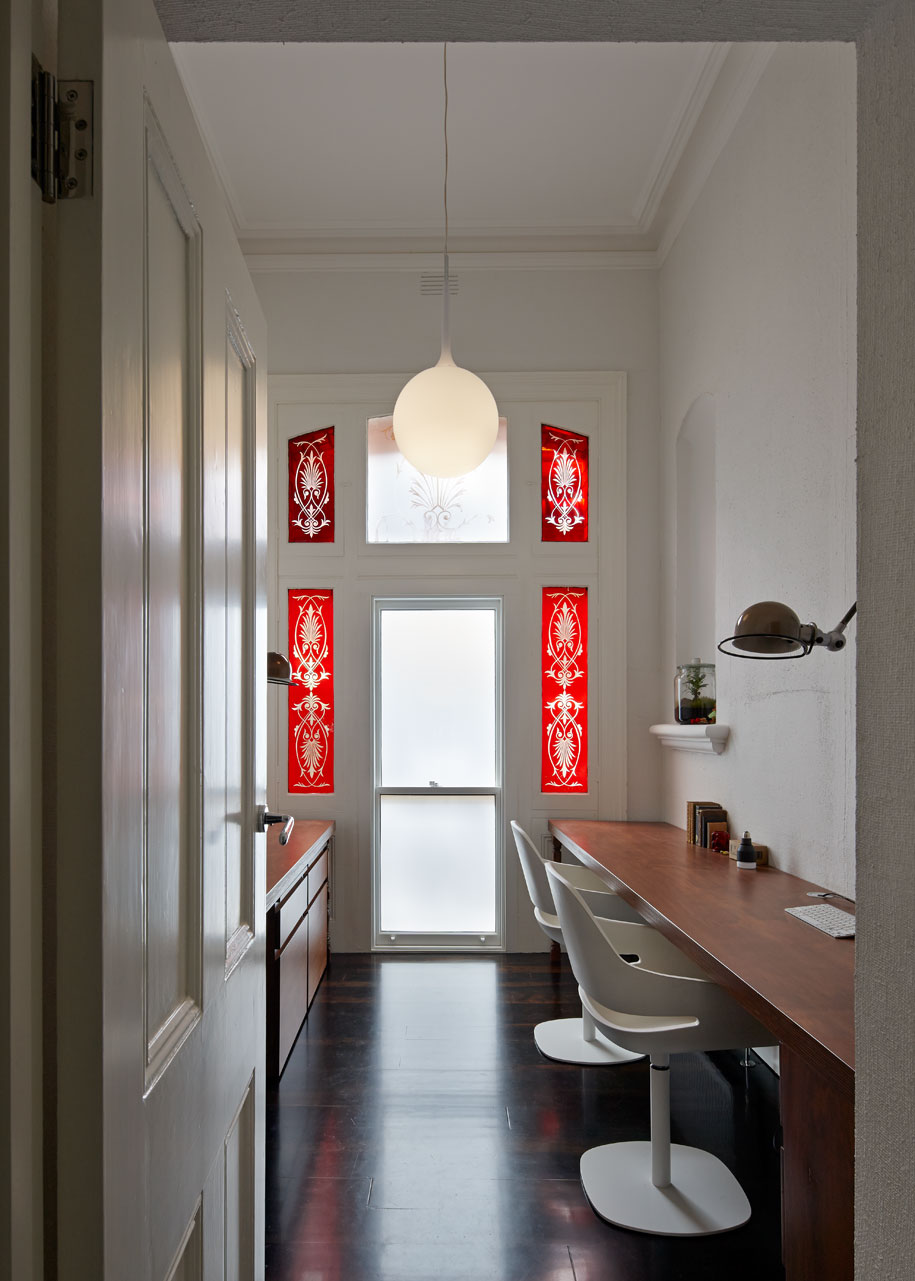 The house also employs many less obvious sustainable techniques including: Passive solar & shading techniques; Active solar equipment; Improved thermal envelope; Increased light and air infusion; Capture and reuse of roofwater; Low energy consumption; and Use of recycled and resilient materials. As well as many more features, every space was carefully designed to enable multiple furniture layouts and therefore uses; they could "avoid building obsolescence".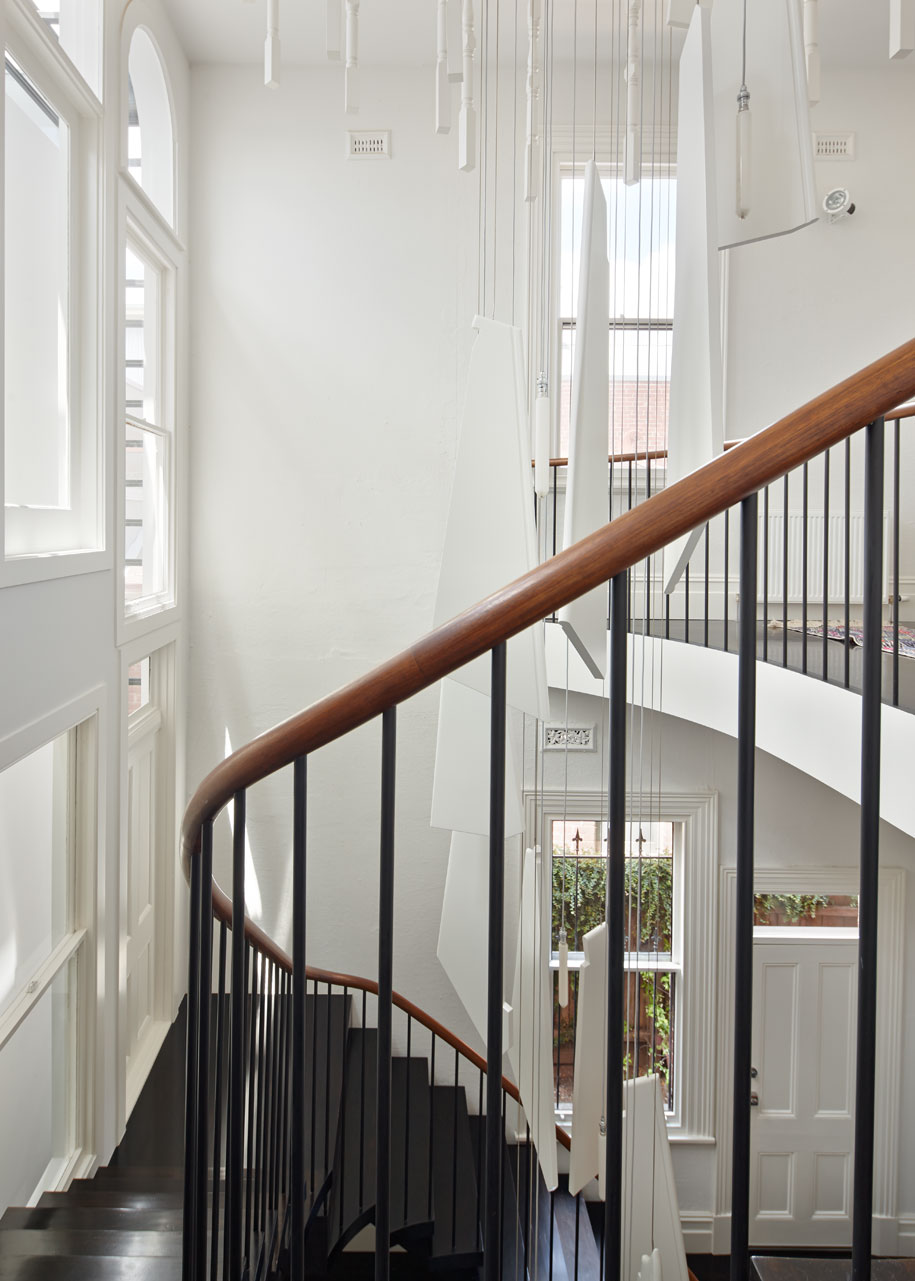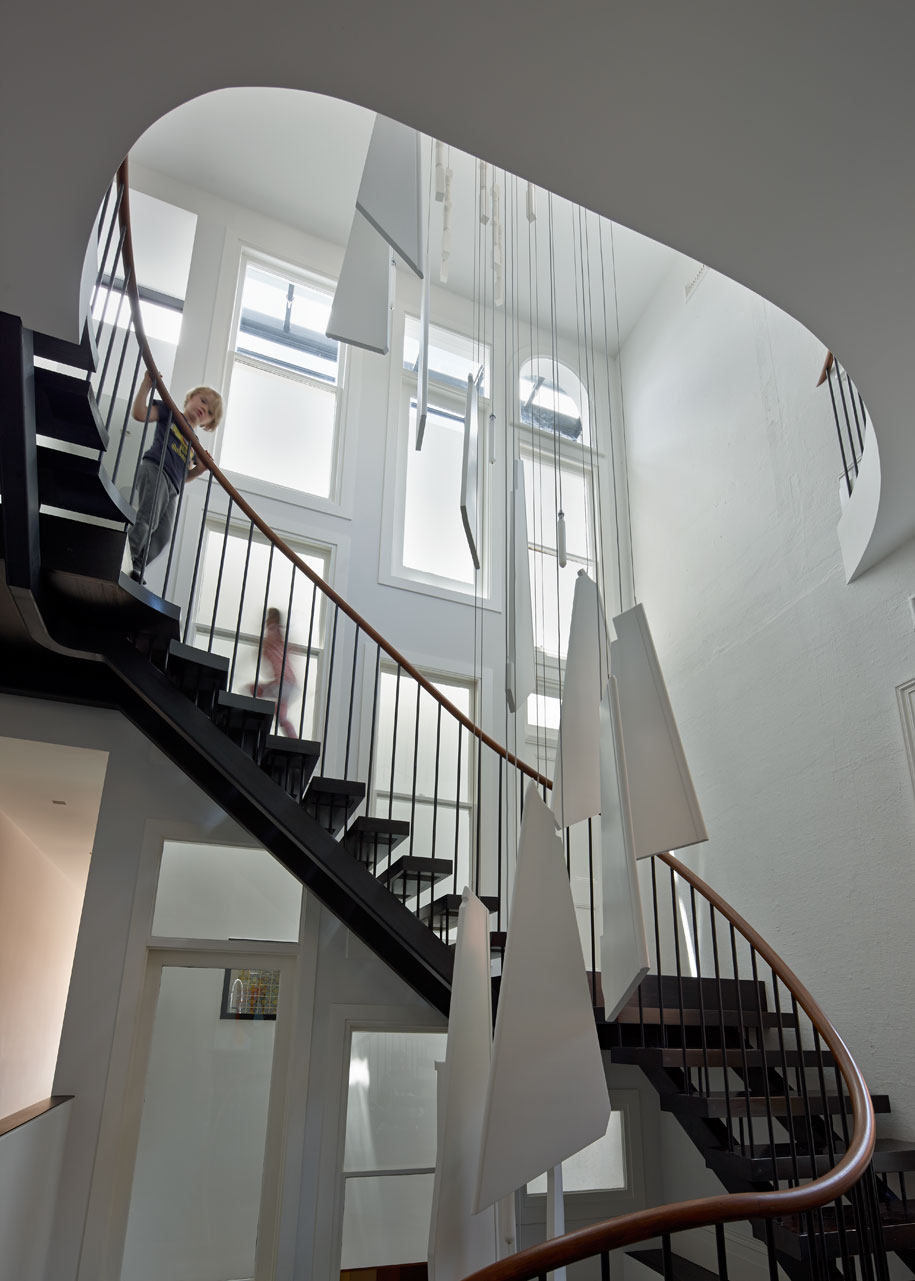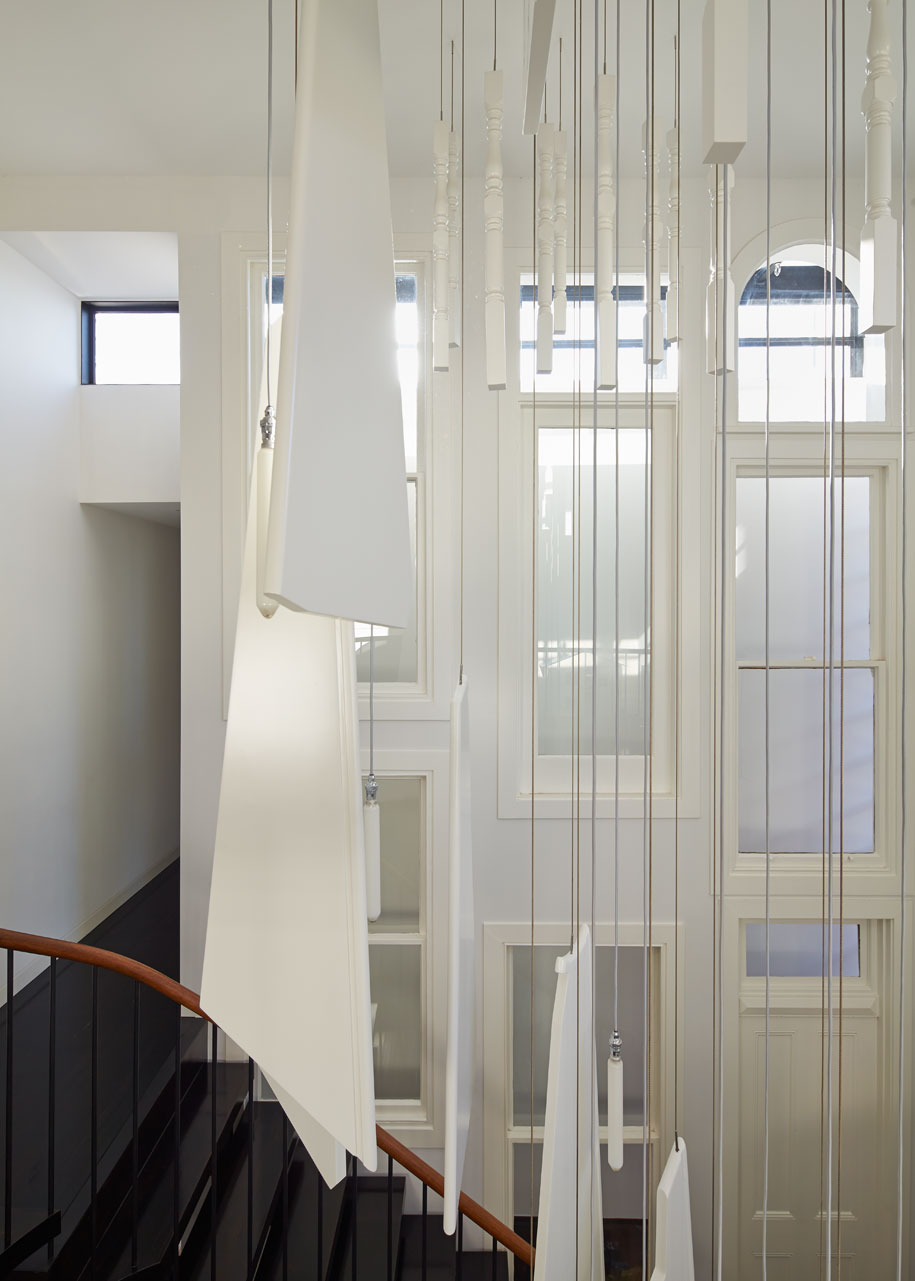 For the architects, the project proved especially fulfilling. "We are particularly fond of the salvaged and upcycled elements which have been celebrated as part of the design metabolism," says Emma. The chandelier (made from the old staircase) that is suspended over the new bespoke spiral stair being a stand-out feature.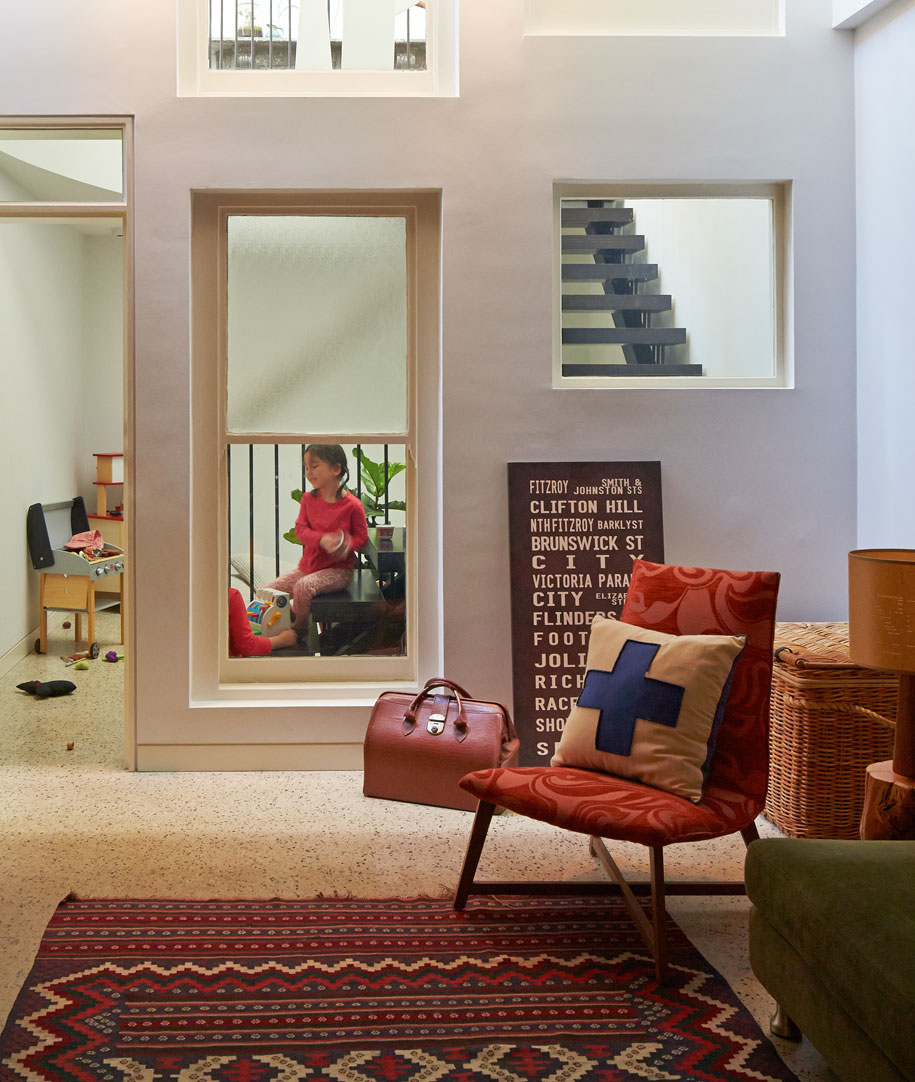 The Owners are equally as delighted and their experience of the house "keeps evolving as they settle in and as the seasons change". Like PHOOEY, the family "love that so many of the old parts have been retained and in so many interesting ways. They are particularly happy that so many modern conveniences have been introduced during the invigoration process, so the house has become something very unusual and something very livable."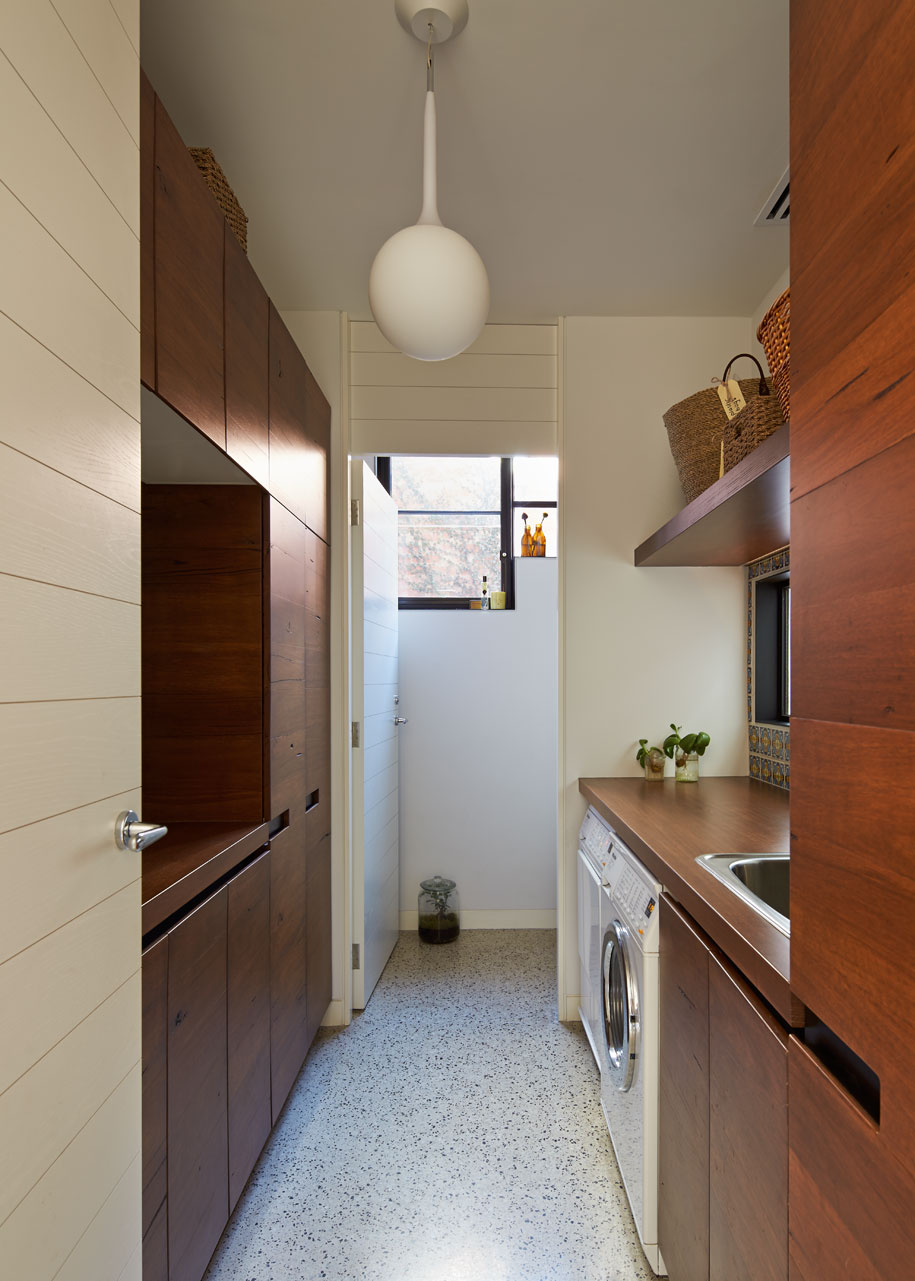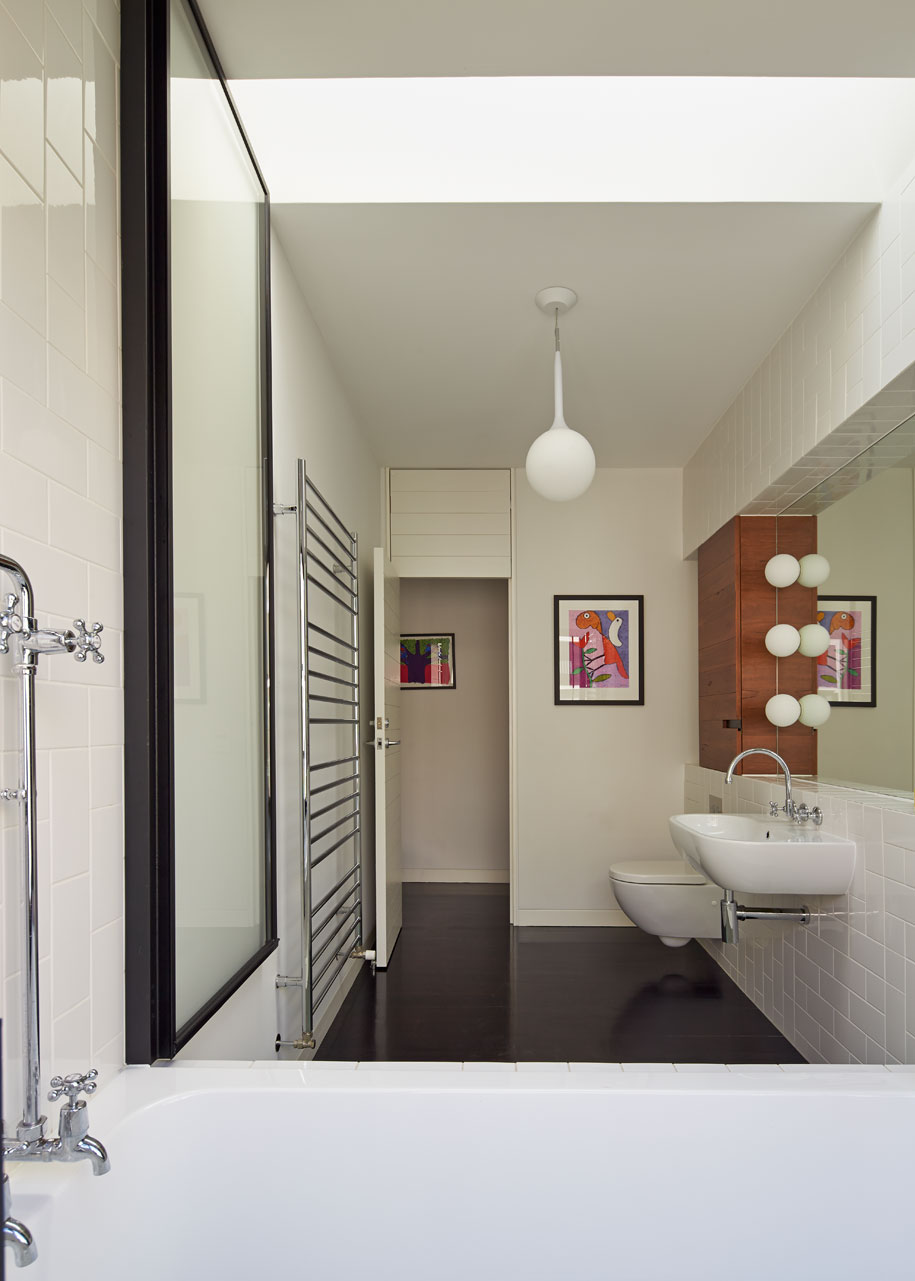 ---
Photography by Peter Bennetts
DROPBOX
Architect/design firm who worked on the project, including head and participating architects/designers:
Architect: PHOOEY Architects
Emma Young (Design & Project Architect)
Peter Ho (Design Architect)
Adam Gordon (Project Architect)
Other Team Members: Jessie Cook, Rob Chittleborough,
Helen Duong, Lucy Arundel, Anne-Claire Deville
Builder: Conterno Group
Interior Designer: PHOOEY Architects
Landscape Architect: Simon Ellis
Structural Engineer – Perrett Simpson Stantin
Kind of project: Renovation
Location: Melbourne
Parameters of project : 270m2 Gross Floor Area (over 3 x levels inc an entirely new basement level). Open Plan Kitchen/ Family/ Dining Room, Living Room, Entry Foyer/ Stair with ancillary room-sized landings, 2 Kids Bedrooms & shared bathroom, 1 Master Bedroom w WIR & Ensuite, Study, Laundry, Powder Room, Habitable Basement (Guest Quarters) w Ensuite & Storage Room, External Courtyard with integrated bench seats, BBQ & bike shed.
Date of project completion (month and year): Nov 2013
PHOOEY Architects
phooey.com.au
---