It's a challenge to make a lasting impression in the Melbourne foodie scene.  The city is known for the eclectic and engaging interiors that match its equally impressive fare. So it's always refreshing to welcome a newcomer that not only pulls its weight in the design department but also delivers a fresh interpretation.  
Located on Flinders Lane, Threefold is a carefully curated food store and eatery designed by Travis Walton. Walton's primary challenge was to colonise a very long, narrow and deep space with limited street frontage. In addition, the space also needed to feel intimate and inviting, yet responsive to its urban siting.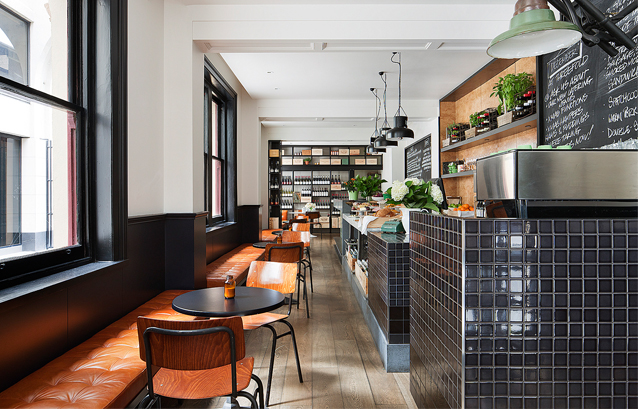 Walton's stylistic solution to the latter was to combine the intimacy of a French Bistro with industrial style elements.  Both ideas read in the space, most specifically in the mosaiced, lava stone-plinthed counter which extends from the street to the rear.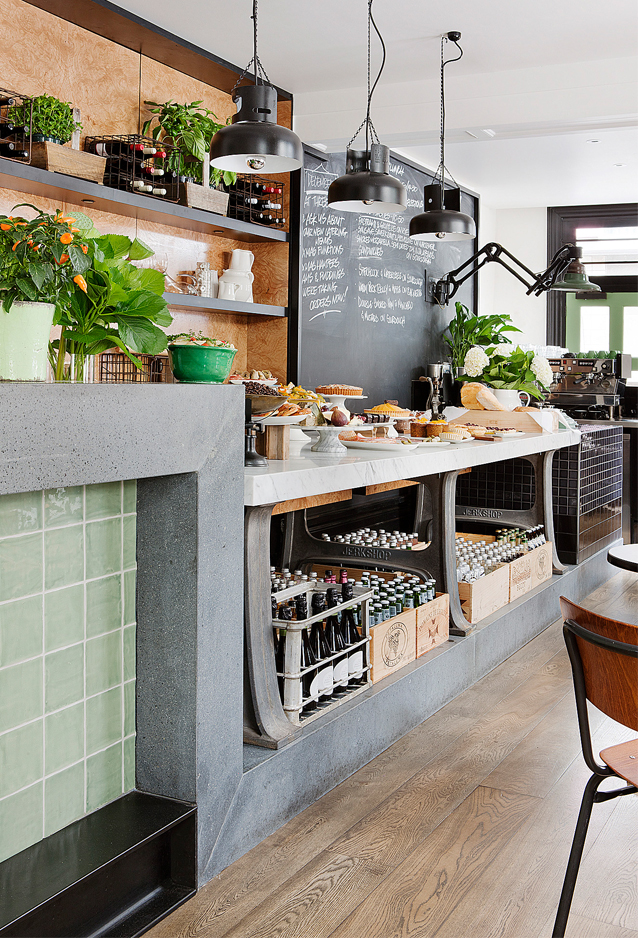 The counter itself subtly changes in function and aesthetic throughout the space. At the entrance, it functions as a coffee bar – well defined by a large extending industrial lampshade – before becoming the lower sales and service counter.  Its solid form then makes way for a marble top and three pairs of bespoke cast iron legs which form the food display counter, again underscored by three industrial-style pendant lamps above and stacked wine crates below. In a final flourish, the counter becomes a dining table formed from the lava stone.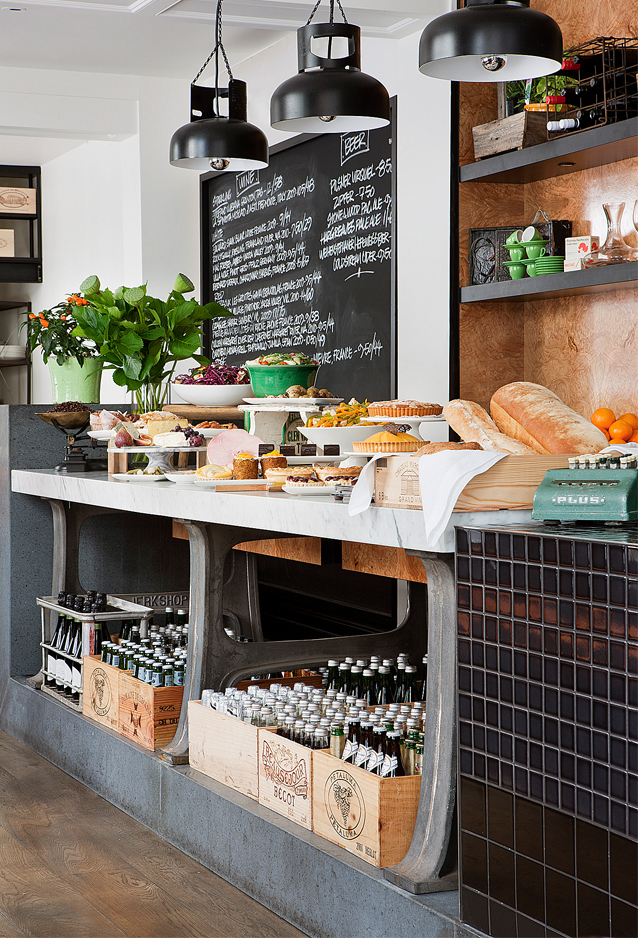 The rear of the counter is equally animated in the form of open shelving set against timber burl backing, flanked by two large blackboards.  The rear of the store is a bookmark of sorts, displaying an edited selection of deli goods which reinforces the food-store concept.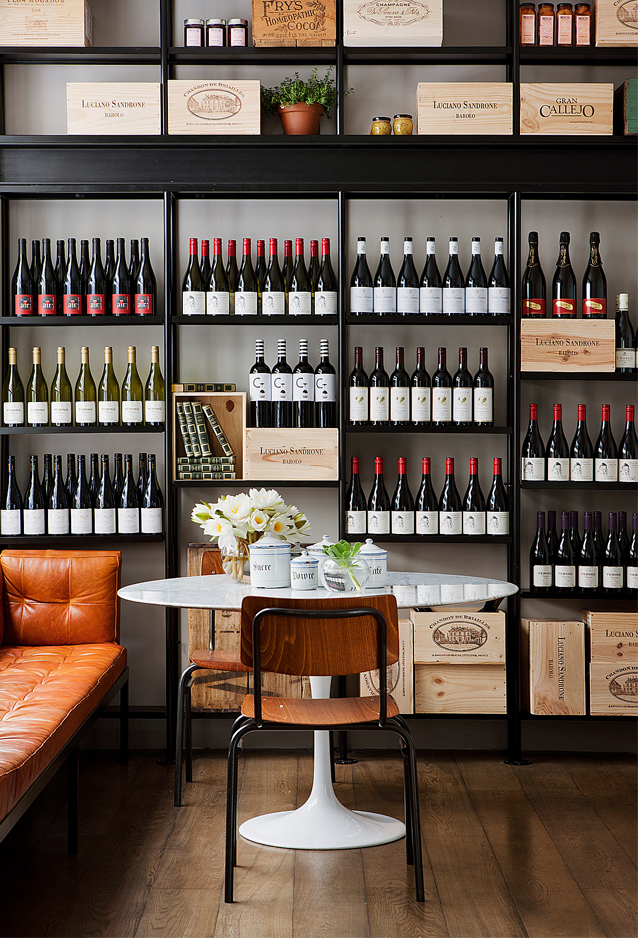 The space is given extra warmth and luxury in the form of the tan, Italian leather leather bench which runs its length and is illuminated by a run of large windows along one side.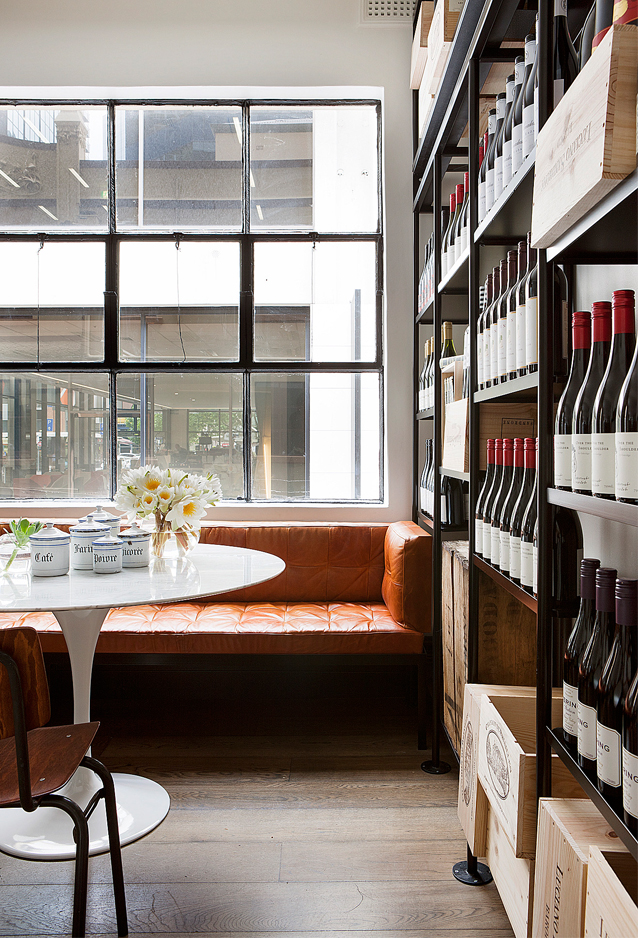 The result is a structured but mildly unfinished aesthetic paired with an equal dose of charm through clever material choice, warm colour tones and rich textures.
---