Above: The dark bluestone floor visually anchors the freestanding forms.
In the past 10 years, a new type of apartment block has emerged on Auckland's city fringe. Low-rise with large common courtyards, it is far more open and layered than its predecessors. Often addressing the public edge directly, it calls for a different response to apartment living. Jasmax director and architect, Tim Hooson, and his partner, Jude Hooson, took up this challenge when they refurbished their apartment in the Patterson Associates-designed Stratis building on the Viaduct Harbour.
Surrounded by water – harbour to the east and a private lock for boats to the  west – the building effectively forms a pier. Tim has united two neighbouring apartments to create one large space occupying the south-east end
of the building. Located on the ground floor, it hovers only two metres above the public realm. Friends knock on the windows or call out when they pass on foot or by boat. In such an exposed setting, and with three glazed elevations, Tim has maximised high-priority living space around the perimeter, and ingeniously concealed services and storage.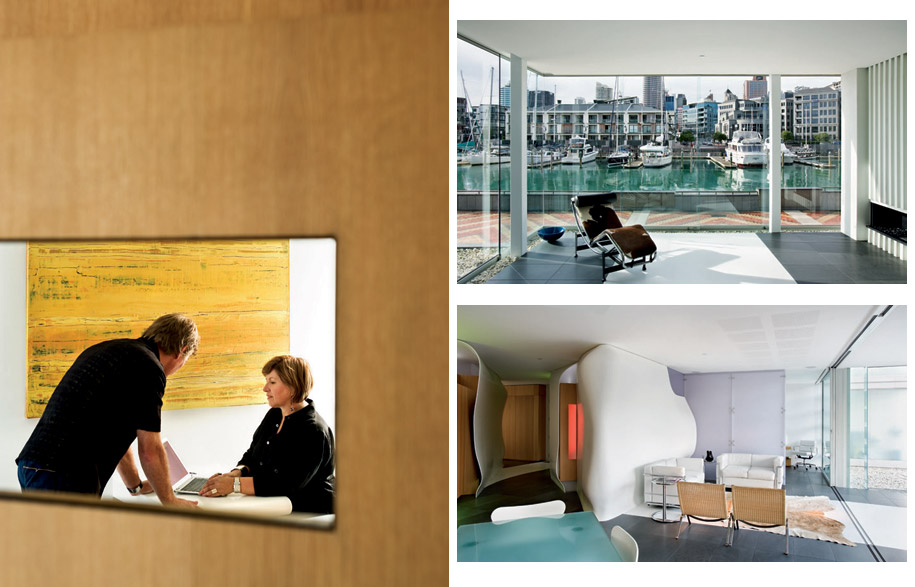 Left: A wireless office allows Jude to work throughout the space. Right Above: A lanai extends the living space towards the harbour. Right Below: Bedroom and bathroom are concealed behind Corian membranes.
An urban retreat in such a public place would normally provoke the use of solid blinds, shutters or curtains. In this case, membranes have been used whereby the occupants are delicately and minimally separated from the outside world. Translucent rolling blinds screen the exterior, and large skins of DuPont Corian (an acrylic product that can be shaped and moulded) conceal private rooms within – the cocooning layers of Corian are only millimetres thick. The actual experience of privacy between public and private domains has been unexpected. "There is something about the lightness of the space that draws you closer to the outside. We feel we are in the same daylight space as the public," says Tim. "Yet from the outside looking in, it doesn't feel like that at all – it looks recessed and setback. Most of the time the public are completely unaware that it is they who are being watched – a very intriguing reversal."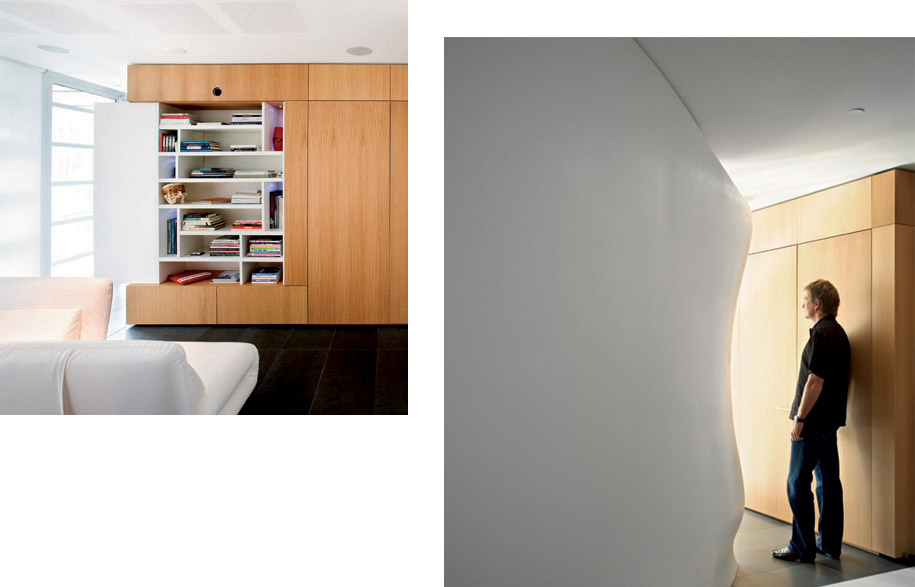 Left: The luminous interior creates a serene and slightly surreal mood.
Right: Tim Hooson stands next to a sculpted Corian wall and built-in joinery.
The conceptually-driven interior works on multiple levels to evoke a strong sense of place. Its nickname, Icestation, reinforces the apartment's greater context of the Southern Ocean. Within the harbour precinct, bluestone from the building's plinth and sea wall is continued inside as flooring, and the gleaming boat hulls outside echo the interior's pure white surfaces. Memory of the site's previous use – a lumber export yard – is retained in timber cabinetry. Commercial tug and fishing boats were replaced by leisure and sailing craft when the industrial harbour was redeveloped for residential use at the time of the 2000 and 2003 America's Cup challenges.
It is difficult not to draw on water and boating analogies when reading the apartment interior. While there are no obvious marine references, there are some very poetic water and wind allusions; a high level of craft was required to fit timber cabinets in and around curves; every nook and cranny has been utilised for storage; and, as in a boat, personal items are carefully stowed away. The Hoosons are passionate sailors with very busy professional lives. The streamlined and highly efficient interior offers them a city retreat in a location that is close to work, has a lock in which to berth their sailboat and direct access to the idyllic Waitemata Harbour, full of islands and bays that entice sailors.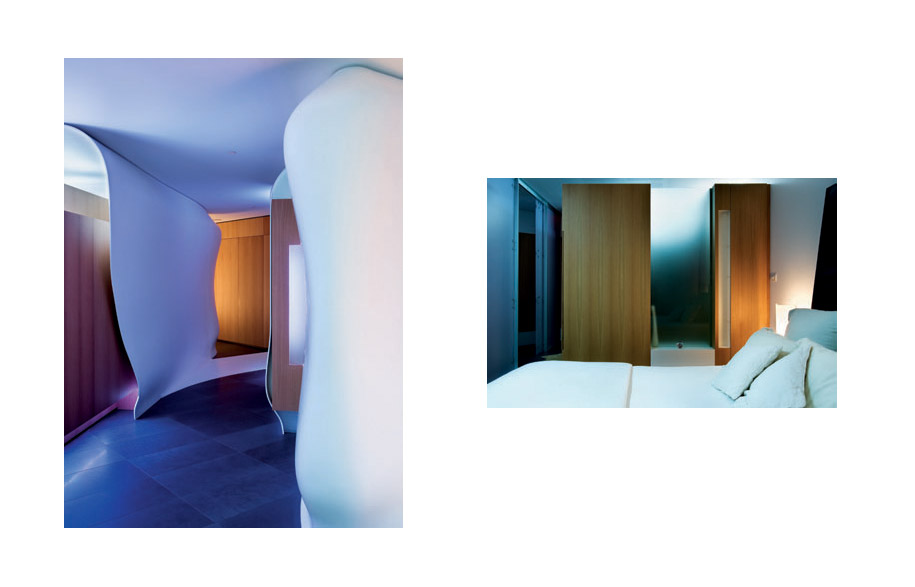 Left: A subtle and continuous flow of rooms. Right: Main bedroom with dressing room cabinetry beyond.
The billowy Corian membranes are self-supporting and combine with timber cabinetry to contain kitchen and bathrooms. These central islands allow the living and bedroom spaces to occupy nearly the entire glazed perimeter. "Spaces are segmented, but not cut by these suspended pours. They create a subtle and continuous flow of rooms and an equally subtle understanding of uses within each space," says Tim. As sculptural objects they change character with the light – absorbing it, reflecting a soft sheen, or glowing when sunlight hits the surface. "Without edges marking its spatial shifts, the pour of Corian creates an effect of a white-out, a sea fog, with only occasional edges as defining points," notes Tim. "Our mind is so accustomed to the built environment around us being rectilinear; it becomes quite hard to ascertain where the edges of the surfaces are." He uses dark bluestone tiles to anchor the shifting forms – the mortar grid acting as a coordinate system. These exquisite white vessels are the heroes of
the interior – artwork and furnishings are kept minimal to preserve their quiet presence.
The apparently soft organic forms belie the high degree of innovation and precision required to create them. Tim had experimented with the product for a commercial installation. What he discovered intrigued him, so when he decided to build, he was presented with the perfect opportunity to experiment with the material and test its limits. "In hindsight I would have been keen to push it harder," he notes. Utilising an innovative process he developed with Corian fabricator and designer, Murray Christensen of Muzarro, the room-scaled forms could be created in under a day. "By applying heat, the material liquefies, enabling exact manipulations and subtle pours which remain in suspended states," Tim explains. This trait has been humorously sent up in the kitchen where Corian 'flows' down the wall to seamlessly morph into a table and two seats.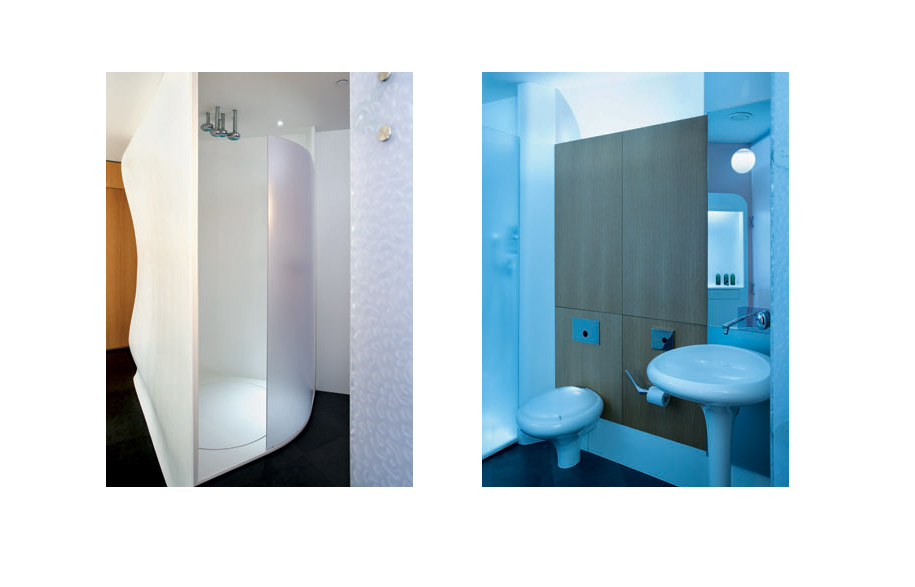 Left: Corian skins separate private and public spaces. Right: Ross Lovegrove-designed fittings for Vitra adorn the ensuite.
Tim's work is characterised by construction and technological explorations. "My passion for sailing, and the adjacent technologies of the marine industry, inform much of my design work. I've been intrigued with the idea that architecture can have a fluid nature to it," he says. The Telecom Shed pavilion he designed for the 2003 America's Cup used high-level industrial detailing to create a rolling tensile structure that referenced the dynamic tension of sails, wind and waves.
Tim and Jude have lived in apartments since their university days. Ten years working in Europe cemented this way of life, so upon their return to New Zealand in 1994, they were naturally drawn to the city. Moving from their uptown loft to the harbour's edge coincided with Jude's decision to work from home. Her strategic consultancy is largely computer-based and wirelessly operates out of an 'engine room'. She works from anywhere within the apartment, liberating her from a fixed desk. The freedom this offers is matched by a home and boat that are easy to maintain, batten down and leave. This serene and slightly surreal cocoon holds its occupants in a gentle luminous suspension. Abstract structures and spatial demarcations create a private retreat that posits a very different model for living.
Photography: Simon Devitt
Architect: Jasmax Architects
Jasmax Architects
Project Architect
Tim Hooson (Principal), Valentina Machina
Project Manager / Quantity Surveyor
Practec Interiors (Stephen Davies and Carlos Kearns)
Fire Engineer
Holmes Fire (Martin Feeney)
Structural Engineer
Holmes Group (Jeremy Austin)
Demolition
Practec Interiors
Concrete Penetrations
Crystal Concrete Cutters
Structural Steel/Metalwork
Weldrite
Carpentry
Kaos Interiors
Plumbing / Gasfitting
JC McCall Plumbing
Mechanical
1st Mechanical
Fire Protection
Entire Fire
Artwork
'Indian Summer' by Mal Bouzaid.
Furniture
Arne Jacobsen armchair for Fritz Hansen, Egg Chair in Hallingdal by Kvadrat and Fritz Hansen leather and wicker PK22 armchair from Living Interiors, kvadratmaharam. com / livinginteriors.com.au, also available from Corporate Culture, corporateculture. com.au. Le Corbusier chaise, Fritz Hansen Ottoman in Hallingdal by Kvadrat. Fritz Hansen Series 7 dining chair in white matte lacquer with polished chrome legs.  Le Vele sofa by Luigi Recalcati in White from Gelosa, gelosa.com.au. Eames office chair from Matisse, matisse. co.nz. Cowhide rug.
Finishes
Paint in assorted colours from Resene, resene.co.nz.  Appliance White powdercoat
from Ameron, ameron.co.nz. Bluestone low-sheen honed floor tiles from Trethewey Stone, trethewey.co.nz. Feature flooring Glacier White DuPont Corian from Muzarro, muzarro.com / dupont.co.nz. Bubble wall from Interion 3-Form, interion.co.nz. Laminate joinery, laminex.co.nz. Sustainably-sourced white Oak veneer wall panelling.
Lighting
All lighting from Aesthetics Lighting, aesthetics.co.nz.
Fixtures/Equipment
Vitra Istanbul bathroom fittings designed by Ross Lovegrove, vitra.com. Underfloor heating from Omniwarm, omniwarm.info. Home automation from
Automation Associates, aa.net. nz. Oven and dishdrawer from Miele, miele.co.nz.
Westinghouse refrigerator, westinghouse.co.nz. KWC Eve kitchen faucet from
Franklins, franklins.co.nz. Fireplace from Real Fires, realfires.co.nz.
Tags: apartment, Auckland, Interior Architecture, Interior Design, laminex, New Zealand
---