When architect Max Pritchard began building Treetop Studio ten years ago he intended to use it as his office. The Adelaide-based sole practitioner's practice expanded unexpectedly, however, and after employing three people he needed to find a bigger workspace. So Treetop Studio would remain half-built on his Kingston Park property until the beginning of this year.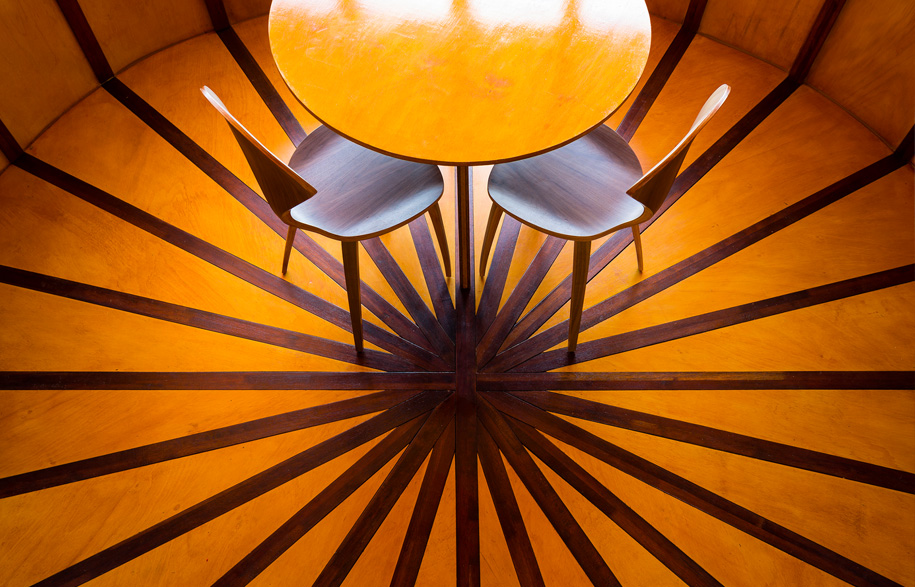 "Eventually I just thought it's a lovely little structure and I'm going to have to finish it," says Pritchard. "And it will function as my own private home office." The two-level timber tower is a mere four metres in diameter, but it serves its purpose well. Nestled in amongst the treetops it is accessible from the house by a timber walkway and is striking for its rationalised simplicity and bold sculptural form.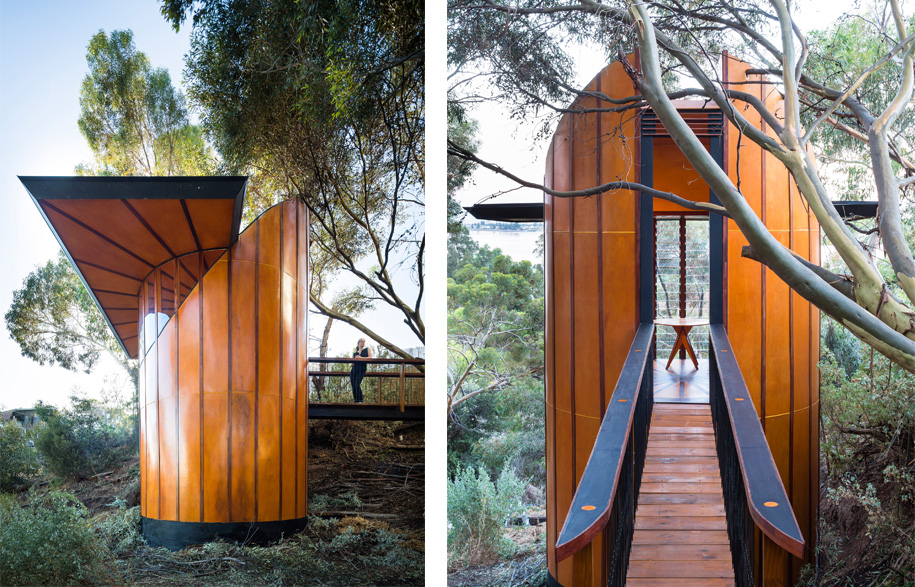 It stands in direct visual opposition to Pritchard's house, which is an elevated glass pavilion with an expressed steel structure that he designed 30 years ago. This contrast is deliberate on the part of the architect, contributing to Treetop Studio's successful, and thoroughly delightful, design outcome.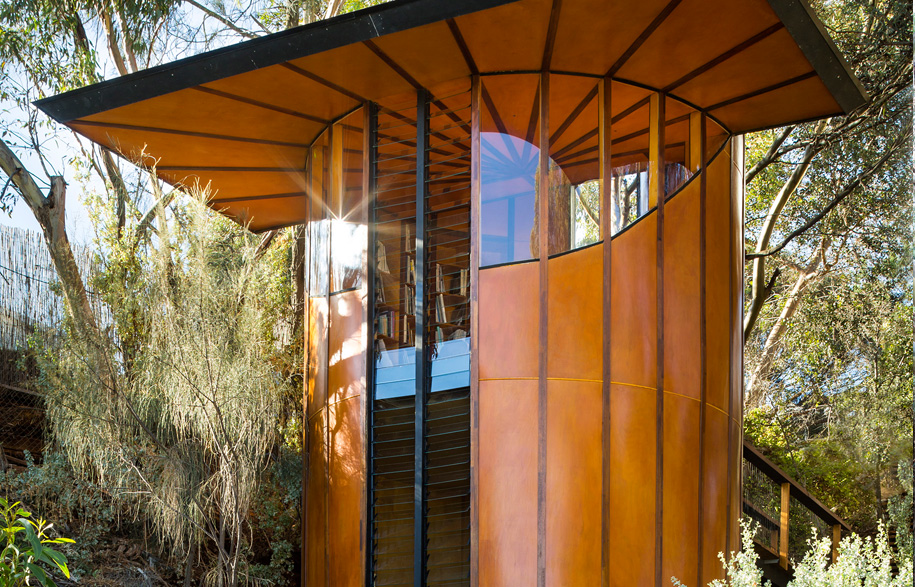 "I wanted it to read as a separate structure built at a different time," says Pritchard. "But most importantly I wanted to use timber and plywood because I wanted to build it myself and I feel confident with carpentry." The level of detail and finish is exquisite, especially considering the economical material palette.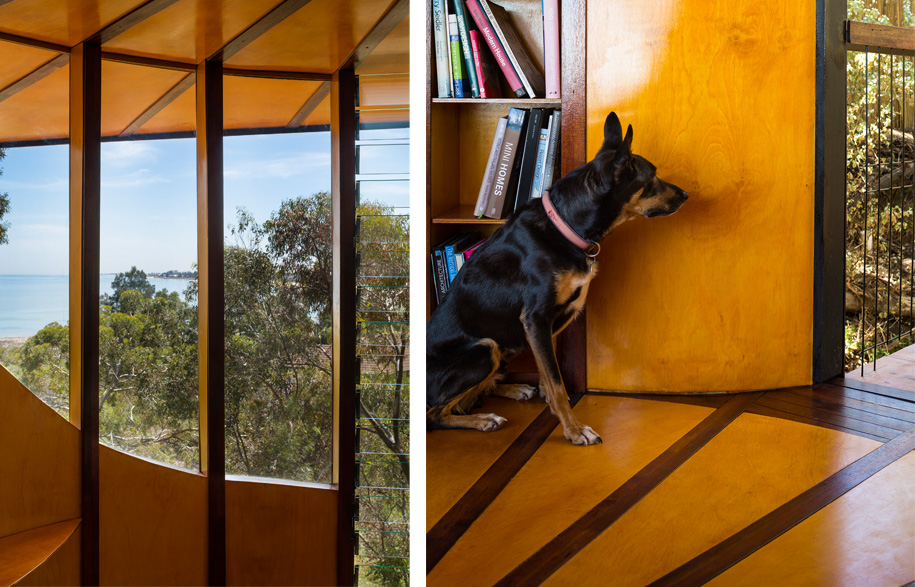 Treetop Studio's most resounding design expression, however, is its radiating baton motif. As Pritchard explains: "The roof structure is constructed from these radiating timber beams that are visible under the eaves and the radiating batons can be read from both inside and outside. I built that first and thought, 'That looks pretty good on the ceiling, why don't I do that on the floor'."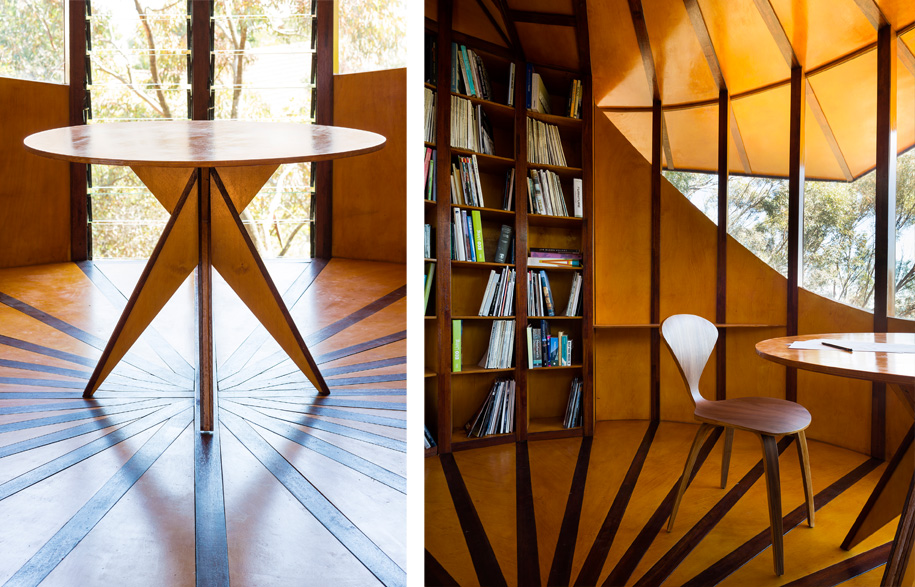 Pritchard also built the table that sits in the upper level by utilising the project's timber offcuts, which creates a sense of cohesion within the space. The tower's chamfered top offers an unexpected design flourish and adds to Treetop Studio's overall sculptural quality. Its leafy garden location simply heightens the effect and one can only imagine Pritchard must enjoy every (rare) spare moment he gets to spend in this lovingly crafted home studio.
Photography: Sam Noonan
samnoonan.com.au
Max Pritchard Architect
maxpritchardarchitect.com.au
Tags: Adelaide, Architecture, Australia, Home Architecture, House Architecture, Interior Architecture, Interior Design, office, residential, Residential Architecture, wood
---