When Tribe Studio Architects' principal Hannah Tribe designed a Bundeena holiday home for her family, the structure she conceived had an ulterior purpose as a kit-home prototype.
"I built this house for my own family as a weekend escape from the city. My husband and I both have very busy work lives, and our boys are super-active. This is a place to unwind and take it slowly in the school holidays," says Tribe. "It is also conceived as a kit home, to fill a gap in the market for affordable, sustainable, and well-designed alternatives to what's currently available."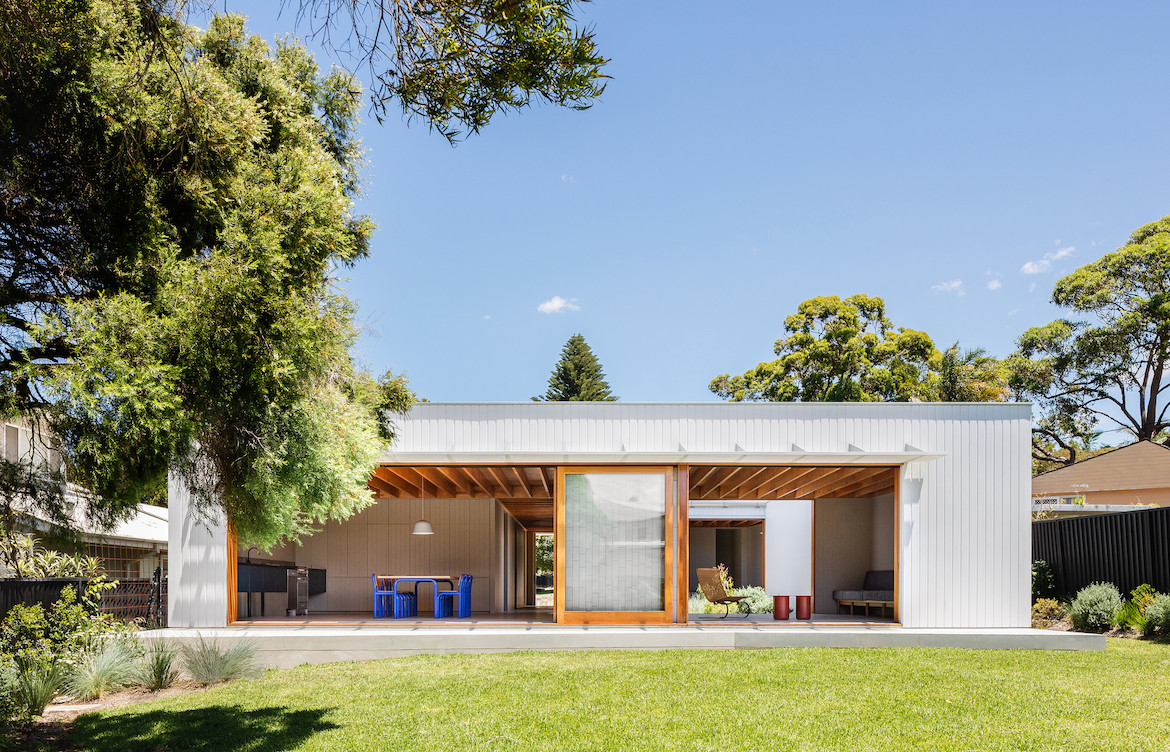 The kit-home prototype, Tribe hopes, will address the demand for affordable housing in the midst of the climate crisis – all while proving that kit-homes don't need to compromise on architectural integrity.
"We were seeing lots of clients with the dream of a seachange or treechange, and they had architectural aspirations and great taste, but they were unable to manage a bespoke architectural experience. This is a house designed with economy and quality in mind, and it is easy to reconstruct and replicate," says Tribe.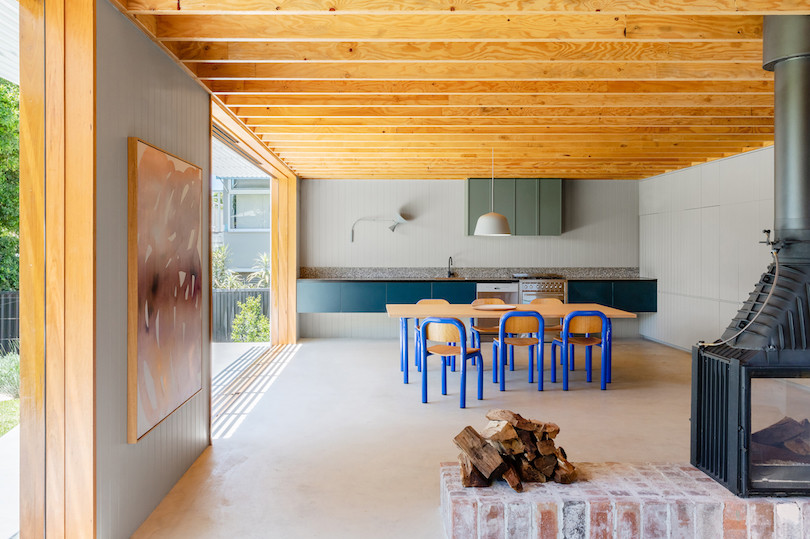 The three-bedroom weekend house is purposefully informal as the Tribe family "love to cook and entertain", centred around a courtyard and prioritising open plan living, large kitchen and outdoor tables, and a central fireplace.
"It has a kind of hose-out beach pavilion feeling, and until lockdown, it had always had a joyous full-of-friends-and-kids kind of feeling," says Tribe. In enviable relaxed beach house fashion, the entry is suitably enhanced with an outdoor shower, laundry, bathroom and long towel rails. Two adults' bedrooms and a kids' room that can sleep up to six means the home is perfect for inviting friends to stay.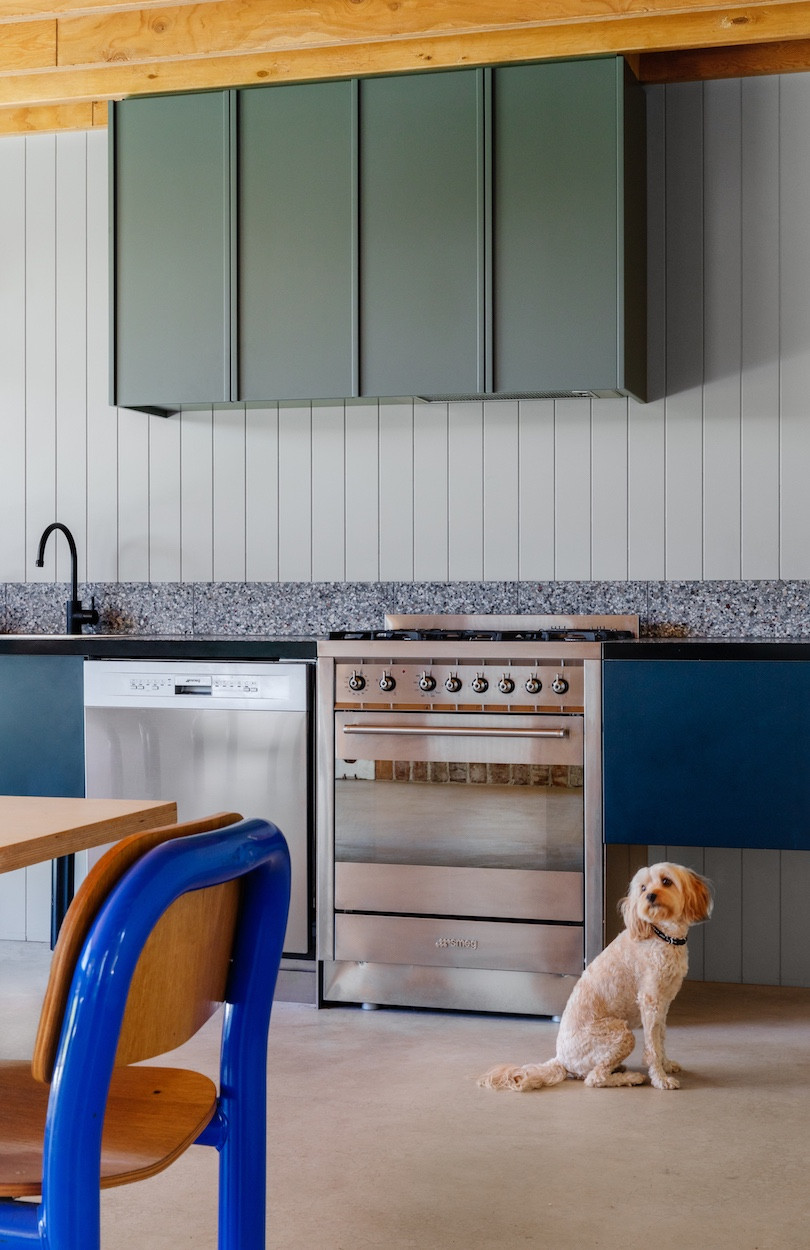 Rather than have multiple levels, says Tribe, "it sits low in the landscape to fit in with the humble vernacular fisher-dwelling of the place". This means that apart from being more accessible to people on a tight budget, the single-story step-free home is also accessible for people with physical disabilities and provides a suitable option for ageing owners as their mobility decreases. Despite a second storey having the potential for spectacular views, "reinforcing the local vernacular of single-storey timber cottages was important," says Tribe.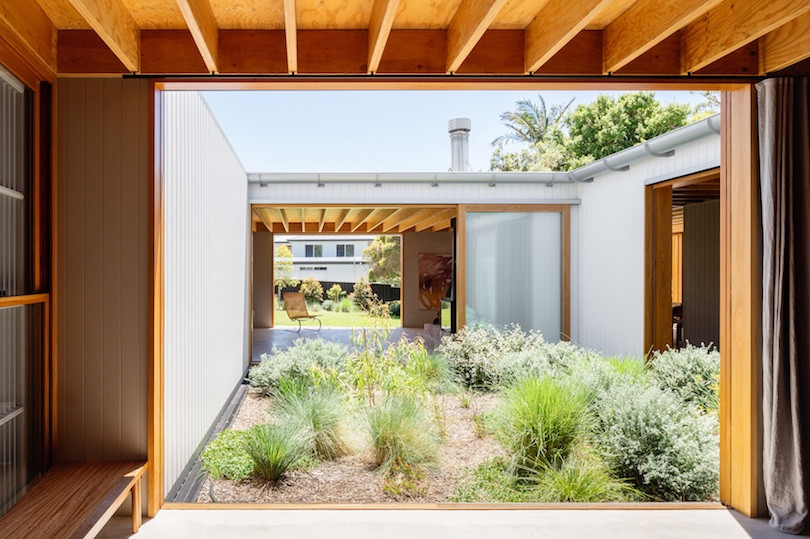 Tribe Studio, which has been awarded in the past for its sustainability innovations, ensured environmental measures were ubiquitous in the home. House orientation, double glazed windows, awnings to reduce solar gain and heavily insulated yet lightweight walls combine to passively heat and cool the home. Meanwhile, solar power and the provision for a future battery means the home has the potential for self-sustaining energy, and water is recycled in the toilets, washing machine and garden irrigation.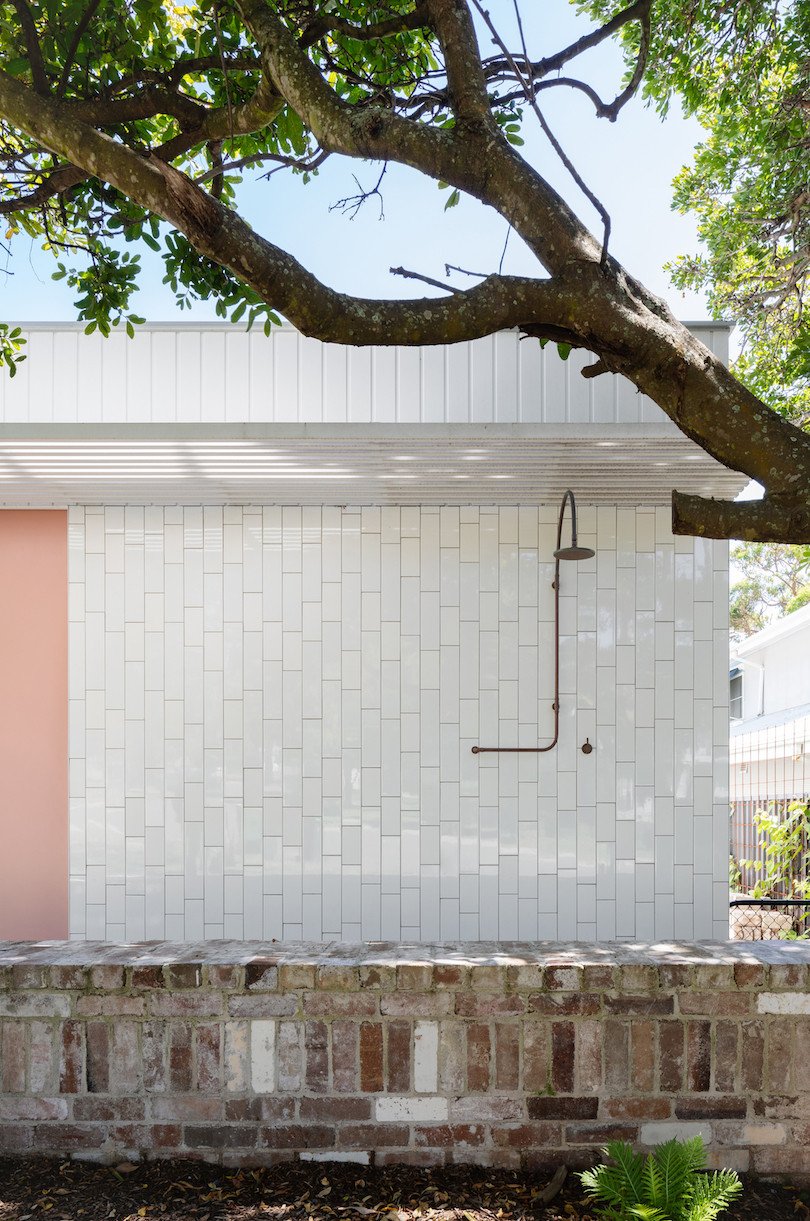 The prototype is also a test for Tribe Studio to hone waste reduction from the "huge and unnecessary problem" of site waste.
Inspired in part by Le Corbusier's Dom-Ino House, Tribe's kit-home prototype is a response to the "compelling but elusive dream" of using off-site and industrial techniques to provide mass housing.
The vision for this house? To create an easily buildable, affordable architectural house, that supports local labour, reduces waste, is sustainable and can be adapted to a variety of locations. It's a lot of boxes to tick, but if award-winning Tribe Studio Architects can pull it off, the future of this kit-home is likely to be a large success.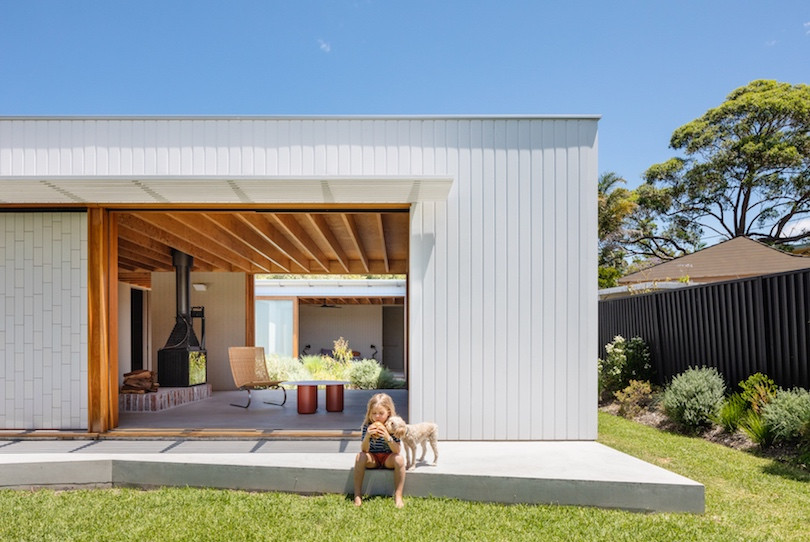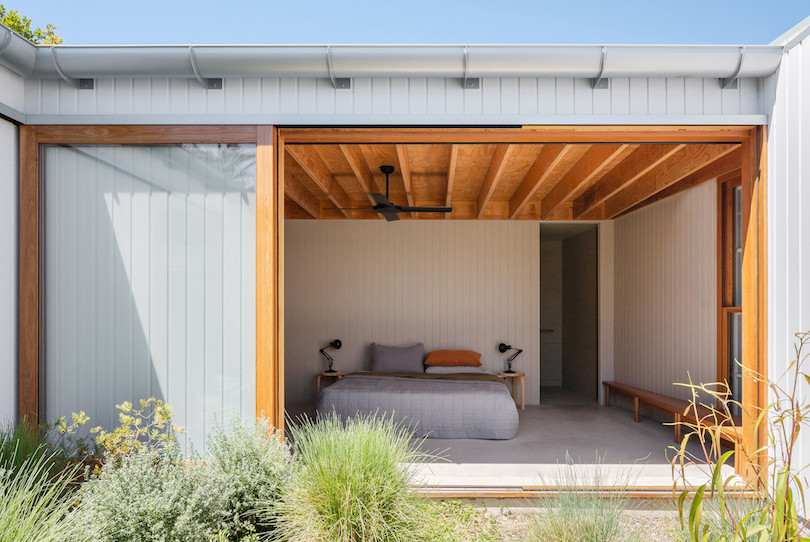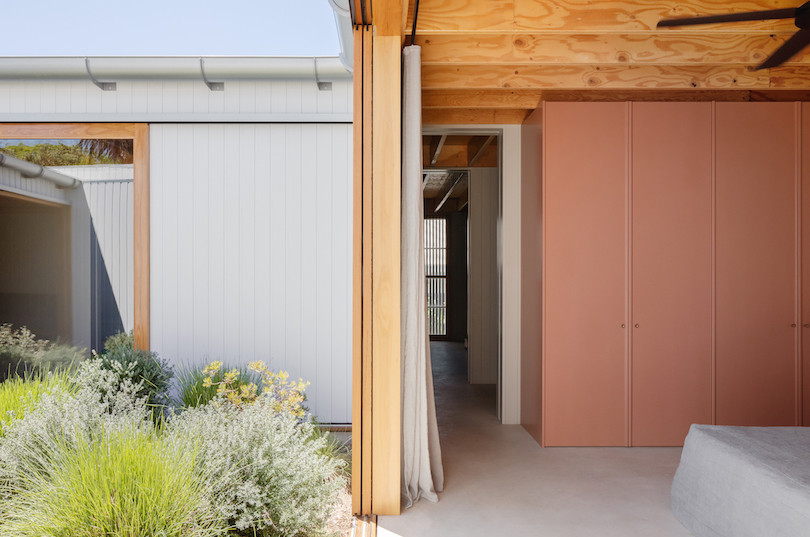 Project Details
Architects — Tribe Studio Architects 
Building — Ballast Construction + George Payne
Engineering — Cantilever
Landscaping — Christopher Owen
Photography — Katherine Lu
Want to see more from Tribe Studio? Check out this Victorian cottage restoration in Glebe.
Tags: affordable housing, Bundeena Beach House, holiday home, kit-home, modular, Tribe Studio Architects
---