To spot a pair of courting hornbills- merely metres away in the knarly frangipani tree in your bathroom courtyard – is an unusual and extraordinary privilege.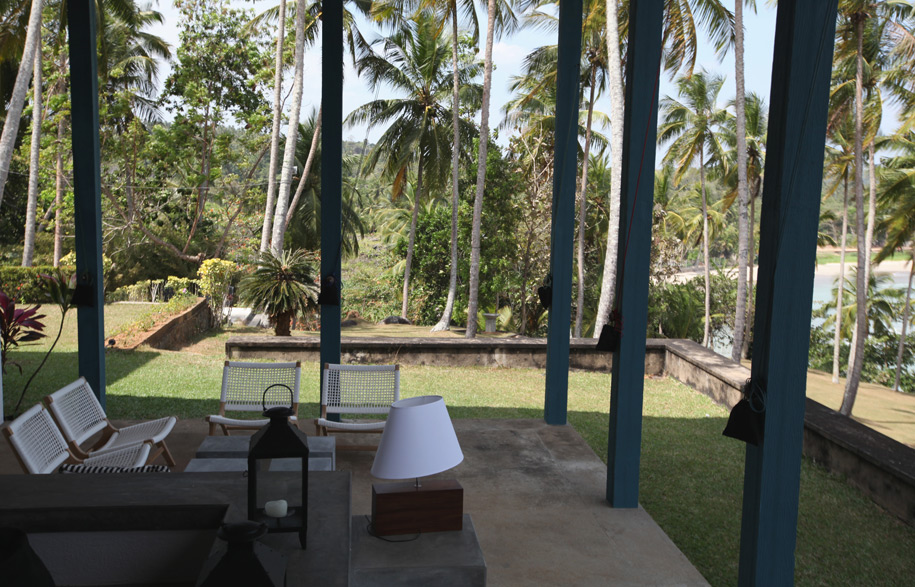 That such an enchantment should occur whilst staying at Claughton House, a holiday villa designed by acclaimed Sri Lankan architect Geoffrey Bawa is not so surprising however. Whilst homage to indoor- outdoor interplay is now a buzzword, few designers have melded buildings with their natural context quite as inextricably or as inventively.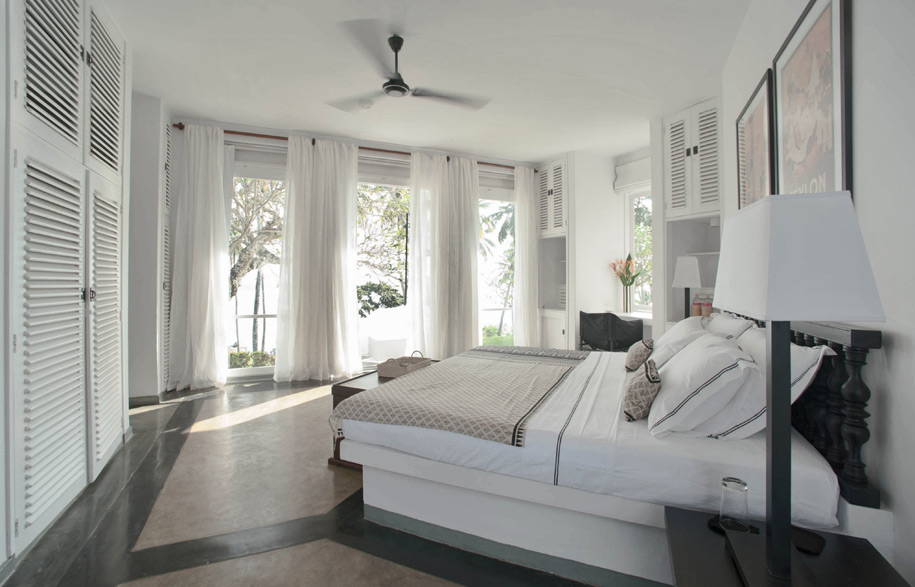 Situated along Sri Lanka's voluptuously lush south coast, upon an eight acre coconut grove overlooking a long surf beach, Claughton House does dazzling homage to the sense-stirring innovations of one of Asia's most influential architects. True to Bawa form, you need to mind your step as you move towards the rather Moorish walled entrance, lest you trip on the protruding rock.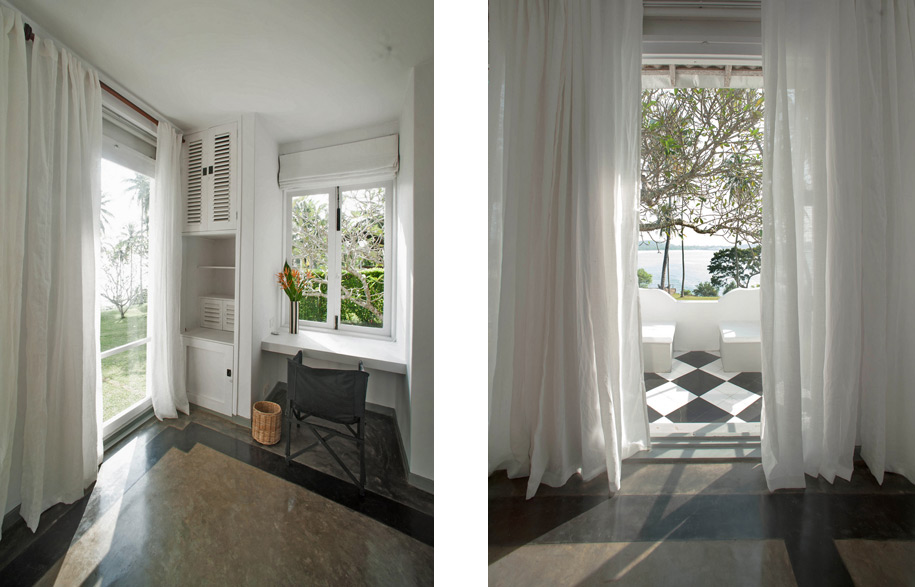 Restrained yet bold, Claughton House is quintessential, allusive Bawa in that it is way too worldly to implore "look at me". Instead, impact and drama is delivered experientially, by way of a gradual revelation of unfolding spaces and sensual reactions. Emerging from the cooling, tunnel-like corridor, suddenly it seems as if the salt-spay might dampen your skin. Splayed out over three distinct levels, the breezy living areas encompass the sea in such a way that the curling surf seems at eye level- belying the lofty, privacy- bolstering headland positioning.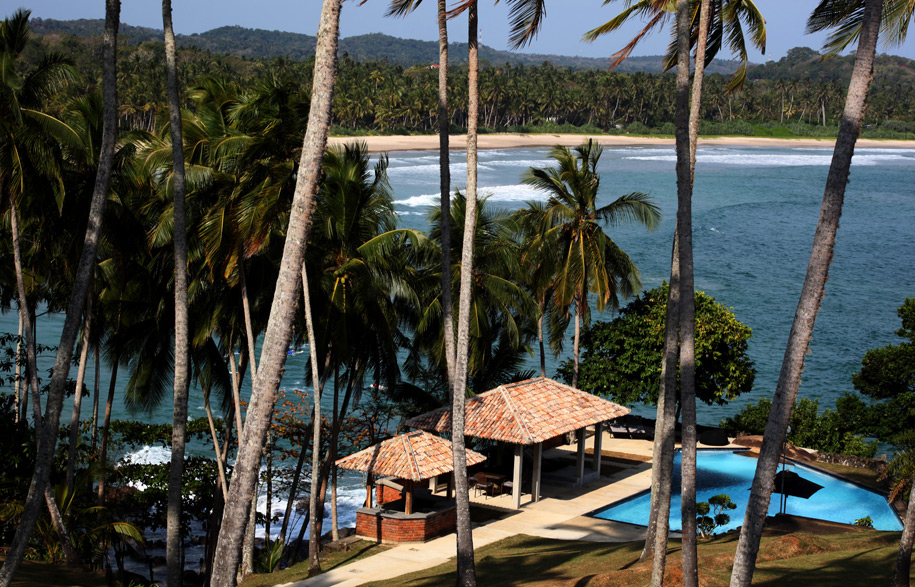 Simple materials such as concrete – used to create built- in couches, as flooring, as wide, low balustrades that double up as display and seating areas, and even as coffee tables – dark timbers, bamboo shutters and batiks create a soulful, tactile effect.
Towering concrete posts – grain from formwork clearly visible, for Bawa eschewed overly smooth surfaces – from a distance may be mistaken for coconut palms. A wafting palette of greys and worked up ocean taupe creates an effect akin to sitting within a giant pearl shell. An occasional curve enriches strong vertical lines and in another Bawa bow to comfort, cozy seating nooks are scattered throughout the grounds and residence.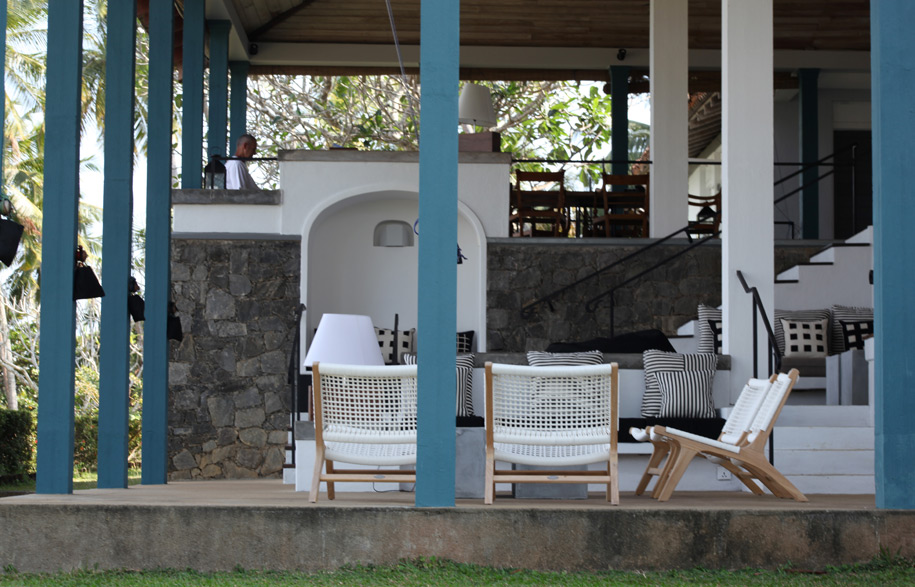 Even introverted spaces such as the bedrooms and bathrooms are rendered airy  and visually expansive thanks to courtyards and vista- luring openings. Here, light refracting terrazzo floors create the impression of walking on solid satin.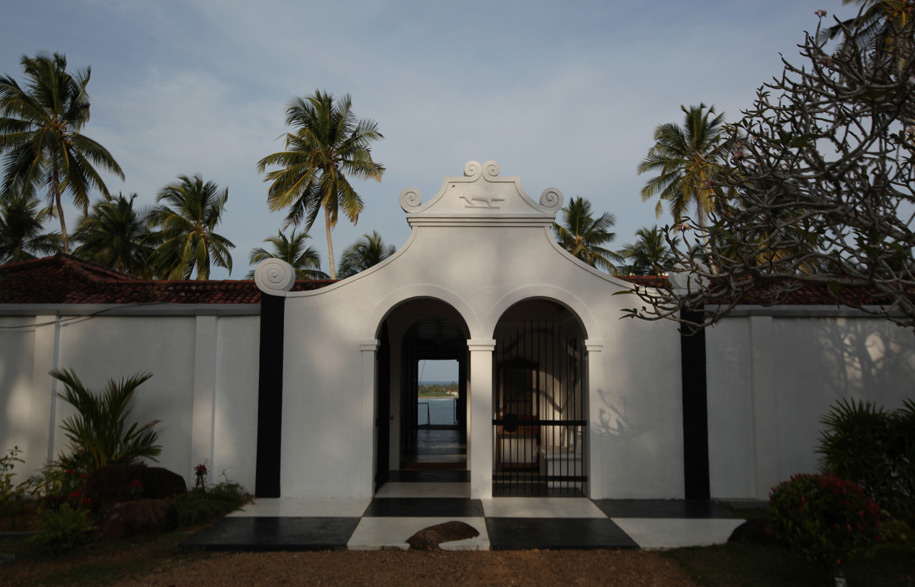 Ancient temples, colourful markets and a vibrant fishing community are within relaxing day-tripping distance. But then again, when you're ensconced in your own exclusive paradise, with warm, helpful staff eager to cook you delectable food- whatever, whenever, using herbs and spices straight from the garden- there seems little point in venturing too far beyond your private walkway to the beach.
Villas in Sri Lanka
villasinsrilanka.com
Other excellent additions to a tour of Geoffrey Bawa beachside abodes are the Jetwing Lighthouse and Villa Bentota.
---