Above: Wendy Whiteley's home with its unique tower, viewed from the garden she created from disused railway land.
Wendy Whiteley lives in an inventive, lightfilled home lined with windows on two sides of a small but very public corner site, making it as open as her honest and forthright personality. But it's the public garden that she has expertly created on the disused land below her house, which she now finds most fulfilling. "I go over there for five minutes and five hours later come back. I try not to do that now, but that's my obsessive nature."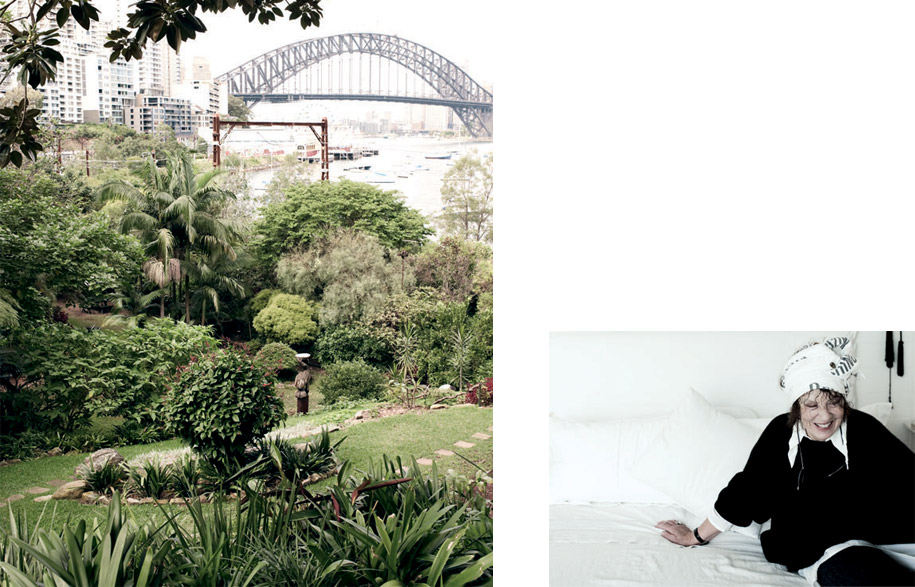 Left: A view of Lavender Bay, looking down to the enclosed rainforest-like micro-climate of the lower garden.
Right: The inimitable Wendy in the bedroom of her home.
Wendy's transformation of a derelict railway site into a lush, semi tropical garden dotted with sculptures and an eclectic mix of planting from Bangalow palms, Moreton Bay figs and native grevilleas to lavender, rosemary, camellias and citrus trees is the very model of how public spaces should be: an aesthetically enriching experience.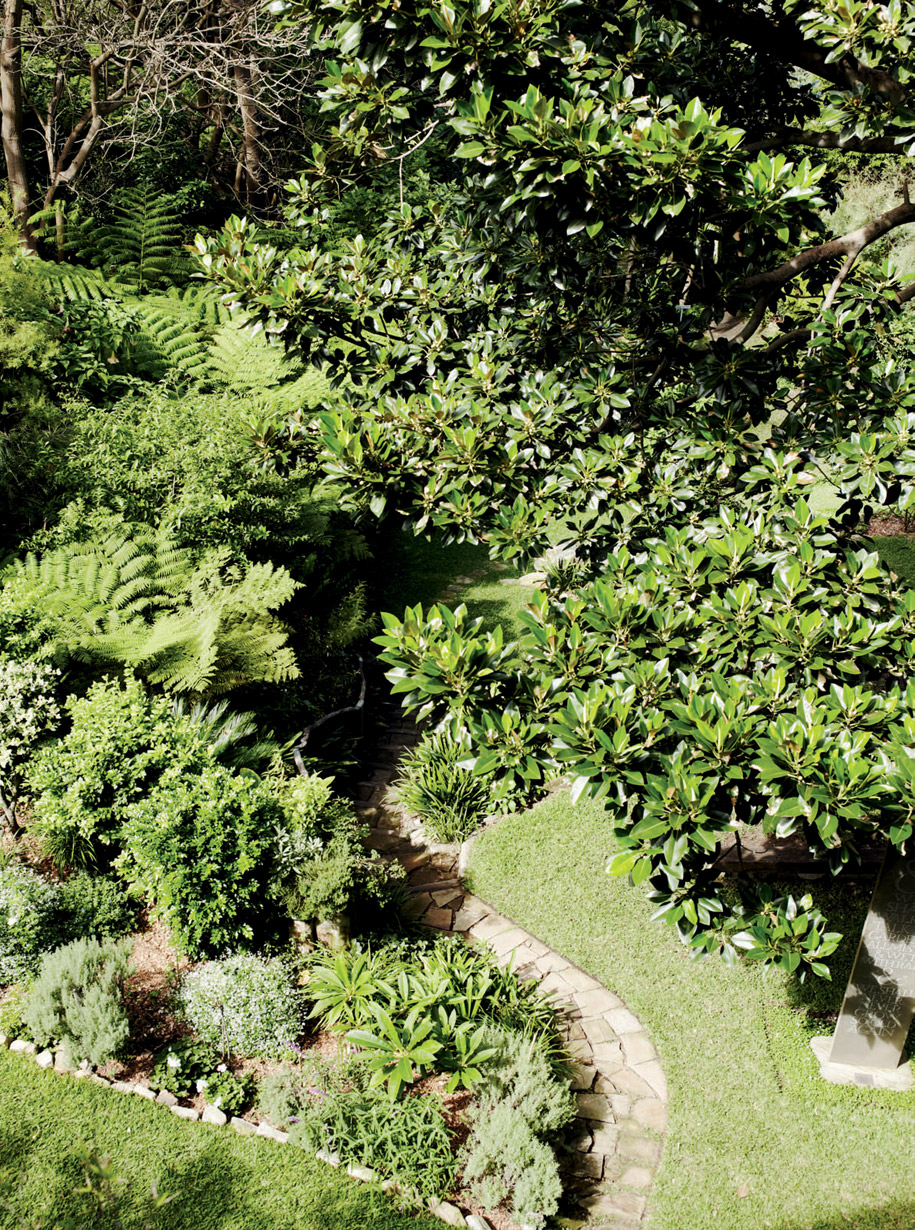 A view of the garden and its winding footpaths. The planting, featuring both native and exotic species, is deliberately eclectic.
The topographically challenging site was originally the cliff of Lavender Bay, land-filled to create a railway, and then left to become a tangle of lantana when the local station closed. After years of overlooking the disused space Wendy decided to do something about it. "I was just looking at this great lump of weeds, and I thought, what a waste."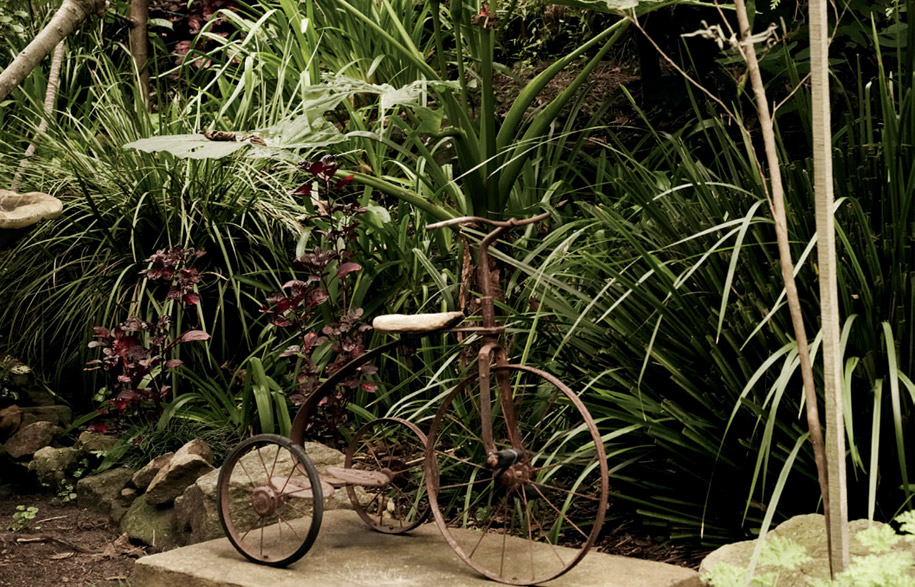 The garden is dotted with sculpture and found objects, from old pieces of railway machinery to this antique child's tricycle.
Undeterred by her lack of experience and pointedly neglecting to alert the railways – "they would've done contamination reports, and it would've taken years," – Wendy started clearing the land herself with the assistance of two gardeners, Rueben and Corrano.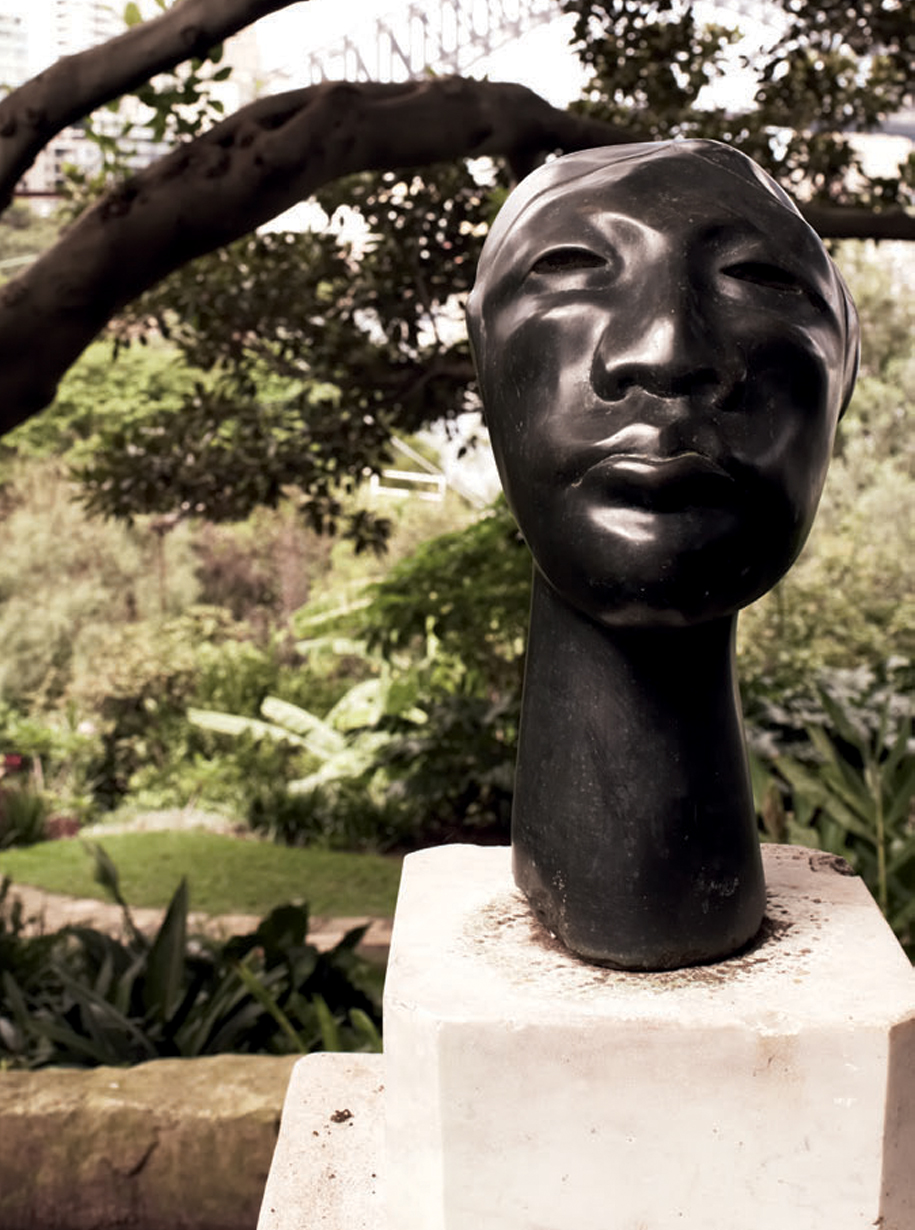 A sculpture by artist and friend Joel Elenberg – originally in marble but later caste in bronze to stop graffiti – stands at the entrance to the garden nearest to Wendy's house.
Seventeen years later, and Wendy is still maintaining it, and even extending the now flourishing, established garden, occasionally with help from a volunteer. "I love seeing people enjoying it," she says. "It seems relative to what we need now. To a city, the size that it is, on the harbour, we're rapidly losing a lot of public access. There's less and less space where you can just sit down and have a picnic.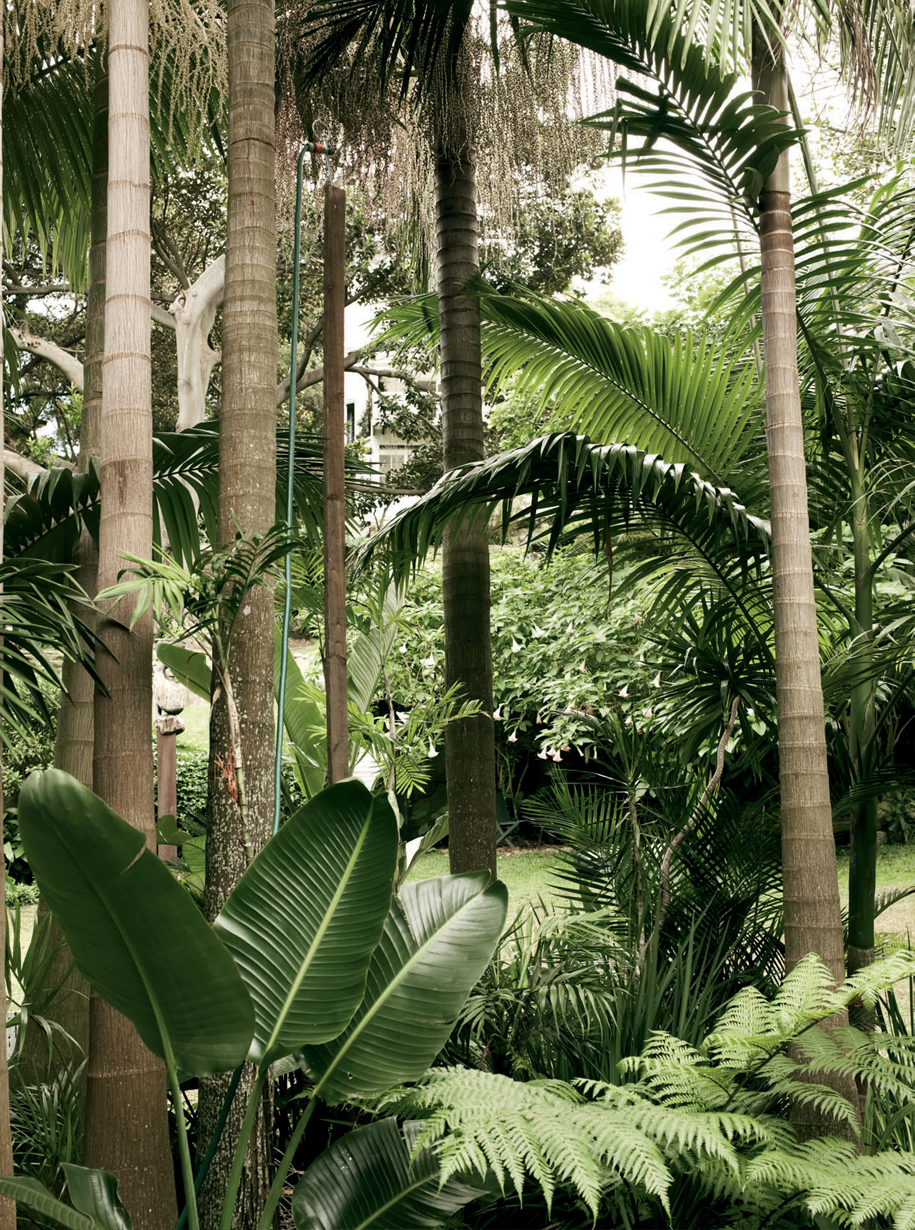 The Bangalow Palms in the heart of Wendy's garden were a gift from her late daughter, Arkie.
I've always felt really lucky to be here and in a way it's about sharing this space, which is why I put the sculptures in. It's sharing creativity and sharing the fact you can actually change something – if you're as stubborn as me."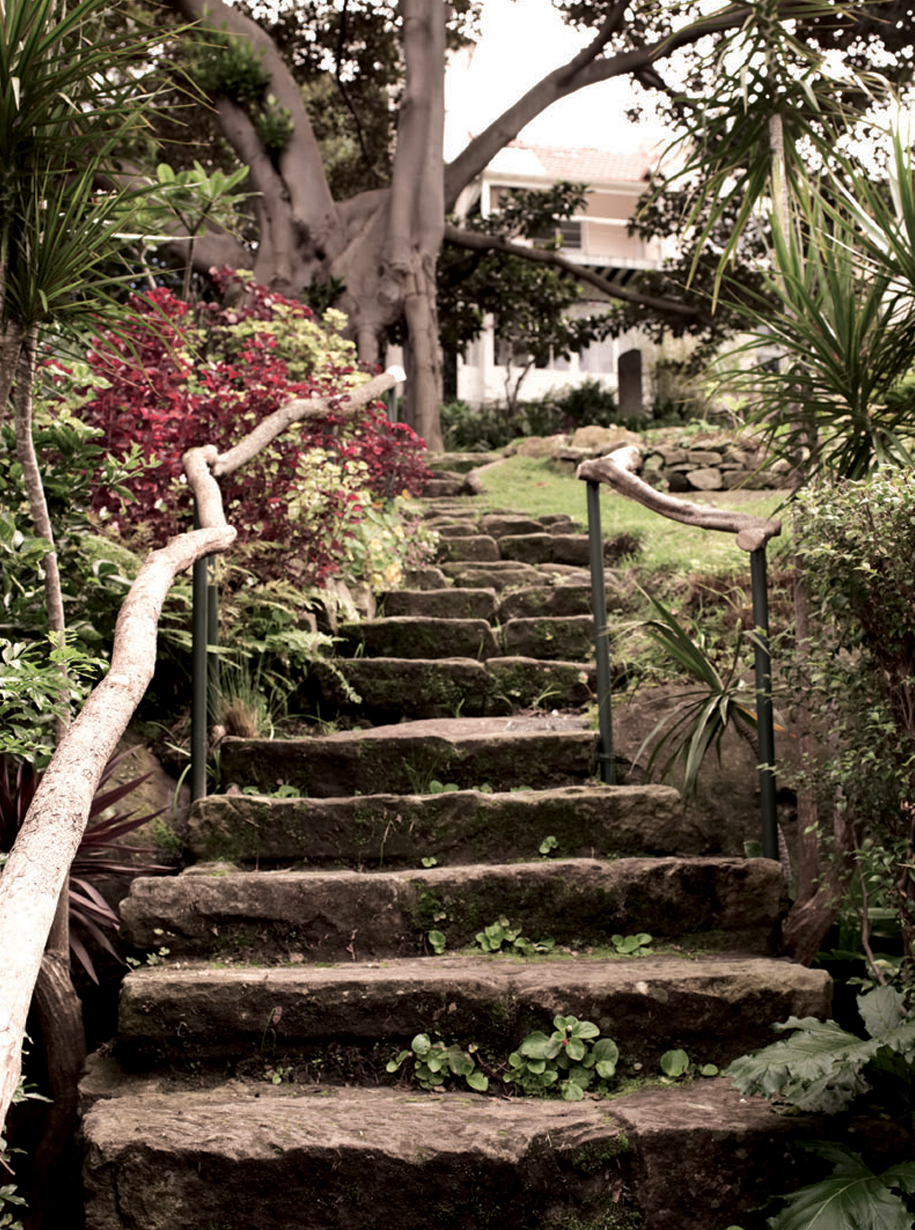 The stairway with its 'bush rail' leading up the steep escarpment of the garden. The variation in heights of the pathways allows intermittent view lines to the harbour.
The deliberately eclectic planting on the now intricately terraced hillside, criss-crossed with hidden footpaths leading down to a rainforest-like micro-climate, is a constantly evolving project for Wendy and her small team.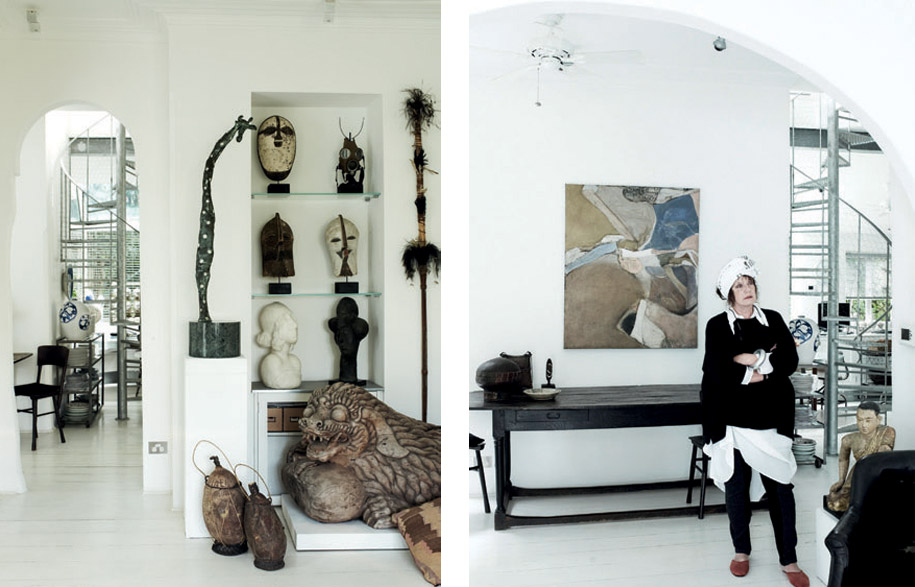 Left: View from the living area to the kitchen. A wall of masks features tribal pieces mixed with sculptures by Brett Whiteley and Joel Elenberg. A carved wooden Chinese temple lion on the floor was rescued from a waterfilled ditch in Bali.
Right: Wendy in the living room in front of one of her favourite pieces, a 16th Century English table.
The variation in heights of the winding paths is key to the garden's appeal. "As you get further down to the lower levels you can't see the harbour anymore, so you lose the sense of place, which gives it a lovely enclosed garden kind of feeling," explains Wendy. "But I wanted people to be able to take a few steps up and suddenly realise where they were again, so you've got extended space. A landscape designer friend of mine calls it the view line.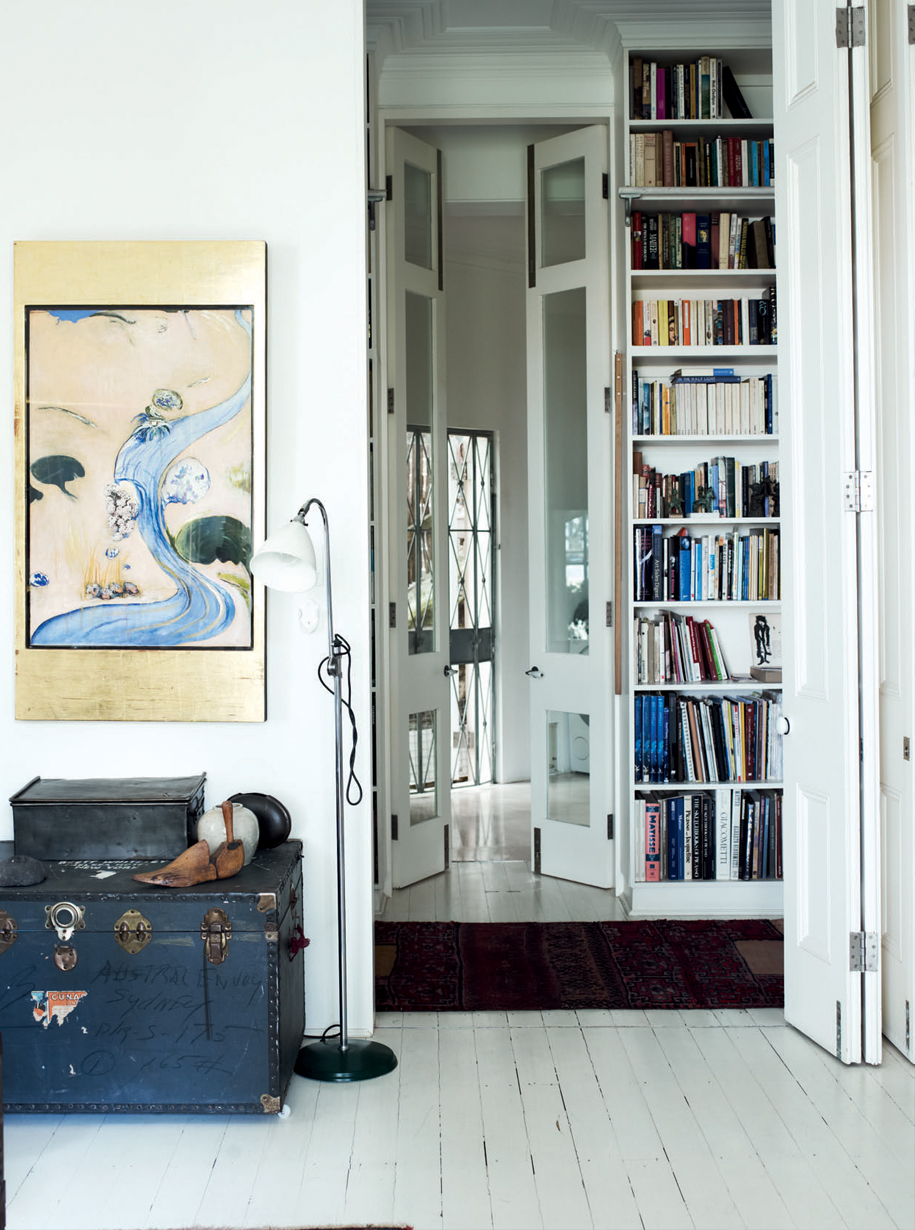 Brett Whiteley's original studio has been returned to two rooms, a guestroom and an unconventional office space.
It's the same with making a drawing or painting, the same kind of balance. I didn't know anything about gardening so I just worked visually. It's been a learning process but we've lost very little. There's something instinctive about it too." It's this same intuitive sense of aesthetics and desire for transformation which has seen Wendy's home evolve from a dark, Dickensian maze of small rooms into a unique, open and light-filled space.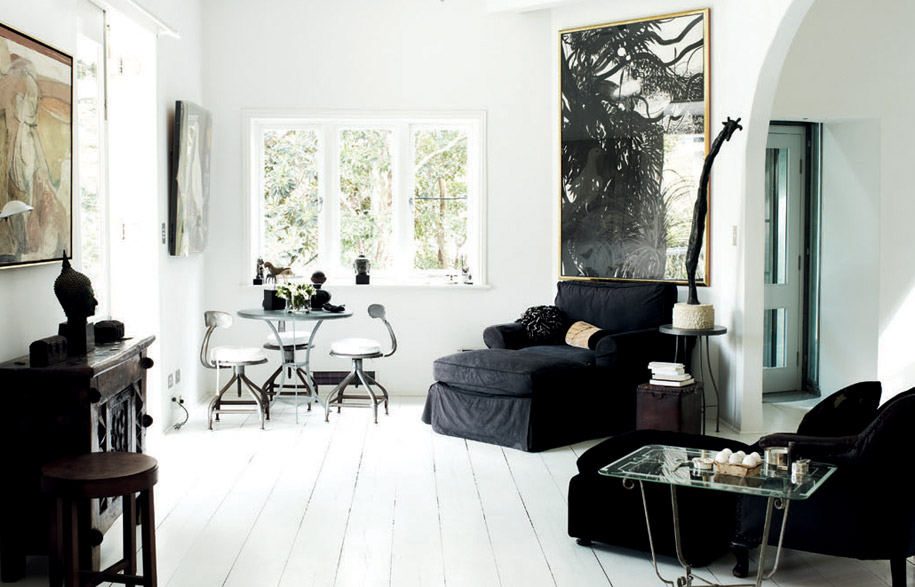 The now monochromatic living area, which was the original flat and entire living space for the Whiteley family.
When she first discovered the Federationera building with her husband, artist Brett Whiteley, they had just returned from living in London. It was 1970 and they were visiting a painter friend who lived in what was then one of two dark and very dingy flats.
"We had a place in London, had lived in New York for two years, then Fiji," explains Wendy. "We were actually thinking of going back and building a house in Fiji with a tower on the end of it." After pressure from their daughter, Arkie, to halt their gypsy lifestyle, the family moved into the upstairs flat at Lavender Bay. "We fell in love with the bay," says Wendy, "It's very magical. But the flat was really dark, really gloomy."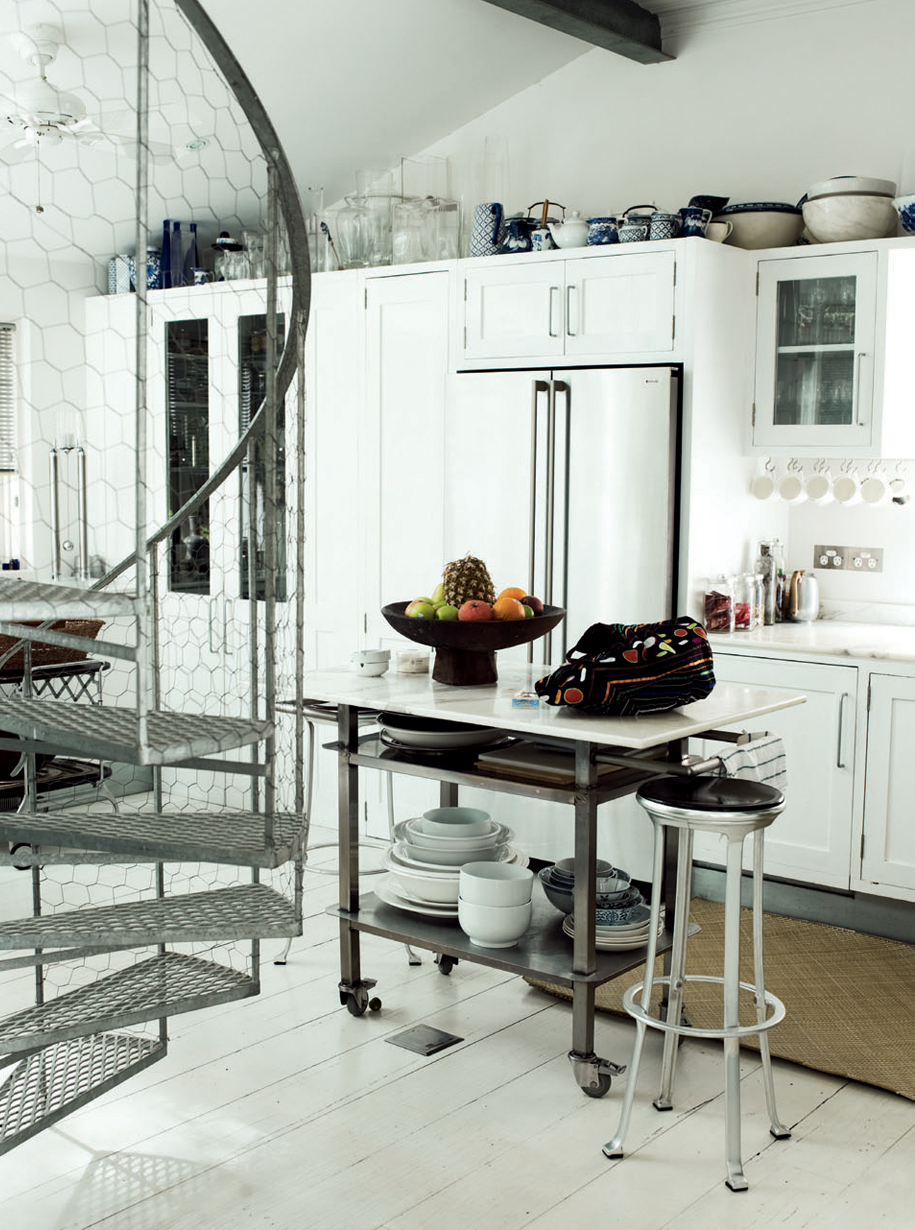 The kitchen with its winding steel staircase, enclosed in chicken wire.
After four years of living on one floor with an unusable veranda, which Wendy populated with parrots and doves, the couple bought the building. "The first thing we did was knock down a big wall one night in the middle of a party," Wendy recalls. The second was to cut a hole in the ceiling and add a ladder into the roof, which was turned into a bedroom. Brett then set to work taking out walls in the downstairs flat, making two rooms into one for his studio. "We just wanted to open it up," says Wendy. "Then we started building the tower, with an engineer's help. That replaced the artist's tower we were going to have in Fiji."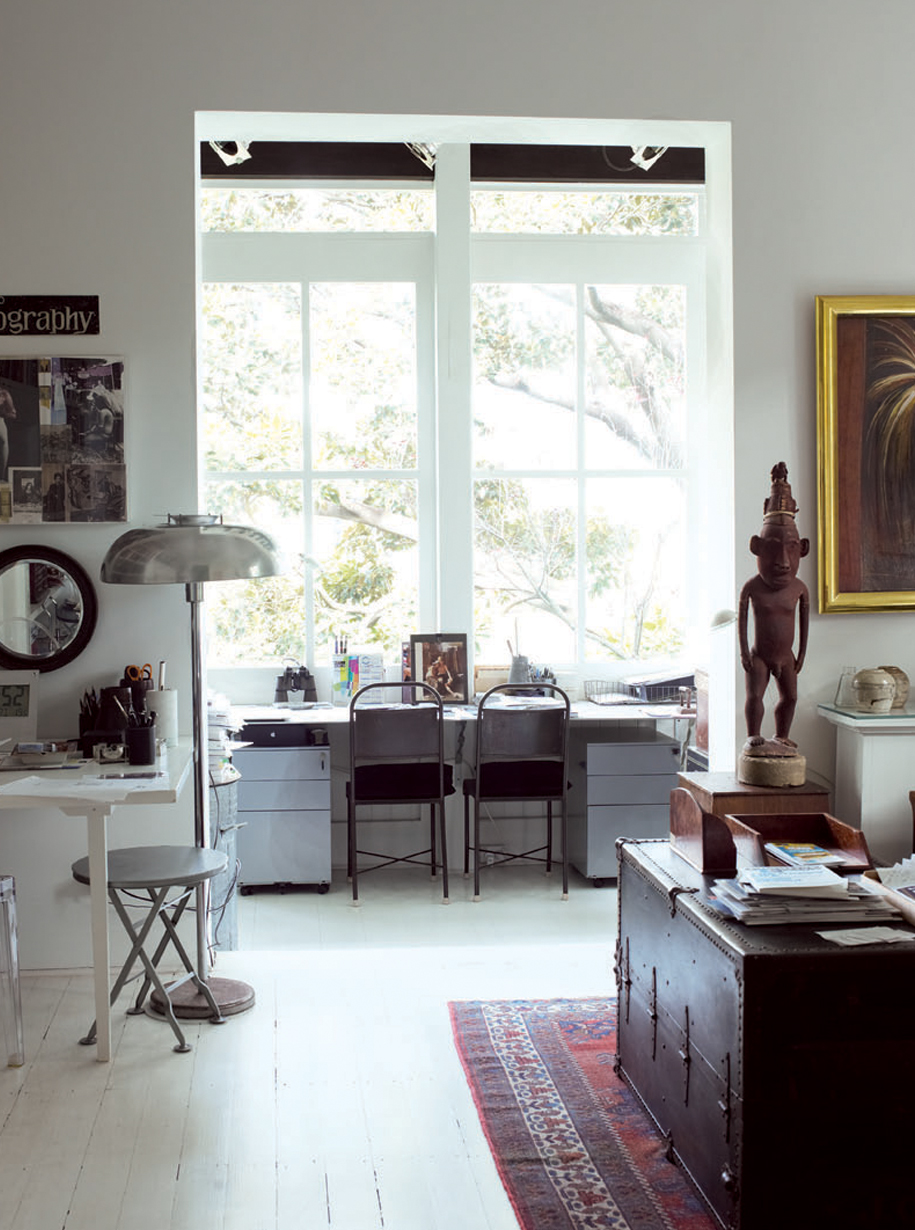 Wendy's office overlooking the garden features re-purposed windows from an old factory.
The Whiteleys' bravely inventive approach to their first renovation is still apparent in the current home, which Wendy renovated again six years ago following the deaths of Brett in 1992 and daughter, Arkie, in 2001.
Unique solutions such as enclosing a steel spiral staircase in chicken wire instead of railings to avoid it looking "too heavy", and employing workmen to cover an old table she found on the street in the same zinc they were using to re-do the roof – "I love zinc, because it patinas. New York bars have it and it's quite interesting, unlike stainless steel," – are all part of the innate, emotive sense of design that makes Wendy's vision so inimitable.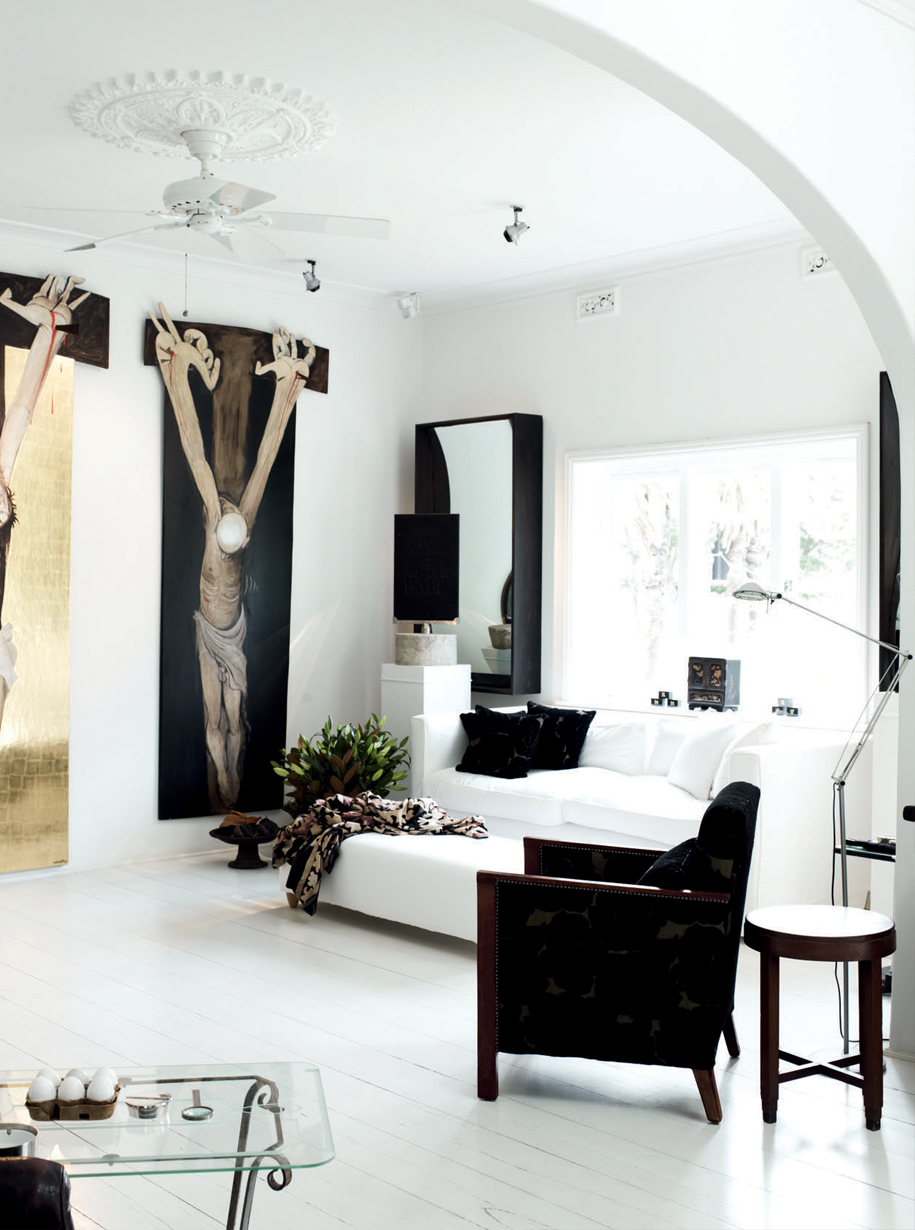 The north-facing end of the living area, featuring works by Brett Whiteley and another of Wendy's favourite pieces, one of two antique French chairs, she brought back from London and had re-upholstered in black patterned velvet.
The house now consists of four levels: the top floor bedroom with its iconic views made famous by Brett's paintings such as Balcony 2 (1975); the second floor kitchen/living area; first floor guestroom and unconventional office space; and a new level in what was once the basement, which was hollowed out from the deep sandstone foundations of the house. The elevator in the tower, an extension in the roof to make Wendy's bedroom more liveable, and taking out a final wall to expand the kitchen, were the other major additions.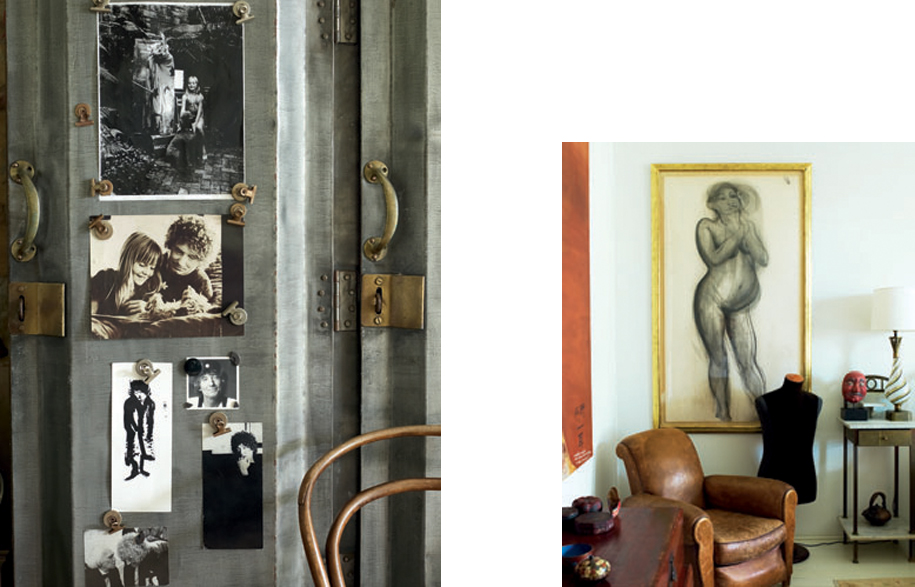 Left: Family photos adorn a metal cupboard, handmade by steelworkers from Newcastle's BHP factory who used it as a locker for personal belongings.
Right: A corner in the guestroom. The artwork on the walls is constantly changing. "I think things should be changed around because you stop looking at them after a while, you take them for 18 granted."
Wendy is a great collector. A mix of refined pieces – antique furniture, objects from her travels and a gallery's worth of Brett Whiteley artworks – populate a largely white interior, even the recycled Blackbutt floorboards are painted white, which accentuates the brightness within."I got a fetish for all white," says Wendy who counter-balances the elegant, slightly French aesthetic with the industrial feel of metal. "I like things with history and character and I wanted metal because I had too much wood… but I'm trying to stop acquiring things. I just don't go looking anymore. I can't. I just don't have the room for it."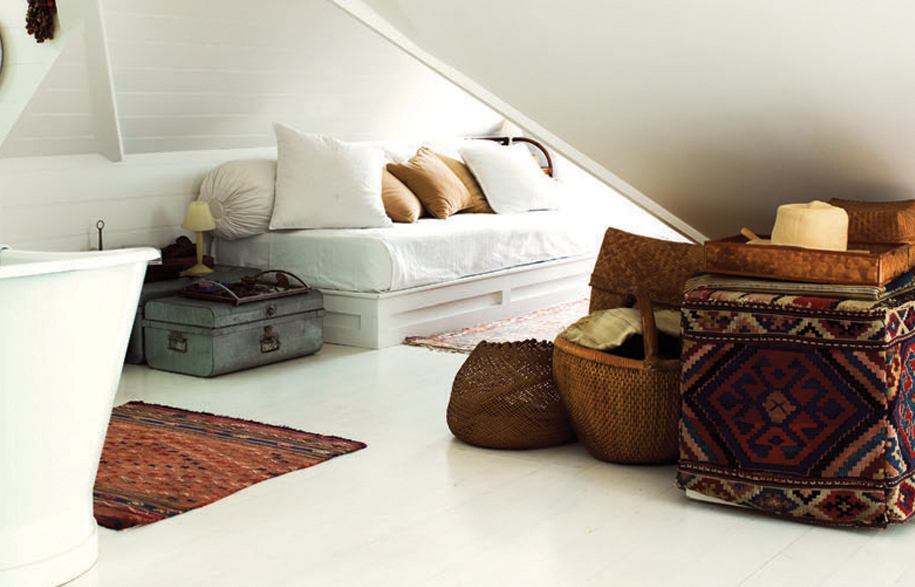 A nook in Wendy's rooftop bedroom with its freestanding bath is a favourite escape for guests.
Brett's original studio space, now divided back into two rooms, gives Wendy "another wall to hang something", the guestroom and an office space, which is the only sign of slight disarray in a very ordered home. "It's where I can put all the clutter," explains the artist. "Working from home I find quite difficult, because I want to be in that garden… I love this place. And always have. Brett and I in the beginning, and me in the end."
Photography: Prue Ruscoe
prueruscoe.com
Tags: Home Architecture, House Architecture, Residential Architecture
---