Presented with the stringent spatial and format constraints of the Singapore Housing and Development Board and a client brief for a clean, spacious home with ample storage in a 90sqm space, the project was sure to be a challenge.
Chan reflects on the project's premise, "New HDB flats in Singapore today confine people in their homes, affecting quality of life and preventing higher interactivity. Our living spaces are getting smaller. We can't even fit in large furniture like a proper dining table set at home without feeling the squeeze, so we need to make space more innovative."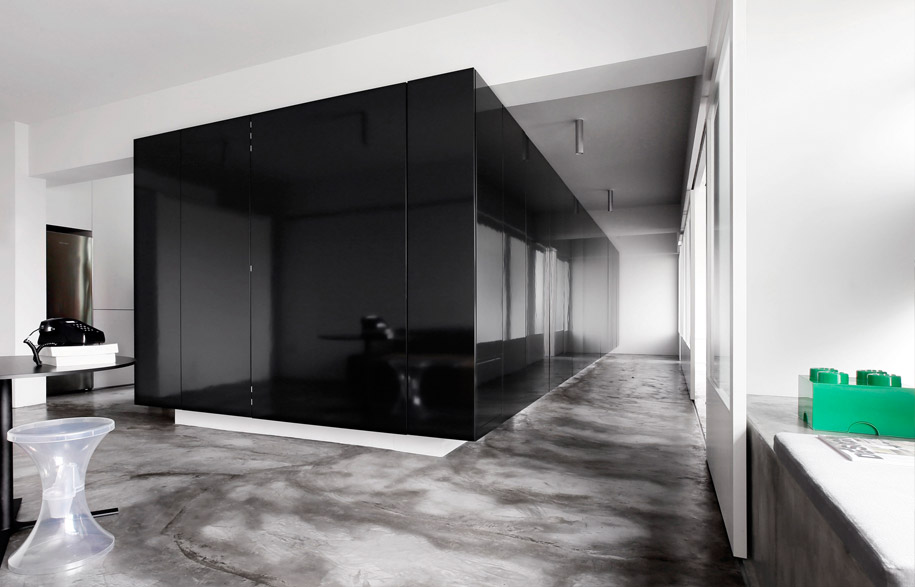 The solution was to create a multi-purpose volume at the apartment's core that could accommodate utilities, bathrooms and storage, thus freeing up the surrounding space.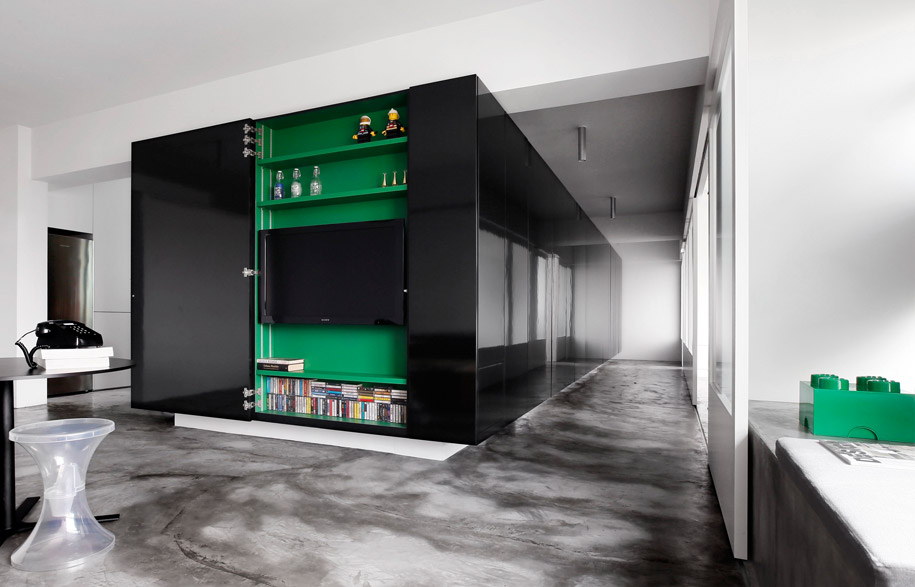 Dubbed by Chan the "Wonder Box", this construction comprises of interior and lighting design as well as customised furniture. Measuring 9m x 2.4m x 1.9m, the floating Wonder Box is suspended and stretches from the kitchen to the sleeping zone, ensuring a visual continuity throughout the home. It conceals the bomb shelter, air-con ledge, two bathrooms and provides plenty of storage for the family. It contains the owners' and their child's wardrobes, TV and AV equipment cabinets and dining wares at the kitchen zone. Its glossy laminate finishing reflects the surrounding to achieve a spacious visual effect, making the apartment appear larger than it is.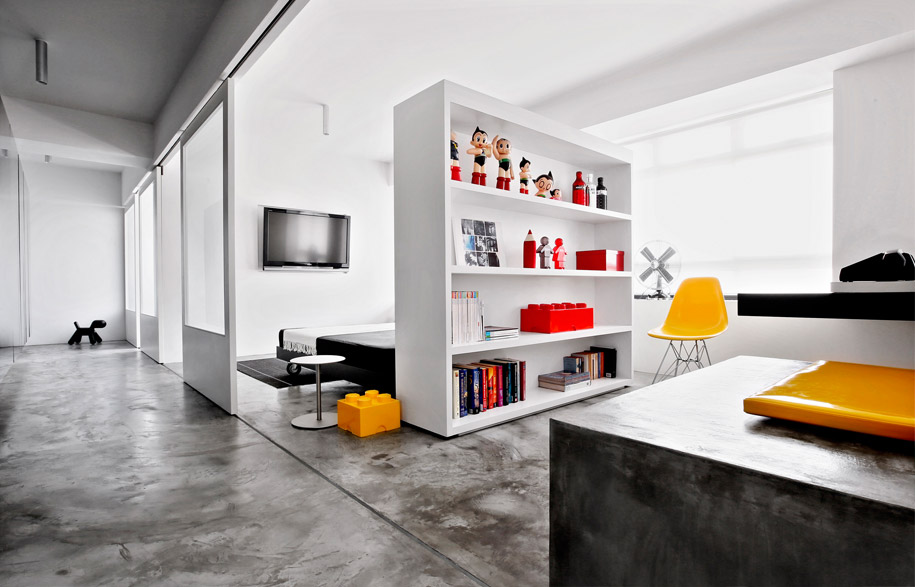 Tube lighting is installed underneath to illuminate and show off the Box's elegance to great effect at night. The original walls for the three bedrooms were opened up to convert the area into the master bedroom and the child's room. Six panels of large sliding doors, doubled as privacy screens, outline the sleeping zones, as well as control the openness of space, light and ventilation.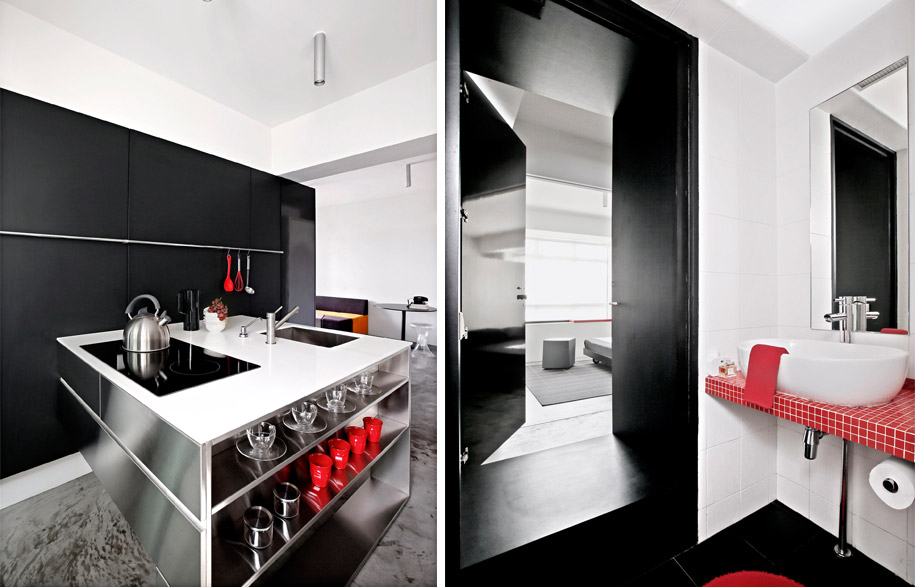 Coupled with a crisp modern material palette of polished cement, steel and white paint finish, the Wonder Box creates a distinctly modern aesthetic animated by an unusual but highly functional spatial solution.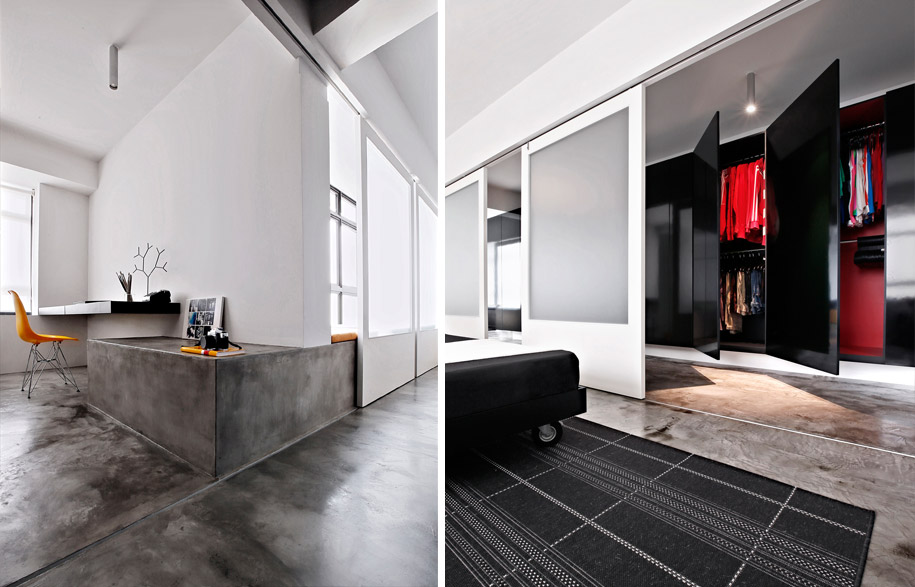 Explaining his approach to the design, Chan comments, "I have always enjoyed exploring undiscovered space and pushing the boundaries to produce ambiences that are artistic, unconventional, and do not conform to type…. I want to make my ideas tangible and ensure that my creativity is translated into practical solutions for homeowners. The elements I use would meet their needs, knowingly or unknowingly, so they will enjoy the experience of using my design."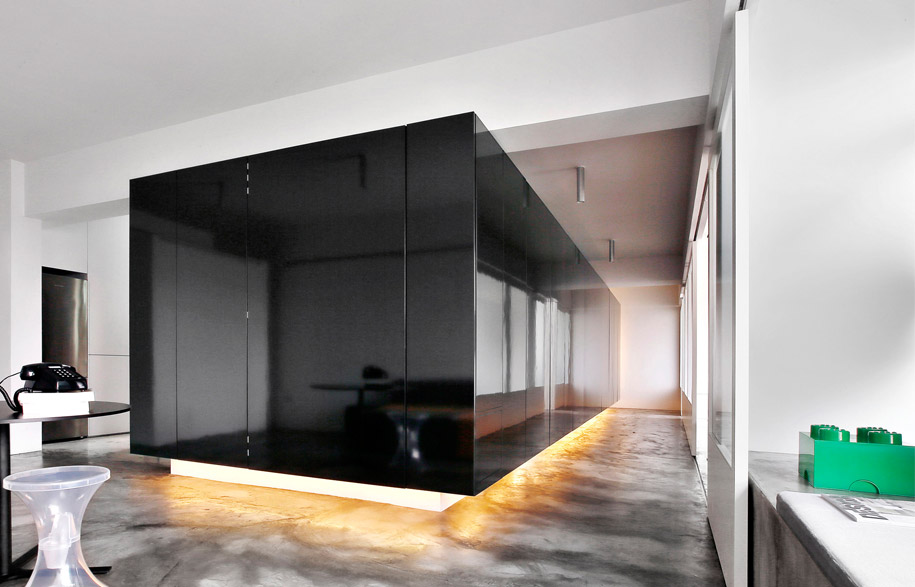 Spacedge Designs
spacedge.com
Photography:
Yong Woei Na
Tags: Home Architecture, House Architecture, Residential Architecture
---