Hero Image: Tim Storrier in the Studio working on one of a new series of paintings of icebergs inspired by a recent trip to the antarctic.
Australian artist, Tim Storrier, didn't want to leave Yarras, the Victorian mansion in the Bathurst suburbs where he had lived for fifteen years from 1994. The rooms had high ceilings and cavernous interiors and there was even a spacious ballroom. But Janet, his wife, insisted. She wanted outdoor space and animals and a garden where she could grow produce and a kitchen where she and 20 year-old daughter, Antonia, could spend hours cooking.
"Janet persuaded me," says Tim.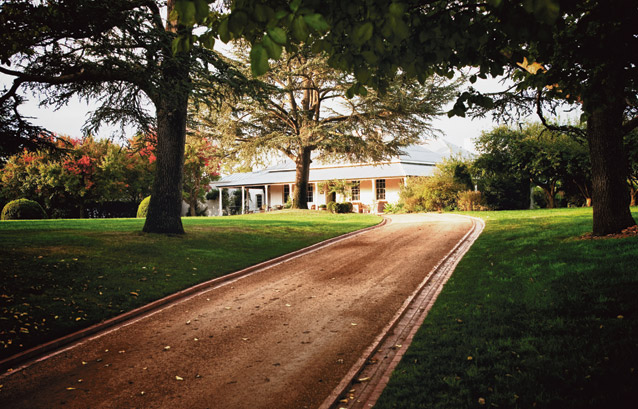 Front of the original house, Blackdown, that dates from 1823 showing the atlantic cedar in which he free roaming peacocks roost. 
Tim Storrier is an artist who has been immensely successful since 1968 when, as a nineteen year-old, he became the youngest artist ever to win the Art Gallery of NSW Sulman Prize. Now his paintings hang in every major Australian museum.
Tim and Janet married in 2004 and blended their families; Janet's three daughters and a son, with Tim's son. The joins were, and remain, seamless. With the marriage, Janet took on and re-ordered the minutiae of Tim's artistic and domestic life as the routine of family life blossomed around him.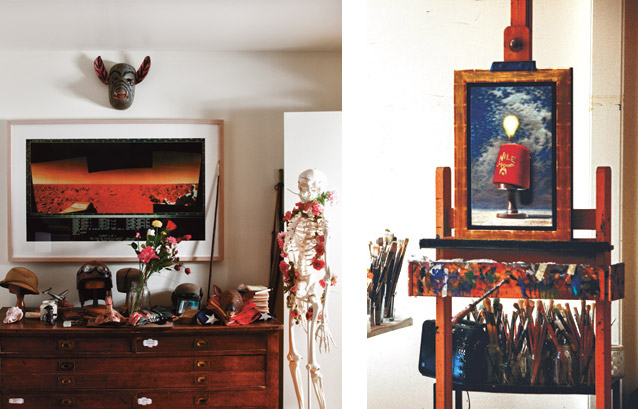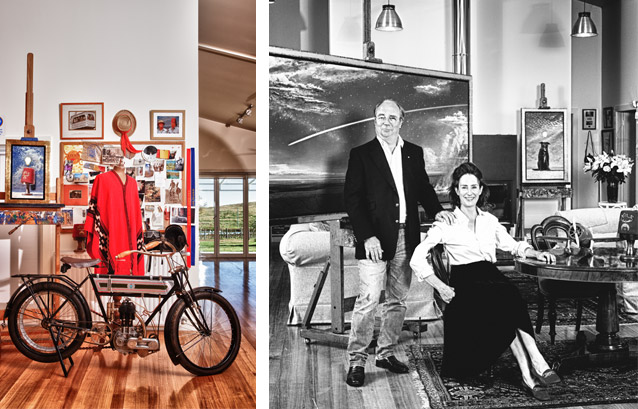 Above: In the Studio. Decades accumulated acquisitions cover every surface, many of which have appeared in Tim's paintings over the years.
Bottom right: Tim and Janet Storrier in Tim's Studio in front one of Tim's Comet Series of paintings from 2011 and a painting of his late companion and muse, Bunce. 
The Storriers have now been at Blackdown – a Colonial farmstead dating from the earliest period of European settlement west of the Blue Mountains – for three years. It sits on fertile plains ten kilometres outside Bathurst in rural New South Wales. It is a rabbit warren of a place with 22 or more rooms, extensive gardens, orchards, and more space than Janet could ever want.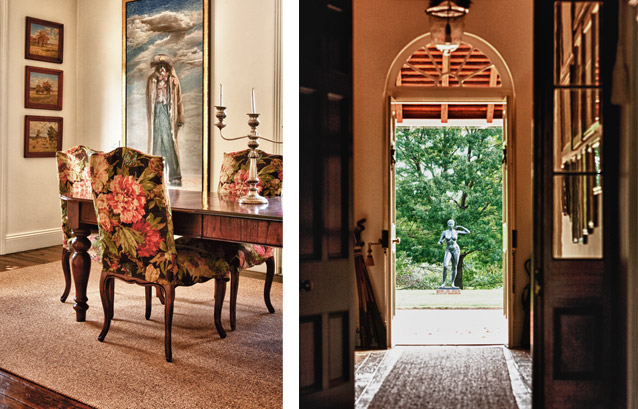 Above left: The dining table is capable of seating more than 12 guests. Painting in one of Tim's own works from his 2010 series, In Absentia. To the left are three aquatints by Fred Williams that Tim bought for $90 each in 1974.
Above right: Looking out through the front door of the main 1824 house towards the seven foot high bronze statue of Yamuna, Daughter of the Mountain (2004) by English Sculptor, Nigel Bonham.  
Blackdown was built in 1823 by Thomas and Elizabeth Hawkins, two of the first free settlers west of the Blue Mountains. There is a letter written in 1822 by Elizabeth Hawkins to her sister, Ann Bowling (who lived in England) which tells of their eighteen day journey from Sydney to Bathurst where Thomas was to be the commissariat storekeeper. They took with them twenty convicts and were granted 2000 acres of Government land that stretched down to the Macquarie River.
Blackdown is a family home and, as in any home, there is a gentle and comforting chaos inside. Storrier is very acquisitive. Every surface, every wall, every corner of every room, is littered with stuff, much of which has made its way into his paintings over the years:  leather boots, spats, flying jackets, a multitude of hats, plus a fez and pith helmet, a large model of a bi-plane, Victorian and Colonial furniture… the list goes on, a litany of a life well-lived and of an artistic endeavour never satiated.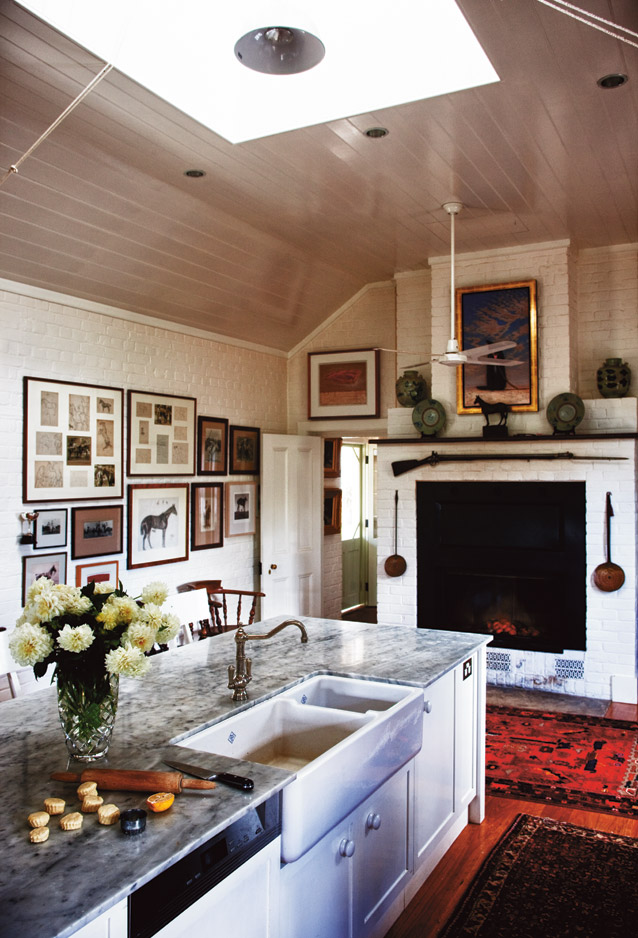 The main kitchen/family room. Janet Storrier and 20-year-old daughter, Antonia, are in the process of compiling a cook book, a collaboration of recipes using produce from Blackdown's orchards and potager.
To walk through Blackdown is to walk through time suspended – antiques and old rugs are everywhere – and it is also to walk through the fabric of Storrier's art and life. His paintings hang on the walls at every turn; landscapes with his signature burning logs, infinite flat horizons with vast endless skies, a series of portraits where only clothes define the characters, and more recently scenes from the Antarctic where he and Janet ventured last year, and which shimmer with a blue iridescent light. "It is the new frontier," says Tim.
Also there are dogs galore – Molly, Jack, Bella, and Smudge – and cats and peacocks, too. "Sixteen I think," ponders Tim. "Common Indian blue and white, they roost in the Atlantic Cedar at the front, although we lost two peachicks recently to marauding foxes." There are alpacas, chickens and horses.  And there is a recent addition to the canine pack, a short-haired fox terrier named Trigger. It was Janet's birthday present to Tim.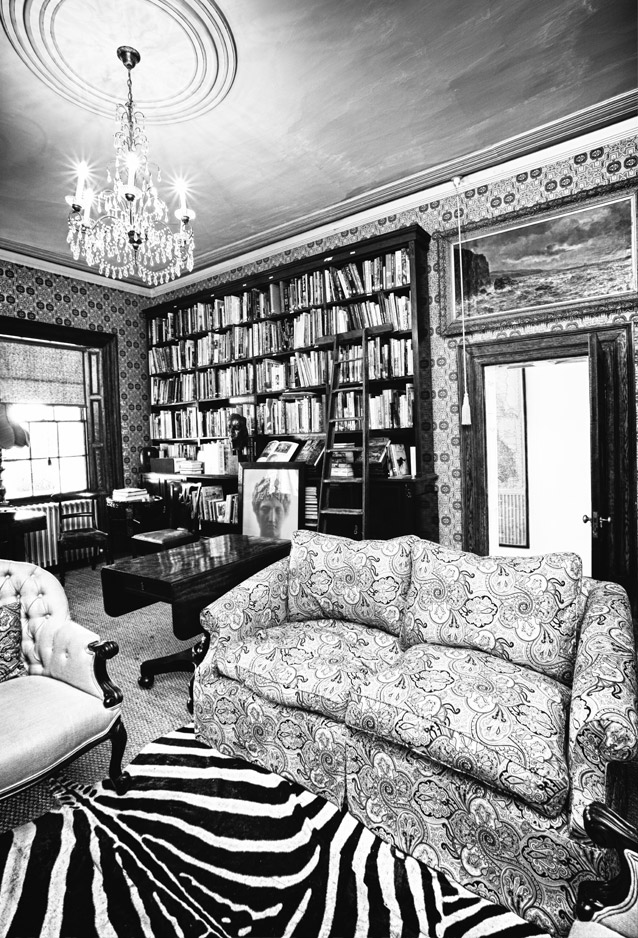 Tim has been collecting art books for years. There were 760 when Jane lat catalogued them, but the collection has grown to over 1000. Biographies and military histories are favourites of Tim's. 
Today the property has shrunk back to 140 acres with the majority given over to pasture and lucerne and fifteen acres of gardens with picturesque parklands. There are orchards, too – figs, medlars, and assorted fruit – ornamental English-style herbaceous borders, an extensive potager supplying the house, and 650 olive trees that give deep, rich green oil.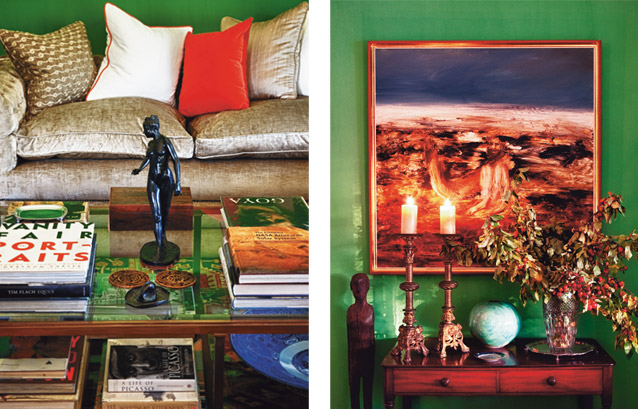 Left: Small nude sculpture on desk in the maquette for the full size work by english sculptor, Nigel Bonham, which stands on the lawns.
Right: The 'Green Room'. The original colour was restored to the walls twenty years ago – "During the day it can look grubby but at night it comes alive". Painting above the desk by Sidney Nolan from his 1964 series, Burke and Wills.
The garden is absolutely Janet's domain where she has developed the English concept of 'outdoor garden rooms', inspired in part by Vita Sackville West's glorious garden at Sissinghurst in Kent. "I would be out there all day if I could," she said.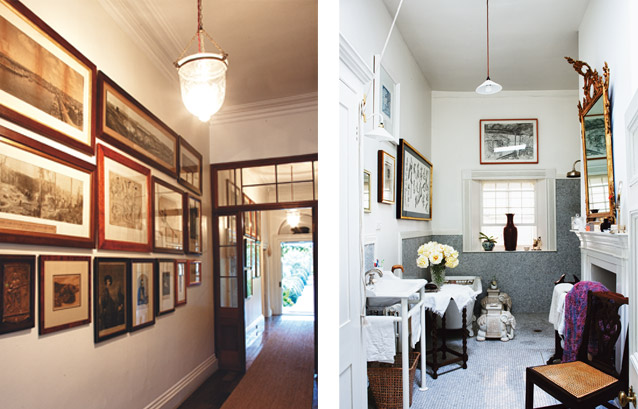 Left: View along the east-west corridor that dissects house from the front door, to the back. alls are lined with old photographs and drawings of Sydney.
Right: Bathroom with calligraphy artwork by chinese master calligrapher, professor Wang. Described by Tm as "a poetic portrait of me", it was drawn for him by Wang on a visit to Beijing in the 1980's.  
The buildings remain more or less intact, although the convict cottages (which now double as guest rooms) have been re-built on their original footings. But the main house remains virtually unaltered and presents to visitors at the front an understated almost austere symmetry with deep wrap-around verandah.
Previous owners had carried out extensive and sympathetic restoration work. There was little the Storriers needed to do when they moved in other than installing hand-made terracotta tiles under the verandah.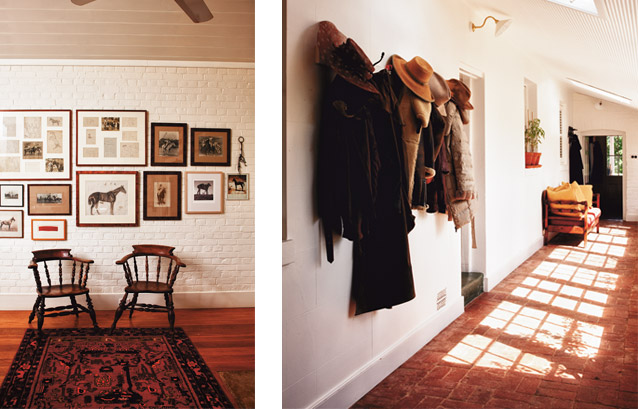 Left: Equestrian drawings by Australian painter George Lambert (1873-1930)
Right: Hats and coats hang in pleasant disarray in the sun-drenched winter verandah with Miner's Settle, at the rear of the main house. 
The main body of the house forms a square, a simple arrangement of four rooms (library, drawing room, two bedrooms) and a central corridor that runs as straight as a die from the front door, to the back to a long gravelled walk that cuts through the walled potager and on up to Storrier's recently built cavernous agricultural tin shed of a studio. "The largest studio I've ever owned," he says.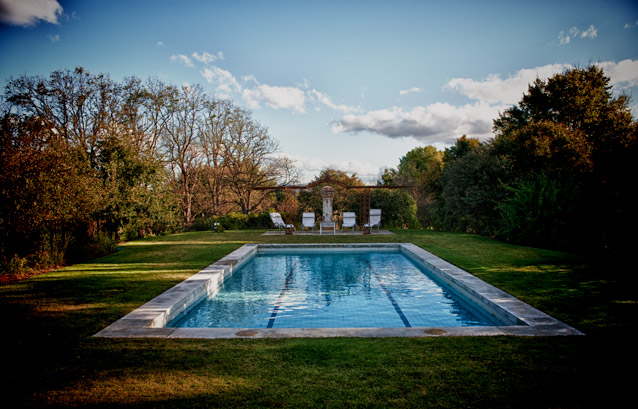 Swimming Pool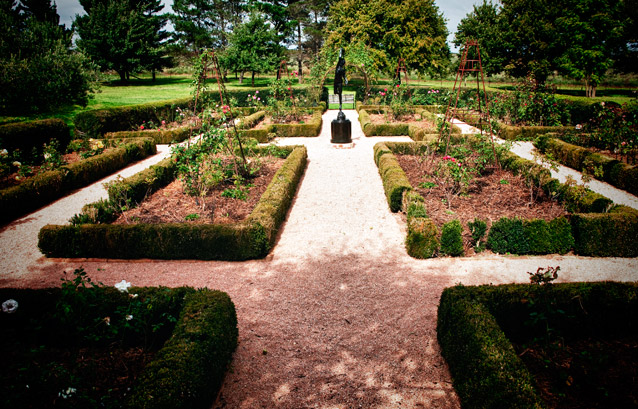 Rose Garden
Here several works in progress are surrounded by the detritus of creativity. Brushes and paints are everywhere, but not in a messy way. In one corner, a sculptural figure is taking shape. Built on an unseen armature, Storrier is creating an allegorical self-portrait from his resin soaked clothes to achieve a hard exoskeleton. It is a ghostly and eerie memento mori. Chopin nocturnes play quietly in the background.
Attached to the west side of the house are two wings with whitewashed brick and galvanised tin roofs, which define the courtyard and stable yard. In one wing is the original Hawkins' homestead built the year before the main building and now used as bedrooms. The other wing houses a long kitchen – the heart of this country homestead, a place where the family gathers for evening meals.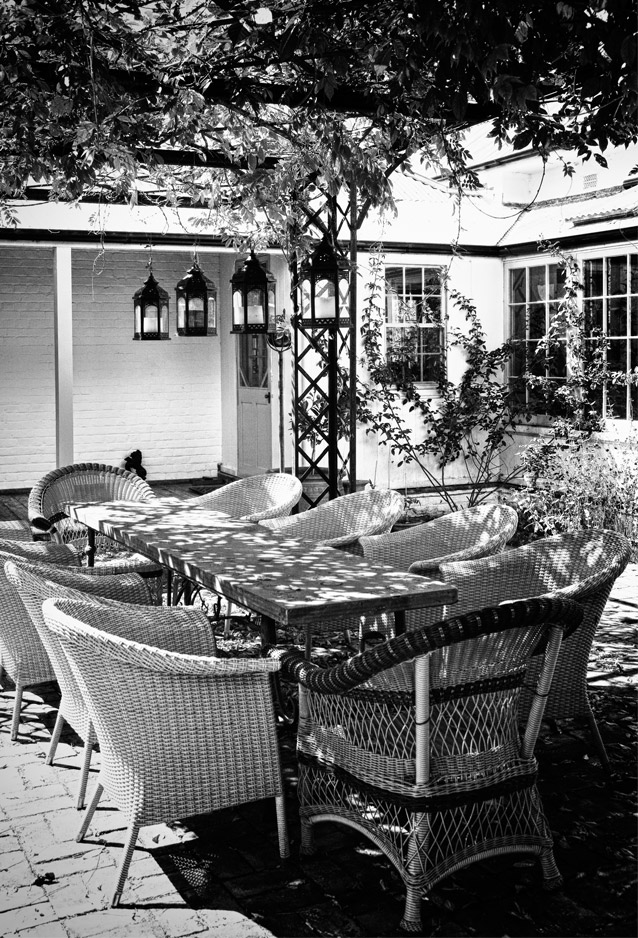 Leisurely lunches are taken outside in the courtyard where flowers are left to self seed
Storrier has an extensive art collection displayed, salon-like, floor-to- ceiling, throughout the house. In the drawing room hang a small Ray Crooke, two John Olsens and a Sidney Nolan (from the Burke and Wills series), as well as a Hugh Ramsay self-portrait. Ramsay painted the picture in Paris in 1910 and sold it to Dame Nellie Melba to raise his fare home to Australia shortly before he died from tuberculosis.
The library is clubby, with dark shelving set against wallpaper, described by Storrier as "hideous", which was replicated in England from fragments found under several layers of later additions.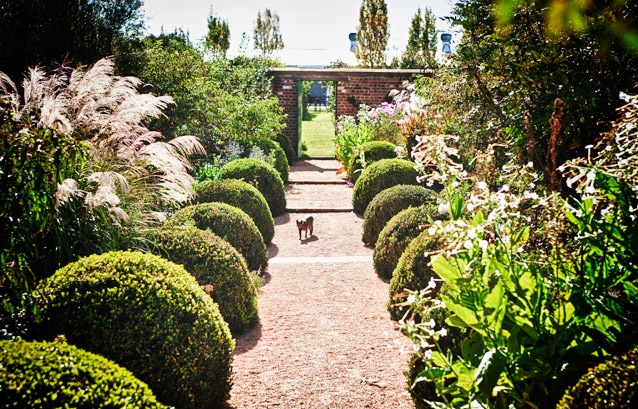 Willow the cat strolling along the path that leads to the potager and perennial vegetable garden beyond the Blackdown convict brick wall rebuilt in the 1980's by the previous owner during an extensive restoration. The gravel path is flanked with Boxus Domes and Miscanthus Sinensis, self-sown Nicotania. The path ends at Tim's door. 
"I've got to be in a place where people have lived," Storrier comments. "And with an extended family, a rambling house works."
Blackdown, is a magnificent old dame of a building, forming the perfect backdrop for Storrier to assume the role that he has made his own – that of a slightly louche, 19th Century squire, complete with guns, dogs, horses and children and a wife whose sense of hospitality and tolerance, is endless and who feels daily, "an enormous sense of responsibility" from just living in such an historic home.
Photography: Paul Green
thepaulgreen.com
---