Buildings in Papua New Guinea get little exposure on contemporary architecture platforms, but Studio Workshop's Small House is attracting attention. While the house is a response to site, climate, local labour and materials, it is undoubtedly different to its neighbours. Small House not only stands out amongst the surrounding timber houses and uninspired apartment blocks, but it stands apart from the vernacular and traditional architecture that contributes to Papua New Guinea's cultural and national identity.
Architecture in Papua New Guinea varies from region to region adapted for climate, landscape and materials and linked with culture and religion. Domestic dwellings were traditionally made with timber, bamboo, coconut leaf, amongst other materials, and often built on stilts over land or water. In the East Sepik region, haus tambaran is an ancestral worship house that serves as the meeting place of elders and a storehouse for sacred objects. It typically has a large trussed entrance, elaborately decorated front walls and sweeping pitched roof. On the Trobriand Islands, yam houses – used to store yams – have symbolic architectural elements and adornments to indicate wealth and hierarchy.
While construction techniques and building styles have passed from generation to generation, modern materials such as corrugated iron and concrete have changed the architectural landscape. However vernacular forms and iconography still inform a selection of contemporary buildings that purposefully draw on the country's legacy of architecture and art.
When Papua New Guinea became a sovereign state in 1975, the government initiated a building program to foster the ideals of nationhood. Parliament Haus, built in 1979, embodied the vision of national identity, pride and progress. The brief asked for a building inspired by Papua New Guinea's "worthy traditions of art and architecture… using solid local materials… so that the substance of the Parliament will also be of the country." The front entrance of Parliament Haus is modelled on the haus tambaran and decorated with a 63-foot-high mosaic that represents Papua New Guinea's multiplicity of cultures.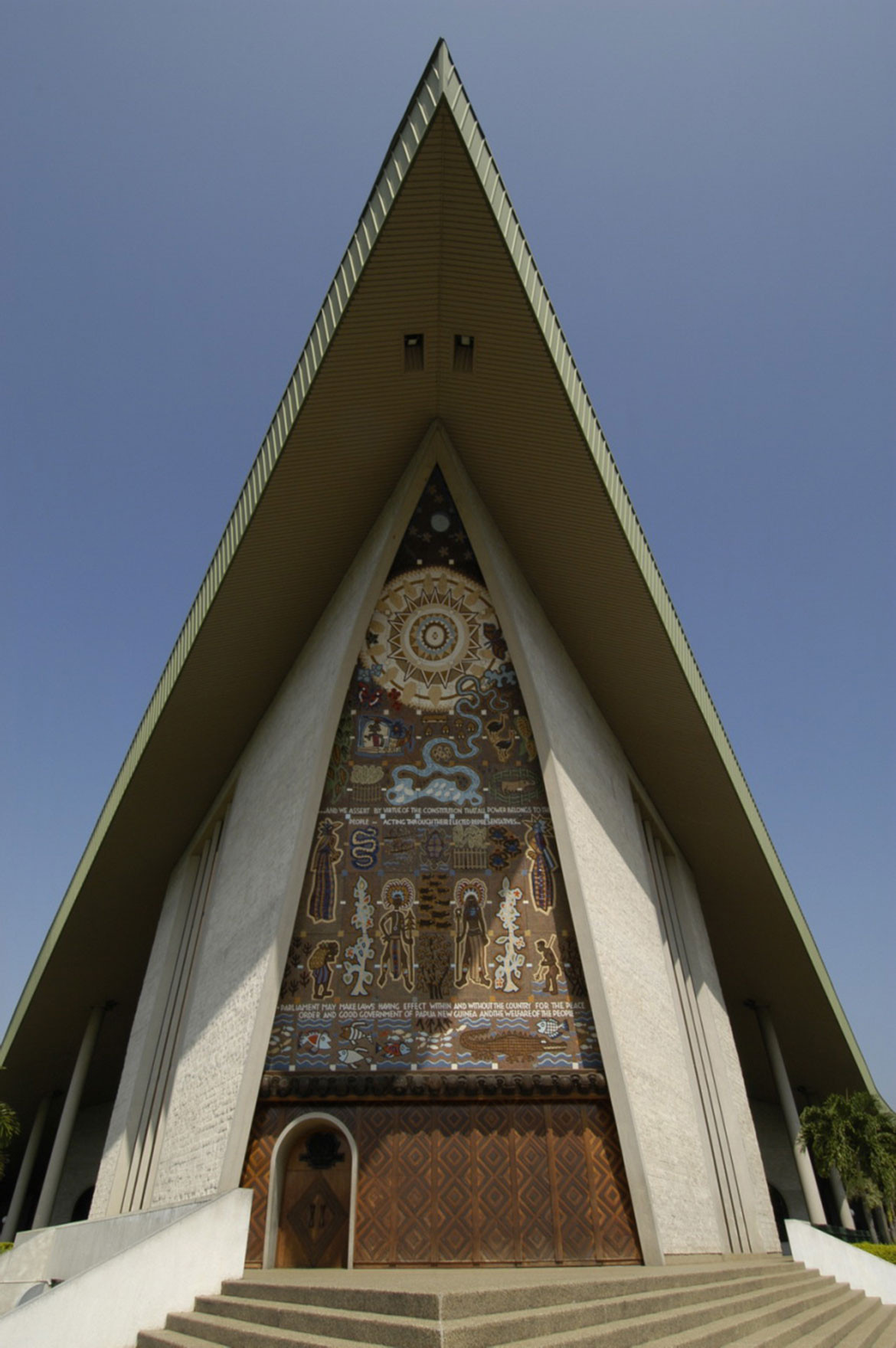 Parliament Haus, Rhawi Dantas, via Flickr
In 1981, the High Commission of Papua New Guinea to Australia opened its building in Canberra, and it also recalls the haus tambaran. It has an unswept roof and the students from the National Art School in Port Moresby painted the gable with stylised images of clan ancestors.
Contemporary architects continue to explore the rich heritage of Papua New Guinea. Jim Fitzpatrick Architects developed the concept design for APEC Haus, currently under construction. Built on reclaimed land near Ela Beach in Port Moresby, its form resembles the shape of a Motuan Lagatoi sail and the interior has a contemporary palette inspired by local shells, clay, timber and metal. It will be used to host the APEC Summit in 2018 and then become a world-class museum.
Architecture undoubtedly advances and progresses with innovations and technology and to suit modern lifestyles and needs. While buildings such as Small House, which respond to climate, site, labour and materials, are a contemporary product of their place, those that meaningfully draw on traditional forms and motifs foster cultural and national identity in their contemporary setting.
Photography as credited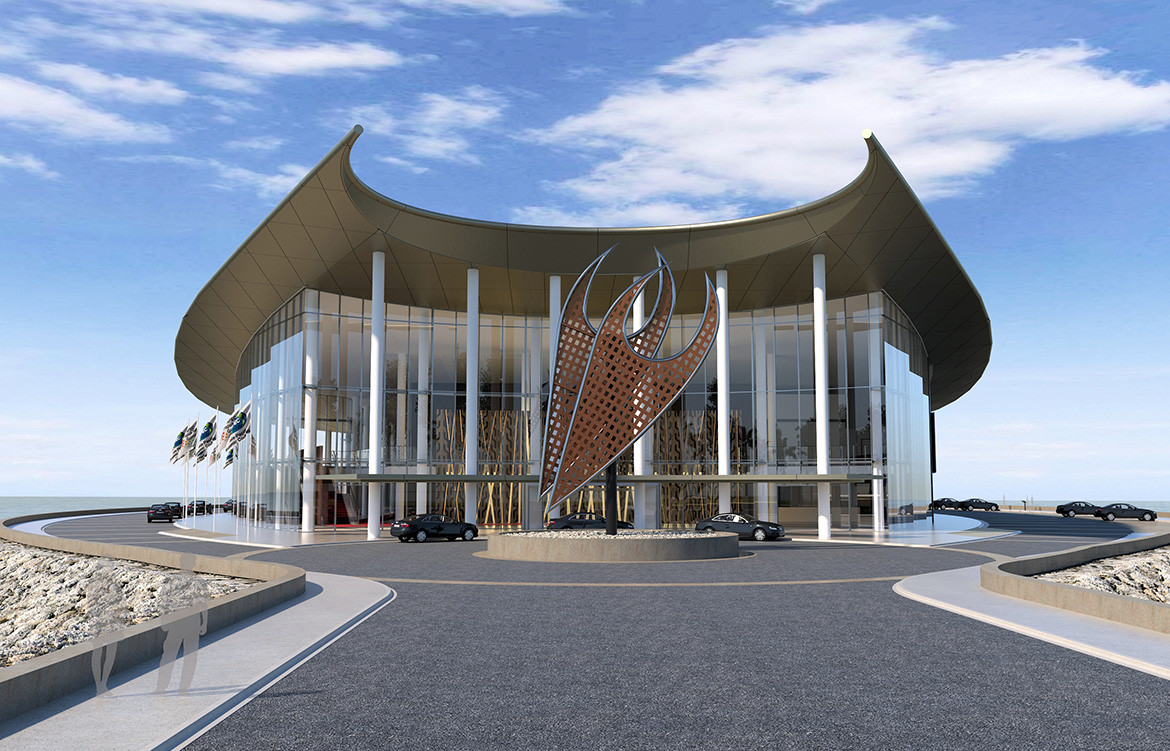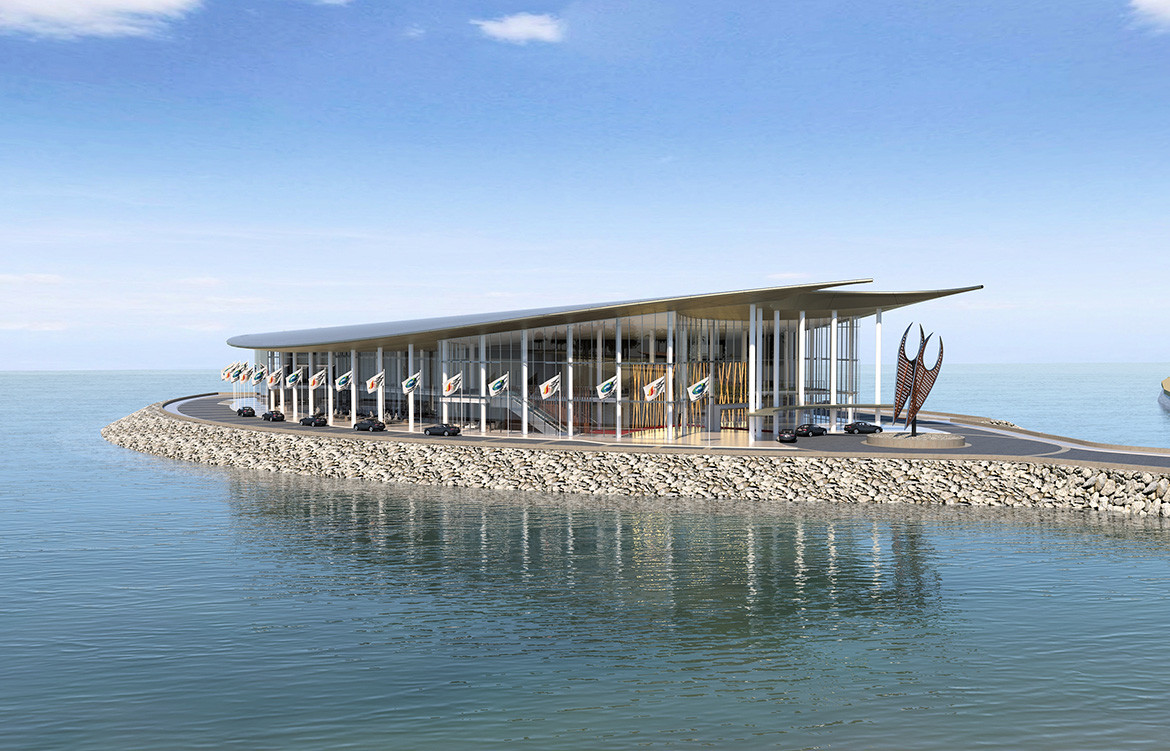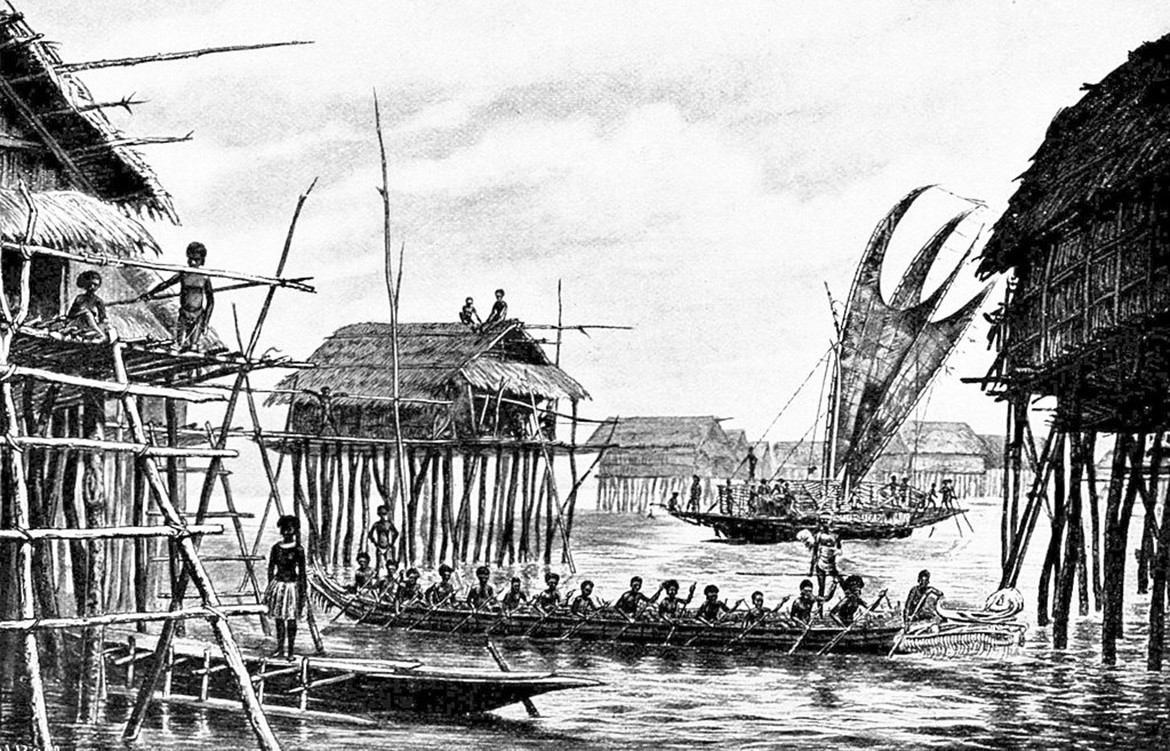 Papuan lake dwellings with a lakatoi under sail, Popular Science Monthly Volume 52, via Wikimedia Commons
We think you might also like Small House by Studio Workshop
Tags: Architecture, Jim Fitzpatrick Architects, Papua New Guinea, Port Moresby, Studio Workshop, Traditional, vernacular
---