Bethan Gray is an award-winning Welsh designer whose work is an inspired and distinctive take on how to combine tradition with modernity. Her work is extraordinary, exquisite and elegant. As such, she has established her name as a leading designer; producing collections and bespoke pieces for global brands as well as her own collections. Habitus Editor Holly Cunneen was lucky enough to catch up with Bethan Gray in person at Living Edge in Sydney during Bethan's recent trip to Australia.
Bethan, I think it's safe to say most Australian's would have top-level understanding of your eponymous practice, especially given your relationship with Living Edge. But since we have the opportunity I would love to hear in your own words how you would describe your company.
Of course. I started my own practice in 2008 after ten years with British design retailer Habitat where I was the Head of Furniture Design. I got a good grounding in the commercial aspects of the business there, and the opportunity to collaborate with craftspeople all over the world, but I wanted to find my own voice as a designer and I knew that would involve exploring luxurious natural materials such as marble, leather and brass and pushing the boundaries of what was possible through traditional craft techniques and technology.
What sets your practice apart in a global market that often has the consumer spoilt for choice?
My mother's side of the family descends from a nomadic Rajasthani clan that migrated across Arabia and Persia over centuries, before eventually settling in Wales where I grew up. I've always been inspired by my heritage and definitely caught the family travel bug – I have been to India, Asia, the Middle East, Northern Africa and South America and the art and culture I have experienced on my travels has inspired a lot of my work. Everything I design starts with a story, whether it is a 12th-century Italian cathedral or the three-legged Welsh cricket tables of my childhood. But these stories are all distinctive parts of the cultures to which they belong, so collaboration is a really important part of my practice. I work closely with local artisans, using traditional craft skills to translate cultural narratives, materials and aesthetics in a way that resonates with audiences worldwide.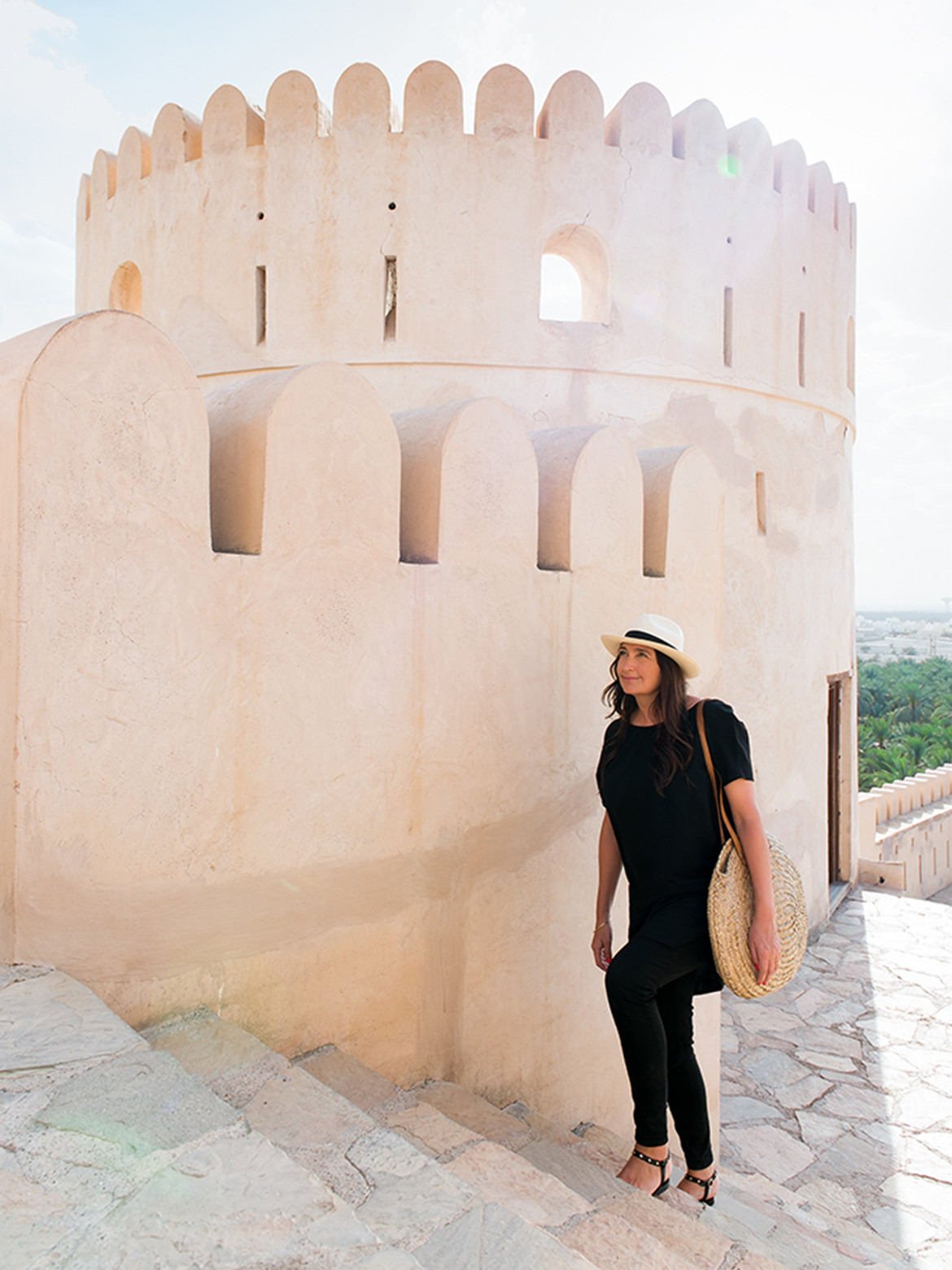 How did your relationship with Living Edge come about and what was their appeal as your exclusive Australian representative?
The relationship with Living Edge came about in 2016 when we were introduced by industry friends. It was immediately apparent that our shared values of authentic craftsmanship, timeless designs and commitment to social responsibility meant Living Edge was the perfect partner for Australia – they immediately understood what I was trying to do and have been hugely supportive ever since. I like to think our furniture and accessories feel at home among the established design classics and the forward-looking luxury pieces here.
You've collaborated with a lot of different craftspeople across the creative industry, what do you look to achieve from these partnerships? What draws you to collaboration?
Collaboration is at the heart of everything I do. I have spent the past 20 years developing close relationships with master craftspeople all over the world, and now I am privileged to work within equal partnerships based on mutual trust and respect to give endangered skills new relevance in commercial markets. Of course, these are working relationships, but they're more than that – there is a real sense of kinship based on two decades of sharing meals and, more recently, watching our children play together. A good example is an Omani artist called Mohammad Reza Shamsian. The Shamsian Collection is made by his 200 craftspeople in his workshop in Muscat, using ancient techniques, such as 16th-century marquetry, combined with cutting-edge technology and the natural materials including marble, hand-stained maple and brass. It is the result of a two-way dialogue and wouldn't have been possible without either one of us.
Why do you think your designs work so well here? What is it that really speaks to an Australian way of living through design?
It's interesting isn't it, because most of my designs are based on a really specific cultural details like the way the sunlight falls over the rounded castellations on the fort at Nizwa or the way the wind billows in the sails of traditional Omani Dhow boats, and yet they resonate with people all other the world. I think it's about capturing those fleeting moments in time or tiny details, that can pass us by if we're not paying attention, and translating them using exquisite craftsmanship and beautiful natural materials – those are things we can all connect to, but resonate particularly here.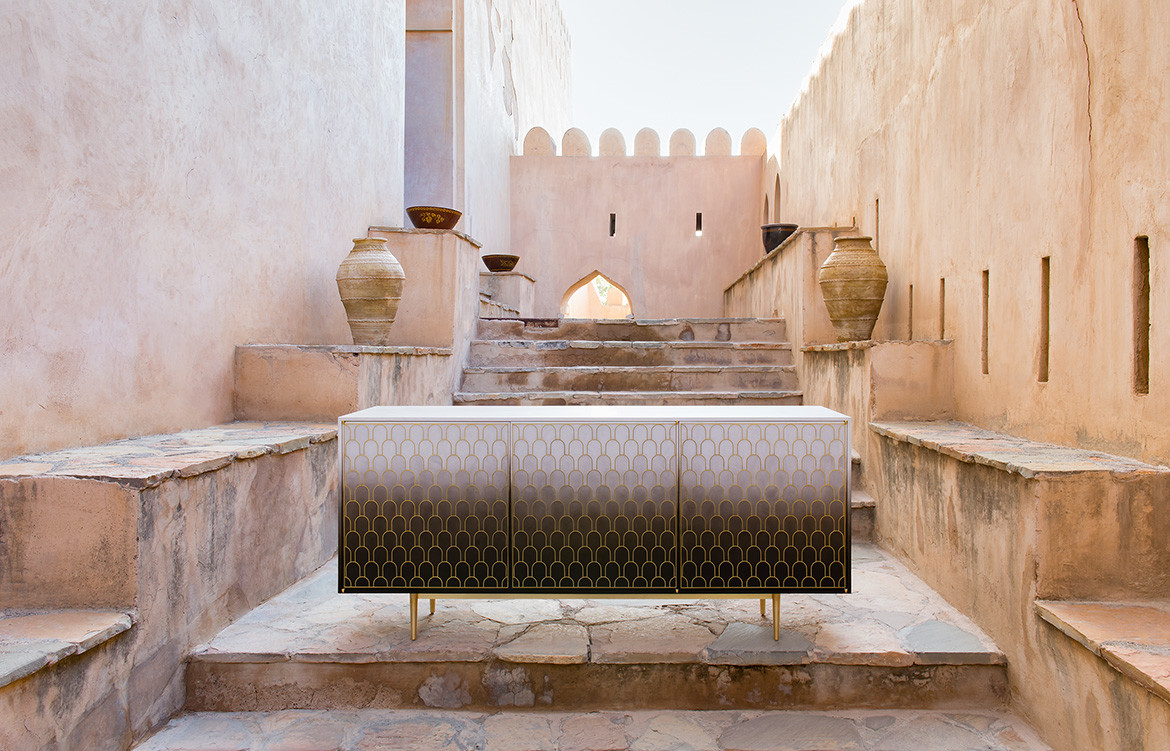 We keep finding ourselves talking of the Shamsian Collection, can you tell me a little more about it? It was a collection inspired by your own personal heritage, is that right?
Yes, that's right. My family heritage continually draws me back to the Middle East as a source of inspiration, and particularly to Oman. The Shamsian Collection was actually inspired by those details I just mentioned – the fort at Nizwa and the traditional Omani Dhow boats. The ombre colour effect in the Nizwa Cabinet is created by hand-shading Italian maple veneers, a technique mastered by our craftspeople in Muscat, immediately after being cut from the tree when still 'wet' resulting in deeper, richer colours. The pattern is then meticulously constructed by hand using the ancient technique of marquetry, each door containing one hundred and eight individual elements of solid brass, copper or nickel and one hundred and eighteen maple veneer 'petals'. Likewise, the sweeping Dhow pattern, which I drew by hand, is carefully constructed from over 60 linear metres of solid brass, copper or nickel.
You're first trip to Australian shores in almost 20 years, has the Australian landscape left any notable impressions on you this time around?
How could it not?! It is stunning and absolutely unlike Wales or London! I have constantly got my eyes open for ideas, so I have taken thousands of photos and got a sketchbook bursting full of drawings, but we'll have to wait and see what they might turn into. And it's not just the natural landscape that has made an impression either – the Paddington Lace on the front of the buildings has really caught my eye – and I finally got to fulfill a lifelong dream of swimming at Icebergs on Bondi Beach, although I do now understand where the name comes from ­– it was really cold!
Bethan Gray
bethangray.com
Living Edge
livingedge.com.au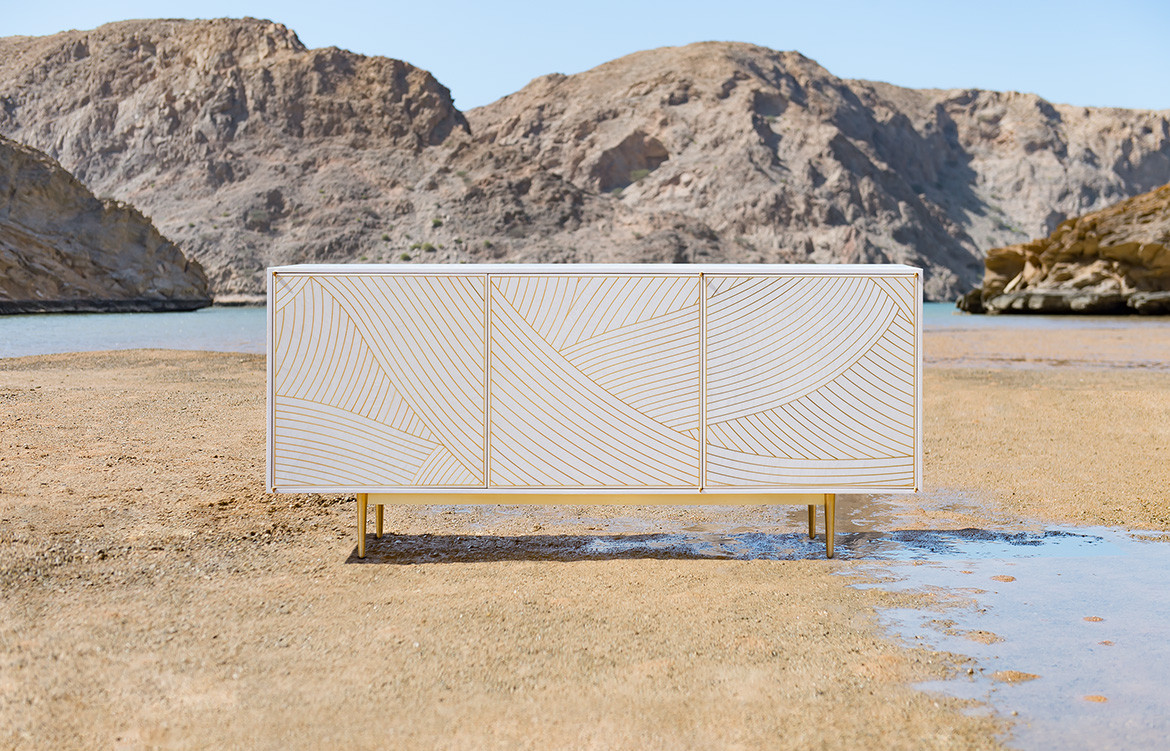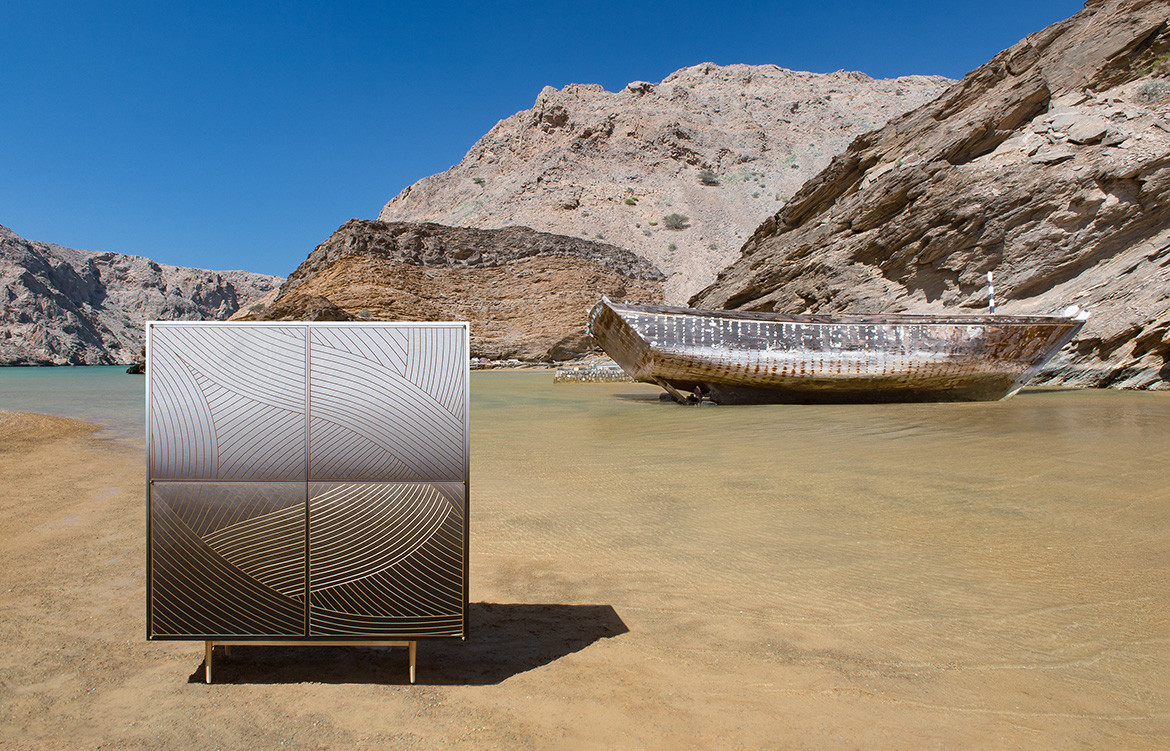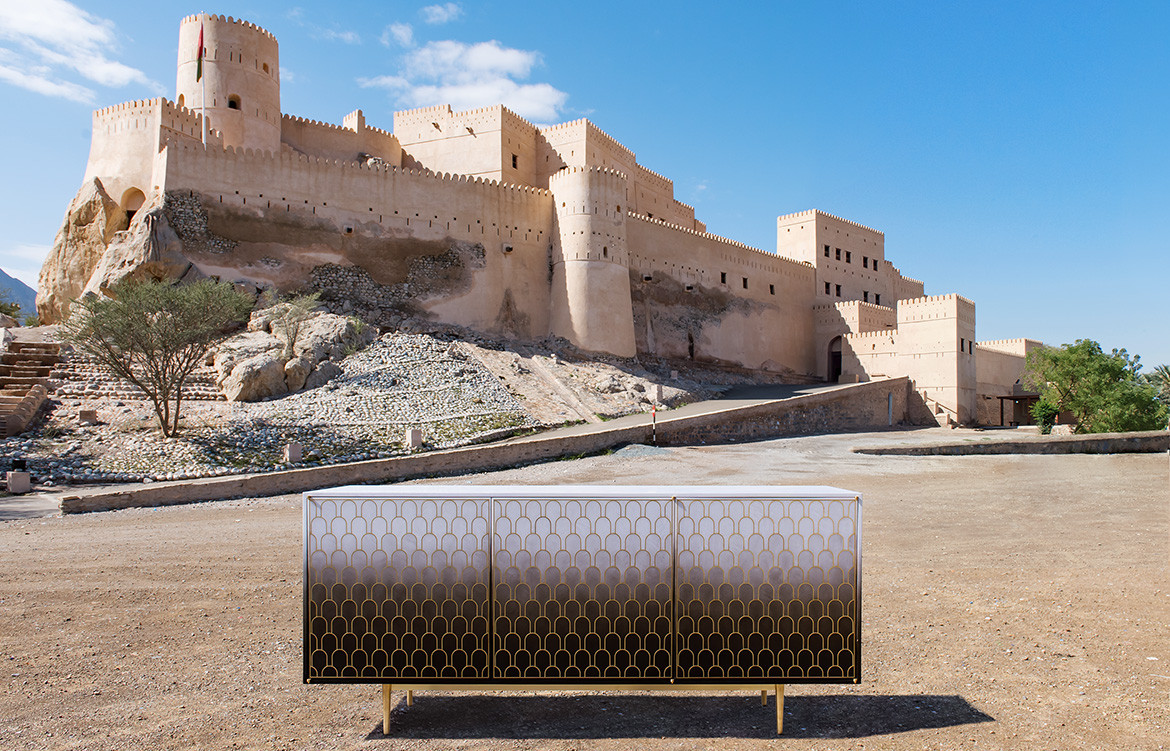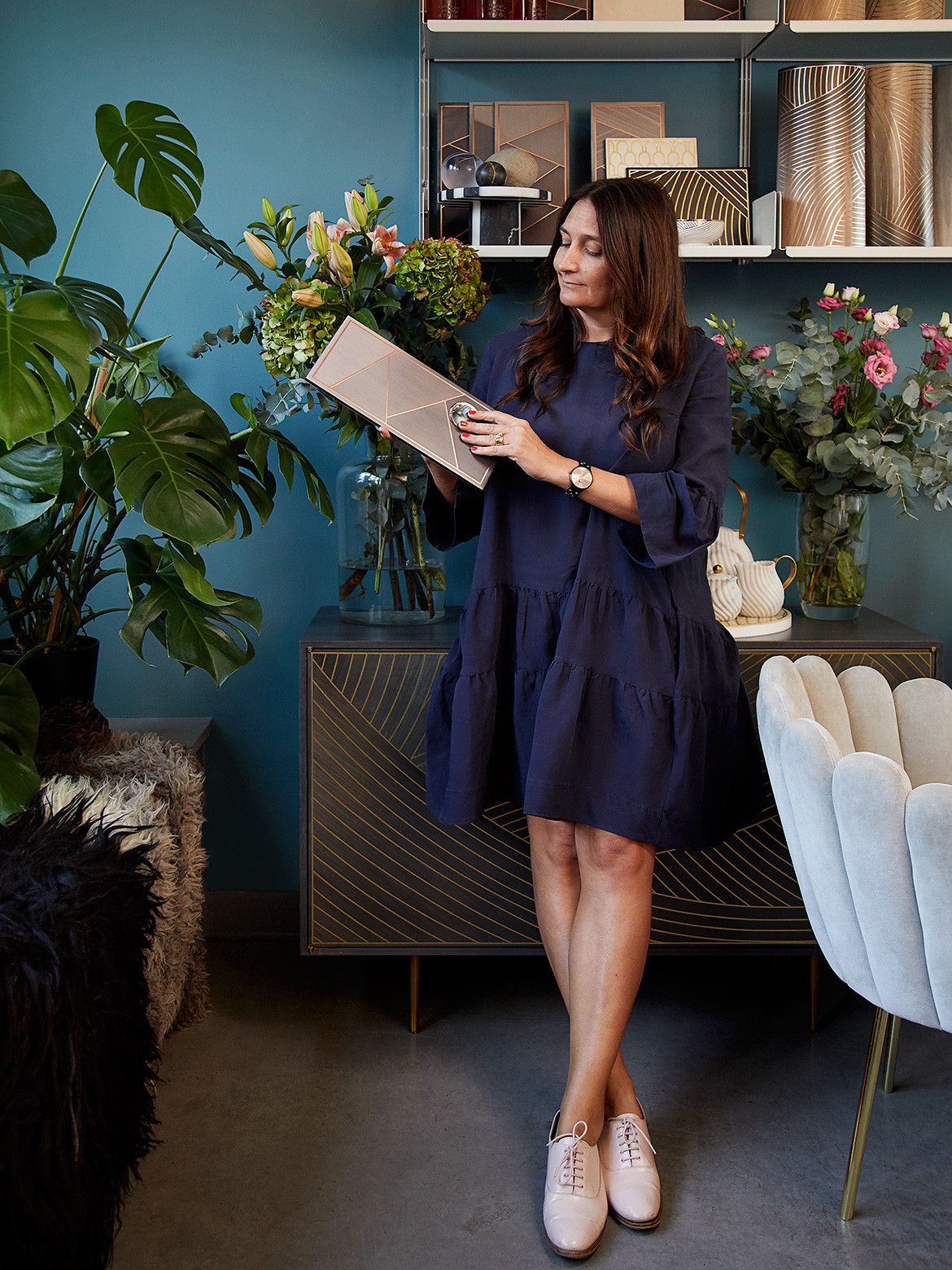 We think you might also like this article on Sarah Ellison Studio
Tags: artisanal, authentic craftsmanship, Bethan Gray, brass, craftspeople, Fort Nizwa, Habitat, leather, Living Edge, luxurious natural materials, marble, marquetry, Nizwa Cabinet, ombre, Shamsian Collection, technology, timeless designs
---