Cushla McFadden might be better known by the name TomMarkHenry, the unlikely pseudonym she and business partner Jade Nottage chose for their interior design practise established in 2014. It's a combination of paternal names in their respective families. "They were both really influential to us, Jade's grandfather and my dad," says Cushla. Moreover, its abstract nature aligns well with the company's positioning: an architectural approach to interior design projects. 
Cushla met Jade while studying for her Interior Architecture degree at the University of New South Wales. But they didn't start their business until after Cushla had returned to Australia following a stint in New York working for a U.S. architecture firm across high-end residential and commercial projects.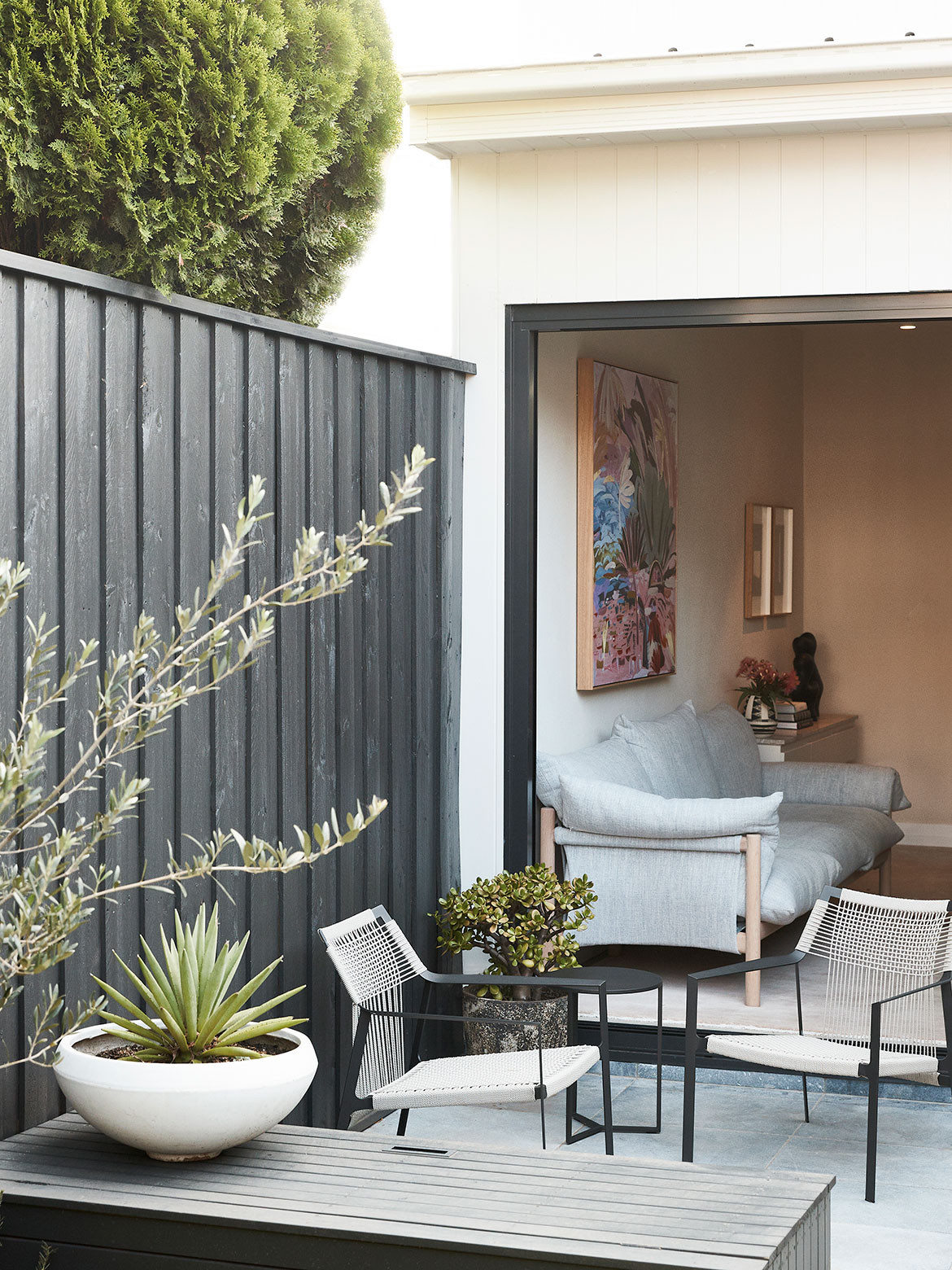 "When I got back from New York, TomMarkHenry naturally evolved from there," says Cushla. "We didn't have a business plan or a client list, it just grew organically". Their first clients were friends (as they tend to be), and then friends of friends, and continued to grow from a network of referrals. 
With a number of notable commissions under their belt, and space enough for the smaller residential projects like Cushla's own house, TomMarkHenry looks to be in a particular kind of sweet spot. "We're small enough to be really responsive, adaptive, and flexible but just big enough to take complex briefs and play in that market, too," says Cushla. With a team of 11 (which includes one of their first hires) and a focus on hiring the right people for the company – "we'll choose fit over skills any time" – Cushla co-leads a young and dynamic studio in which the senior members are across every project.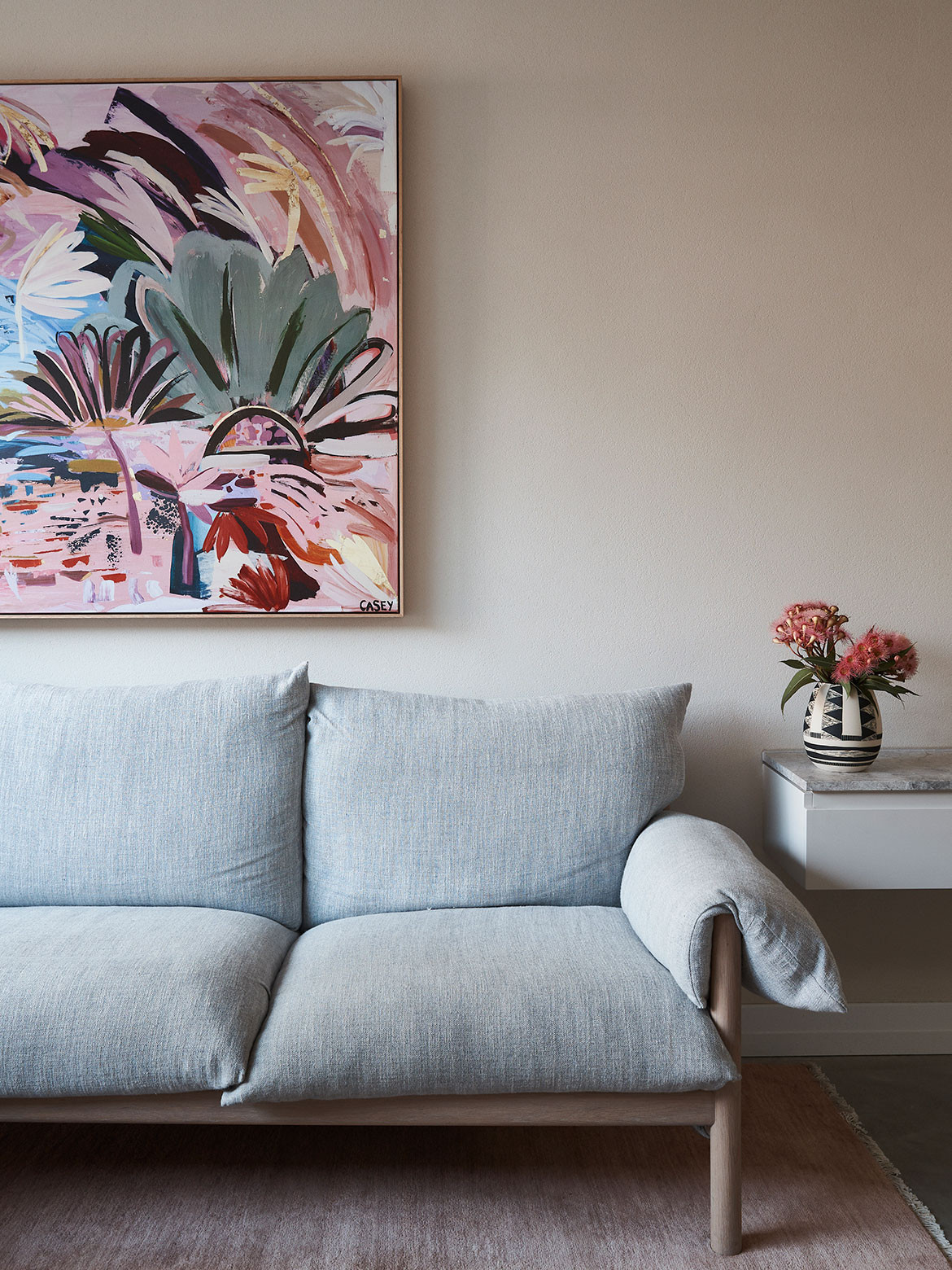 While Cushla prides TomMarkHenry's ability to flex to the client's needs and wishes – rather than rolling out the same design time after time – in her own work she continues to return to early influences like Mies van der Rohe, Philip Johnson and Le Corbusier for inspiration.
"I've always been influenced by modernism and quite minimal design," she says. "It was a nice reflection piece doing my own home to see that that is still very much the case." Cushla and her husband Brendan have recently moved into their newly renovated house in Annandale, Sydney, with their newborn son August.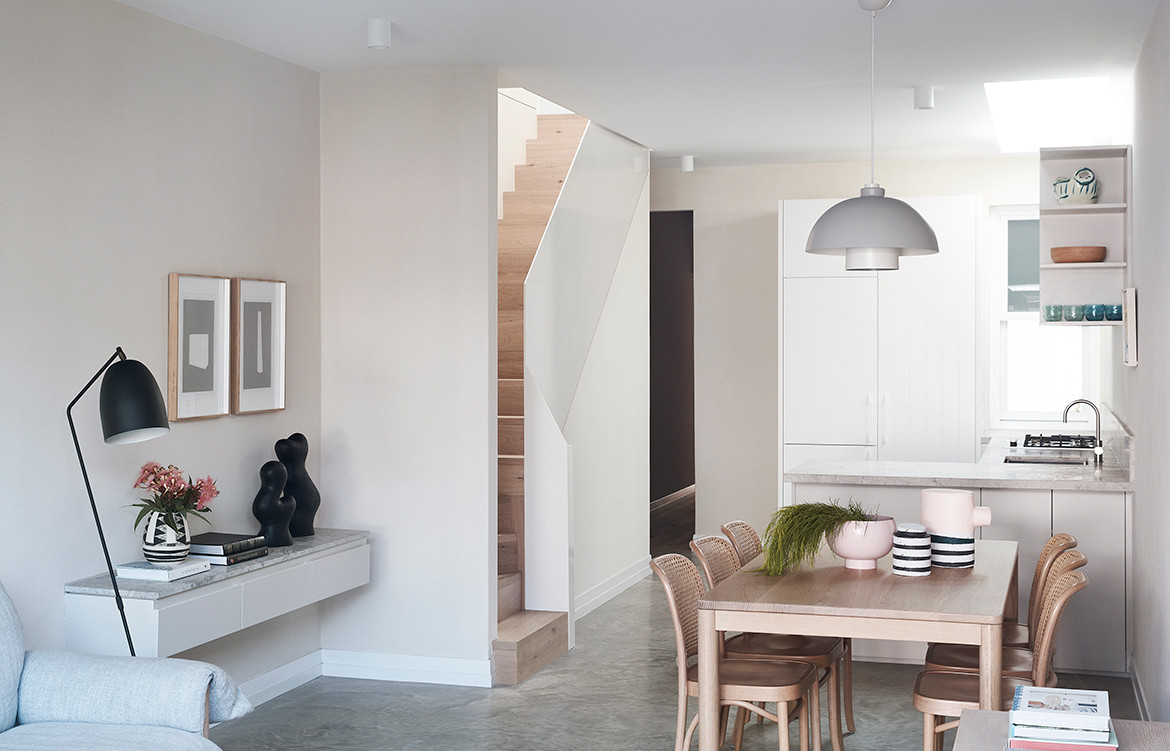 Cushla and Brendan bought the 1-bedroom terrace with relative freedom: knowing that ultimately they would be renovating. However there were still some factors with potential knock on effects to what was possible design-wise that influenced the purchase. They wanted access to natural light, a sense of connectedness between rooms, and calm spaces to retreat to after busy, sometimes stressful days.
Upon entry, the clay-rendered walls are a pleasant surprise in the context of the Inner West, and yet it feels wholly appropriate. Ever in favour of clean lines, Cushla opted for concealed LED lights along the ceiling cornices in the entry hallway. When on, the light washes down and highlights the texture of the walls.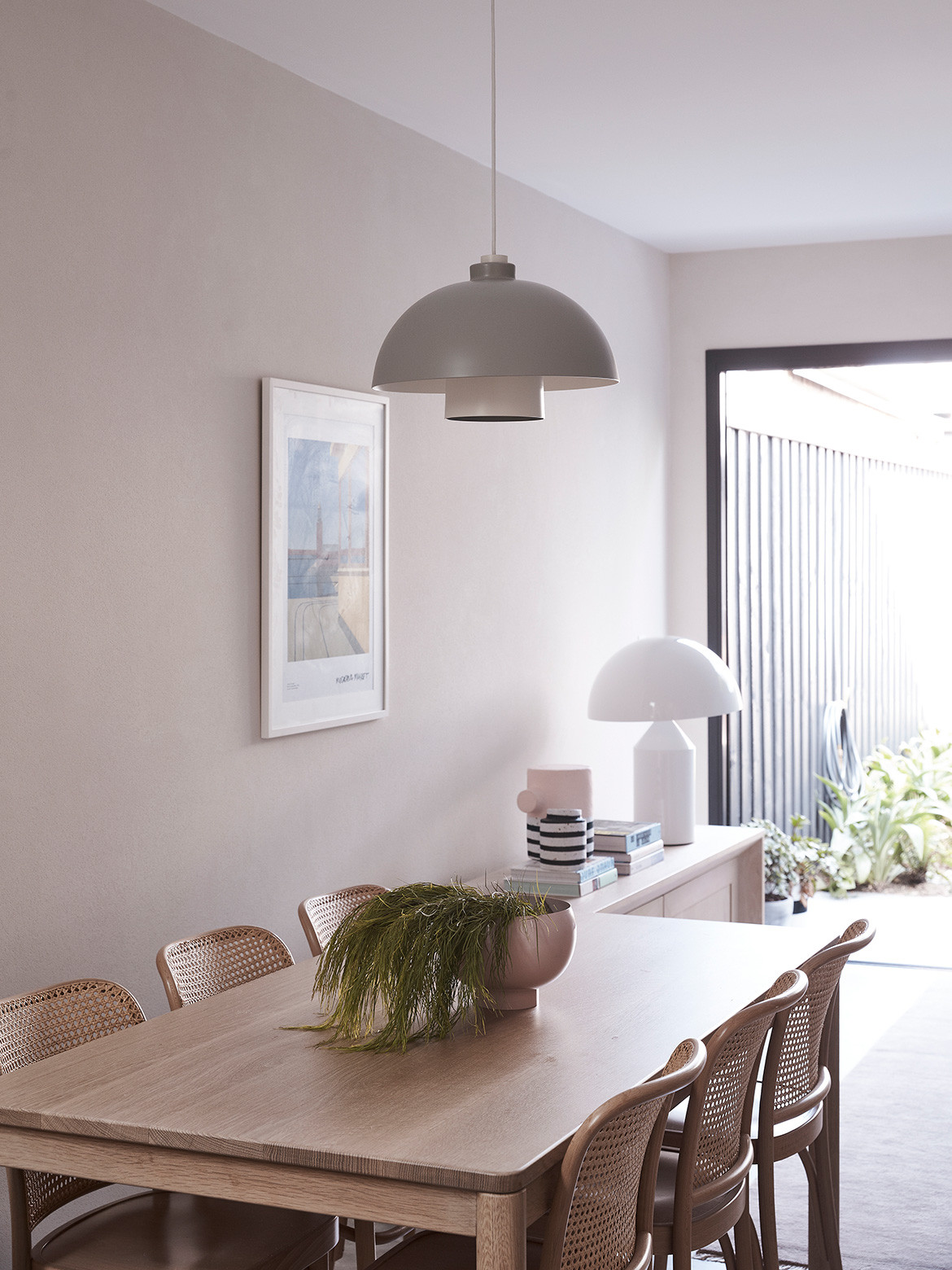 The clay walls follow through to the open kitchen, dining and living zones at the rear of the house. In order to put a staircase in up to the first floor addition, they needed to extend out to the full 3.8-metre width of the plot by appropriating a passageway along the side.
The staircase balustrade with its effortlessly simple geometry belies quite the challenge. Each piece, 10 milimetres thick and powder coated in white, weighs 350 kilograms and had to get craned in over the carport. Finding the right people for job was equally a challenge: "It's metal work but it's craftsmanship at the same time," says Cushla. Now one of her favourite details, it is often the hardest tasks that give us the greatest sense of accomplishment.
The concrete slab poured for the ground floor was polished and left exposed. "Part of the reason for choosing concrete floors was passive solar design," says Cushla. "[The rear of the house] faces east so the sun comes through in the morning, heats it up in winter and it stays warm throughout the day. On the flip side, in summer, because it's slab on ground, it draws up the earth's temperature. It pretty much stays at 22/23 degrees [celsius] even on hot days."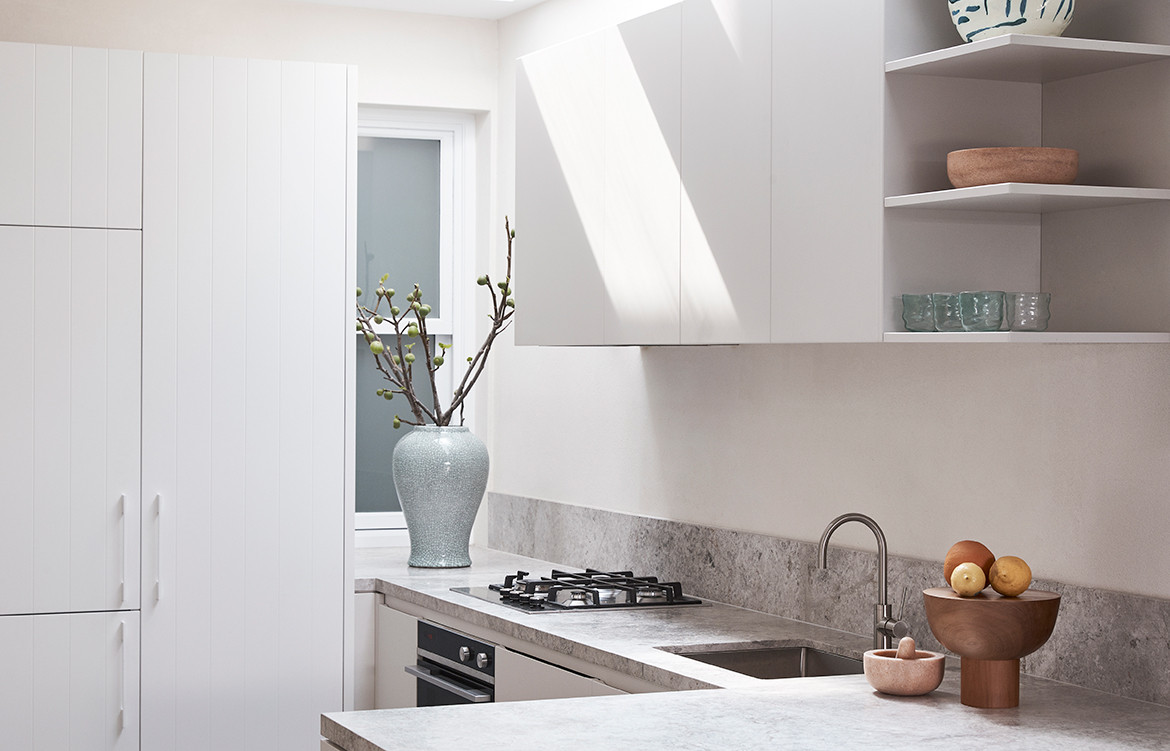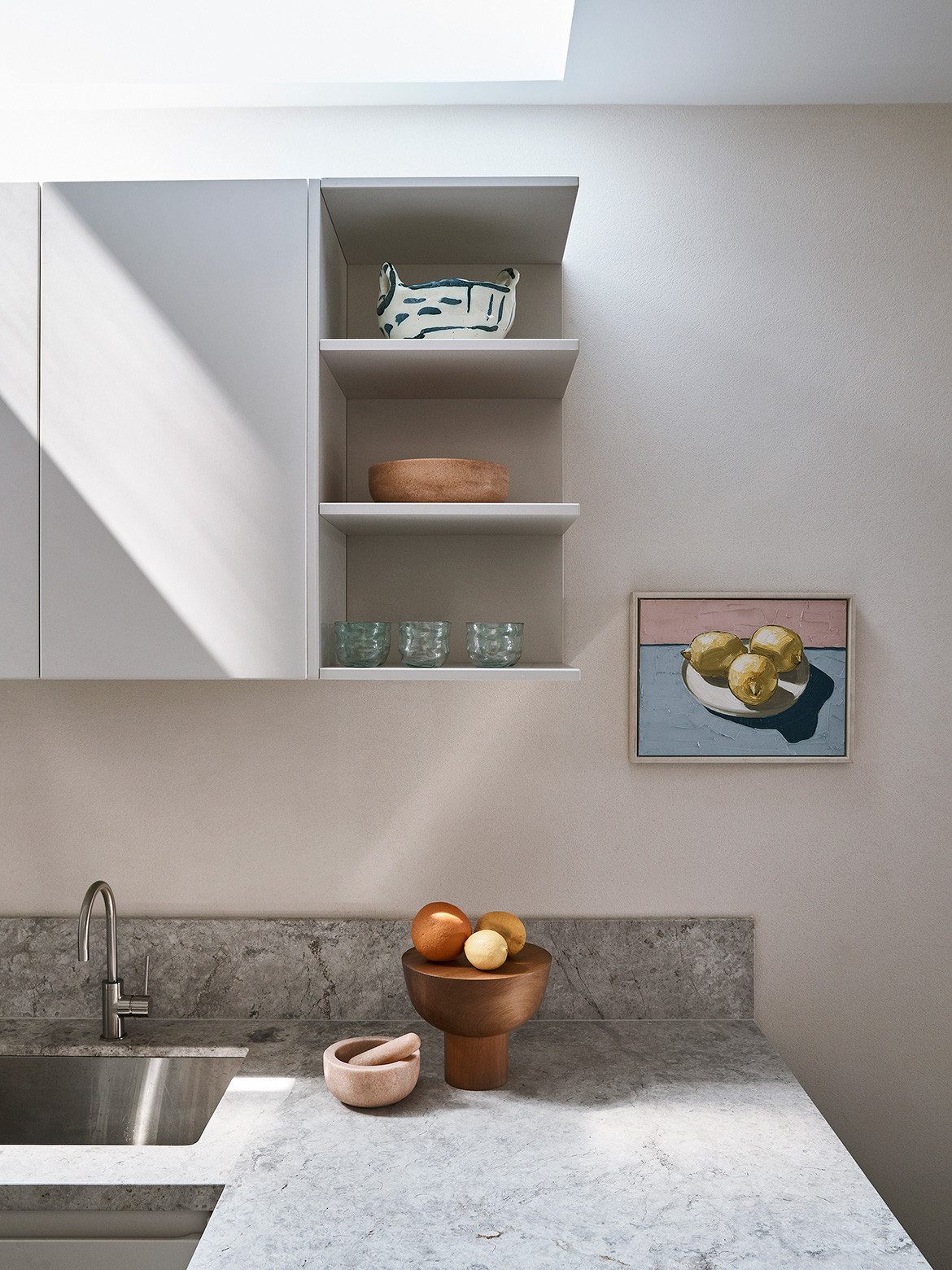 The clay walls also help to naturally optimise the internal temperature and humidity levels by absorbing moisture in the air. Double-glazing on the glass windows and doors is an additional barrier. "Even on those really muggy days it stays cool in here," she adds.
Such attention to the environment and willingness to design for it rather than against it is one of the things Cushla feels most proud of in her peers. "The environment contributes a lot to [Australian architect's] designs. Before we even put pen and paper we're researching what is happening around the site," she says.
That is frequently what our Region is known and celebrated for. Indeed TomMarkHenry have won a number of international design awards. "When things like that happen we do really do need to stop and take note," says Cushla, referring to herself and her team. Everyone else certainly has noticed.
TomMarkHenry
tommarkhenry.studio
Photography by Damien Bennett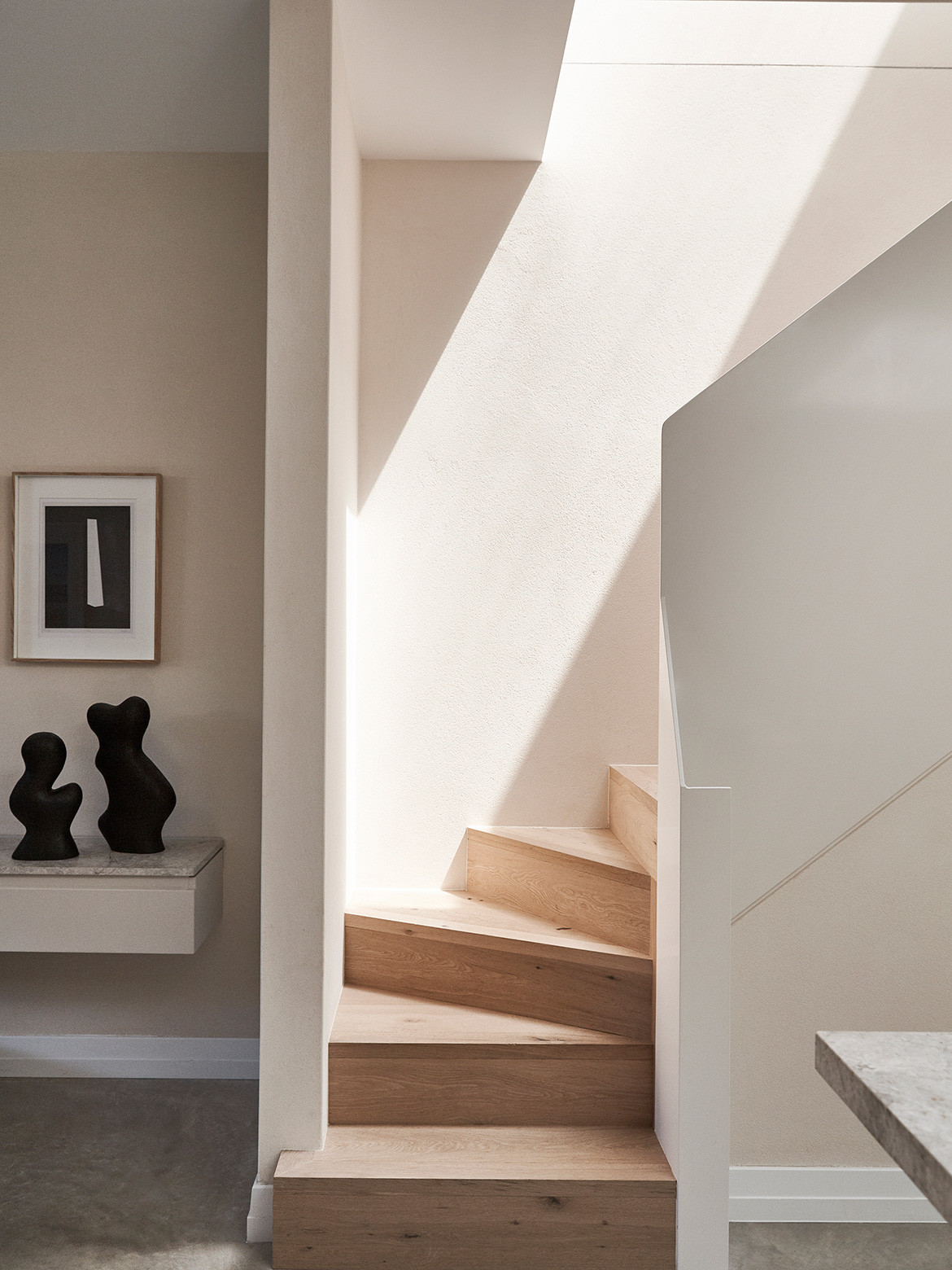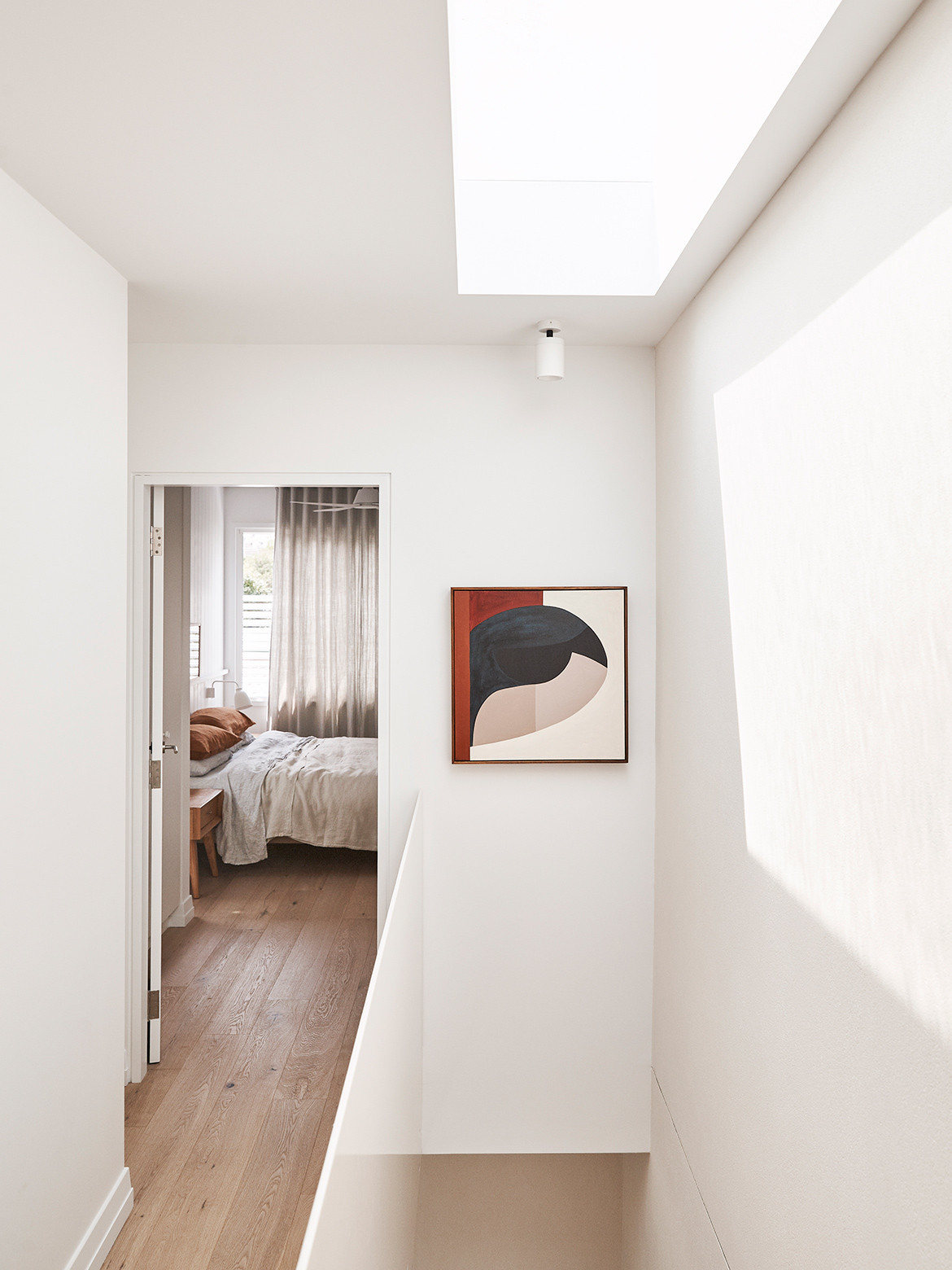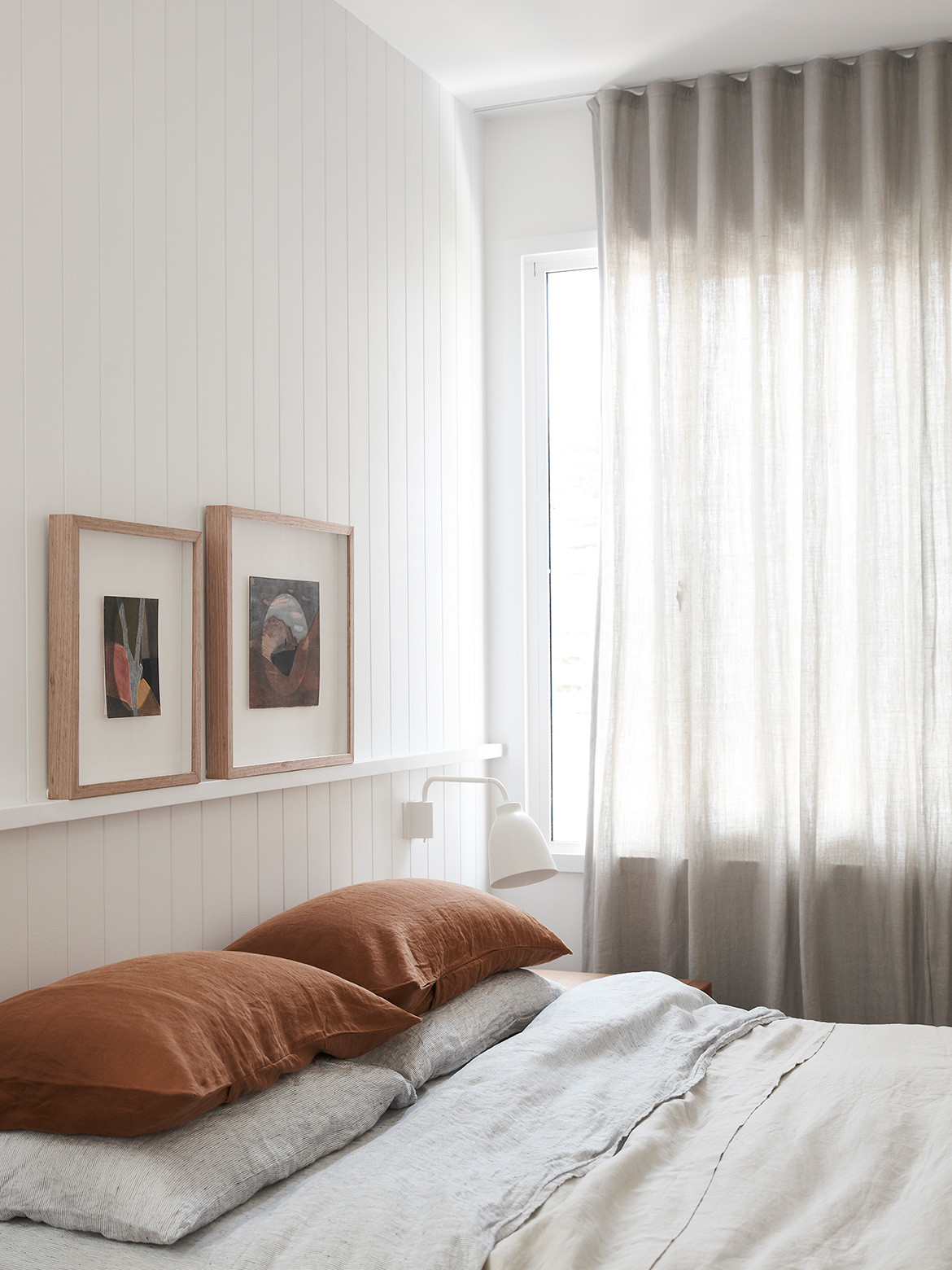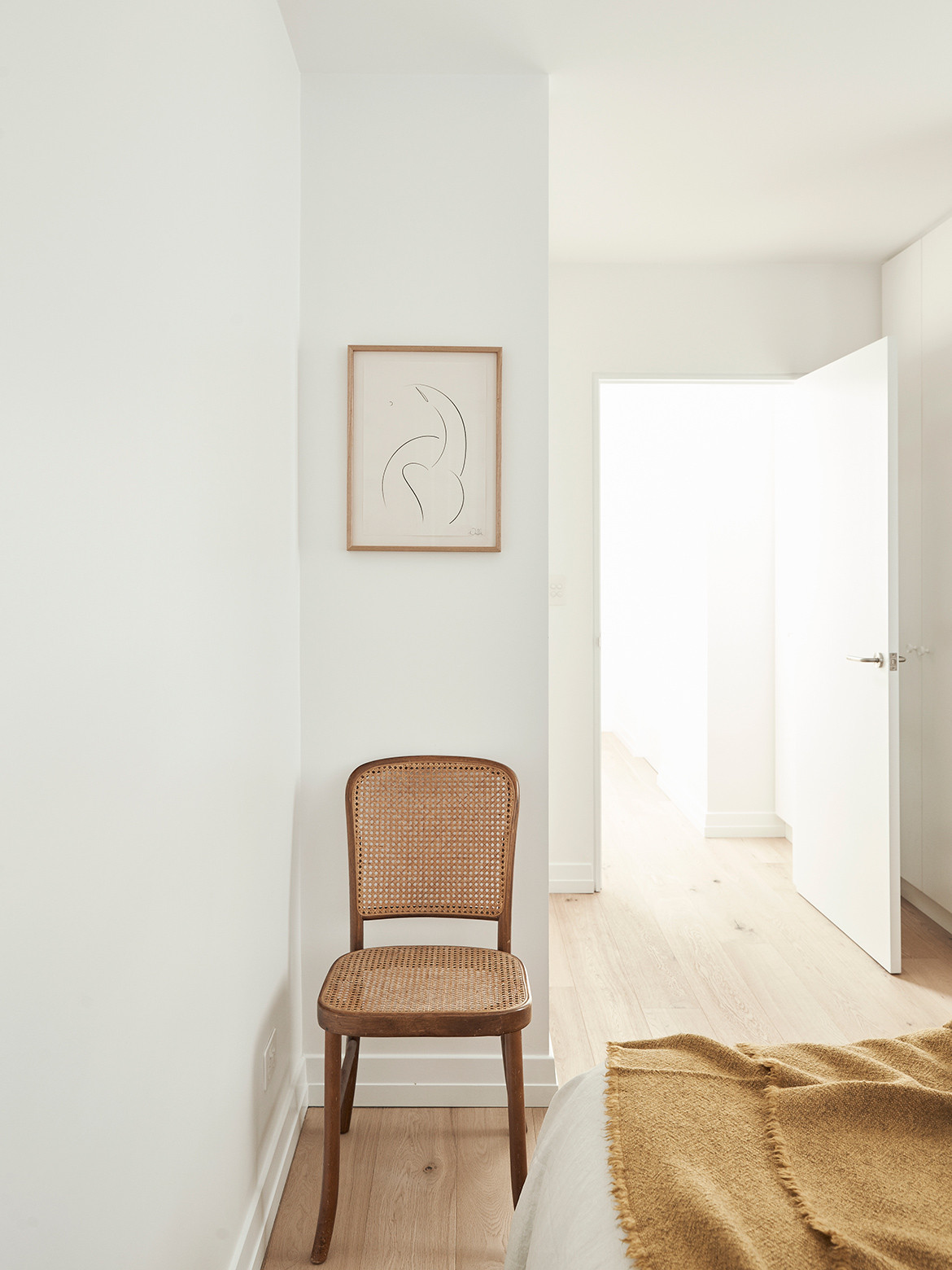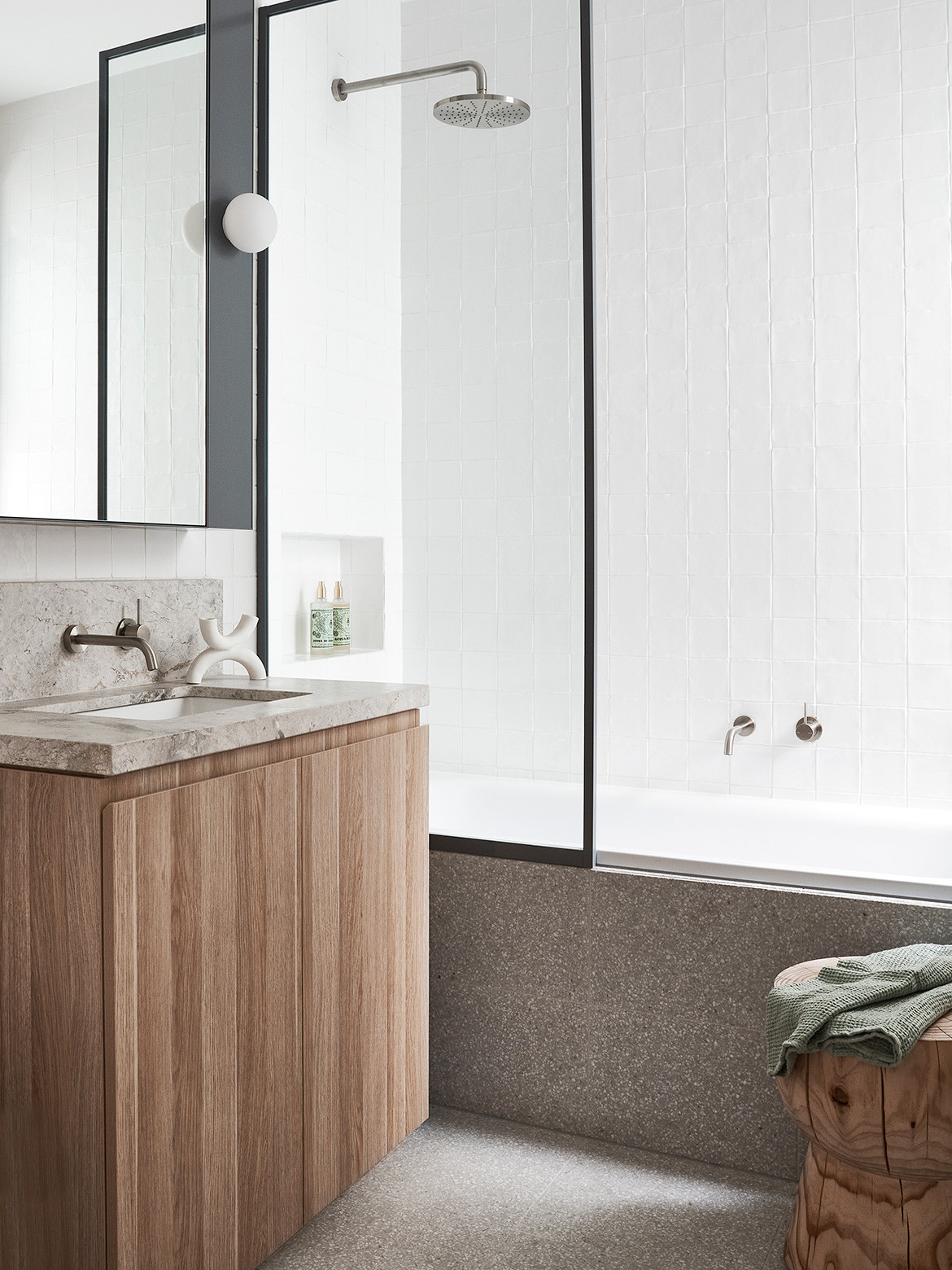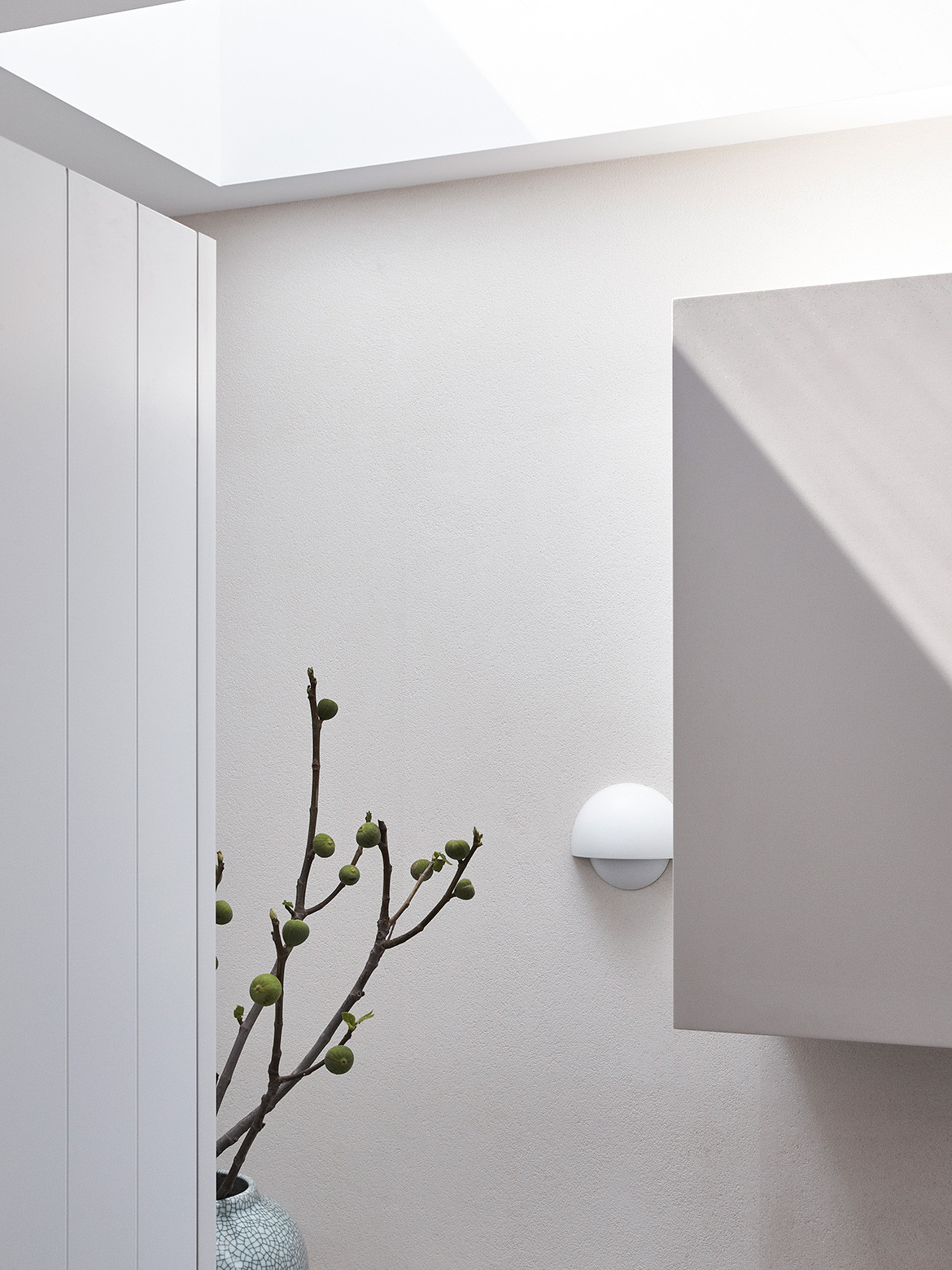 Tags: Cushla McFadden, Damien Bennett, Hollly Cunneen, tommarkhenry
---