Name:
Henri Sayes
Position:
Architect at Sayes Studio
Location:
Auckland, New Zealand
Parameters of project:
115m2 / 2 bedrooms + study, 1 bathroom, 1 powder room
What was the brief for this project, and who was it designed for?
The house was designed for myself and my wife Nicole. Being our own client allowed the brief to be quite flexible: other than practical requirements like having 3 bedrooms, we started with very few preconceived ideas.   .
We wanted a house which felt generous despite its modest size, a social house where the occupants were always connected. It also had to be good for large dinner parties.
The design process became a way of exploring different ways to live and informed the brief as much as the brief informed the design process – it became quite a cyclical process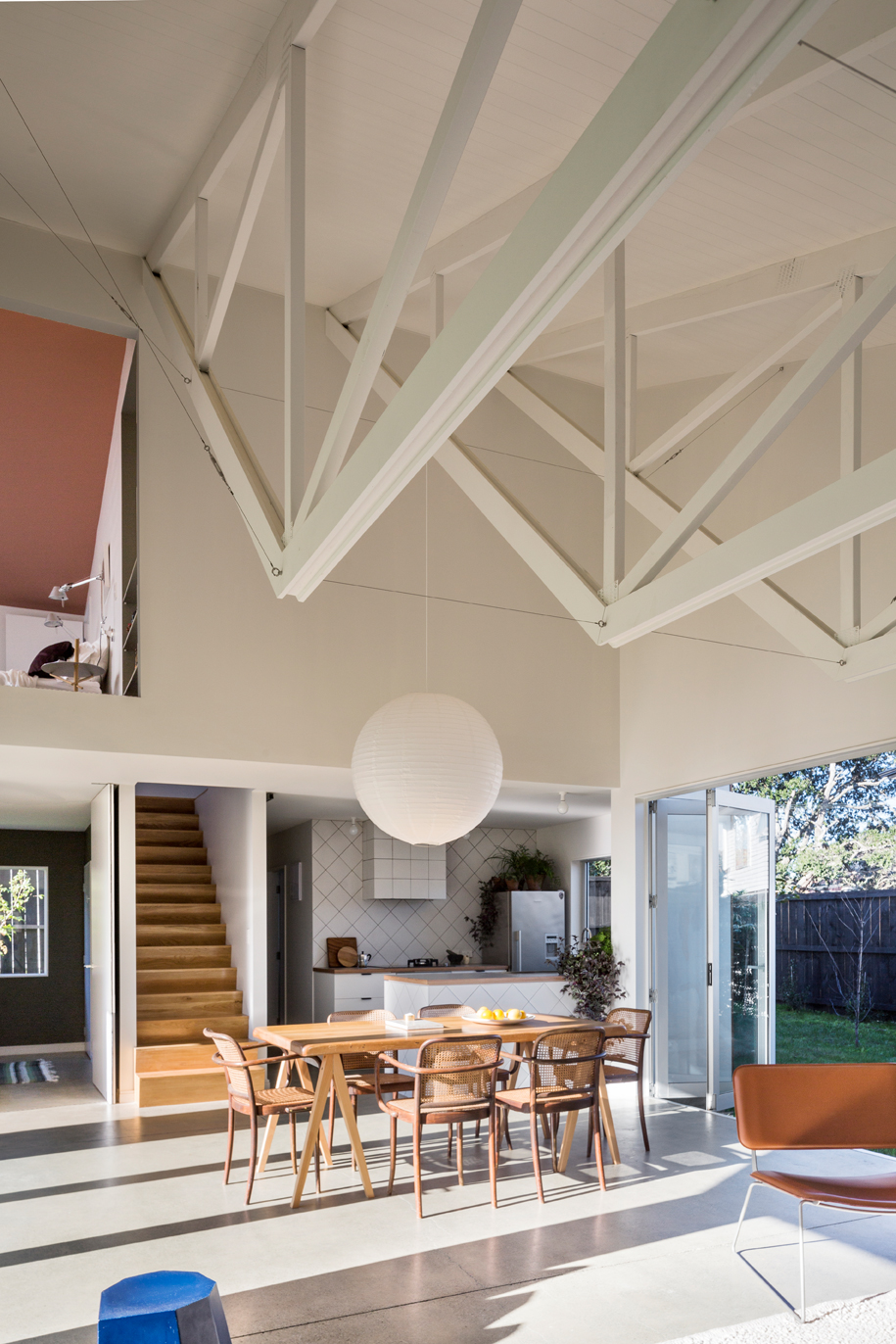 What did you enjoy most about the process of creating this space and why?
I worked on this project outside my day job at Malcolm Walker Architects. It was refreshing to be able to explore design ideas without time pressures and client expectations. The project was designed and documented over about 2 years, we had a limited budget, but a lot of time to refine ideas to logical end point. I worked primarily through physical models (about 10) and hand drawings (mainly plans and sections).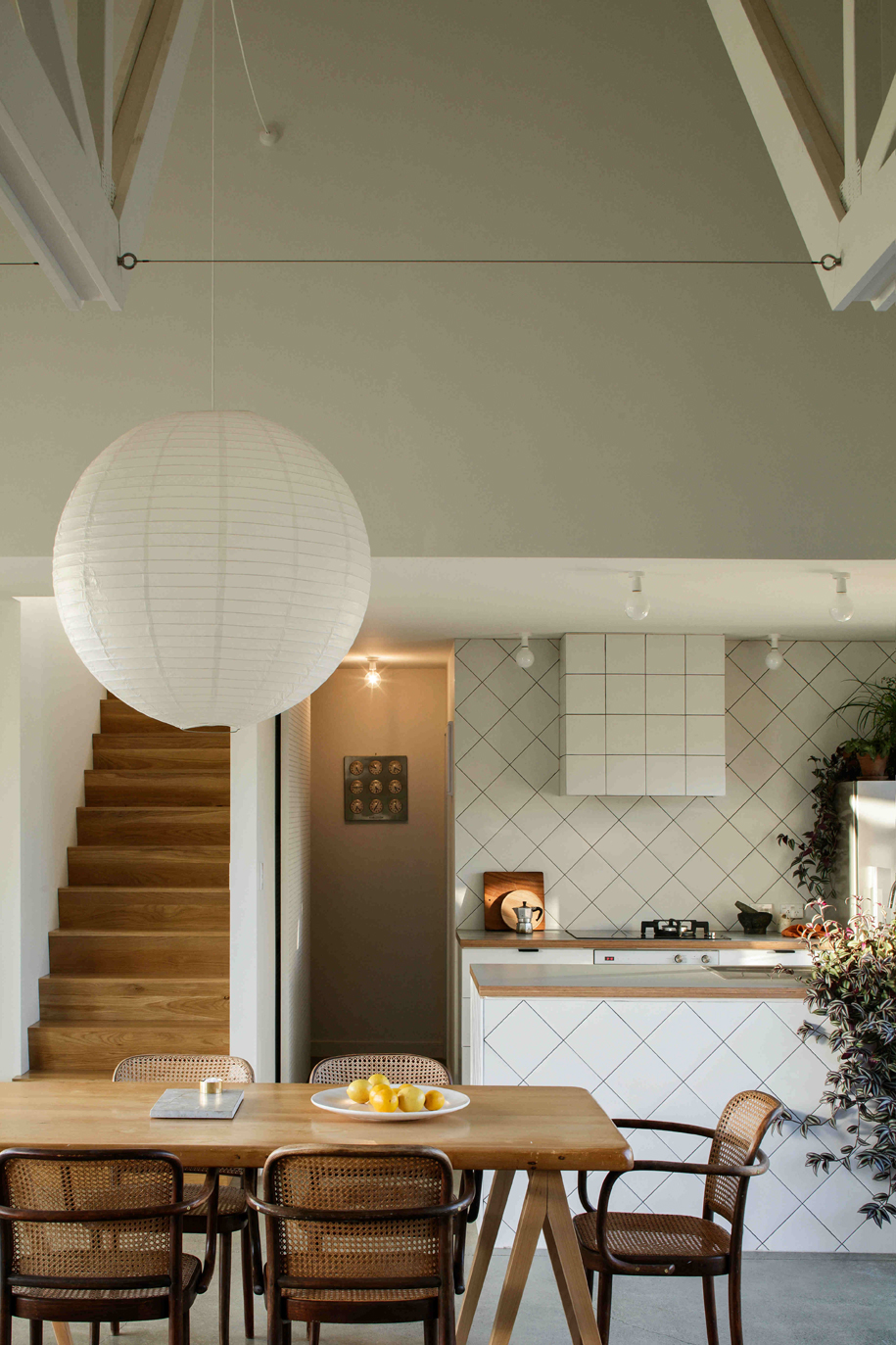 What was the most challenging aspect, and how did you overcome that?
The budget. It meant reevaluating what good architecture was, to explore what was good value, rather than just being good. The priority was to design the house to have good space and spatial contrast, rather than gratuitous architectural gesturers. The form and elevation were important, but designed as an expression of the space rather than the driver.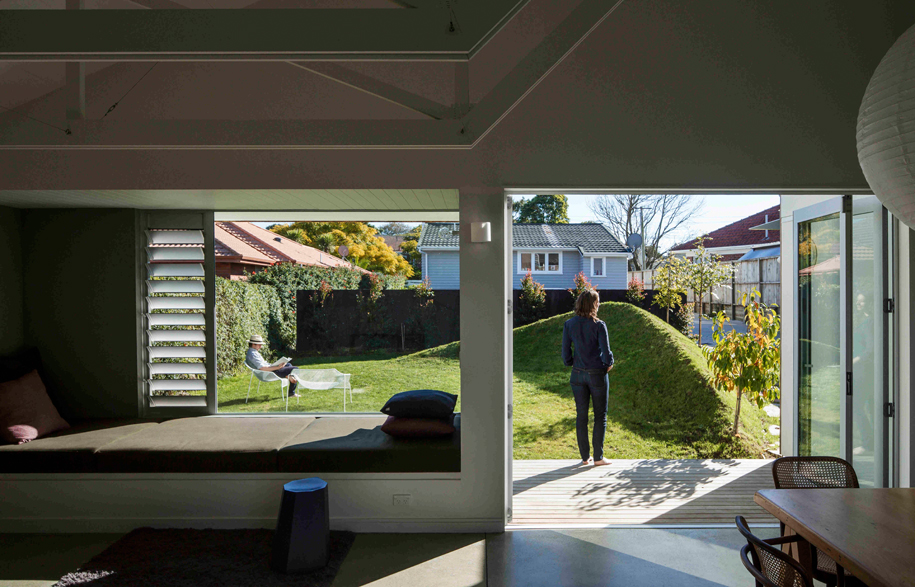 How did the original site affect the design? Were there any noteworthy historical qualities about it?
The site is overwhelming suburban, and is a rear section with no road frontage. The surrounding properties are quite modest 1950s cottages which informed the scale and simple form of the house. Not having a street frontage allowed for a more casual entry
Is the local climate or landscape reflected in the space, how important was this to the final design?
Auckland ha quite fickle weather, so we designed the house with deep eaves so doors can be left open when a sunny morning turns to a showery afternoon.
What sort of materials did you use, do they have any connection to the area?
The material palate is…
External: cedar weatherboards left to weather, bandsawn plywood (painted), alumiuium joinery,
Internal: concrete slab, exposed timber trusses (painted), grooved plywood ceiling (painted) American oak flooring (we also made the door stops and towel/ shower curtain rail, and handrail from oak dowel) and plasterboard wall linings (painted). We also used simple motifs that repeat throughout the house, penny tiles, peg board and circular mirrors etc.
Are there any sustainable qualities to the design?
Good design is inherently sustainable. The main strategy we employed was to build as small as practically possible and to use renewable materials. Further to this the living spaces are orientated for good solar gain in the winter, but the deep eaves regulates solar gain in the summer. The concrete slab provides thermal mass to regulate the temperature throughout the year.
What about this space makes it a special and personal project for you?
It was the first house which I'd completed under my own name, which was made more special for the fact that I also got to live it.
I'd spend so much time imagining how things are going to be, that you already know what you're going to get before you start building. But it turned out there are so many great little moments which I wasn't expecting – moments which I don't think you grasp or appreciate without inhabiting a house for a period of time.
What are some of the owner's favourite aspects of this space?
The light and the warmth. This house captures sun throughout the day making the simple spaces feel ever-changing as the sun moves through the trusses or the down the stairs. And how warm it is! Double glazing, insulation everywhere and the small size make this house so cosy in winter (and cool in summer).
Photography: Patrick Reynolds
patrickreynolds.co.nz
Sayes Studio
sayes.co.nz
---