Your name: Fiona Lynch
What you do: Interior Design director at Doherty Lynch
Your latest project: Grove House in Hawthorn Melbourne
What is your favourite…
travel destination: Locally Healesville – where our recent project Finnon Glen is located and is our family weekender.
Overseas – Peggy Guggenheim Venice. Dream destination – Finland have plans to go this year
hotel/place to stay:  Royal Mail in Dunkeld for its views and great food
airline:  China Air just for the dumplings
magazine:  Art Almanac 
watchmaker: I'm not much of a watch wearer however I have a fantastic wall clock by Diamantini Domeniconi
luxury goods company: Luxury? Not really a luxury girl. However I do love my new earrings by Oscar de la Renta.
design classic:  Joe Colombo floor lamp Coupe 3321 & Farnsworth House by Mies van der Rohe.
new design:  Architect Charles Wright who has just completed the Botanical Gardens visitors centre in Cairns
favourite type of chair: Alvar Aalto's Paimio chair Artek 41
meal: Sausages & mash cooked by my sons Conor & Patrick
restaurant: Gill's Diner Melbourne
drink: Peach Bellini
gallery/museum: Tate Modern & seeing Anish Kapoor's installation run across the length of the gallery foyer space. Also would love to visit New York to see Kazujo Sejima's new Museum of Contempory Art.
book: Reading 'Then Again' Diane Keaton a memoir
item in your studio: 1967 Vico Magistretti timber table from Geoffrey Hatty 
artwork: 'Indoor lighting for My Father' by Jessica Stockholder for her use of painted hay bales. 
artist: Painter Helen Frankehaler
piece of technology: In our studio we've recently discovered Tumblr. 
What inspired you to be a designer? Seeing 'River House' by Peter McIntyre for the first time as a kid it was like no other house in my neighbourhood
Who are three people that inspire/excite you:
     1)  Mardi Doherty my design partner
     2) Lighting designer Volker Haug
     3)  Sculptor John Chamberlain – I wish I could fly to New York to see his retrospective at the Guggenheim finishing this week
What is your creative philosophy?  There is so much to learn from iconic artists & designers and so many talented creatives to be inspired by, especially here in Melbourne.
What does the term 'Design Hunter'™ mean to you? Someone who seeks out new ways of thinking, seeing & creating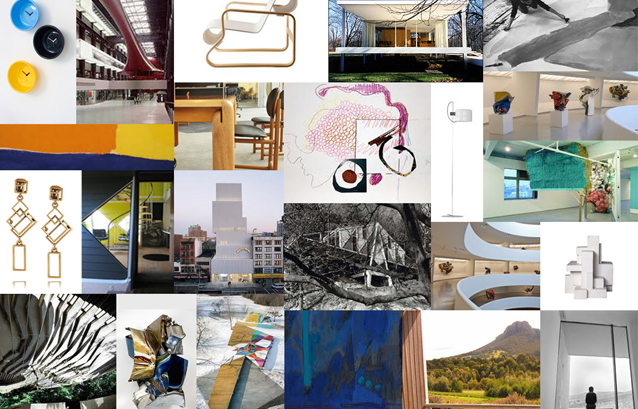 Check out 'Finnon Glen' with interiors done by Doherty Lynch in Habitus 16, out now.
---