Sketching is a medium as important and essential as whistling and humming is for a composer, it helps in transposing a mental image into a spatial representation. It is also a way of confronting and resolving the intricacies of a project. This can be achieved also with computer aided 3D systems but sketching provides a more direct tool for solidifying ideas compared with the intermediary of computers. A pencil can be more versatile than current 3D programs as well as being a shorter path between the concept and the design – keeping the final outcome more true to the original idea.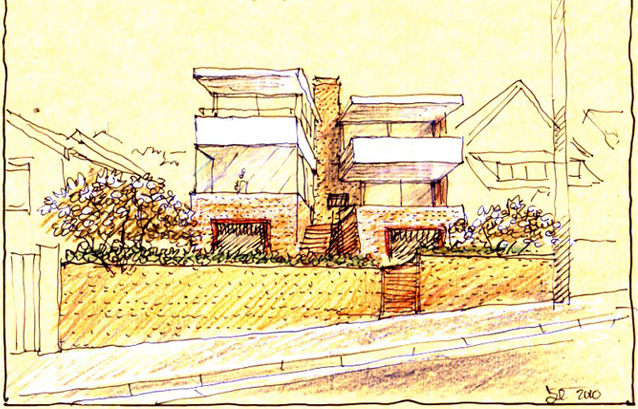 Coogee House, by Luigi Rosselli
Sketching in our office is not only used as an internal method of designing and developing projects, but also as a method of communicating to clients, builders and councils.
A project is visualised and developed using a number of schematic critical views, both external and internal. With these drawings one can convey the visual character of a building, something which can get lost in 3D renders or models. These sketches are enough to allow the client to capture the ideas and visualise what the building will look like and feel without getting scared by the details, the wall colour or the furniture.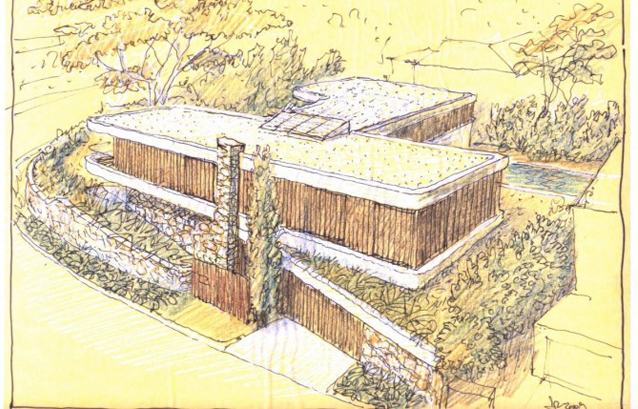 Plunkett Street House by Luigi Rosselli
Not only for our client's advantage, the project architect will refer to these original drawings throughout the project – it is satisfying to see how often the buildings turn out with such similar character to the original drawing.
Le Corbusier was an excellent draftsman and it was in part thanks to his cross eyed vision, he could only see with one eye at a time as he had no stereoscopic vision. This forced him to develop a strong sense of depth which in turn allowed him to comfortably construct three dimensional images on paper with concise, fast lines. His creative mind was also talented in colour sensibility as well as imagining form. I too have no stereoscopic vision so feel most comfortable constructing 3D worlds on 2D surfaces in drawing, a similar process to the way my mind has to calculate depth in everyday situations.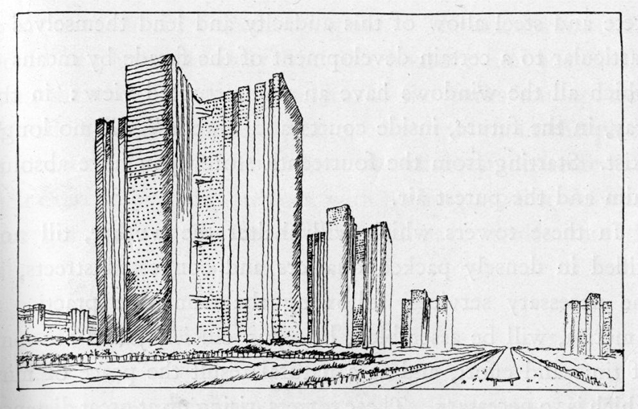 A City of Towers by Le Corbusier
But not all drawing skills are innate; there is a certain amount of practice and well directed learning.   This is obvious in the development of drawing and motor skills in children.
I had a lucky upbringing with drawing and painting being encouraged as well as being the son of an engineer who contributed to constructions of post-war autostrades in Italy. I started to design and draw bridges and then was taught about perspective in high school together with chiaroscuro and coping of classical Corinthian capitals. Drawing was also a most enjoyable part of my studies at University with life drawing of the most spectacular michelangelo-esque female models and the discovery of the Johannes Itten and Bauhaus theories of colour. I was very lucky to learn from the then octogenarian, Alberto Sartoris, the theoretician of axonometric perspective (a form of bird's eye view that keeps the plan of a building while simultaneously showing the elevations projected vertically over the plan). I also learnt from Alvaro Siza, now Pritziker laureate, professor of my Lausanne University for a brief time, I learnt his very restrained, humble line drawings, a sort of Mr Squiggly in architecture.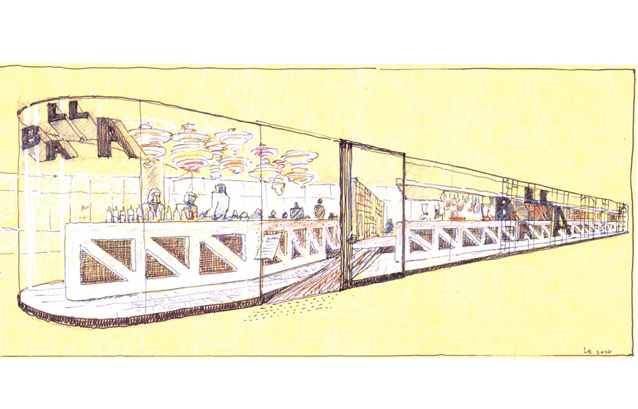 Balla Restaurant, by Luigi Rosselli
I was also an apprentice of Mario Botta, one of the most important Swiss architects of the last century after Corbusier, and he was an acrobat of the 5B pencil. He was sketching all the time, on the lunch table cloth and on our precise Swiss ink pen drawings. His office assistants used to date stamp and file every single sketch.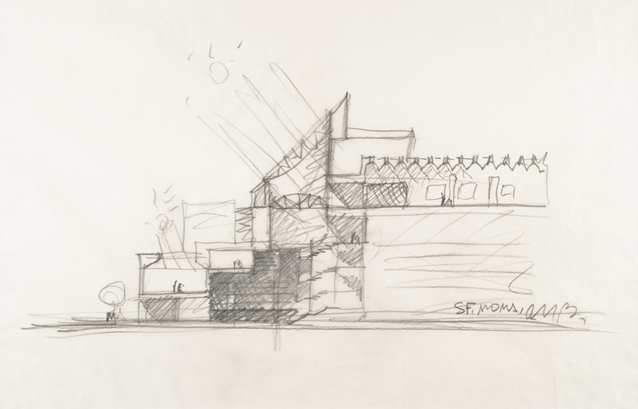 SFMOMA Section of Atrium/Turret by Mario Botta
I will not forget the pleasure of sketching that Aldo Giurgola taught me, his soft hues of skies and clouds, his quintessential Australian gum trees, his appreciation to light and texture. I was lucky to be asked by him to help (as an apprentice) fill in areas of the large parliament house competition perspectives. 
Also significant to why I draw today is the period in which I studied Architecture, as hand drawing was still heavily encouraged at that time. Our current universities are less interested in this tool and spend greater energy in teaching computer skills. I have no judgement on the value of one verses the other, I can see in my son who is also an architect a stunning mastery of the computer possibilities, using Sketchup as a very versatile program, in his hand, opening up to be an expressionistic drawing tool. Maybe it is simply the level of enjoyment and peacefulness when using a pencil verses using a mouse that is not comparable.
See Luigi Rosselli drawing an addition to a Sydney building here.
Tags: luigi rosselli
---