Candace Bushnell is hot property. With a string of best selling novels and a film based on her book Sex and the City, Bushnell is synonymous with the racy pace of New York, parties, openings and celebrities. On the other side of the world, working alone from her studio in St. Kilda is Megan Hess. Megan Who? Hess is the illustrator of choice for Bushnell's book covers, including her latest book, One Fifth Avenue.
If Bushnell's covers weren't enough, Hess is now the official illustrator for Bloomingdale's, THE department store in New York. In between these gigs, Hess illustrates for Time magazine. "I was asked by Chrissy Dunleavy (Art Director for Time) if I could also draw older, overweight, unattractive men, which the magazine regularly features," says Hess, who then emailed two illustrations to Dunleavy, one of Woody Allen, the other of Alfred Hitchcock (both of which she drew from photographs).
Ninety per cent of Hess' illustrations head overseas, mostly to New York and London. In August, Hess went to New York for the launch of Bushnell's One Fifth Avenue. Hess now makes at least two trips to New York each year, arriving with ideas and leaving with a stack of briefs. "It was extraordinary seeing my illustrations on billboards and on cab doors," says Hess.
Like many success stories, Hess started her career from an even smaller place than St. Kilda – on the outskirts of Brisbane. As a child, she loved drawing, but later, in high school, she never thought of it as a possible career. "I was always told by school friends that I needed to find a real job," says Hess. The closest thing to drawing was graphic design, which Hess studied at the Queensland College of Art, part of Griffith University.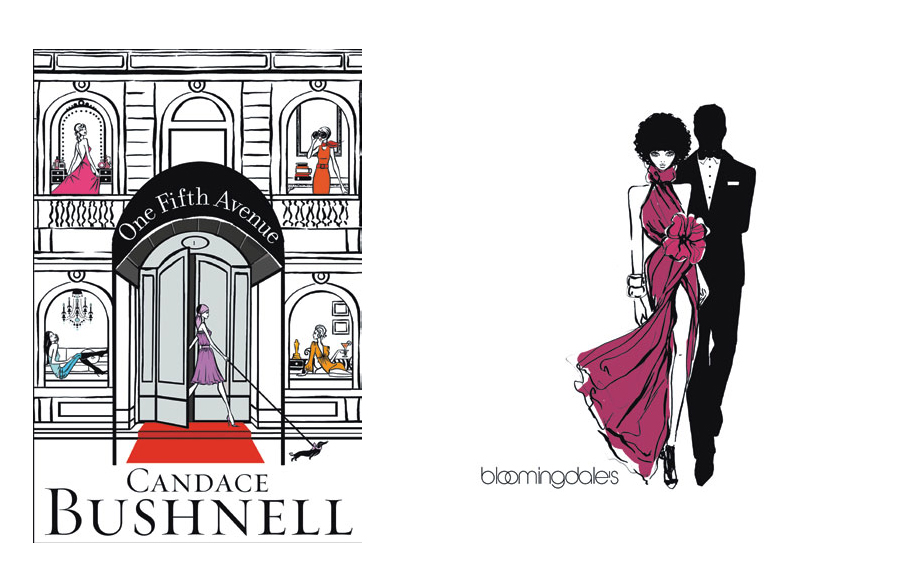 Megan Hess' illustrations for Candace Bushnell's best selling novel (left), Hess' illustrations for Bloomingdale's (right) 
Upon graduation from college, with no experience, Hess landed her first job with Mojo in Brisbane, one of Australia's high-profile advertising companies. Employed as an art director, it was either 'sink or swim'. "I never really wanted to work in advertising. In the back of my mind I wanted to be an artist," says Hess, who after two years was given large corporate accounts to oversee. "Friends used to envy my position, reminding me of how lucky I was at my age (then 21) to be doing what I was doing".
Hess' real luck lay ahead of her, not in Brisbane, but in London. In 2000, she set out with her sister, Kerrie Hess, also an illustrator, to find a new direction in life. But if one had to choose the most difficult place to start drawing, it would be London, due to the cost of living and competition, rather than inspiration.
Eventually Hess built up a rapport with a few design agencies, as well as with Liberty department store. One of Hess' first assignments for Liberty was a catalogue. Her research focused on catalogues from some of the world's best department stores, many of which are in New York: Bloomingdale's, Neiman Marcus, Bergdorf Goodman and Henri Bendel. "I visited New York in 1993 while I was studying. The feeling of being there still resonates," says Hess, recalling being dropped off in a taxi in Times Square. "I walked into Bloomingdale's. It was extraordinary. You have to remember I lived in Capalaba [an outer suburb of Brisbane]. I'd never been overseas before," says Hess, who has now been to New York at least 20 times.
While illustrations for Time magazine, Vogue, Harper Collins, Random House, Fashion TV and Bloomingdale's would be enough to send any fashion illustrator into a head-spin, the call from publishers Hyperion created a watershed in Hess' career. Hess received a phone call from Hyperion in 2007 after they saw her work in Spanish Vogue. "The only thing mentioned was that they needed a cover for a well-known author, whose books were continually on New York's best seller list," says Hess.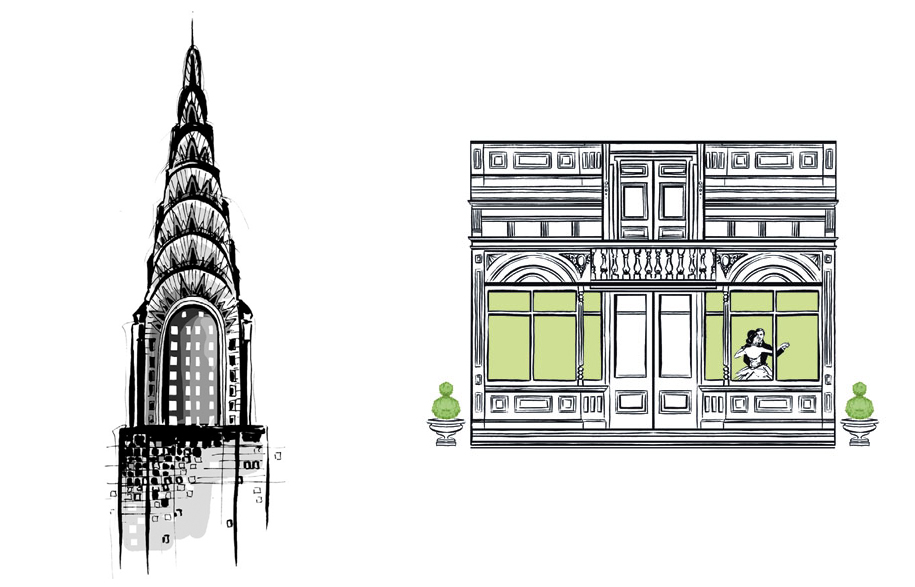 The New York skyline is an inspiration for Hess (left), ornate façades of buildings are also captured in her illustrations (right)
As it turned out, the book was Candace Bushnell's One Fifth Avenue. "I remember having my hand over my mouth when I took the call. I thought it was someone playing a joke," she says. Hess had read all of Bushnell's books. Fortuitously, she had also walked past One Fifth Avenue on one of her trips to New York. "It's a wonderful building, architecturally. But it's also home to the rich and famous".
The rich and famous grace magazine covers today. However, for Hess, it's fashion illustrations by Erte, from the first part of the 20th Century, that inspire her. The Russian-born painter, Romain de Tirtoff, called himself Erte after the French pronunciation of his initials. "I first came across his work as a child," she remembers. "It was only much later that I realised the impact he made, both at the time, and today". Hess sees the uniqueness and subtlety of fashion illustration making a comeback – "People are looking for highly individual work that's been drawn by hand rather than mass produced images".
While living in London, Hess found three of Erte's original covers from Harper's Bazaar in three separate secondhand stores. One of his earlier designs, dating from March 1918, shows a woman wearing a rouged black dress with an intricately detailed cape. "Everything was drawn with a simple black pen. But what he was able to create with a few strokes conveys it all," says Hess. "Erte was always interested in capturing emotion, there was always an element of sentiment," she adds.
Like Erte, Hess regularly works in black and white and aims to to evoke emotion in her drawings. A recent illustration by Hess for Bloomingdale's spring collections features a woman with clothing blowing in the wind. On closer inspection, the woman's clothes are made from several bouquets of flowers. In a similar methodology to Erte, rather than illustrate every bloom, only a few complete flowers are drawn. "Sometimes, what you leave out of a drawing is as important as what you include," she says.
One of Erte's illustrations, for example, shows only a small portion of a woman's face. Her gloved hand rests on her chin. But it's the rich and highly detailed pattern in the background that resonates with Hess. "No one comes close to what Erte achieved. All his women have his strong signature, but no two women look the same," she explains.
Like Erte, Hess knows the importance of having a 'champion' in her career. In the case of Erte, Harper's Bazaar's fashion editor in the 1920s championed his work. Candace Bushnell is Hess' champion and has commissioned her to illustrate all of her future books. "Fashion illustration goes in cycles. It is an art form, but sadly, if it's over exposed, photography will become the more popular medium," says Hess.
Megan Hess
meganhess.com
---