Here at Habitusliving, we constantly strive to shine a light on some of the most prolific designs and designers across the region. We were lucky to sit down with Emma Buchan of EB Interiors to talk about how she continues to foster a supportive environment for women in her firm and the industry at large.
EB Interiors is a high-end interior design firm, founded by Emma Buchan in 2011. Spanning an extensive portfolio of residential, multi-residential and commercial properties, EB Interiors is committed to delivering meaningful, refined designs inspired by the modern Australian context.
Read on to discover more about Emma Buchan and her future-focused design studio EB Interiors, and her passion to forge ahead in this evolving industry.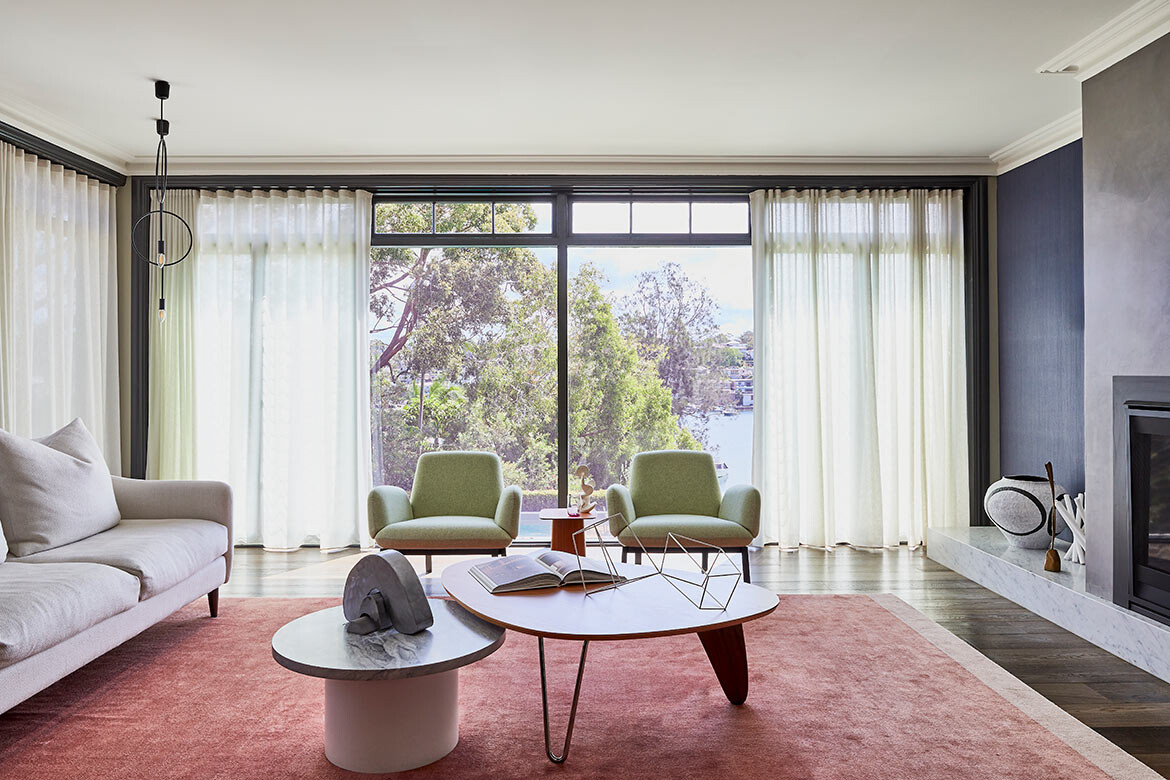 Habitus: Thank you so much for chatting with us, Emma. Please tell us a little about yourself.
Emma Buchan: Well, I am a proud mum of two beautiful girls, a wife to a supportive husband, and the founder of EB Interiors. I absolutely love being an interior designer and have worked in the industry for close to two decades now, both in London and in Sydney.
And what do you think led you to where you are now? Was design a part of your life from the beginning? 
I was first introduced to the design world as a child. My dad was a builder and I loved visiting building sites with him and messing around in them. I realised from a young age that this was a world I wanted to be a part of. As a child, I would rearrange my bedroom furniture regularly (much to my parents' dismay!), and I was always drawing pictures of houses. 
My passion for design was magnified when I was a teenager and travelled overseas with my parents and encountered incredible feats of architecture, which fuelled my pursuit for design.
I went on to study a Bachelor of Interior Design and worked in various residential design firms in Sydney such as Hare & Klein before starting EB Interiors in 2011.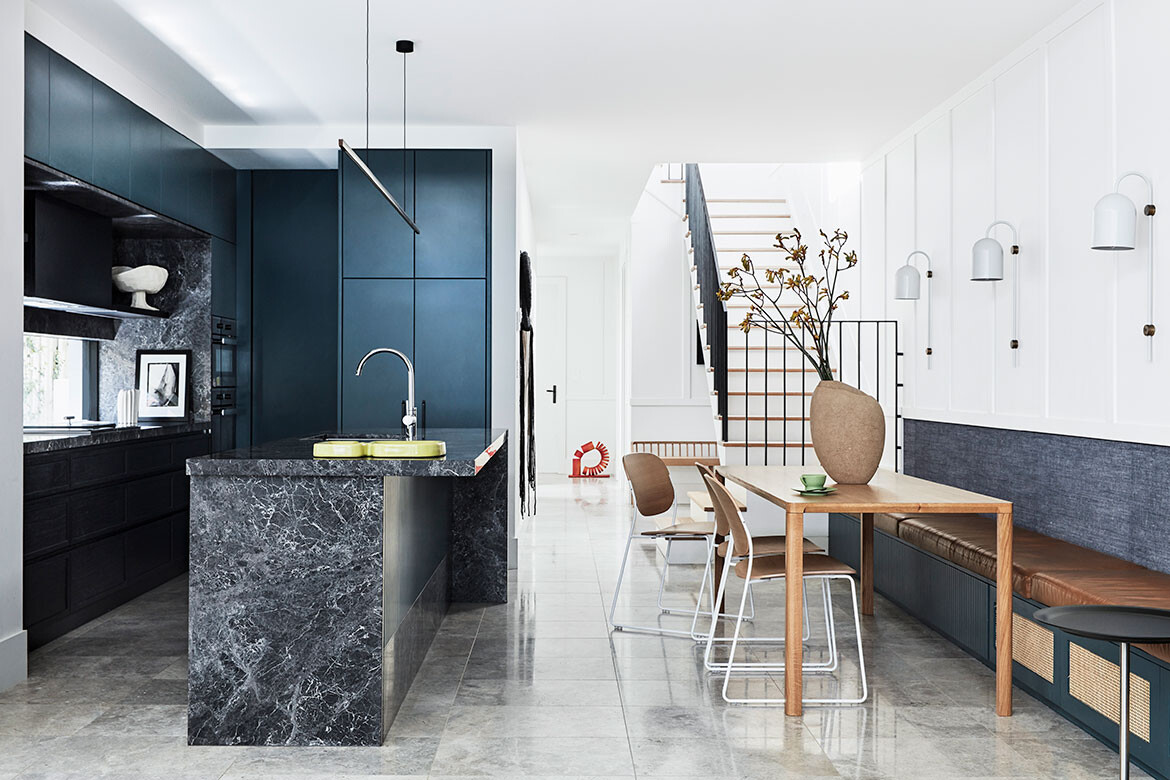 How would you define EB interiors and its role in the industry?
EB Interiors is an interior design practice based in Sydney's south that specialises in high-end residential, boutique commercial and bespoke custom-made pieces. 
The studio was driven by my desire to be able to work closer to home and spend more time with my daughter. Once the firm started to grow, my intention was to create a place that could support working women with the same flexibility – to allow them the opportunity to work in a creative role they loved, without having to sacrifice time spent with their families.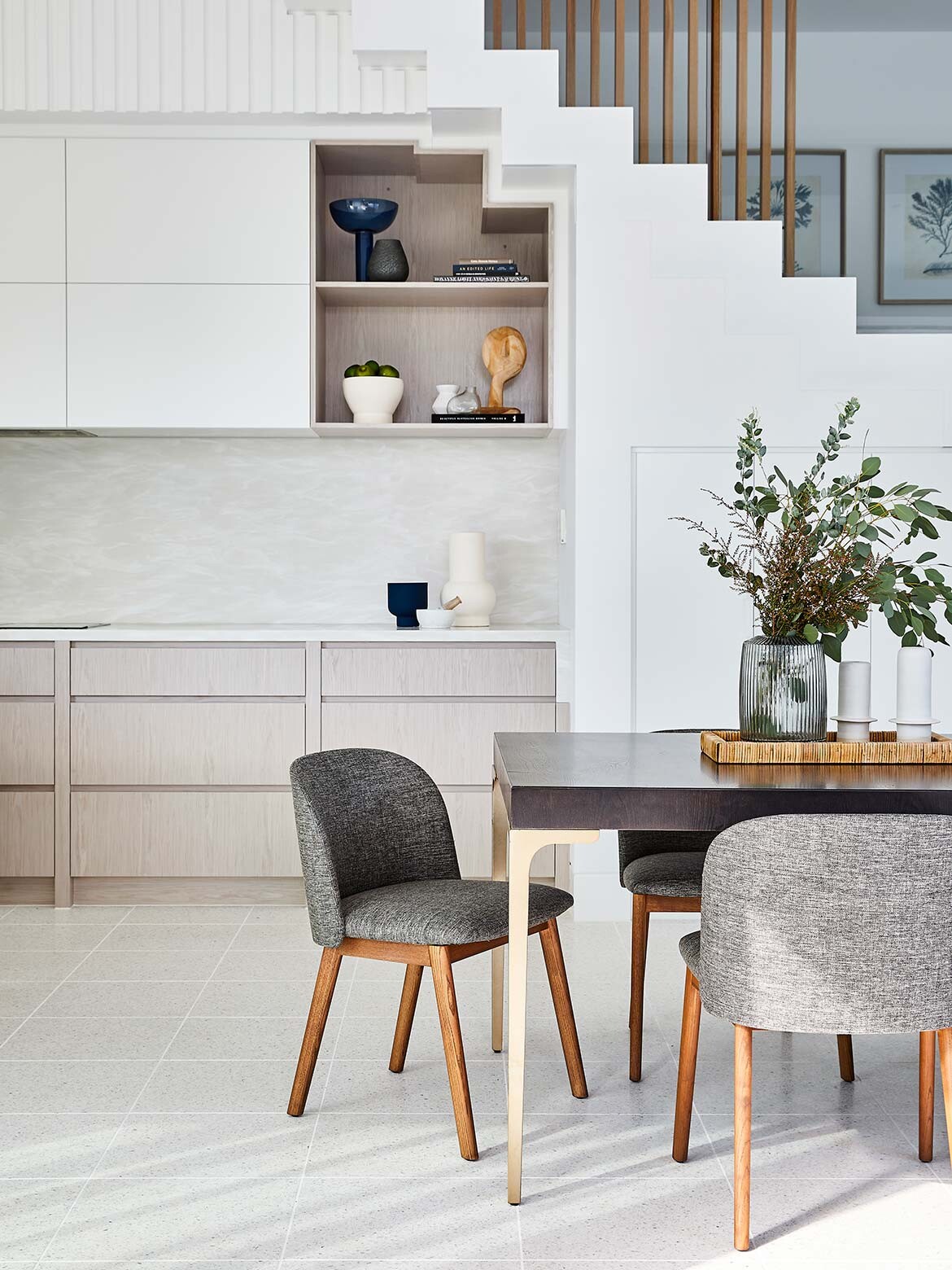 What is the driving philosophy behind what you do as a creative/designer?
As a designer, I always try to push the boundaries and approach each project from an entirely new lens. Each project is incredibly unique and tailored to a client's brief, and ultimately what unites our projects is our commitment to utilising quality materials, custom finishes, beautiful textures and design appeal.
At EB Interiors we like to challenge one another to think outside the box on designs and details.
How do your past experiences influence the way you design today?
I never stop learning and gaining knowledge from past experiences, both good and bad! I am continually inspired by my childhood experiences, my travels, my family and my environment.
Travel, in particular, has played an important role in this. Being an avid traveller has heavily influenced my style and creative thinking, and I still take inspiration from incredible buildings I've encountered. Being a mum has also given me a more sophisticated understanding of the family network, which impacts the way I design homes.
From your personal and professional experiences, what role does design have in fostering a balance of function, wellbeing and comfort within our residential and commercial environments?
The role of good design is imperative to creating spaces that are not only beautiful but also functional and nurturing. Having a well-thought-out spatial plan is key to creating a space that comes together efficiently. This is particularly important in tight spaces, where the precision of design is so important.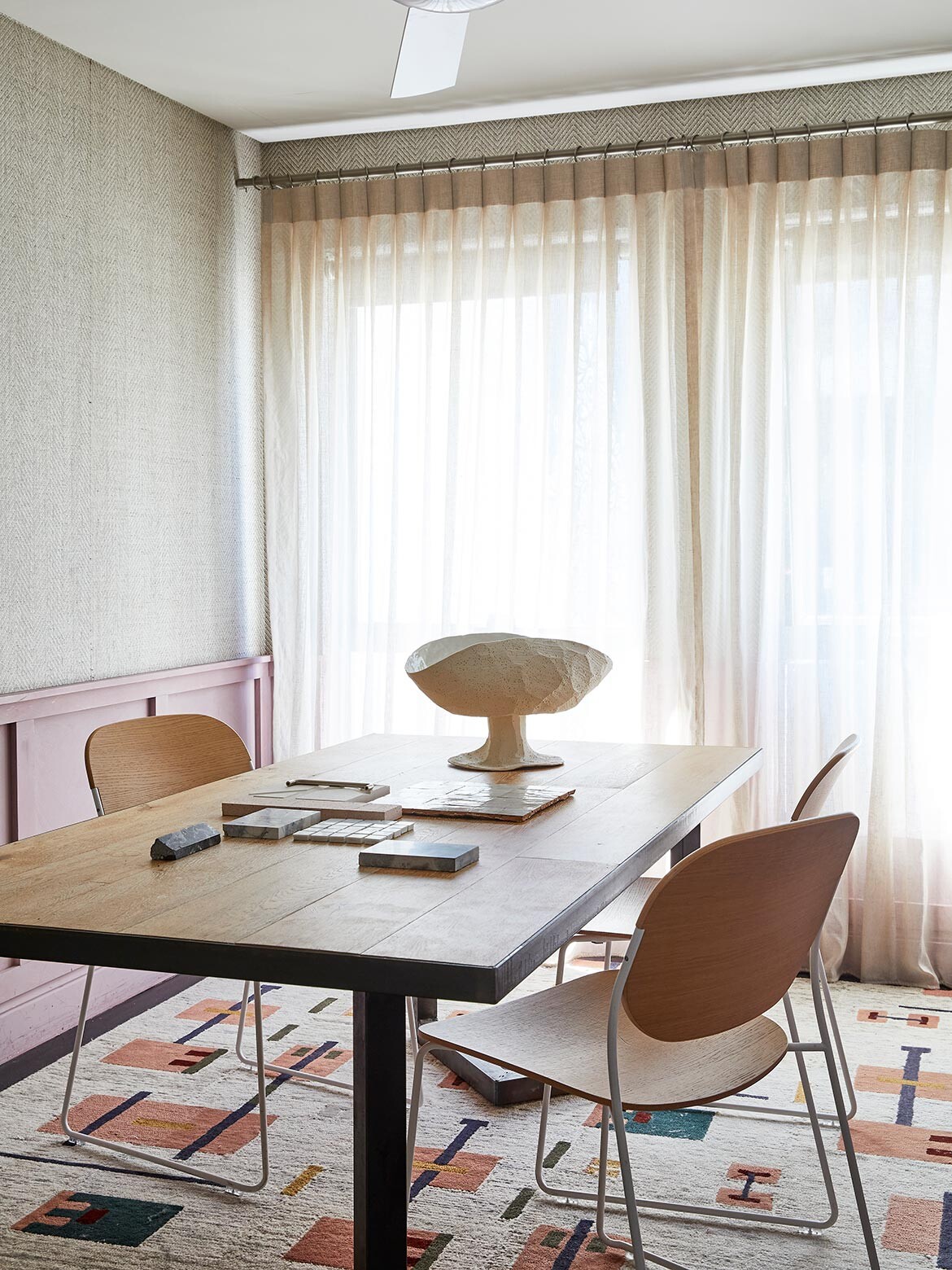 And once that plan is developed, how do materiality and the use of colour then play into creating relaxed environments?
Colour and texture are key to creating relaxed environments. Although each project we undertake is incredibly unique, our designs are unified in their relaxed design style – all inspired by Australia's laid-back way of living.
Does the Australian landscape influence the creative process as well?
Many of our residential projects are situated by the ocean, so we try to take inspiration from the surrounding environment and carry these cues inside the home, making the most of natural textures and subtle colour palettes. We like to embrace the understated.
As a female-led design team, how have you felt the impact of working with women in the architecture and design industry?
As an all-female team many of our designers are mums and work around school hours or work from home, which allows them to spend more time with their kids. I strongly believe that women shouldn't have to choose between a fulfilling career or motherhood. You can have it all, it just takes a supportive working environment (and a lot of hard work!) to make it happen.
There are so many incredible women in the design industry, many of whom I look up to, and many of whom I get to work with each day. I think there's growing respect and recognition for the role women play in the industry, and the unique perspective they bring to the job. EB Interiors is an all-women team by coincidence, and I think that speaks to the calibre of talent among female designers. I feel privileged to work with such a strong, creative, and hard-working team of women.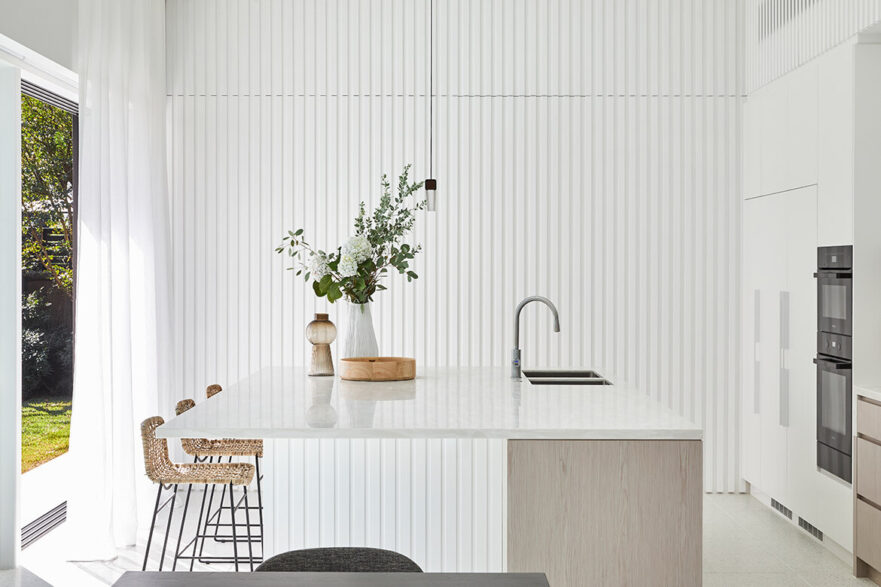 Apart from the women by your side every day, who would you say is your biggest inspiration? 
Zaha Hadid. Not only am I inspired by her works, but her story of where she came from and what she became is truly aspirational. I will forever be in awe of her legacy.
What would you say has been the biggest highlight in your career so far?
Starting my own design firm has got to be my biggest career highlight. It was an incredibly daunting experience at the time, but looking back on it now, it truly is the best decision I've made.
In terms of projects, my favourite would be a commercial fit-out we did for Highland Property Agents. We were able to reinterpret real estate workplace design and conceive an innovative space for real estate marketing.
We conceptualised a space that brought the city to Sydney's Sutherland Shire region and implemented a grid-like design inspired by the draughtsman Henry Beck (responsible for designing the London "Tube" map). We ran with Beck's ideals of pure geometry, seen in the placement of the glass pods and the linear nature of finishes and materials in the space. Between the industrial design and luxurious furnishings and joinery, we could create an edgy and unexpected corporate space.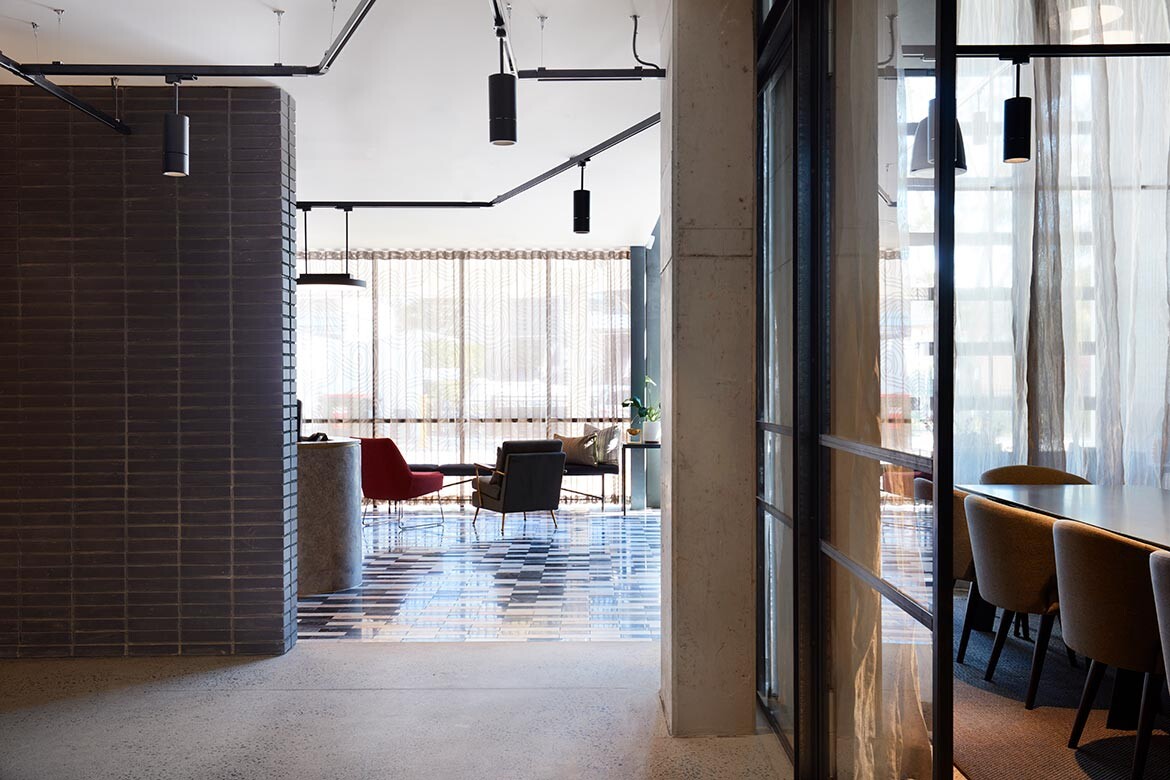 From your perspective as a designer and design firm owner, what responsibilities do architects and designers have in shaping the future of the industry?
It is a privilege to know the design industry plays such an important role in influencing the way we live. Not only do we take inspiration from the Australian lifestyle, but we also do our best to hero Australian designed and produced products. As Australian designers, we understand the importance of supporting local to shape a better future, both from an economic and sustainable standpoint.
These principles heavily influence our design process at EB Interiors: we need to choose wisely, be kind to our earth, reuse where we can and design with longevity in mind.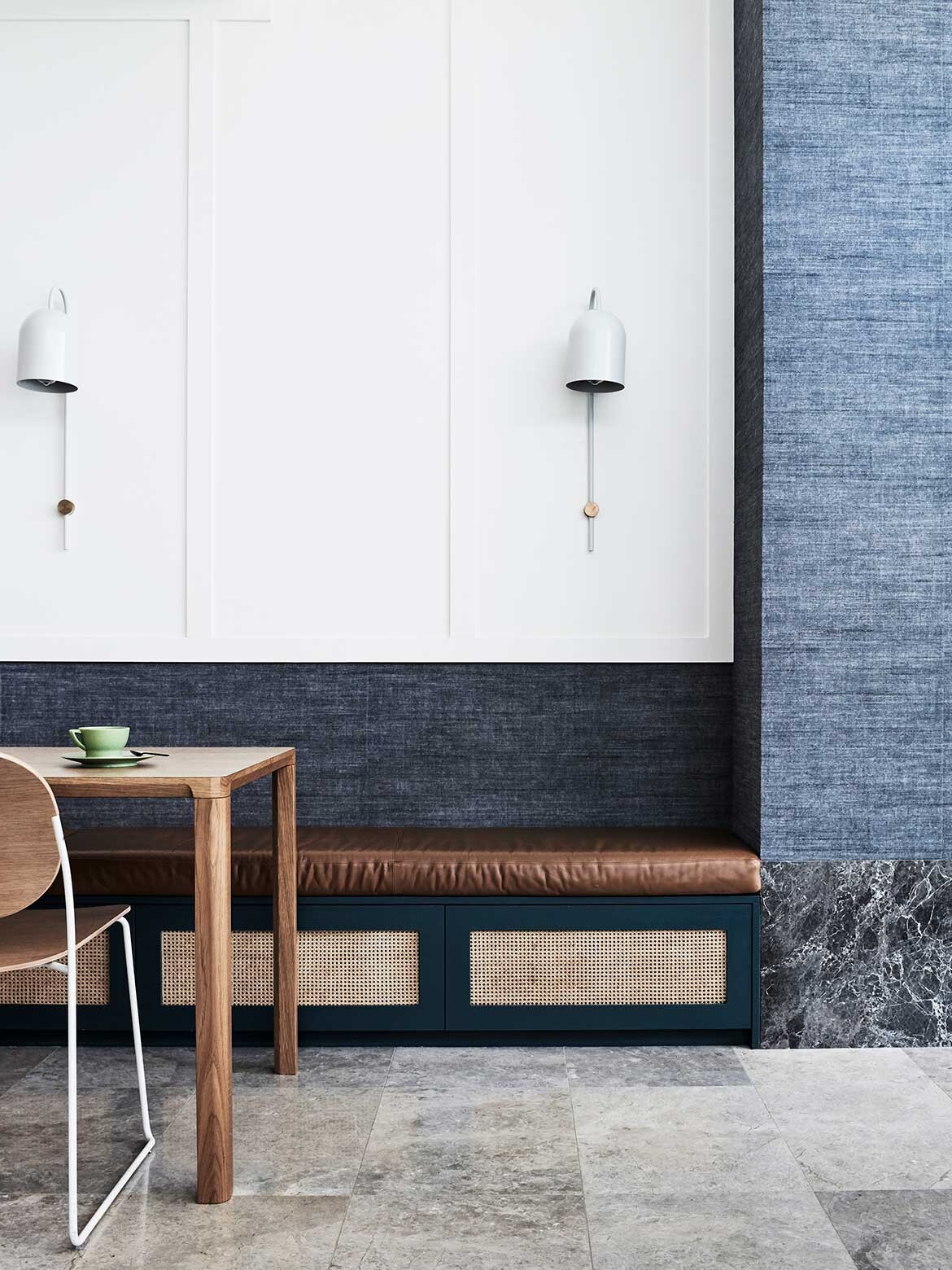 ---