Above: Milo Naval examines local material swatches.
Every artist has a creative process. For the Philippines furniture designer Milo Naval, it begins with a material and the question, "how far will this take me?". His openness to what nature and local crafts have to offer and the exploration of the possibilities lead to an inventive journey. "The materials give me the direction on how to approach design," he believes.
Once, on a trip to his wife's hometown in Bicol in Southern Luzon, locally made brooms of palm sticks bound in a cluster grabbed Milo's attention. With great curiosity, he closely examined the broom and tested the strength of the palm sticks. He researched the different types available, sourced a longer, stronger variety of palm sticks and then bent them to their limit. He soaked them in bright red lacquer, assembled them together to form a basket-like shape, supported them with a steel frame and secured them together with local hemp fibres in a contemporary weave. In his factory, he tweaked this first prototype until he was content. So, the Migo collection was born.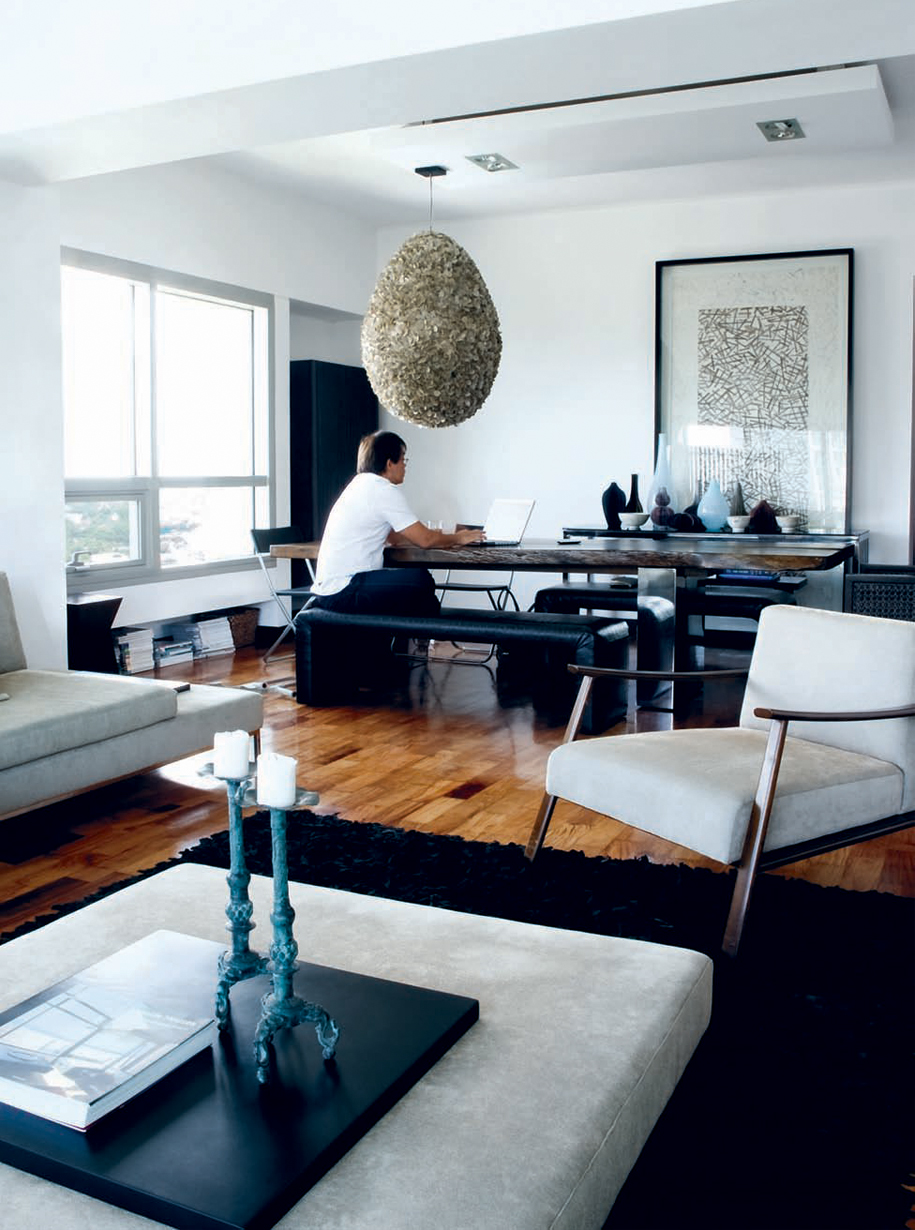 Milo in his Makati City apartment.
Interested in how indigenous cultural communities scattered across the different islands of the Philippines weave baskets and cloths from barks of trees, fibres from different varieties of banana and palm trees, like abaca and raffia, and other materials like rattan, sea grass, and cotton, Milo began to experiment with organic textures and inventive ways of rendering the materials in contemporary forms. He studied the tinalak weave of the T'bolis, a dwindling art of a southern Philippine cultural community and the ikat weave of northern Philippines. While respecting and appreciating the traditional weaves, he carefully developed his own weaving techniques and assembly methods to form pieces that capture the rawness of the material. Milo's luxuriously proportioned line of handmade furniture is his unique art that showcases the beauty of indigenous materials. A statement of his style is the simplicity of his Winona sofa which is a series of blocks in a polished hard timber frame dressed in a tinalak weave and upholstered in off-white local cotton.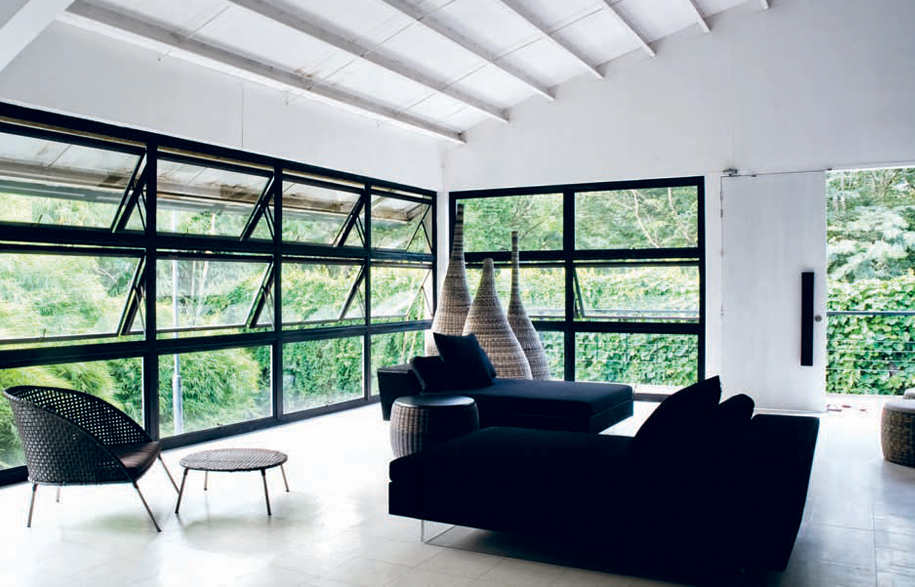 Venus collection and woven lanterns in Milo's 03 Laguna showroom.
"I see designing furniture as a way of touching lives," says Milo, who practised interior design for 15 years before making the shift to furniture design and production. He wanted to reach a wider audience and concentrate on designing objects. This deviated from time-consuming and sometimes overly intimate client interactions in interior design projects. Milo initially studied architecture and this has influenced his works as evidenced in his play of geometries and proportions.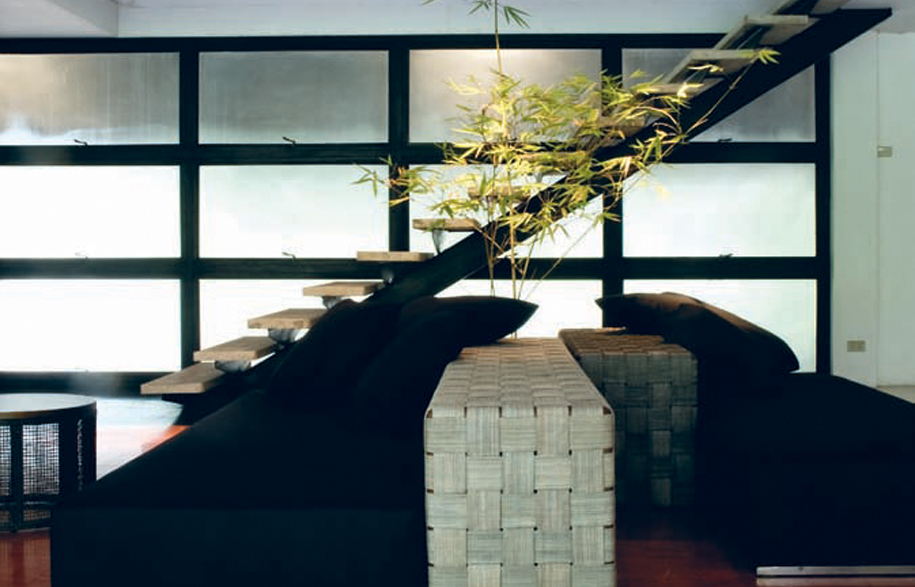 Bench made of traditional tinalak cloth.
Abaca was the first material that Milo experimented with. This is not surprising as his wife and business partner, Kat, hails from an area where abaca is abundant. With the help of two assistants in his garage, he built a few prototype tables and chairs using abaca cord as a finish, and entered the pieces at the Manila FAME trade show over 15 years ago. From that point on, international orders started pouring in and he has never looked back. He has continued to show his works at the ICFF in New York, Messe Frankfurt and Salone Internazionale de Mobile in Milan.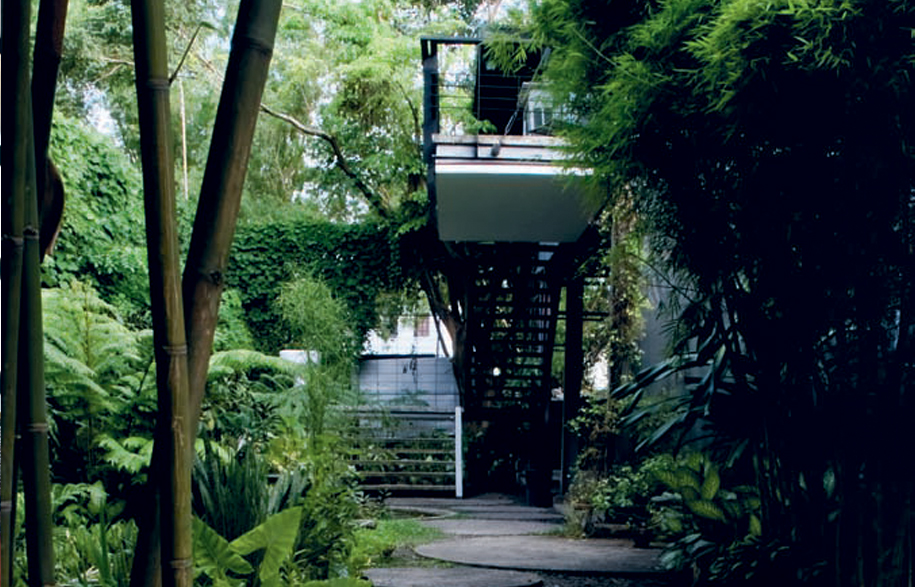 Oversized concrete pavers lead to Milo's showroom.
Today, Milo lives in a Makati City high-rise apartment, furnished with his own creations and other Movement 8 (a hand-picked consortium of Filipino contemporary designers that includes Kenneth Cobonpue and Ann Pamintuan) pieces. Works such as Cobonpue rockers and Tes Pasola vases, pendant light and artwork complement the signature dining room table – considered the centrepiece of his home – made out of a thick section of a local hardwood tree trunk supported by rectangular stainless steel legs.
Milo's workplace is outside an industrial estate in Biñan, Laguna, a mere hour's drive from Makati City. It is a world unto itself, an atelier-factory-showroom balanced with a lush tropical garden that Milo designed and tends to. The atelier is his haven for conceptualising new furniture designs, with a production factory where he spends the time working on prototypes by hand and often by trial and error. The garden provides him respite, but even as he tends to his plants, his mind is continually at work, drawing from the lines and shapes of nature that he sometimes applies to his designs. Giving warmth to the place is the daily presence of his wife and two-year-old daughter. Collegiality is the spirit that binds him with his wife, who also studied architecture with Milo. He often bounces off his own ideas with her for new collections and strategies as she likewise works with him on business plans. In Biñan, work, family and nature meld seamlessly.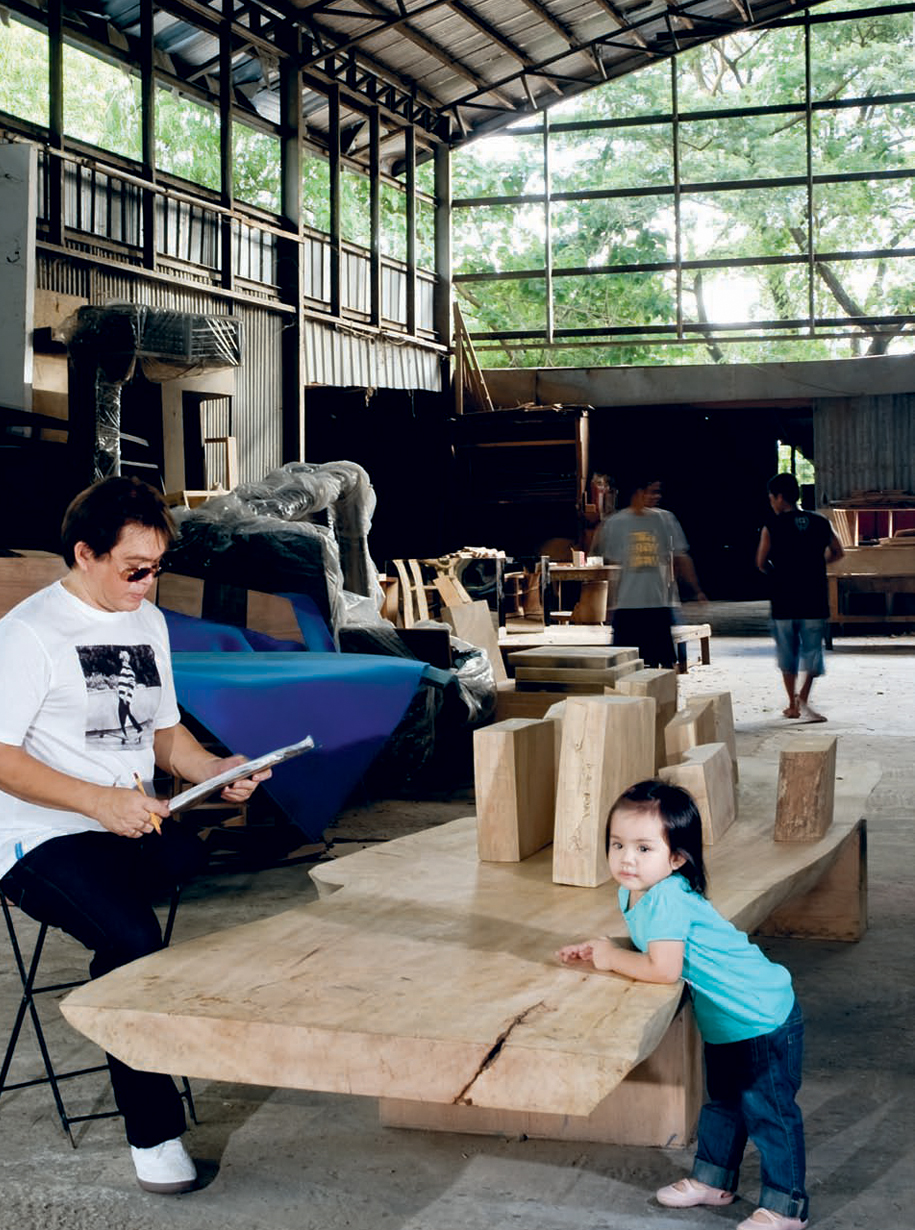 Sketching with two year- old daughter Alex, in front of what is to be a dining table.
Not limited to his trademark materials, Milo is exploring new possibilities using PVC for his outdoor furniture collection, incorporating his trademark weaves in the new designs. Taking a conscientious step, he is also experimenting with recycled materials such as scrap timber palettes, discarded rubber and recycled plastics, as part of his 'Survivalism' project. Milo's journey with materials continues as he expresses his artistry and new ideas through his work.
Photography: Kurt Arnold
visualcaptivity.com
---