As a child of the aspiring middle class, I was often portrayed by my parents with the symbols of nascent status arrayed around me. Is this where my fascination with material culture comes from?
We all have defining moments, many lurking in the depths of the family photo album. In this inaugural Habitus Family Album we share a rare glimpse of seminal moments in the lives of some of our favourite creatives.
–Stephen Todd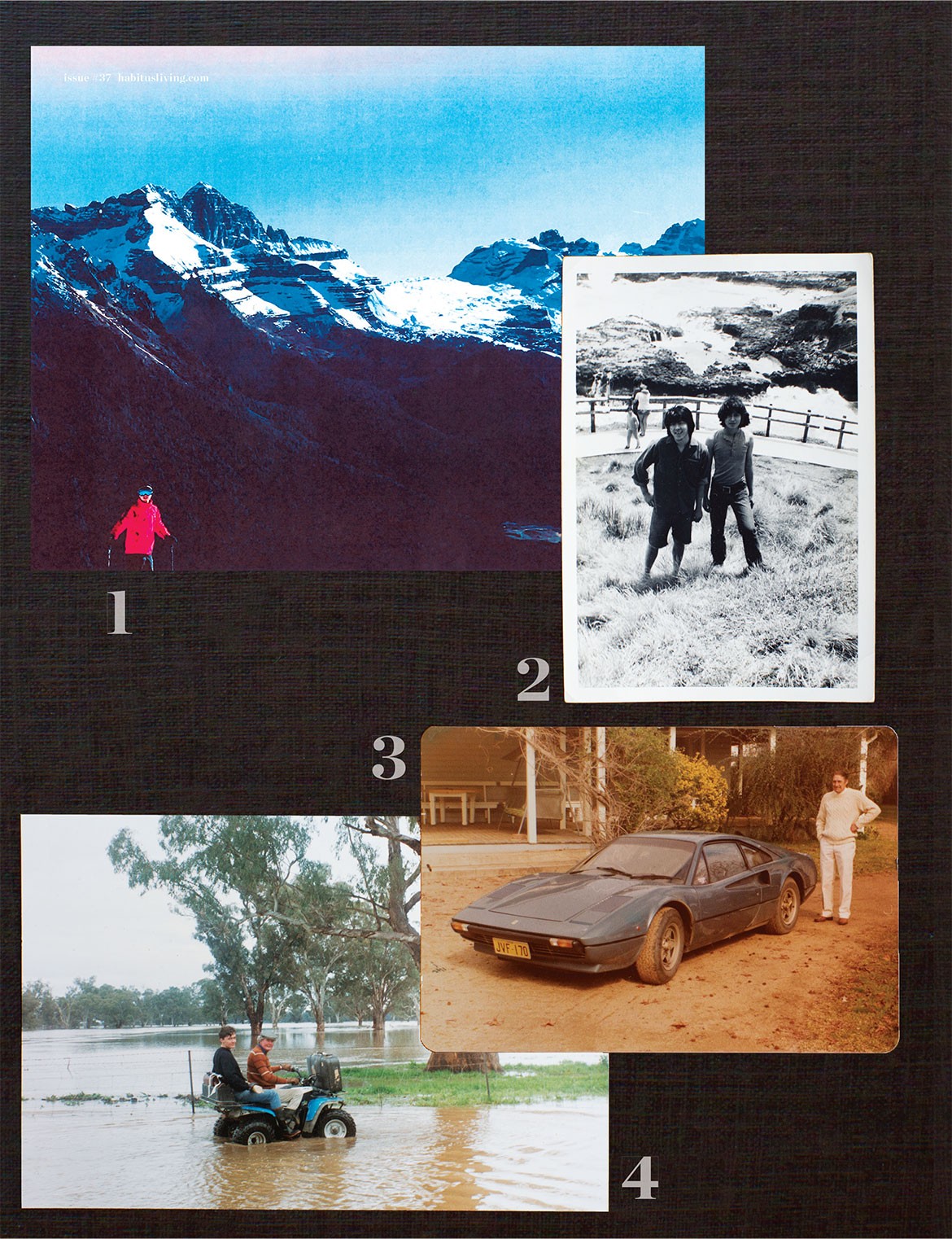 01 Koichi Takada, architect
Skiing at Madonna di Campiglio, Italy, 2009.
I love being in nature, I draw a lot of inspiration from outdoors. Since I decided to be an architect, I have been traveling around the world to discover new sources of inspiration. Nature often appears grand yet it is so fragile. While I looked at such an iconic setting as the Dolomites in awe, I realised how the gracious mountains were affected by global warming. It is such a moment that poses the question of our responsibility in the face of imminent disaster, as well as the duty of architecture to respect nature.
02 Khai Liew, master craftsman
Phillip Island, Victoria, 1971. aged 19.
This image is of my older brother, the great chef Cheong Liew (in front) and myself. It was taken on a very beautiful summer's day, a year after I arrived in Australia. I had just finished my year of boarding school in Glenelg, South Australia, and I was reveling in a newfound sense of freedom of expression, the prospect of unbridled opportunity, and the sheer sense on wonderment and joy of being in Australia. There was so much to discover and enjoy. This feeling about the country has never left me, and as each year passes I love it more. I have found much inspiration in its historical material culture, its social and physical landscape. This sense of wonder about the country and its people continues to inspire me. I have been very fortunate  and feel so grateful.
03  Charles Wilson, designer
At home in Central West NSW, dream vehicle, 1979.
I took this shot with my Kodak Instamatic sometime in the late 70s, 1979 I think. A family friend drove from Sydney to our farm near Forbes in his Ferrari 308. Mid-engine Italian sport-cars were such futuristic, alien objects back then and this car was the most exciting, beautiful thing I'd ever seen. A vision of the future had landed in the front drive. People sometimes ask if growing up in rural Australia influenced my designs but in truth it sometimes feels the opposite. Design for me has always been more like a fantasy of another time and place.
04 Charles Wilson, designer
At home in Central West NSW, reality vehicle, 1990.
Taken during the great flood that affected much of New South Wales and Queensland, I would have been returning to Sydney College of the Arts after the Easter break. Here, Dad is taking me to the front gate via ATV where a rescue vehicle was waiting. My expression pretty much says, Get me the hell out of here!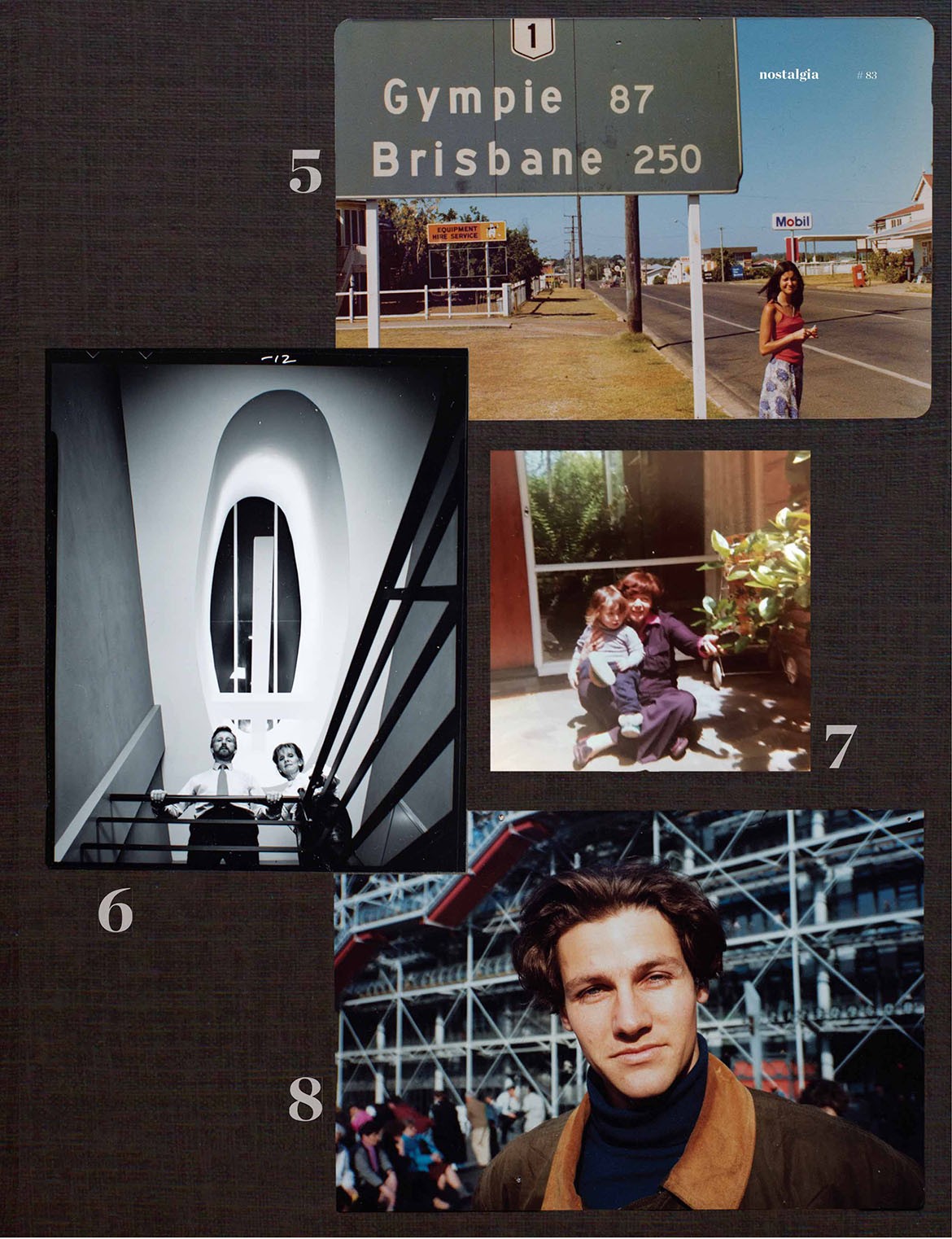 05 Kerry Phelan, interior designer
Hitch hiking to Brisbane, 1979. Aged 19.
I must have been 19 or so and for some reason we thought it an adventure to hitch hike through Queensland having caught a bus and a train down from Darwin. Being in that place at that time made me question my notion of place. How different my highly charged life in Melbourne was compared to middle Queensland and the Northern Territory seen by train. It dawned on me how vast Australia is, how many countries there are within our single entity. I suddenly felt very small, and knew instinctively I had a long way to go, and that wasn't just about the distance to get back to Melbourne. The memory of place has a fantastic imprint on imagination, and the silence and colour, the scent of the desert through which we travelled was truly incredible. I'm still wondering what on earth we were thinking hitch hiking through Queensland. What does that say about the designer I am today? Perhaps it's something to do with an adventurous spirit, an enquiring mind.
06 Sue Carr, Interior Architect
With Ken Lloyd, partner in Inarc at the Inarc studio, Flinders Lane, Melbourne, 1984.
I remember so clearly the time this photo was taken. I remember feeling not only was it the launch of a new studio but also the launch of an exciting new chapter in my life; I clearly recollect a feeling of confidence, conviction and excitement for the future. It was knowing that I could do it, that I could achieve a successful balance between commercial reality and creative excellence. I felt that finally clients were becoming more aware of the value of good design and the role it played – the importance of design in the creation of home as sanctuary, in the productivity of a workplace, in the hotel guest experience and the education of our students.
07 Lou Weis, creative director, Broached Commissions
With sister, Sara at grandparents' house, Howitt Road, Caulfield, Melbourne, 1978.
My paternal grandparents were Polish Jewish holocaust survivors. This beautiful, modernist house was a place of great warmth and love. It featured walls made from Jerusalem stone, a not uncommon gesture amongst Diaspora Jews wanting to illustrate their connection to the homeland. If I were to ask an architect to select a material that represented my social allegiances (my belief in pluralism, in urgently addressing climate change), what would they choose? For me every building is social, is political.
08 William Smart, architect
Centre Georges Pompidou, Paris, 1992. Aged 24.
In 1992, with a degree, a one-way ticket and apparently a thick lump of hair I set off to travel and work in Europe. I wanted to work for someone amazing, learn a foreign language and explore all things foreign. This photo was taken during a month in Paris involving intensive French classes every morning followed by afternoons exploring the city with students from all over the world. The Pompidou Centre blew my mind on so many levels: the big audacious idea, the extraordinary resolution of details, the city's investment in culture and how this edifice transformed a whole quartier. At that time, skinny pale kids in Levi's would hangout, drink and smoke in the big plaza that leans towards this monument of new-modernity. When I look back I recognise that my five years abroad was a time of immense freedom and fun, and when I worked out what it was that I really, really loved to do.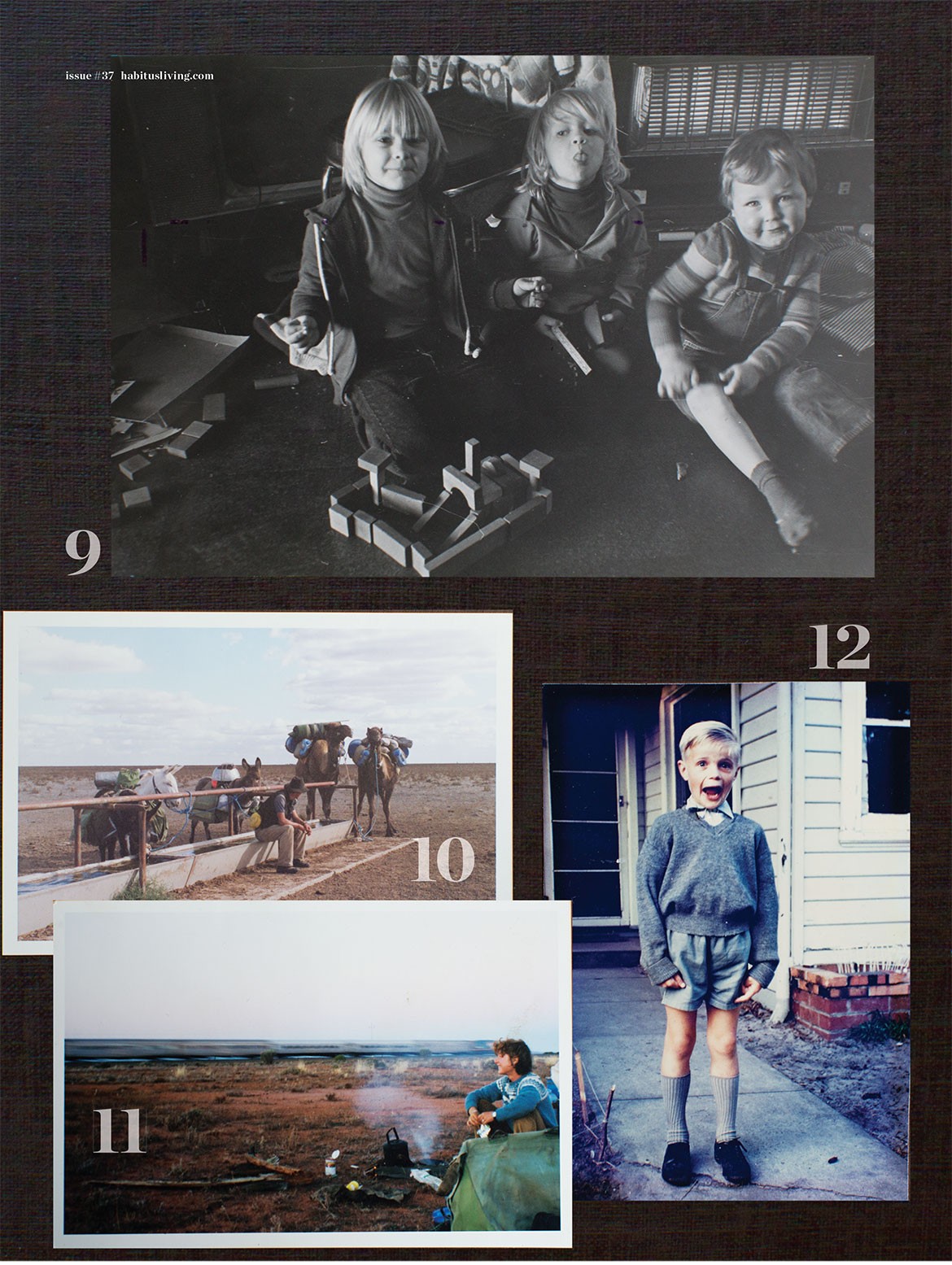 09 Adam Haddow, principal, SJB
At the family home, Ararat, Victoria, Easter 1978. Aged 5.
I'm sitting in front of the gas fire, on the cork floor at my family home. The house was built by my Dad, the blocks we're assembling were made by Mum and the photo shows my cousins – Sarah, Libby and me – building a church. I guess my little brother Matt and cousin Angela were already in bed – the older kids were allowed to stay up late! I love this image, it is full of warmth and great memories of holidays with people I love. My childhood was generally split between Ararat and Shepparton and spent in houses in various states of construction. Both families built and made their lives – homes, curtains, furniture, stain glass windows, jumpers etc. – so holidays were invariably dotted with construction projects.
10&11 Elliat Rich & James Young,
Somewhere between Menindee and Broken Hill, Winter 2001.
The longest stretch. The railway access road took us from Menindee to Broken Hill. We didn't meet another person for five days, we did have the rhythmic coming and going of the Ghan on its way from Adelaide to Darwin and back, so silent until it was basically upon us. This did a good job of scaring the bejesus out of the animals who would flap around wildly on their tether ropes like balloons in the wind. Our trusty billy (which to this day continues to make us our everyday cups of tea) sits on the fire, a pack bag front right. Bought one, made the other. Both objects stood the test of time on the road, practical without the need for anything else, simple enough they can hold our memories. The camel and donkey trip was defining experience – and a good indication that our relationship was a goer!
12 Tony Amos, photographer
At home in Seaford, Melbourne. Aged 5.
I was the youngest of five kids. Every day I would watch my sisters and brother go off to school, I was envious of them being out in the big, wide world. At last it was my turn, and here I am heading off to my first day in bubs at Carrum Primary School. Even today, nothing excites me more than being somewhere I haven't been, seeing something I haven't seen or making something I haven't made before. My uniform is still a rainbow of greys.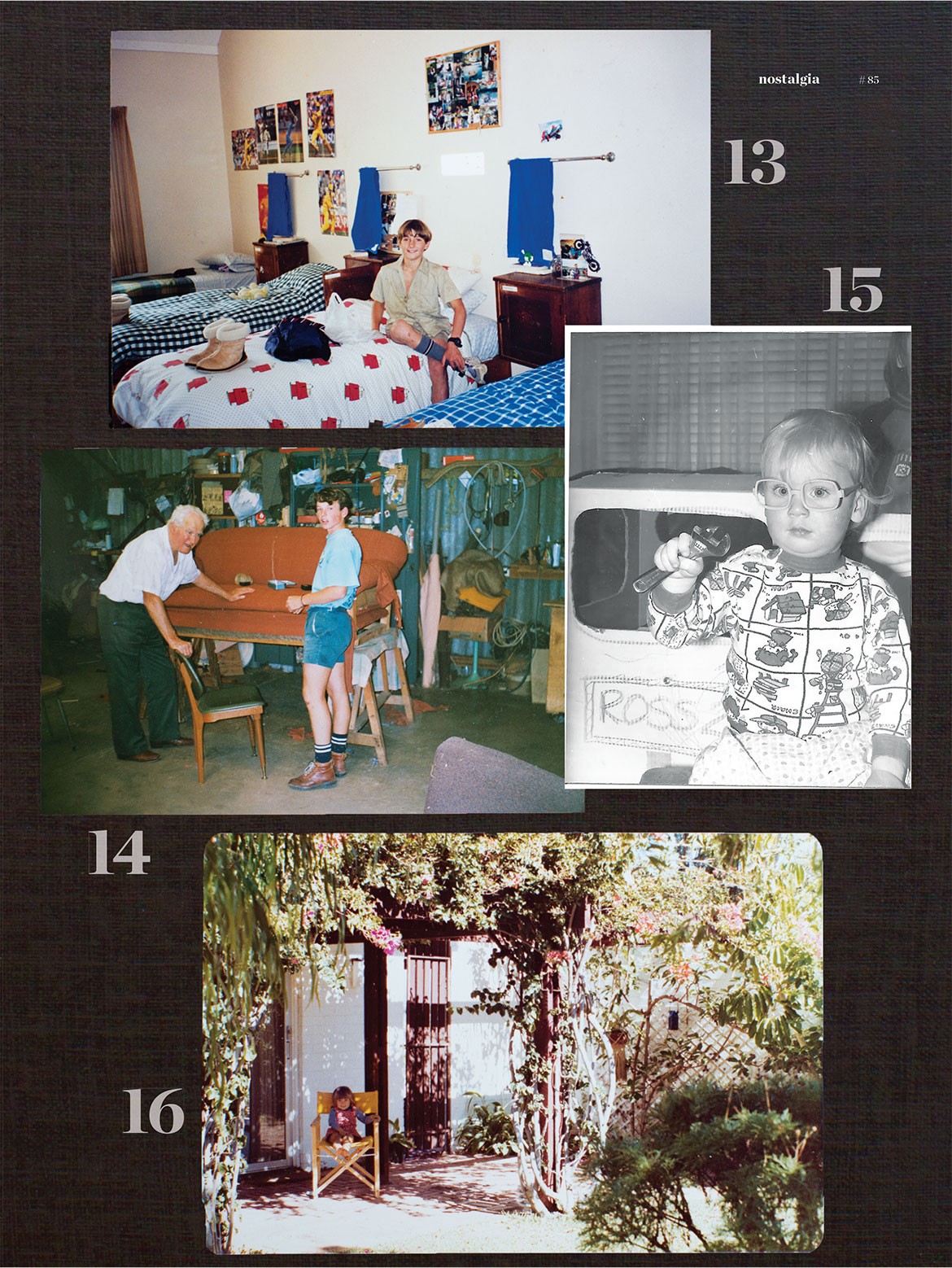 13 Henry Wilson, designer
At Tudor House boarding school, 9 years old.
I was sent to boarding school in the Southern Highlands when I was eight. This was taken in my dorm room in my second year. It was a boys' school run by an old hippy headmaster and his wife. We were encouraged to build cubby houses, work in the wood shop, the pottery studio and generally get up to mischief. I feel like the foundation of my practical knowledge came from these years. I remember we were allowed a pocket knife with a blade length no longer than eight centimetres and were encouraged to go camping and make fires alone on weekends in the outlying paddocks. Just writing that now I'm almost in disbelief at how things have changed in the liberties of kids these days.
14  Jon Goulder, master craftsman
At E W Goulder & Sons Furniture Upholsters and Furniture Makers, 1986.
This image is very precious to me, it shows my Pop teaching me my trade. My Pop was blind but he could still teach me the old ways of traditional upholstery. It was very important to him that I learn and that he teach me. This style of work is all about touch and feel.  He was very proud I was becoming the fourth generation furniture maker in my family, he told me I have a reputation to live up to. I bear that in mind every day.
15 Ross Gardam, designer
At home in Barham, NSW, 1979 Aged 2.
Apparently I went through a period of wearing these blue plastic glasses without lenses, religiously. I believe the cardboard box is doubling as an Alfa Romeo GTA 2000. The image relates to growing up in an environment of making, not specifically design. My father and grandfather both had timber and metal workshops so there was always any number of projects going on and my father specifically involved the children to varying degrees. Some of the time I enjoyed the projects and others not so much, however these are times that I now hold close.
16 Adam Goodrum, designer
At home, City Beach, Perth, 1975. Aged 3.
I'm three in this picture, seated outside our house right on City Beach with views out to the Indian Ocean and Rottnest Island. I was born in Sydney, but my parents drove us across the Nullarbor Plain when I was nine months old, to settle in Perth. I can still feel all the potholes in the unsealed road, rattling my young bones. The house was this modern masterpiece, single storey white brick, the double columns of the pergola make think of Carlo Scarpa's comments that columns should act as vertical accents, always be paired so that one doesn't get lonely on its own. I reckon my parents paid about $30,000 for the house back then, unthinkable today.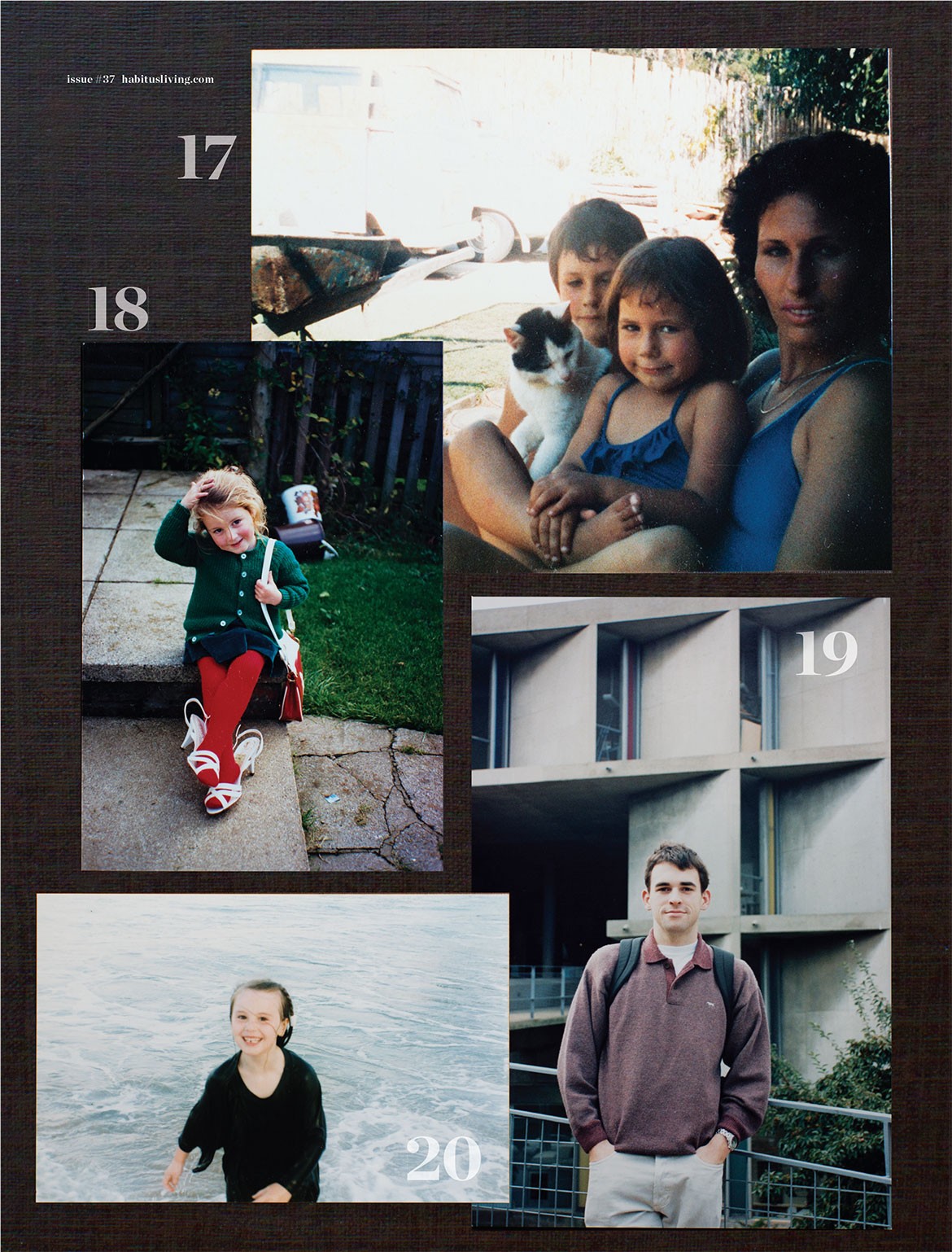 17 Nicole Monks, designer
In the backyard of the family home at Tarbuck Bay, NSW. Aged 3.
I grew up in two houses which were both designed and built by my family while we lived on site, hence the wheelbarrow and the half built path in the background. My parents where always inventive you can see the paperbark branches for fencing, and we always had a garden we could eat straight from, an old water tank for swimming and a chook pen for turning our scraps into eggs! This connection to the wider world around me and the idea of working together was very important. The inspiration for becoming a creative was definitely my parents.
18 Emma Elizabeth, creative director of Local Design
Swansea, Wales. Backyard dress ups, 1989.
Like most children I loved dressing up, mimicking type cast personalities. I was always such a little tomboy, climbing trees, playing soccer, that sort of thing. We moved around a lot when I was little, from Sydney, to California, then to Wales in the U.K. This photo always makes me giggle. I was just playing a character and would have no doubt thrown the shoes and bag away immediately after the photo and climbed back up my tree. Creating characters, whether through a person or a room or a space, has always been something that has stayed with me as a stylist.
19 Tom Ferguson, architect and photographer
At Harvard University in front of Le Corbusier's Carpenter Center for the Visual Arts building. 1988.
After finishing third year at UNSW I took a year away from campus, working six months at Cracknell Lonergan to fulfill my practical experience requirement and then going on exchange to McGill University in Montreal. I joined a second year studio run by Ricardo L Castro, a "Colombian-born, Canadian architectural photographer, critic, and educator" to quote his Wikipedia page. I had a great time and while the design projects (being second year) weren't particularly complex it allowed me to focus on other elective subjects which didn't have a year bias.  Ricardo took us on a road trip to Boston to see all the classic works of architecture there including the Carpenter Centre shown in the photo.  Apart from all the buildings in Boston we also visited the Davis Museum at Wellesley College by Rafael Moneo and the Exeter Library by Louis Kahn so it was a pretty amazing trip.
20 Holly Cunneen, deputy editor, Habitus
Seven Mile Beach, NSW, 1996. Aged 5.
This was taken on one of the many trips my parents took me, my younger brother and two older sisters on. My parents have such a quietly adventurous spirit and – what I now recognise to be – a deep-seated desire to explore their country. Our holidays, long weekends and birthdays were spent neatly (if not tightly) packed into a long white Holden Commodore road tripping up, down and across Greater Australia. Although we, as kids, loved to complain about the long hours on the road and nights spent in a tent or caravan park, I don't think I have any fonder memories. And I don't think I've ever properly thanked them.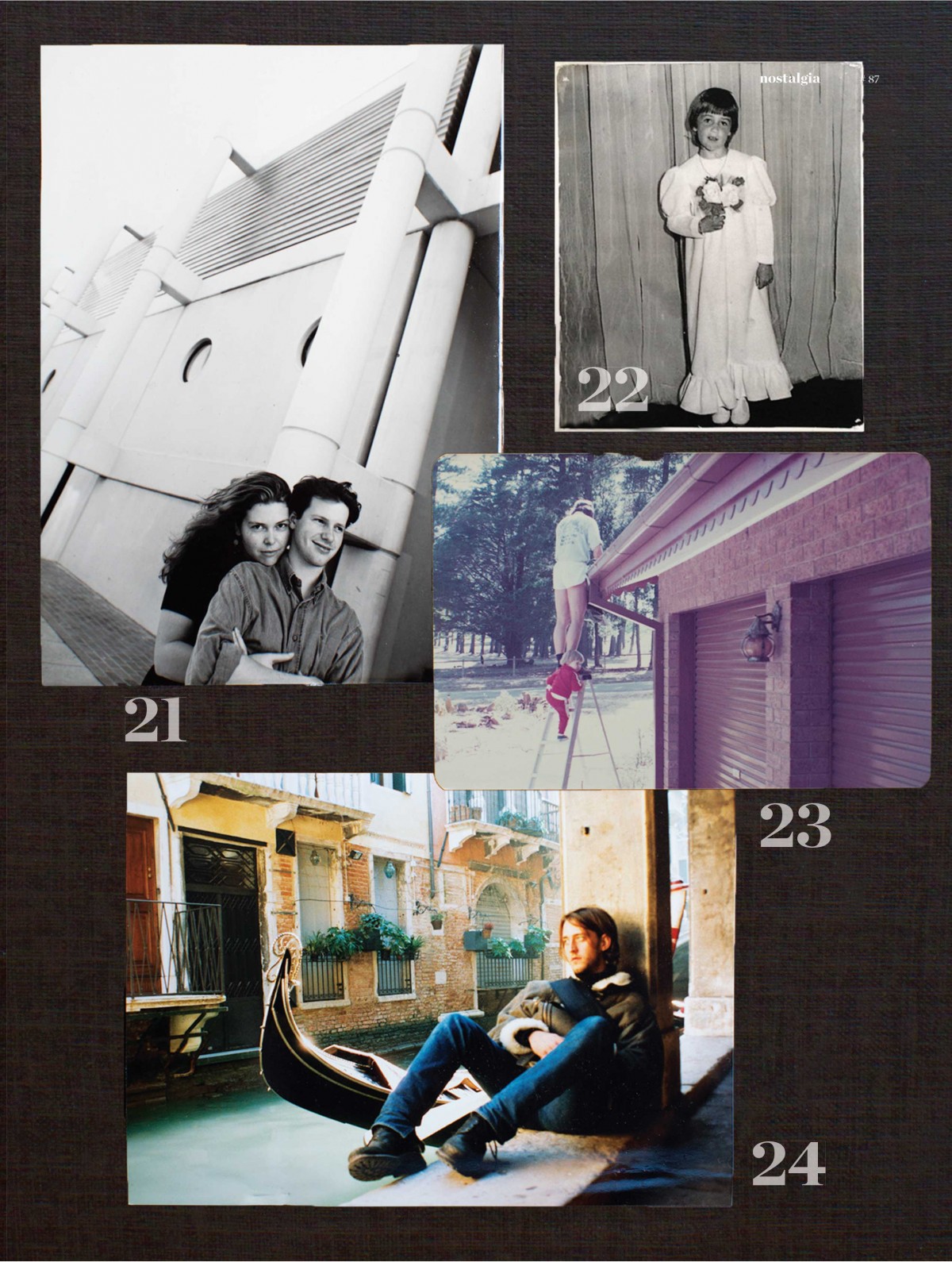 21 Melonie Bayl-Smith, architect
At the David Maddison Clinical Sciences Building, University of Newcastle, September 1997. Aged 23.
This photo was part of the test shoot prior to my wedding, and shows a 23 year old with her future in front of her. Three months after the photo was taken I had completed my architectural studies, another month later I was married. Clearly I was in a hurry to get somewhere! Piers and I celebrate our 20th wedding anniversary this year. Without him, my practice would be nothing. When I look at this photo, I think about Ed the photographer. He said, "Mel, you're gonna be one of these cool brides. You don't want the sandstone arches that every other Newie bride wants. How about that shiny building Newmed 1?" And that was it. Yes, even on my wedding day, I found myself promoting great design and good architecture.
22 Megan Morton, interior stylist
My grandmothers house, Kensington Sydney, 1980s.
I'm awaiting my date, Stephen Azaparti to take me to the Catholic debutante ball. I love voluminous dressing, even then, and clearly knew how to reveal/conceal – and the power of the neck! Just add a statement earring or chandelier but I wasn't allowed to have my ears pierced! I also love a single focused posie and still don't like to mix floral messages with various blooms. The real context is that everyone else had miniskirts on, pre-teen shoulder action and updo's but I didn't flinch and was totally happy with my look. First to arrive and the last to leave, I love an occasion with a colour-specific theme! It also proves that stylists are born not made, I found my getup from one of my cousins throw outs!
23 Nick Tobias, architect
Medlow Bath, Blue Mountains, circa 1979. Aged 3.
This was taken at the Blue Mountains house that my grandmother maintained as a secret home away from home. She would steal me away from my parents and we'd hang out together at this house and be creative. This is where she handed me a sledge hammer and said, 'Demolish the bathroom!' It's also where we'd make mosaics, play jazz, paint, do all sorts of fun stuff. My grandmother really nurtured my creative side and I owe her a big debt for it. That's not her up the ladder though. That would be her cleaner-turned-friend Connie Ellero, who I would have been helping clear the gutters. Nothing's changed really, I still spend my life assuring clear passage for waste.
24 Alexander Lotersztain, designer
Venice, Italy, circa 2002.
I was living in Milan at the time, and my twin sister was in London so she decided to come to visit and we went to Venice for a few days. I'd lived two years in Tokyo before arriving in Milan, it was the start of my kind of 'real' design journey, finding my way in the global design hub. Venice was extremely inspirational, from the architecture and history the city to the way people lived and went about their daily lives. Like a journey back in time. I remember vividly walking through the backstreets and peeping into the window of a violin workshop, and the craftsman sanding his masterpieces. That trip made me consider ways of slowing down or re-booting, and of maybe finding the essence of the many reasons I became a designer.
Collage by Dina Broadhurst
Tags: Blue Mountains
---