This unusual warehouse-style home in Melbourne, formerly occupying part of a 1930s mechanic's workshop and designed by the late architect Richard Swansson, celebrates not only the history of the building, but the memories of loved ones. Designed for the owner, Hedy Ritterman, an installation and photographic artist, each object and artefact within this home is curated, ready to be captured on film. A founding member of the cultural collective, Contemporary Collective, with a number of individual and group exhibitions, Hedy's home is a visual and tactile environment. With Swansson's passing in 2015, creating his vision for this home (his last to be designed) was a milestone for Hedy.
Work and home are intertwined in Hedy's house, which she shares with her son Anton, a recent graduate in industrial design from RMIT University. His final year project is sprawled across a table-tennis table, which also doubles as a dining table. "I'm just waiting for him to clear up his models before I start spreading my own work out," says Hedy, who keeps most of her tools concealed behind large sliding plywood doors in the studio. A sink, shelves and extensive joinery can be shut off completely when the studio is given over to entertaining.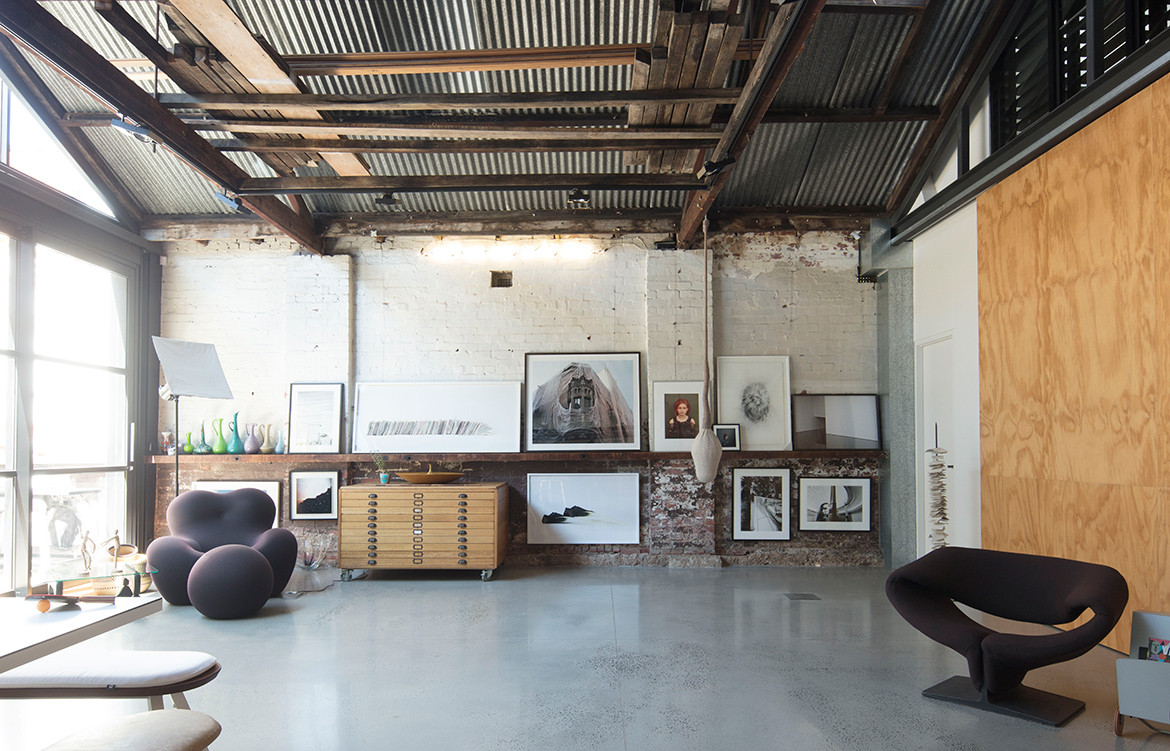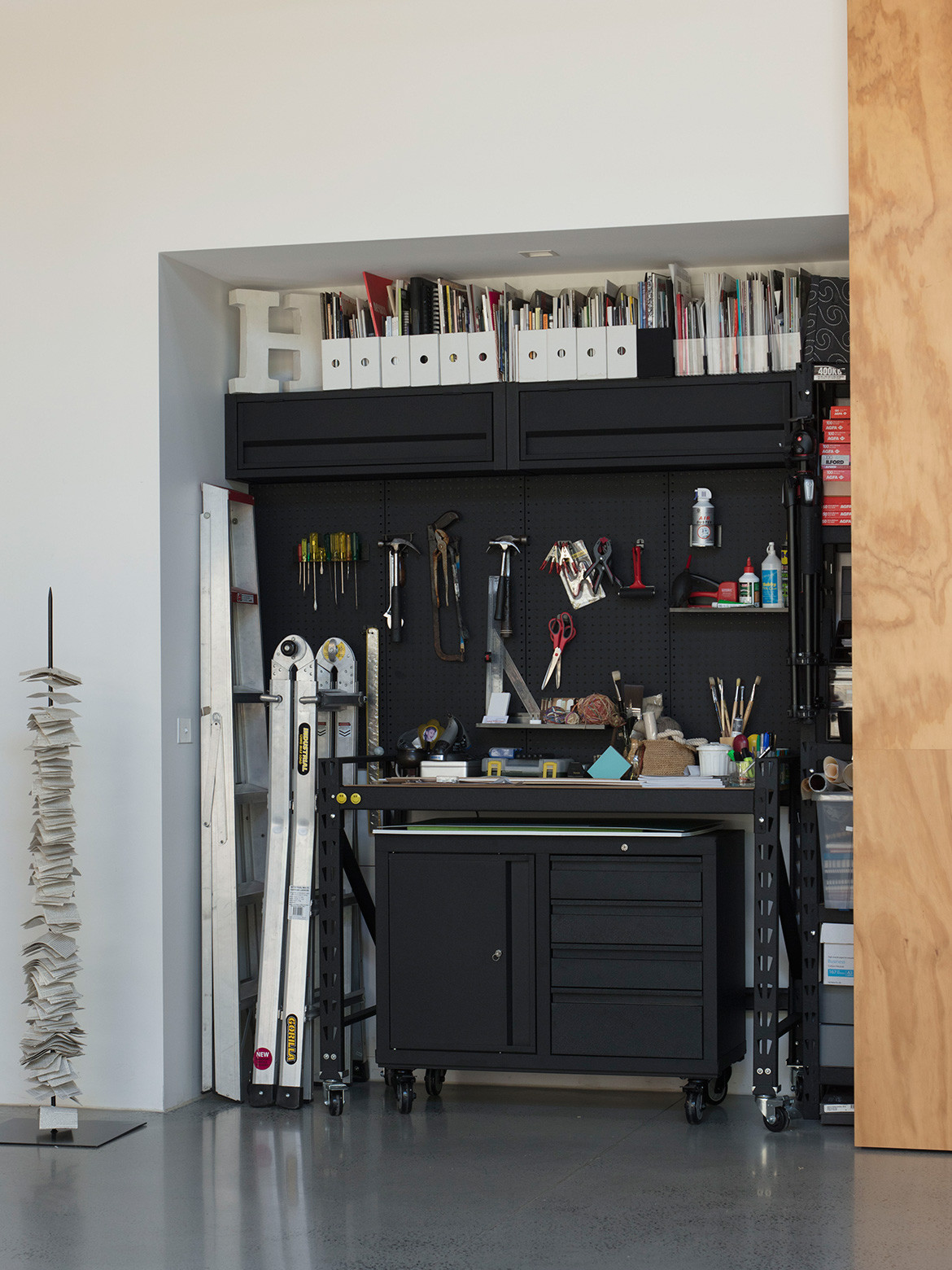 One thing that immediately stands out is Hedy's love of objects that carry meaning, many of which belonged to her late husband. Some of his items, such as dental records of his patients lined up on a shelf, are captured in one of her photographs. "Now, everything is computerised," says Hedy, who created a book dedicated to her husband's personal belongings including simple items, such as his CD collection. Another work demonstrates her fine eye for buildings (she studied interior design as well as art). One work shows an art nouveau building in Barcelona, partially concealed by a gauze-like shroud. "I like materials to be expressed in an honest way, not 'tricked up'," she adds. The past, whether it's memories of loved ones or the history of her home, is an important part of her psyche and the way she approaches her work.
There's a sign across one of the worn timber trusses in the studio as to part of the home's history saying 'Cars garaged at driver's own risk'. As whimsical are the original stacked timber planks suspended from the rafters. "The builders were going to ditch the original left over timber (for the renovation), but I was keen to retain as much of the original fabric as possible," says Hedy.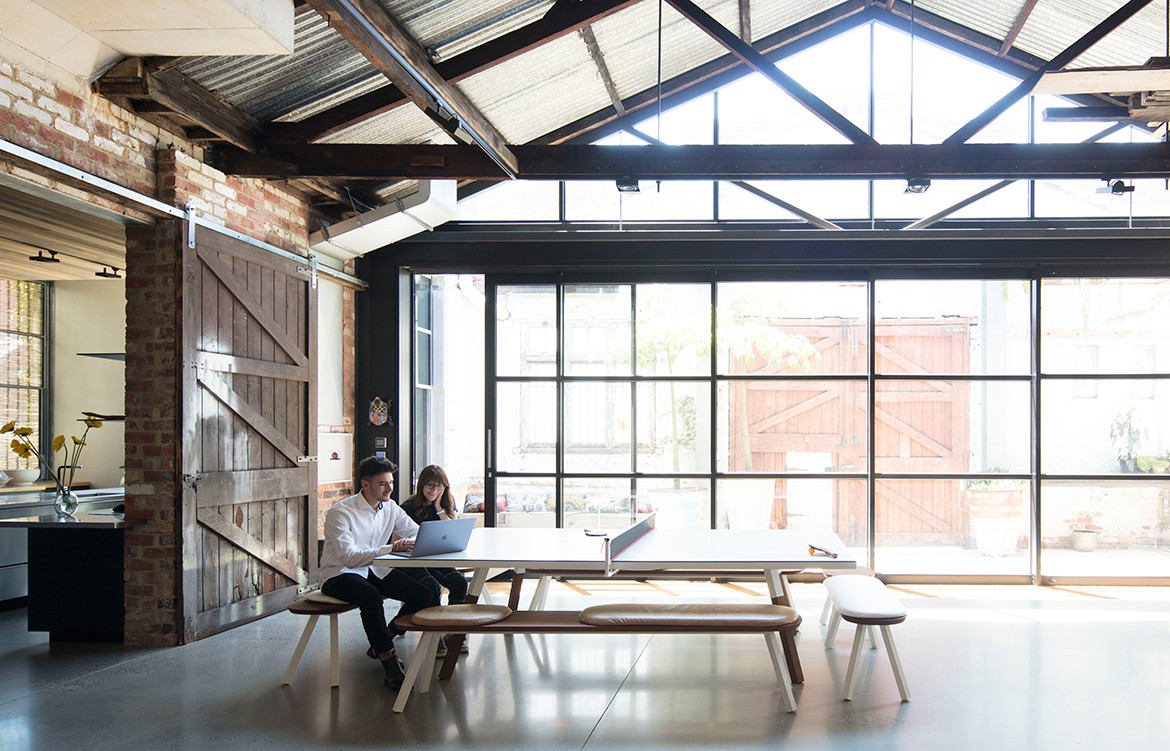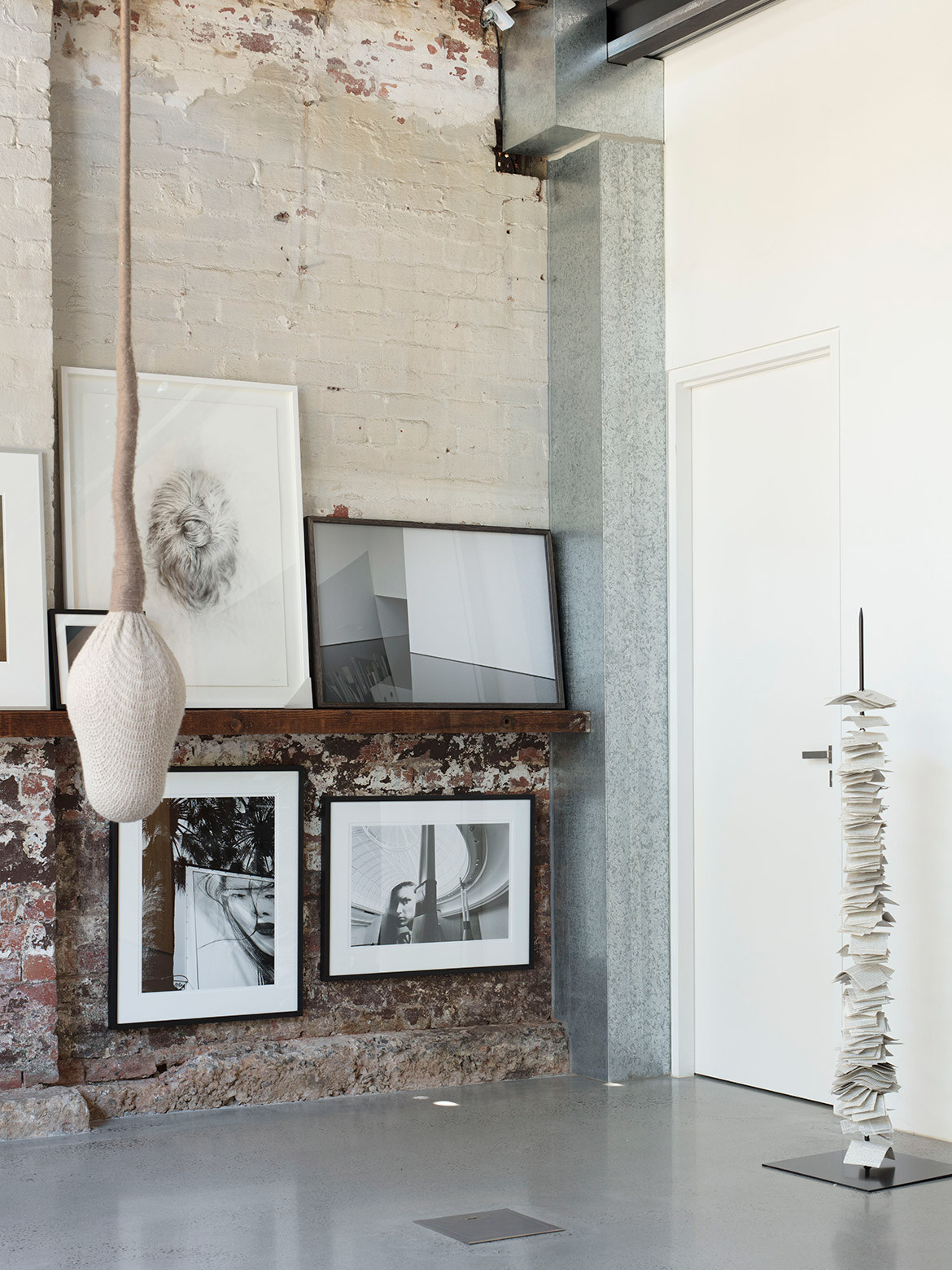 Initially Hedy purchased the mechanic's workshop, an 180-square-metre-footprint with the intention of renovating this shell with Swansson to create a home. However, before plans were stamped for approval, the neighbouring Victorian terrace came onto the market. Some of the initial discussions remained pertinent, such as creating a self-contained-style apartment, along with expressing the original fabric of the garage. "I didn't want to have too many level changes. The idea is that I can live here for the long term," says Hedy, whose brief included a lift. "I wanted spaces that were also flexible, so the private part of this place can be easily screened," she adds.
The kitchen demonstrates a similar ingenuity. The stained oak timber table aligned to the stainless steel island kitchen bench can be separated and used independently. Likewise, the steel shugg-style windows on either side of the kitchen can be opened to serve up drinks to guests outside. "I love these steel windows [to the north]. I can just reach out and pick a few herbs," says Hedy, who is as fond of her kitchen armoire, filled with all-white crockery once belonging to her parents. "I don't love every piece of crockery, but when you display them en masse, all white, they say a lot more than if they were on their own." Hedy's ability to take simple items and transform them into something considerably more extends well beyond her photographic lens. "I can see something in a gallery shop and think there's more to it."
Although there's a clear delineation between the past and present, the use of materials in both is what Hedy refers to as honest. Recycled brick walls appear in the kitchen and steel lintels are exposed, as are the concrete floors that run across the entire ground floor. The in-situ concrete walls, expressed, rather than concealed, add to the industrial aesthetic, with cane window awnings adding a level of softness, as well as diffusing the northern light.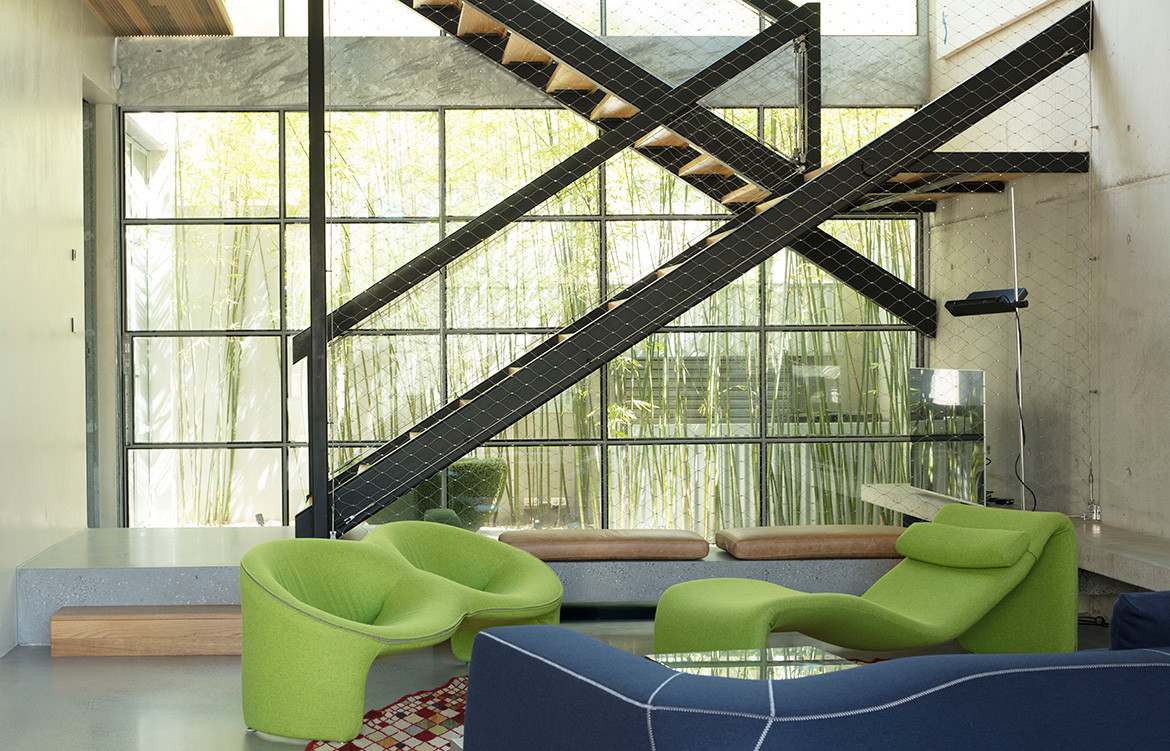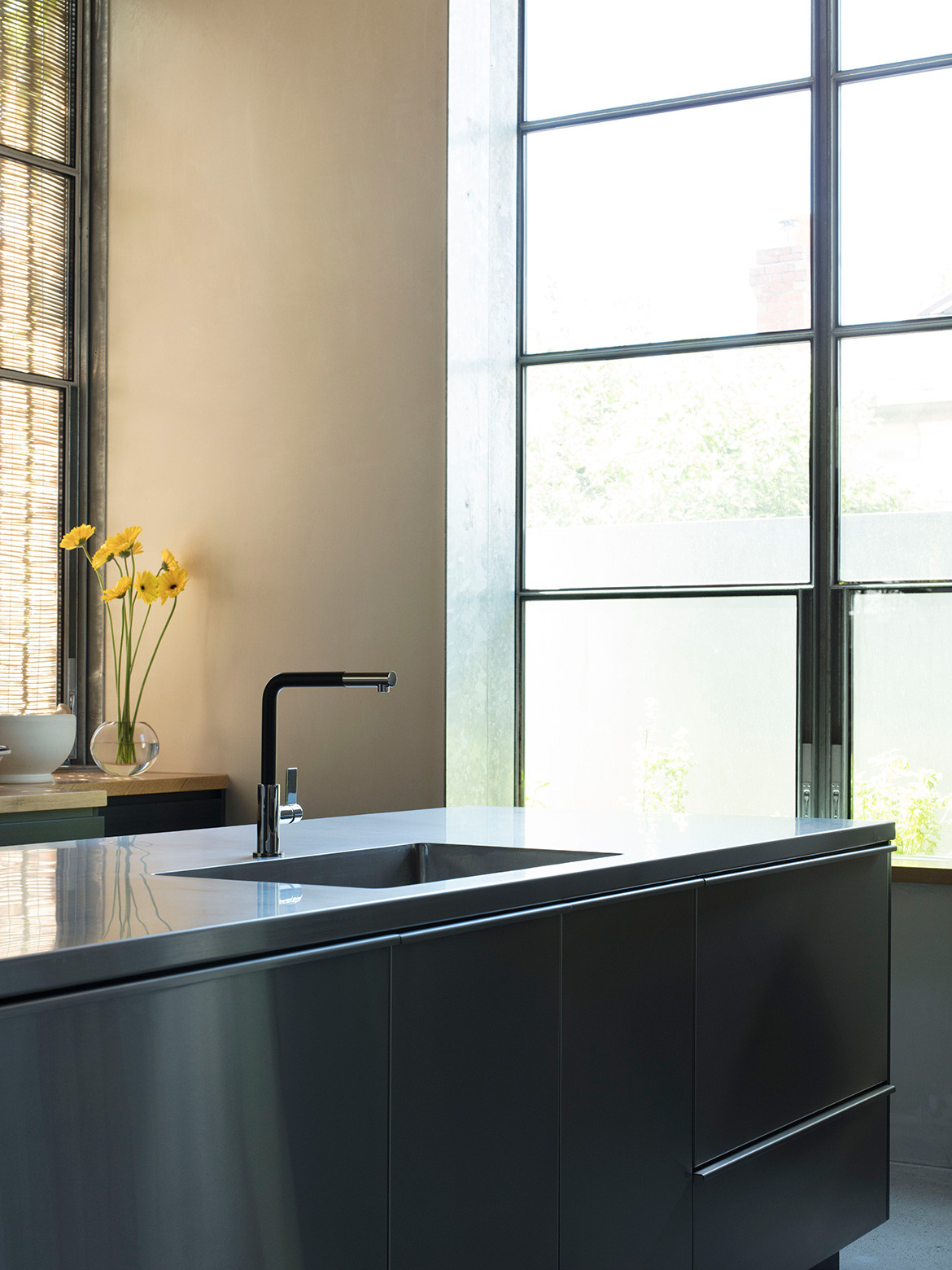 The first floor was always going to be designed as a self-contained apartment, rather than having endless bedrooms and bathrooms that are gradually closed up as children move out of home. Comprising the main bedroom, walk-in dressing area and ensuite, there's also a large home office/retreat that benefits from cross-ventilation and northern light.
"The house isn't precious in terms of materials, but the memories and collections surrounding me certainly are," says Hedy, who has a number of designer furniture classics from the 1960s, including chairs by Pierre Paulin and Gaetano Pesce, once owned by her parents. "My approach is to photograph what I see, not trick things up to create the right image," she says, regularly looking up at the fluorescent sign displayed above the rafters 'And one man in his time' a line taken from Shakespeare. "These things are almost portraits of the people who have surrounded me. They'll continue to resonate, just like Swansson's designs."
HedsPaceProjects
hedyritterman.com
Photography by Benjamin Hosking
We think you might also like the home of architect Andrew Benn of Benn+Penna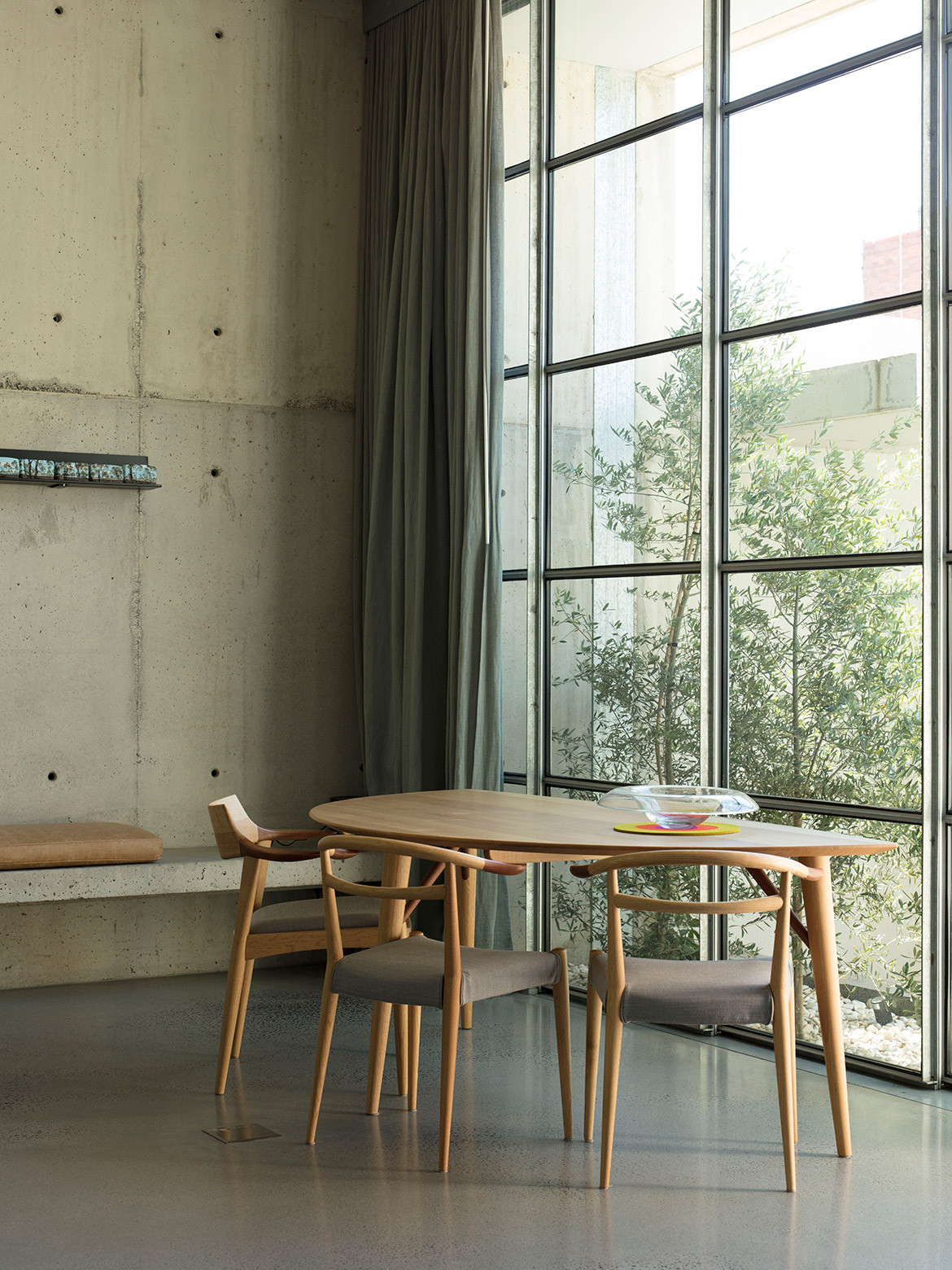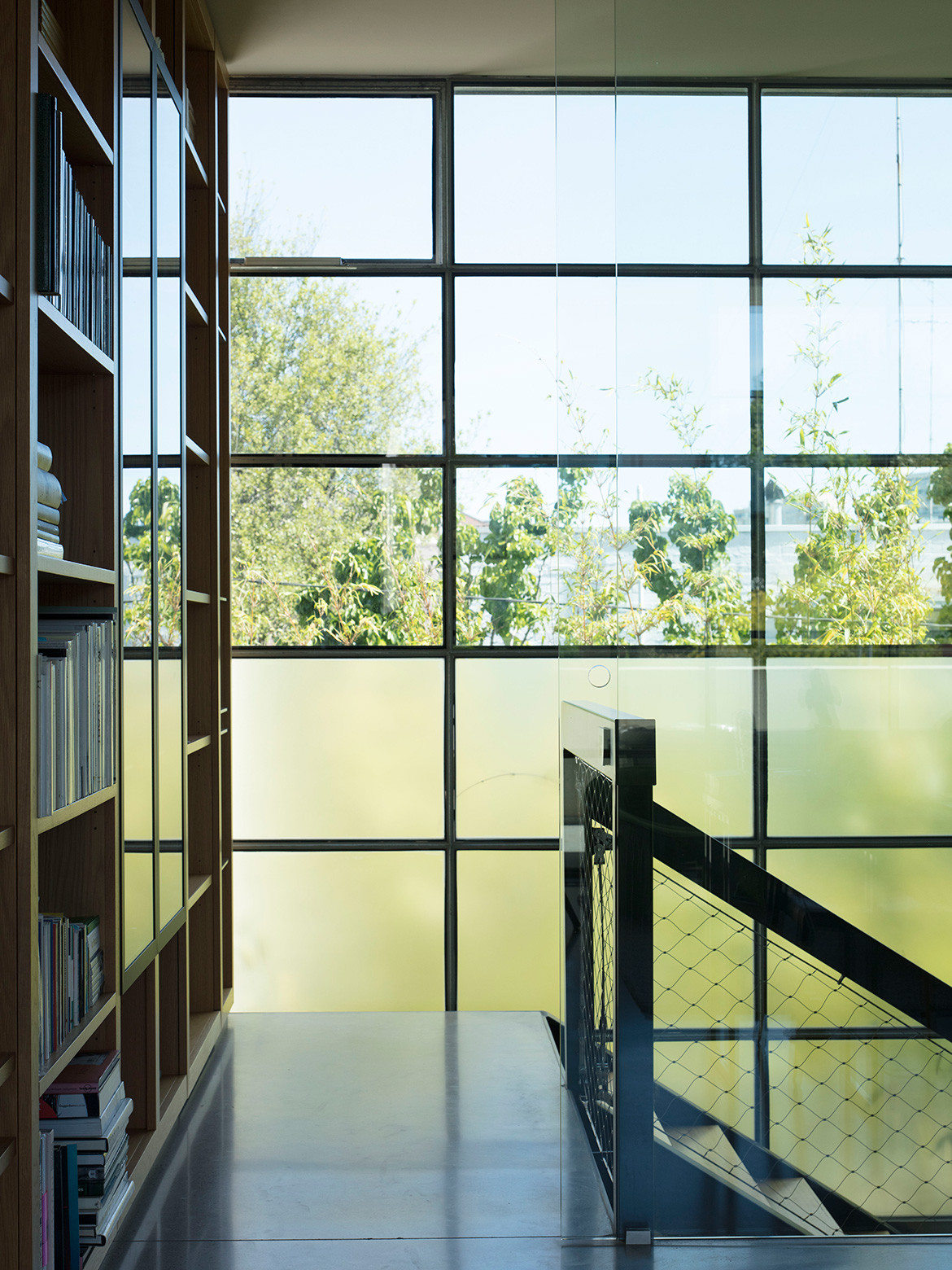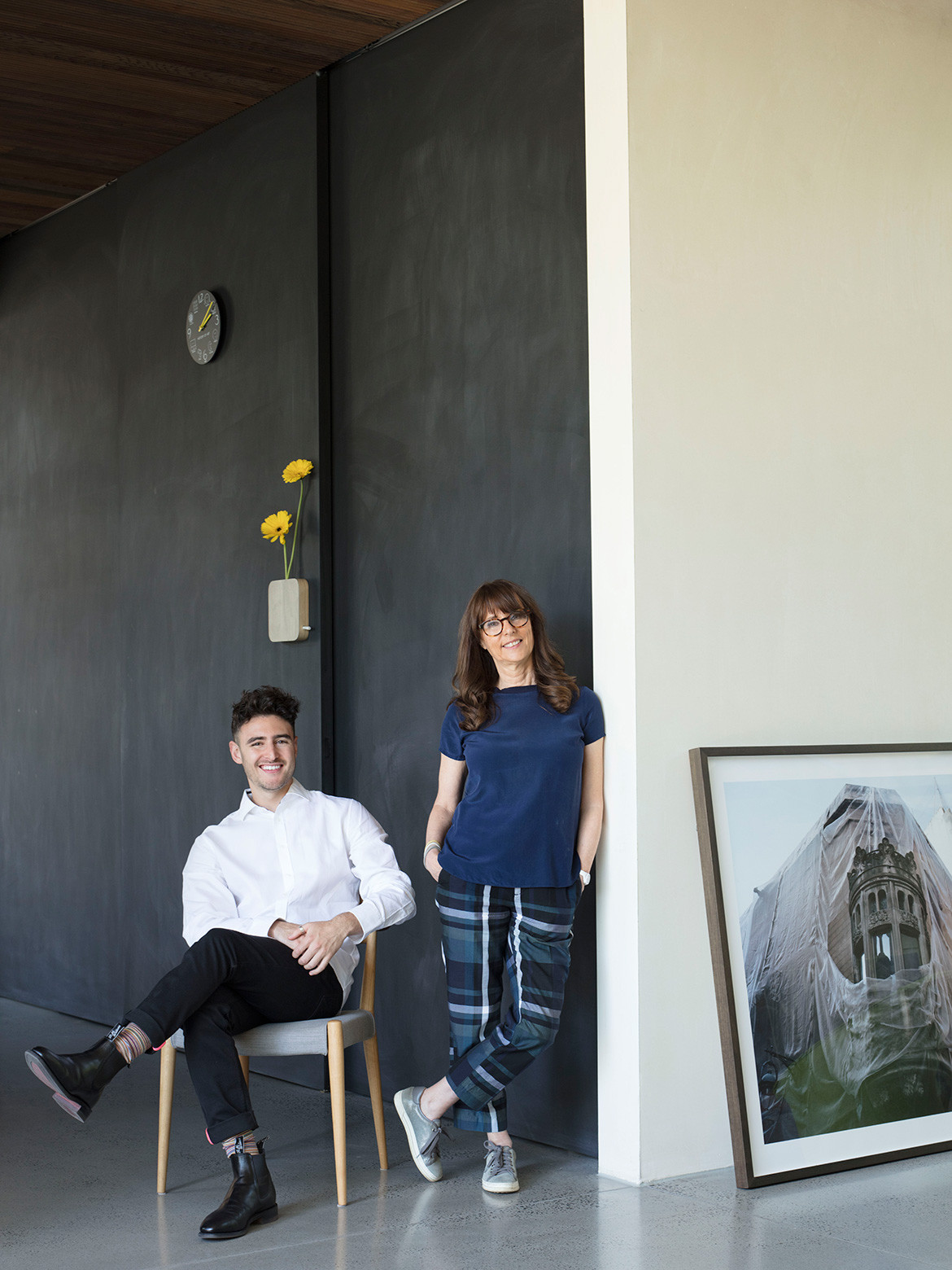 ---