In Cahoots was an 18-month long project that brings together six established artists with Aboriginal Art Centres in remote communities across Australia. One of these collaborations took Trent Jansen to Fitzroy Crossing in Western Australia, where he worked with makers to bring a local creature myth to life.
Trent has an ongoing interest in creature myths so it was an appropriate place to start learning about the local culture. On his first trip to Fitzroy Crossing, "I met three old ladies one afternoon — Penny K Lyons, Rita Minga and Elsie Dickens," says Trent. "[I] started asking them about local Creature Myth. Rita was just awesome. She's so cheeky and funny, got a cackle that's hilarious. She started telling me stories — she knew everything about all these local creatures that most people didn't know."
This led to a simple exchange where drawings of some of the creatures were sent back and forth between Trent and Rita, in a kind of visual dialogue. When that process had been creatively exhausted, they went back to one of the early drawings that interpreted one of the sketches as a piece of furniture. "Rather than trying to sketch all of this into existence," explains Trent, "we started making components. [I thought that if we] physically arrange the components 3-dimensionally, that might be more fitting with the way people do things out there."
Based on the Jangarra creature, a hairy figure who hides behind an anthill, they started making segments of an anthill out of coolomons. "We made about 25 of these components with a bunch of artists. Cutting down trees into sections, forming them with axes and finishing them with angle grinders," Trent explains.
He worked closely with Johnny Nargoodah, a Nykina man who has lived in the Fitzroy valley all his life. From working on cattle station for many years, Johnny had a range of practical skills, which had been honed over 15 years at the arts centre where he is now a studio technician, stretching canvases and helping artists with whatever they need, plus making boomerangs and knives, leather art, carving and painting.
Led by Trent and Johnny, the construction of coolamons happened over many hours and days with senior women carving out the coolamon shapes with small axes and files. These women, senior cultural leaders and artists, then also created hairstring from real hair, taking many hours of working handheld spindles on their laps and carefully selecting and binding the hair. The woven hair was then attached to the coolamons, bringing the hairy man, the Jangarra, to life. Significantly, this process enlivened old traditions and allowed senior women to share their unique traditional skills with younger generations, and towards contemporary design outcomes.
After making the components, "Johnny, Wes Maselli and I took all of them down to the river bed and drove long sticks into the sand and used those as bases [upon which] to rest the coolamons. We positioned them and sculpted the form 3-dimensionally in real time," Trent recounts. They then took it apart and shipped it to Trent's studio in Thirroul, where Johnny and his son Illiam travelled to recreate the structure in a way that is solid. "It's not identical," admits Trent, "but it's as close as you can get."
As in all collaborations, the balance of leading and contributing was complex, but there was a meaningful exchange of skills and ideas from both sides. "It was really good working with Trent in Sydney," says Johnny. "I learned from him – techniques and about using old scrap wood." For him, it was an opportunity to develop his own practice as an artist, rather than supporting others' practice. Johnny and his son Illiam also returned with enhanced confidence and knowledge from their experience in this collaborative art making process.
Trent, too, learnt something important, not only in the making of this piece but also in another project they worked on. "We went for a drive and got this old wrecked car bonnet and brought it back," says Johnny. "Trent said, 'What are we going to make out of it?' I said, 'Well it looks like a lounge chair.' So we cut it up, it got sent away to Sydney, then Trent got some chair legs to put on it." Trent thought the piece was finished, but Johnny started talking about the functionality of it – the fact that no-one would sit in a hot metal chair in the Kimberley. As a skilled leatherworker, he immediately thought of putting leather on the top of the chair. Despite initial reluctance from Trent, they went ahead and "Actually, it's bloody beautiful," says Trent. "It makes the thing. That's a beautiful outcome, a benefit for me. I've learnt that I'm totally wrong a lot of the time and to listen to people. Johnny has this totally different sensibility and has shown me that this combination of textures and materials – that I probably would never have tried – is so lovely."
In Cahoots represents six completely different experiences of cross-cultural engagement, which adds another layer to the already-complex intention of creative collaboration. From sitting and making to telling stories to just asking what a community may want to achieve, they all actively bring together indigenous and non-indigenous, urban and remote, and established and emerging artists, to produce works that symbolise an underlying theme of creating meaningful connection. 
Trent Jansen Studio and Mangkaja Arts Resource Agency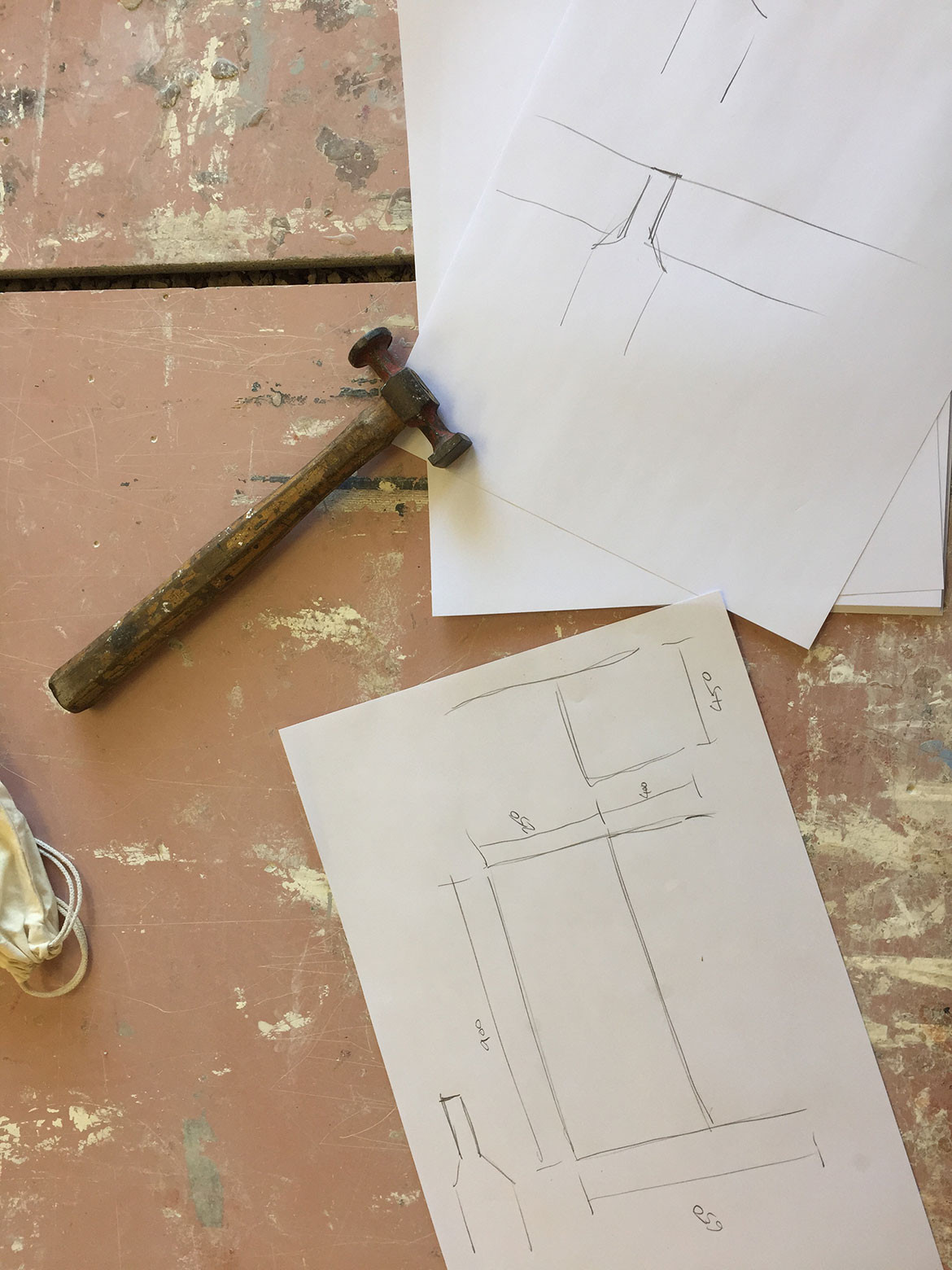 Tags: Aboriginal Art Centres, Fitzroy Crossing, In Cahoots, Mangkaja Arts Resource Agency, trent jansen
---