At the bottom of a cul-de-sac, past clusters of ferns and bromeliads, sits a timber hideaway. Hidden by a four wheel drive and a fishing boat, it's a place of respite for chef Josh Lewis and restaurateur Astrid McCormack, who run the innovative restaurant Fleet in Brunswick Heads. It seems appropriate for two people who spend their work life in the public eye that their private lives are spent in relative seclusion.
Josh, originally from Geelong, and Astrid, from Melbourne, have gone from strength to strength since opening their own place in 2015. Both come from a considerable gastronomic pedigree.
Josh worked with Shannon Bennett for seven years and travelled through Oman, Denmark and Spain with a notable stint at Mugaritz in Spain. Meanwhile, Astrid ran the trailblazing, two-hatted restaurant, Loam, alongside chef Aaron Turner on the Bellarine Peninsula, in Victoria.
Their new venture – one which feels like a dinner party for 14 guests, Josh cooking and Astrid hosting – has become a cult foodie destination in Australia.
"Fleet has been far more successful than I ever imagined," says Josh. "It has been a big learning curve too. The last three years have really allowed me to develop my style."
"To hear that the restaurant feels like someone's home is a good thing for us," Astrid says. "That's really the feeling we wanted."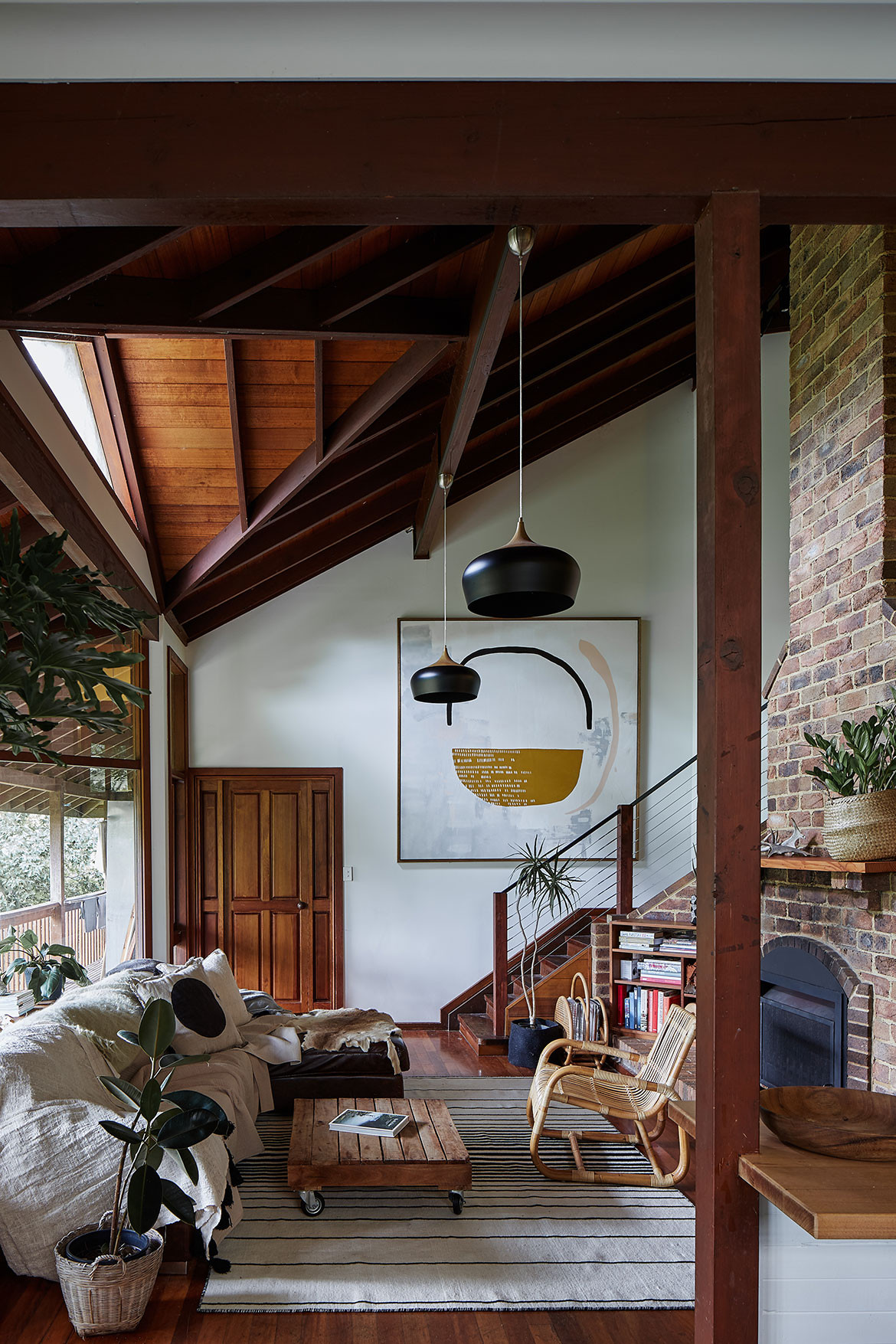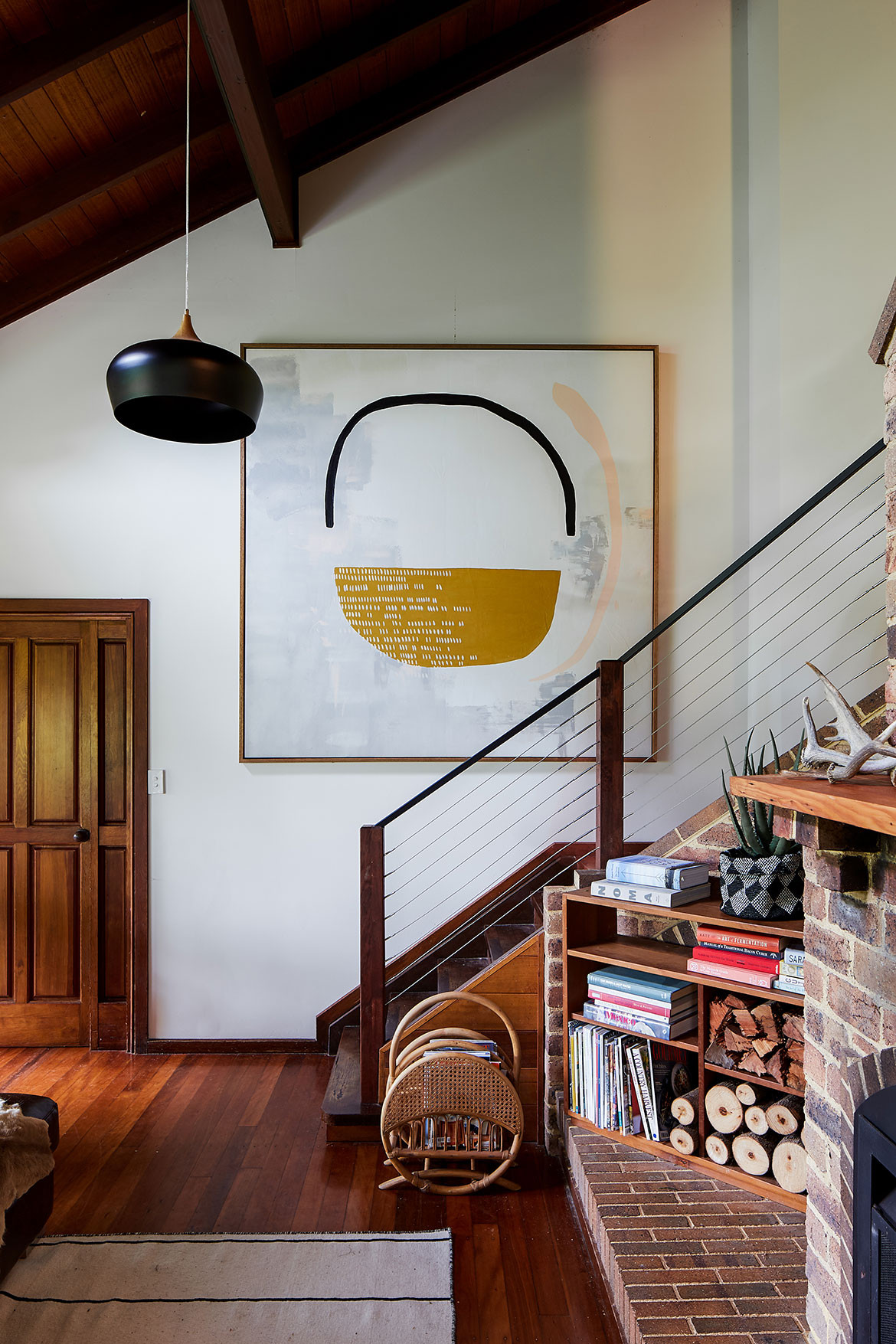 As for their own home, the pair bought their house in December 2015 from a female artist who'd let it fall into slight disrepair. The week they moved in, during the winter of July 2016, is marked for Astrid not only by the momentous occasion, but by being the same week she ran through a plate glass window.
"The doctor told me I would need to take six weeks off work, and I said, how about six days?"
It's the harsh reality for this hard-working duo that moved up to Byron Bay on a whim five years ago.
"Home has really improved in the last few years, but there is always something to do around here. It's a bit of a work in progress as you can see," adds Josh.
The house feels like an A-frame residence with little nooks and pockets that make it cosy.
At the centre is a large timber fire with a red brick chimney that links the bedrooms and bathrooms on the mezzanine to the lower living level.
"I love wooden houses," says Astrid, remembering her first visit when she fell in love with the smell of the wood and the surrounding views. The place is simple and practical, like them; the kitchen displays a utilitarian sparsity.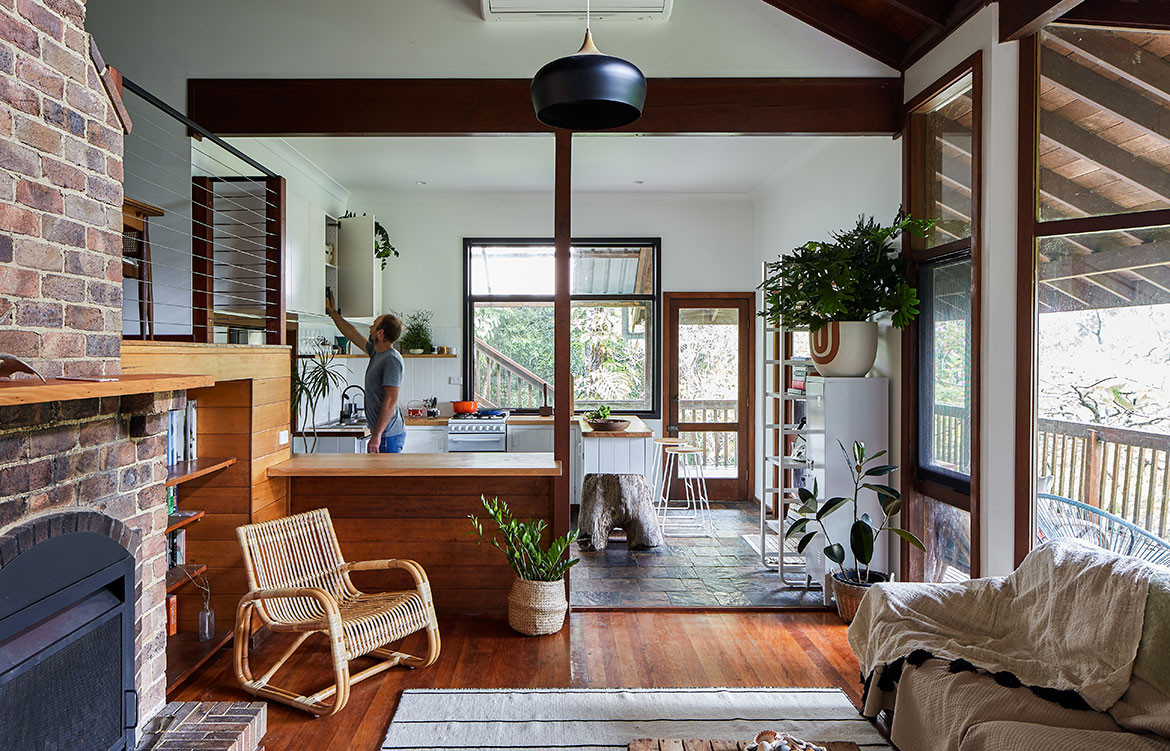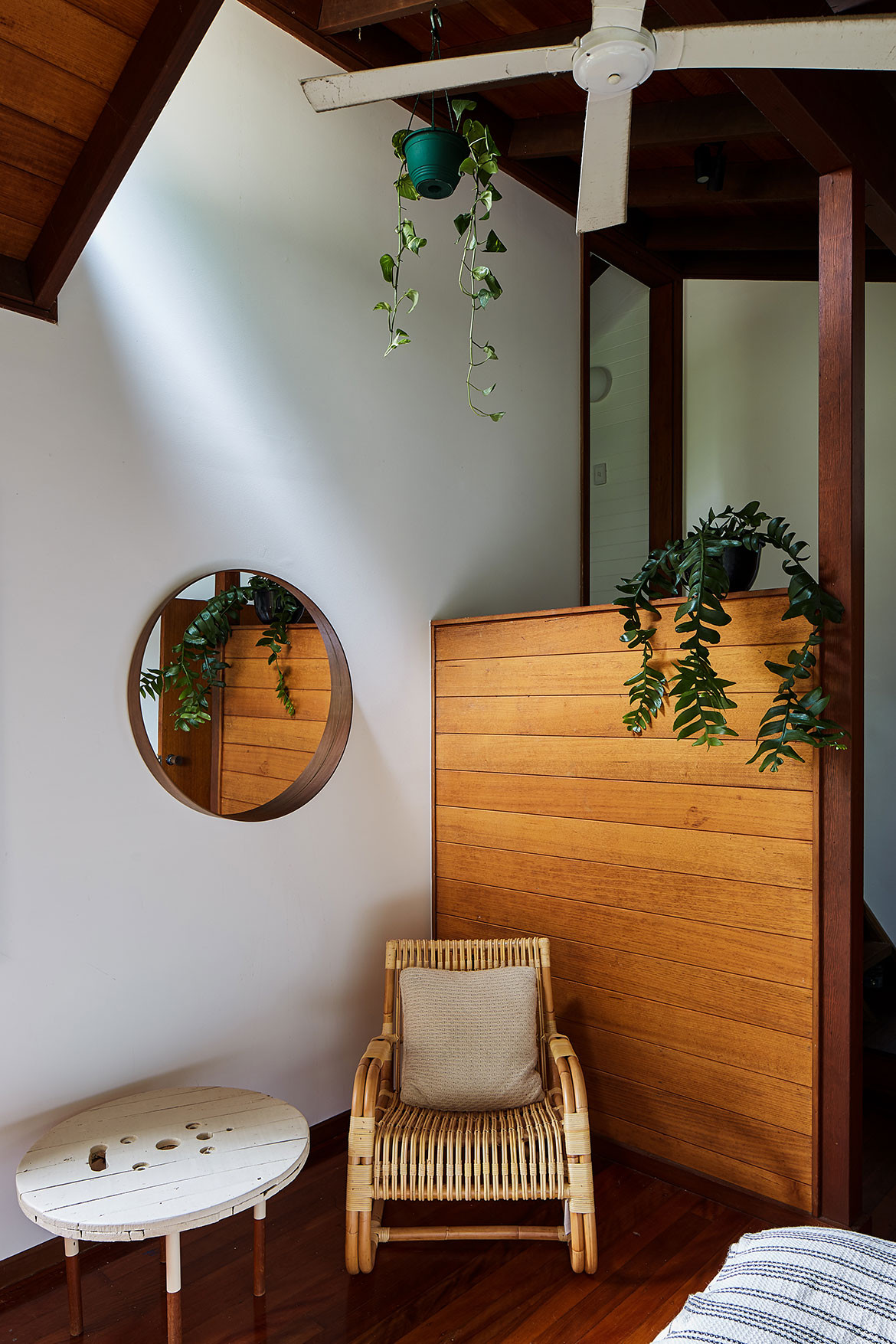 On their days off, both love to cook at home or visit the New Brighton Farmers Market. "We spend most of our time at home in the lounge room. That is one of our all-time faves," says Josh. "We also spend a lot of time out on the back deck, surrounded by trees – and a fair bit of time in our garden too."
In contrast to the white space of their Nordic-style restaurant, their home is part austere and part sensual. With four cats leaping around and rain on the roof, it's also exotic.
Magnolia and poinsettia trees unfurl beneath all the windows, shading frangipanis and idle mango trees below. Inside their lounge room is a mixture of mohair, deer skins and chunky ceramics to warm up the brick and glass interior. The painting by local artist Jordan Henry seems tailor-made for the high wall by the stairs.
In the kitchen at home the stove looks out onto the deck stocked with a chest freezer, fishing rods, smoker and fermenting vegetables.
On their kitchen shelf among cookbooks from around the world, there's a thick Phaidon tome On Eating Insects alongside The Free & Salt Water Fishes Of The World. It's not surprising literature for an avid angler like Josh, who still holds the Australian record for catching an 8.8-kilo snapper on a 4 kilo line at the age of six.
"I like to go off shore and catch things like Spanish Mackerel, Snapper and Mulloway. The bigger the better really. If they try to pull your arms off it's a good fish," says Josh.
Of the philosophy that guides the food they cook here at home and at Fleet, Josh and Astrid keep it very simple with a focus on seafood and seasonal organic produce.
"The food is deceptively simple," Josh says. "On the plate there are only a few ingredients, but there is a process behind it." At home or on the plate, everything has a purpose and a place.
Fleet
fleet-restaurant.com.au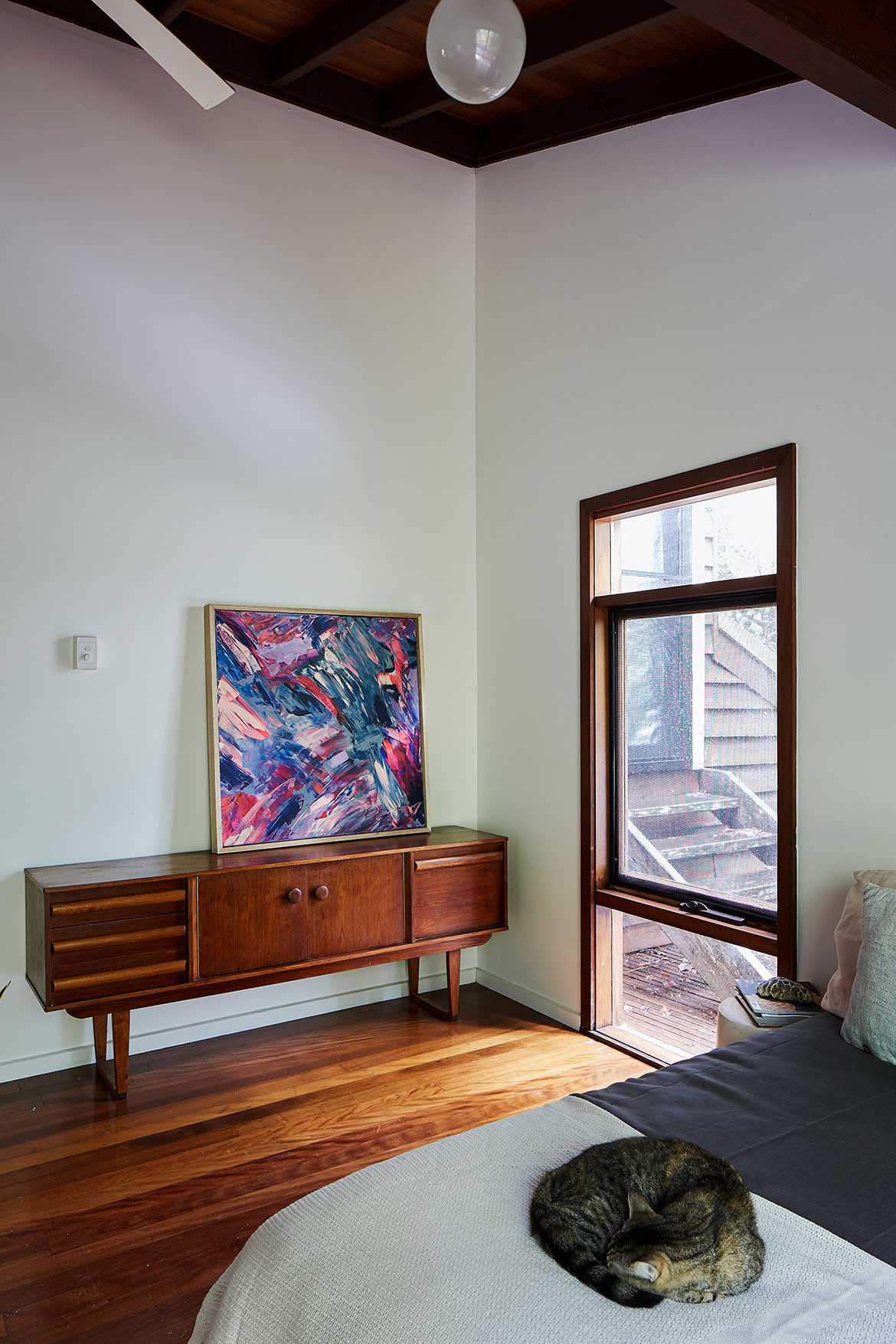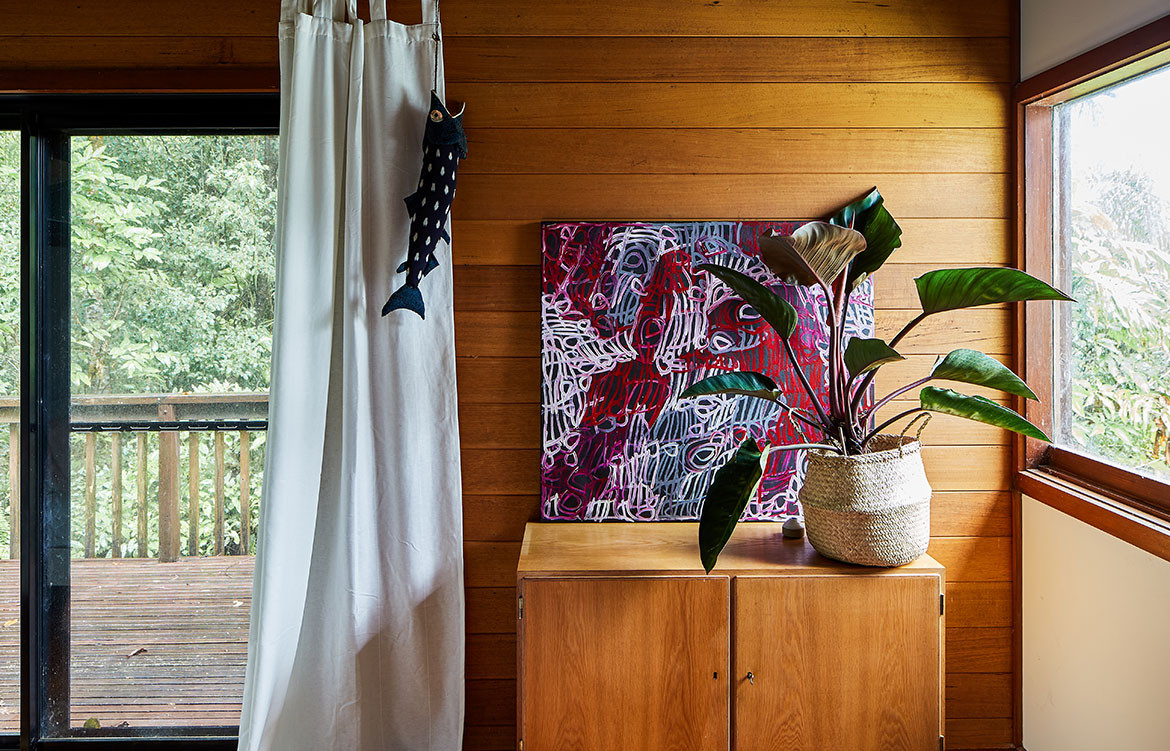 Tags: Astrid McCormack, Byron Bay, Fleet Restaurant, Josh Lewis, Sustainble
---