Lara Scolari was destined to become a painter. Her mother is a painter and her dad, who is a talented musician, used to work as an industrial chemist for art brand Matisse, which made paint! "We always had paint everywhere," Lara says of her childhood. "Lots and lots of beautiful paint and I was always encouraged to use it. And encouraged to use it at volume!"
Perhaps it was being able to use paint so liberally like this that inspired her to become an action painter (or gestural painter) where paint is deliberately thrown, dribbled or smeared on a canvas, rather than being carefully applied? "Definitely!" she agrees with her characteristic enthusiasm. "As an action painter, this means I make a mark as a result of the action in my body – I am literally transferring my energy onto that canvas. I always meditate before I paint so my work harnesses this energy into a visual form and that's what people get when they acquire my work – this meditative energy."
Painting isn't just in Lara's blood and childhood however! The contemporary visual artist has also recently completed a Masters in Cross Disciplinary Art & Design from the University of New South Wales (MCDArt Des UNSW) and has many years experience working in the Arts and Cultural sector. Before setting up her studio in Sydney's harbour side village of Balmain, Lara was working at the Western Plains Cultural Centre in Dubbo.
"I was curating there and looking after everyone else's art except for my own," she recalls. "But I have been painting all my life so I started to dabble again and, following two big regional shows, I decided to go for a residency which I won; they gave me a house in Sydney for six months and paid me to make art!
"So I took a break from my job," she continues, "and made a body of work, which launched at Dank St in Waterloo and it was a sell out show! Shortly after that I decided to move back to Sydney, where I am originally from, and set up a studio / gallery of my own. I bought a small, three-storey block of flats in Balmain and have converted the ground floor into a studio / gallery. The rest of it I am converting into a house. It's very stressful but exciting too!"
Lara's recent body of work – Contemporary Luxe – has been a huge success and has propelled her career into another stratosphere. Inspired by her surrounding environment in Balmain, it features beautiful translucent blues and greens, together with the simple, considered form of the fluid organic circle; an island continent surrounded by water. As with all of Lara's work, it is produced in an Abstract Expressionist style and a variety of media is used to create depth through exquisite transparent layers that reveal hidden dioramas.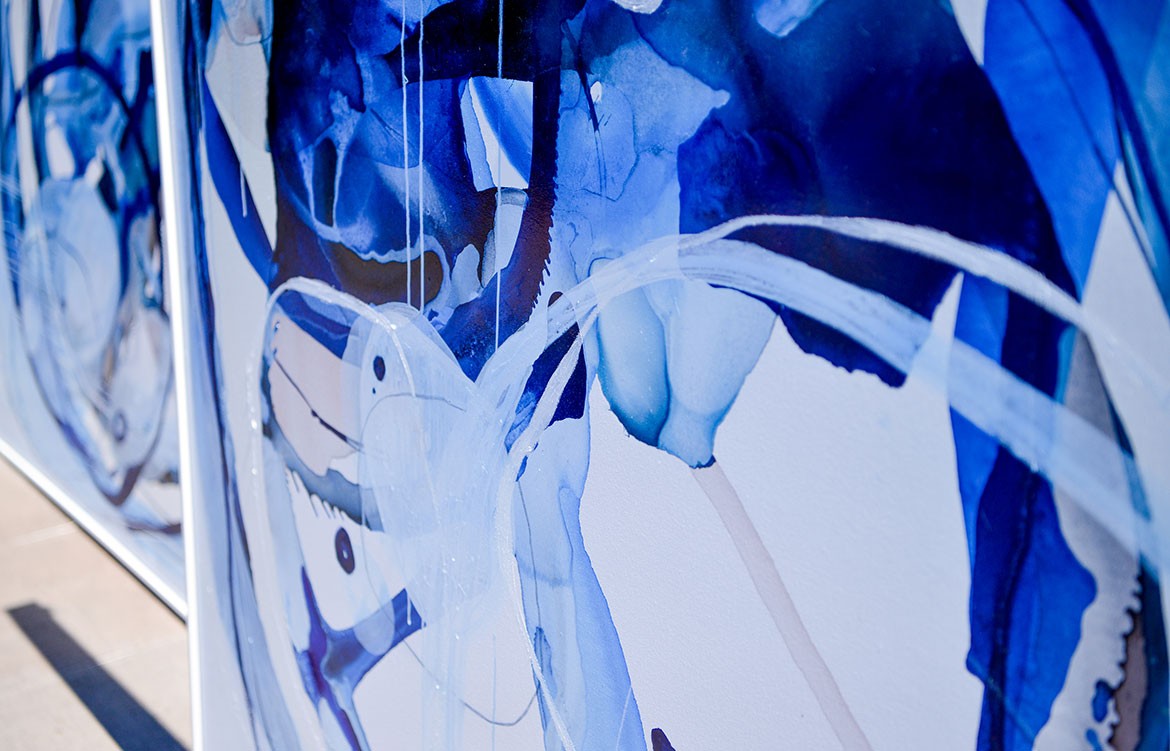 Contemporary Luxe has been a particular hit with interior designers working on waterfront homes and Sails Restaurant on Lavender Bay also commissioned some work from this collection. "The restaurant was doing a whole refurbishment and wanted something that reflected their setting, and the colours and energy coming off the harbour," Lara explains.
So what occupies most of Lara's time in the studio these days? "The majority of my business is commissions from interior designers plus I am always concentrating on a 'body of work'," she explains. "Basically, I will be inspired by something and then create a body of work that expresses that, which I work on for about a year before moving on."
For her next collection, which will be launching at the Maunsell Wickes Gallery in Paddington on October 21st, Lara has drawn inspiration from her many years living in the Australian countryside. This collection is more about 'place' she says, with lots of organic shapes and muted earthy colours such as red oxide and yellow oxide. "I'm really excited about it!"
Although Lara is incredibly humble about her success, even she agrees that things have recently 'gone nuts for her'. The past three years have been tremendously exciting and busy and she has now exhibited at more than 75 group and solo shows! So of course we wanted to know if she had any advice for Australia's aspiring young artists.
"The best advice that interior designer Greg Natale, who is a friend of mine, gave me was just to be prolific. You just have to keep going! Never think that what you're making is going to be the next big masterpiece, just use each project to experiment and have fun," she says. "I have learnt not to get too caught up in the outcomes, but to just let the process happen and the magic will come!"
Lara Scolari
larascolari.com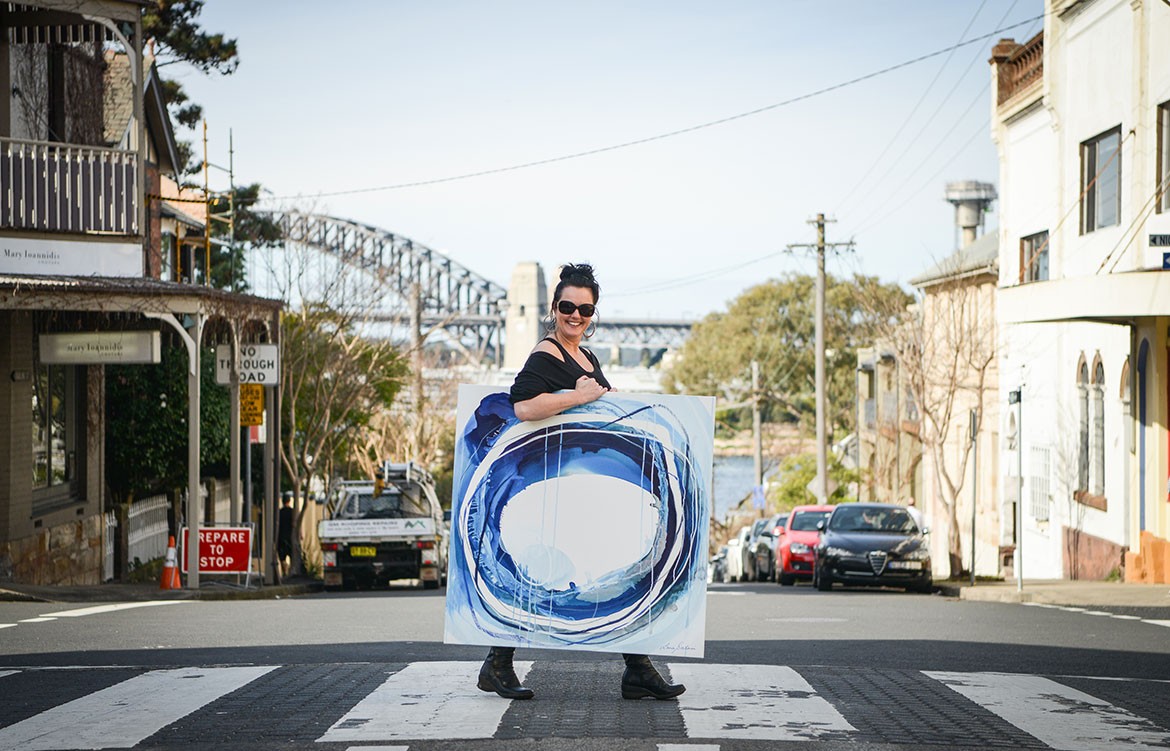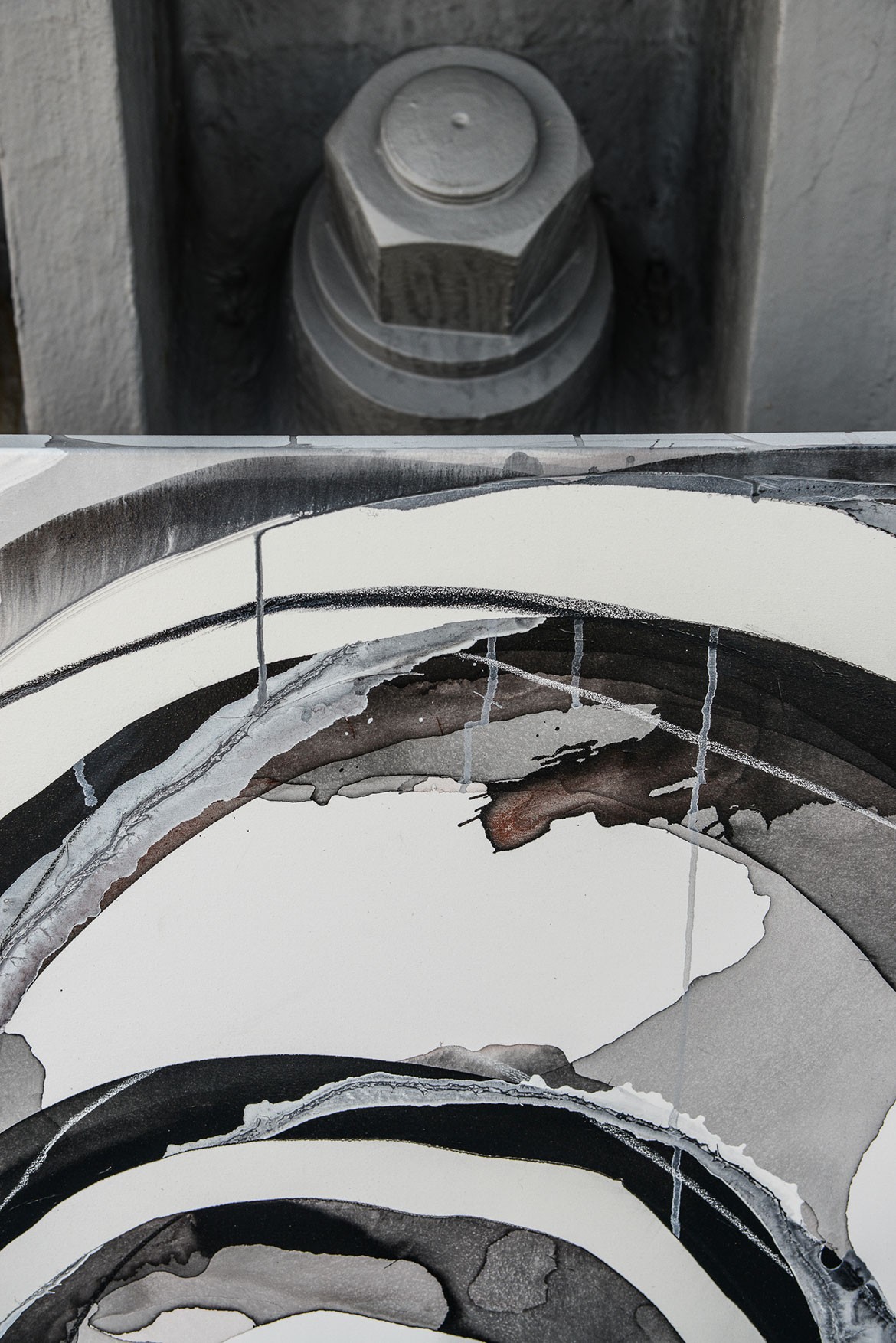 ---