Your occupation:
All things wine
Your latest project:
I am currently working on the only Australian made Vermouth brand soon to be launched in June. It's called Regal Rogue, look out for it in your next dirty martini.
How did you first become involved in the Australian Wine Industry Design Competition?
An amazing woman and someone who's done a lot for boutique wine in Australia – Judith Kennedy (who ten years ago prior to these awards announced that my Tempus Two brand, which was in its 2nd year was too big to be involved so kicked me out! We remained friends) – invited me to be the chair of judges, which was an amazing honour. It's definitely one of the reasons I get up everyday; because of amazing, innovative packaging.
How was the process of judging the designs? Were there clear favourites from the beginning or was it a struggle to select the winners?
It was the first time this year that commercial and boutique brands went head to head, which for me was really exciting. I saw an amazing array of products eclectic in nature and the competition between boutique and commercial brands was very strong. Over the years we have seen a lot of innovation in the labels and names used by brands old and new.  The judge's choice of Australia's Best Wine Bottle was almost unanimous.
What do you think the role of design is in the wine industry?
The design role in the wine industry is extremely important as it assists the consumer to make their choice in a market where there is abundance available. Packaging makes the consumer feel comfortable in their selection and most wine companies know the imperative of over delivering on wine particularly if it wears a fancy package.  New brands to the market don't have the history like Penfolds or Petaluma so they don't need to dress their brands up because they are iconic. 
Your own label has produced some innovatively designed wines, how hands on were you in the design process? What were some of the considerations/aims when designing the wines?
I am extremely hands on when it comes to packaging. It's my thing. My first successful package was inspired by a metal lid that I noticed on a cigar box. I'd always wanted to find a material that wasn't paper. Did you know that 95% of wine labels are made with paper? It's with my metal labels that I went on to win the global packaging award.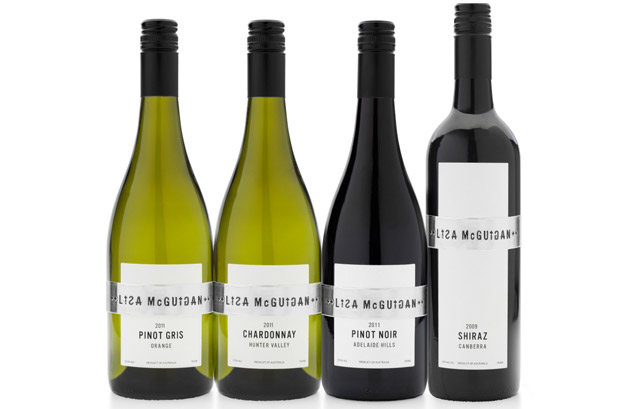 Where do you see wine design going in the future?
Labels will trend back to traditional looks as will bottles.
What is your favourite wine bottle design?
It would be the "Two" bottle from Bruni Glass
In the eternal polemic between cork, screw-top, plastic cork, glass stopper etc., where do you stand?
I love cork. I love glass stoppers but it's misunderstood. Screw cap is the best solution to the cork problem. Plastic – no comment.
What are your 3 favourite wine-related accessories?
Pewter Moet Chandon icebucket
Decanter that was given to me by the Wine Communicators of Australia Young Guns and Gurus Program.
Antique Vermouth dropper
 As wine is your art, what is your creative philosophy?
"Less is more" – Ludwig Mies van der Rohe  (German American architect)
Photography: Jason Loucas
Tags: Lisa Mcguigan
---