Above: Julia's studio and home is a converted factory.
Old rusty nails mark out the number of Julia deVille's studio in inner-city Melbourne. Originally a button factory, then a scout hall, the building was last occupied by a sculptor who combined his practice with teaching Kung Fu. "I bought the place about a year ago. It was ideal to combine a home with a studio," says Julia, whose jewellery was included in the Primavera 2006 at Sydney's Museum of Contemporary Art. Her work was also part of the Cicely & Colin Rigg exhibition at the National Gallery of Victoria in the same year.
Originally from Wellington, New Zealand, Julia came to Melbourne in 2001, initially with the intention of becoming a shoe-maker. She switched to jewellery partially as a result of the time involved in cobbling – "Jewellery gave me instant gratification. I was able to complete a design in a day," she says.
Past the courtyard-style front garden, a timber door opens to Julia's studio. Instead of a welcome mat there are the stuffed heads of two goats and a gerenuk, a long-necked African antelope. "The first comments are that it looks like a museum," says Julia, who works as both a taxidermist and jeweller.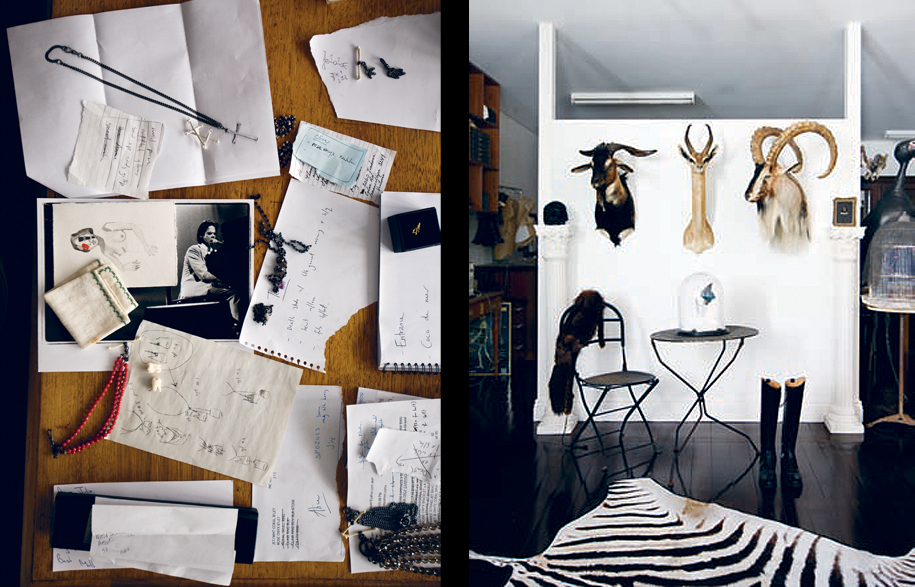 Left: Notes, like Julia's jewellery, adorn the surfaces of her studio.
Right: There's a museumlike quality to the space.
Timber shelves in her studio, filled with objects and artifacts, are a visual feast. One shelf is covered with dried moss that has the appearance of Victorian lace. Others are filled with Julia's latest jewellery, ready to be delivered to stores both in Australia and overseas, including the prestigious L'Eclaireur stores in Paris. "My father [still in Wellington] made all the shelves with a friend who is a cabinet maker. I gave them the rough measurements," Julia says. "We were slightly out with this shelf," she adds, pointing to a gap where the shelf should have ended.
While the warehouse was built at the turn of the last century, it has been embellished with Victorian details. Julia added the ceiling rosette in the studio and Victorian-style timber doors and windows that frame the space. "The timber floors are original. They were just buffed up and polished," she says. And although shelves and work benches were relatively 03 easy to install, her studio required a special booth called a 'flume' cupboard, which contains the somewhat sulphurous process where skulls and bird bones are oxidised before being fashioned into silver brooches, earrings, bracelets and pendants.
In the centre of Julia's studio is an unusual arrangement of vintage mannequins, dating from Victorian times through to the 1940s and 1950s. Only Vivienne Leigh's waist size would come close to those of the mannequins on display. Some mannequins are draped with beaded Victorian shrugs and other adornments designed by Julia, who initially contemplated studying fashion in New Zealand. One jacket features particularly unusual extensions – she describes how she "used scapulae [shoulder bones] and covered these with velvet". For another Victorian jacket, edged with a faded lace collar, Julia added a couple of exposed bones to the back, capturing the colour and form of the lacework.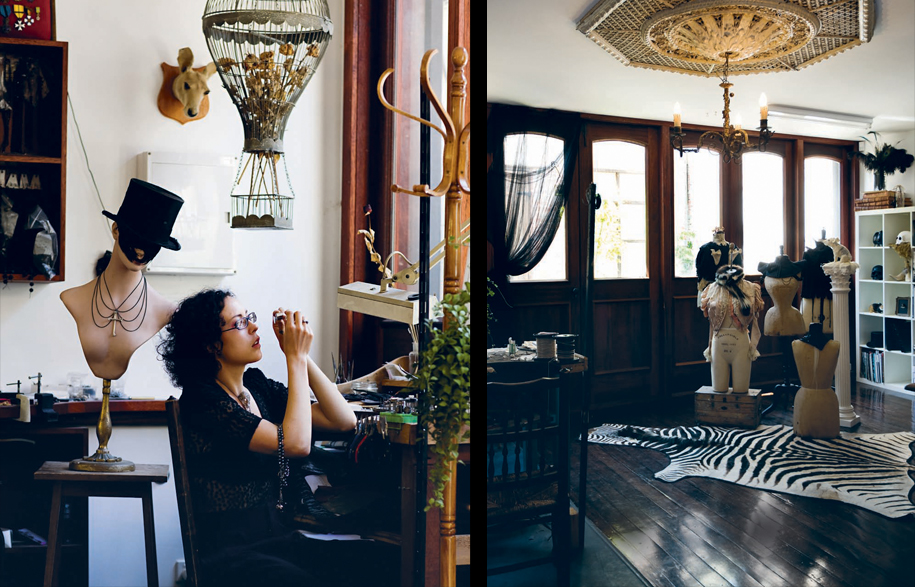 Left: Julia appreciates the morning light when doing her intricate work.
Right: Vintage mannequins create an impressive centrepiece in the studio.
Although each arrangement in Julia's studio has been painstakingly created, they haven't been altered since she moved in. "I like things to find their own niche. I don't have time to keep moving them around," she says. Her rigorous routine starts "before seven in the morning. I'm ready to work soon after eight and I generally work seven days a week".
Fortunately, Julia only has to walk down the corridor to get to her studio. And like her studio, her bedroom is filled with stuffed animals and birds. A raven, presented in full flight, is precariously attached to her 1940s armoire. A baby goat looks up from a table at the end of her bed. And while her New Zealand heritage isn't plastered on the walls, she has an extensive collection of boots from New Zealand designer, Zambesi next to her bed.
"I'm slowly working through the place. The upstairs needs a complete make-over," Julia says, leading the way up a timber staircase. "The first floor was only added five years ago, but it already looks dated," she comments, pointing out the scalloped timber joinery and granite splashback in the kitchen.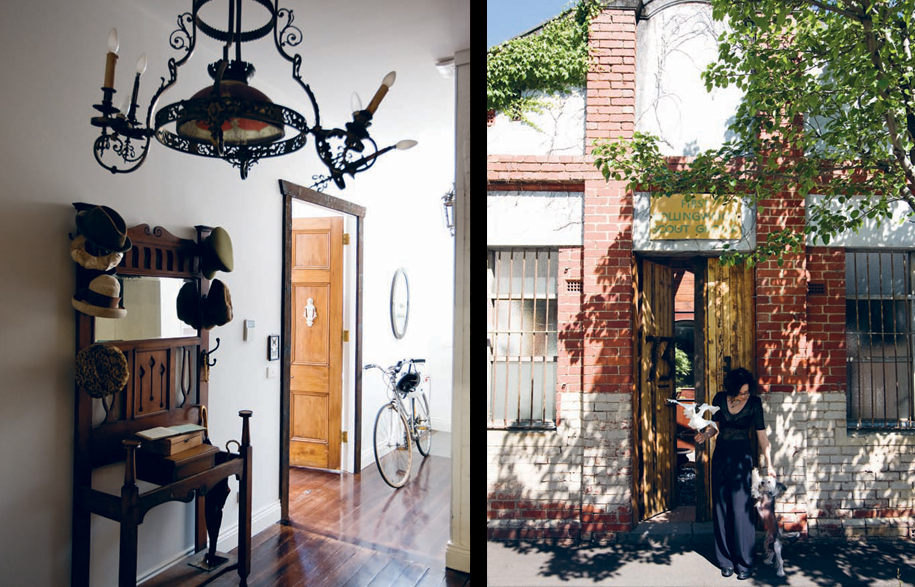 Left: The entrance to Julia's home has a Victorian feel.
Right: Julia in front of her warehouse-style home.
Julia's two dogs sleep in their own miniature 'Persian tents', sourced on the internet. And large, worn 1930s leather armchairs give the place a lived-in feel. "I've always been interested in old things, particularly things from the 19th Century. I also prefer some chaos, with things being a little messy" she says.
Most people visiting her home tend to gravitate towards different parts of the studio every time they visit. Whether attracted by the vintage rhinestone and ivory necklaces, or the sculpture by Aly Aitken titled 'From the House of Edvard Munch' (a leather bound creature with twig-like legs and mouth full of teeth), the senses go into overdrive. Like her jewellery label, Disce Mori, Latin for 'Learn to Die', the themes of life and death are interwoven through her collections and the spaces she inhabits. It's a theme Julia will continue to explore – "It's about accepting mortality and understanding death," she says.
Disce Mori
discemori.com
Photography: James Geer
jamesgeer.com
---