Hero Image: The Outofstock team (L–R) Wendy Chua, Sebastián Alberdi, Gustavo Maggio and Gabriel Tan.
A fortuitous Stockholm event brought them together and eventually provided the inspiration for their moniker. Gabriel Tan, Wendy Chua (both from Singapore), Sebastián Alberdi (Spain) and Gustavo Maggio (Argentina) all participated in the annual design competition and workshop, Electrolux Design Lab in 2005. Here, they worked closely together and, enjoying the experience, kept in touch when they returned to their respective homelands.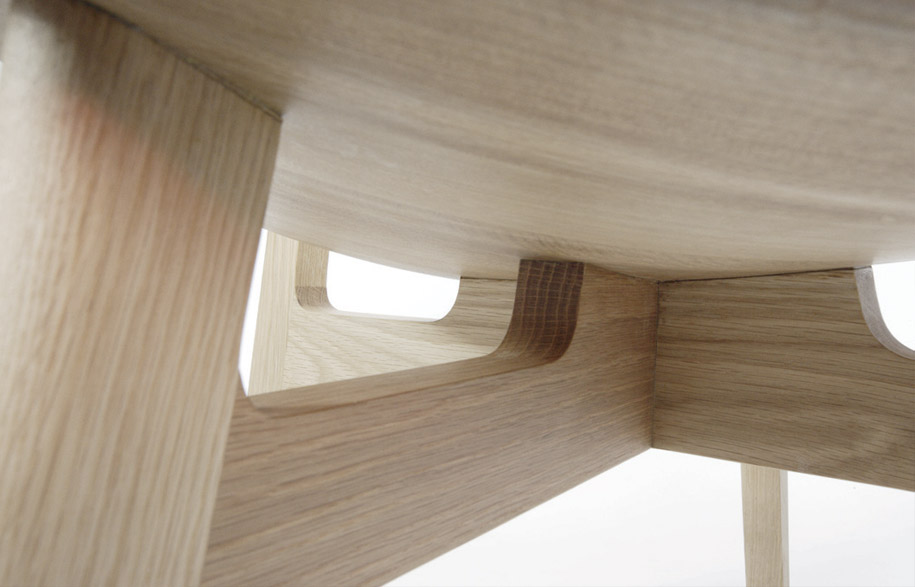 Detail of glide chair from a collection launched at imm Cologne 2010 for design label, Foundry.
"Despite being based in our own cities, we communicate on a regular basis," says Gabriel. "It was interesting. Whenever we shared our views, we found strange similarities toward some things and stark differences in others." This dynamic relationship inspired them to work together creatively for a second time, presenting a collection of furniture at Salone Satellite 2007 in Milan under the name Outofstock.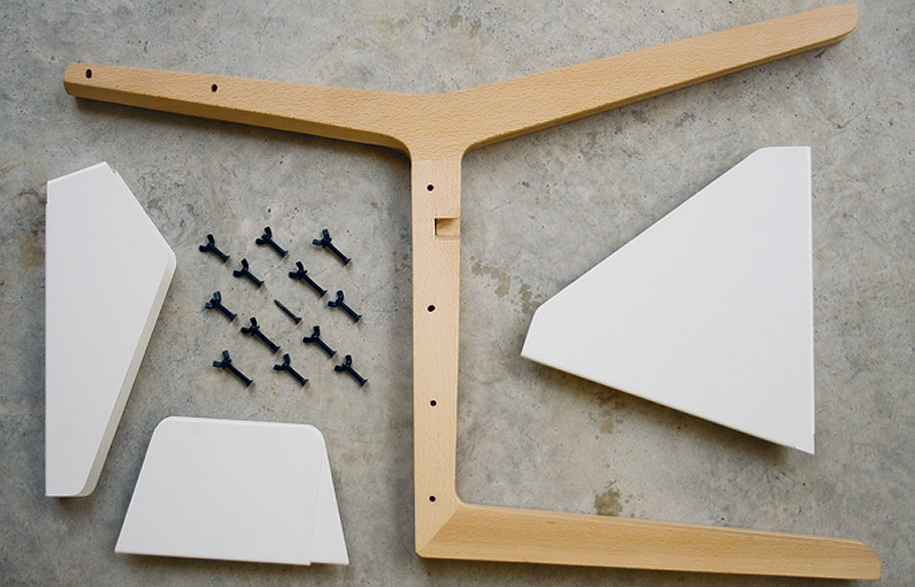 The Naked chair is extremely lightweight and flat packs for transportation.
Once this was successfully completed, they decided to register the company in Singapore, with plans to collaborate long term – for the annual Milan fair, as well as other interior design projects, commissioned product designs and educational workshops.
In some ways, their methodology could be conceived as unusual, but in other ways, a cross-cultural design collective makes complete fiscal and creative sense. Gabriel describes the logistics and what advantages they offer – from where they can best achieve cost-effective, quality prototypes, to their decision to store these in Spain following exhibitions to enable efficient transportation between interested European manufacturers.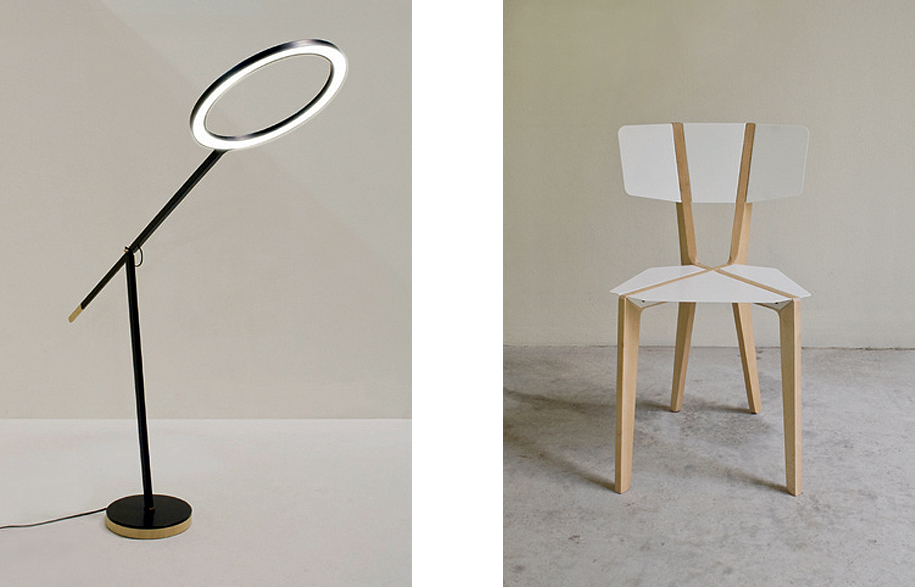 Left: The Sherlock floor lamp is inspired by the magnifying glass.
As well, an international office means a 24-hour output. "When we work on interior projects or commissioned work for clients in Singapore, Spain or Argentina, being in different time zones actually enables us to turn around things pretty quickly for clients," Gabriel explains. "Especially when we have tight deadlines, because at any one time at least one of us will be in normal working hours."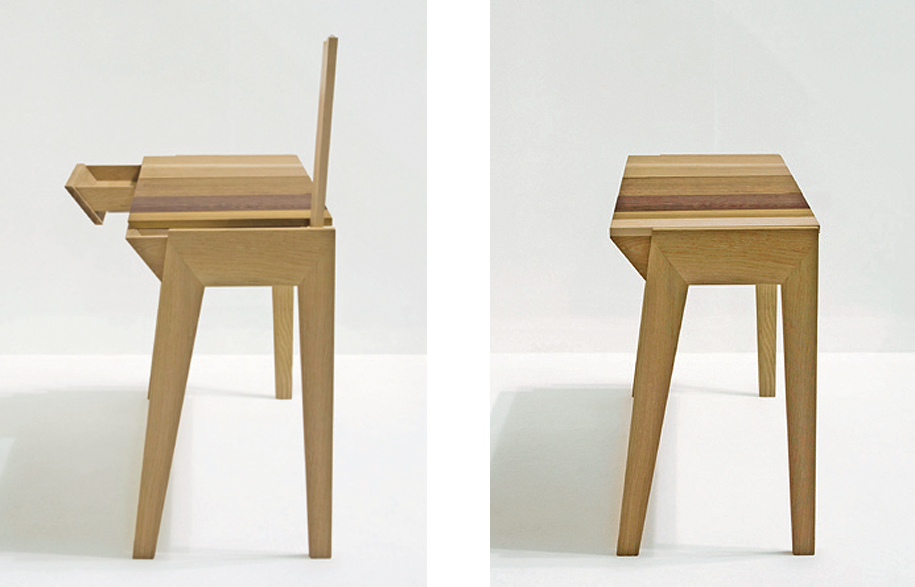 The compact Arbor desk features five different species of solid timbers.
The creative advantages are even more forthcoming, with a depth and diversity of inspiration and experiences for the group to draw from. Gabriel gives an example of designing a tea trolley: "We can talk about the different ways we make and enjoy tea in our respective countries. We often take pictures… and this sort of allows us to take a peek into each other's cultural backdrop." This consideration is something that gives their products a wide appeal, imbuing complementary senses of revealing and discovery. It's a simple aesthetic that, beyond the initial engagement, invites a deeper connection and understanding of more complex mechanisms, details and relationships – which almost mirror the group's own identity.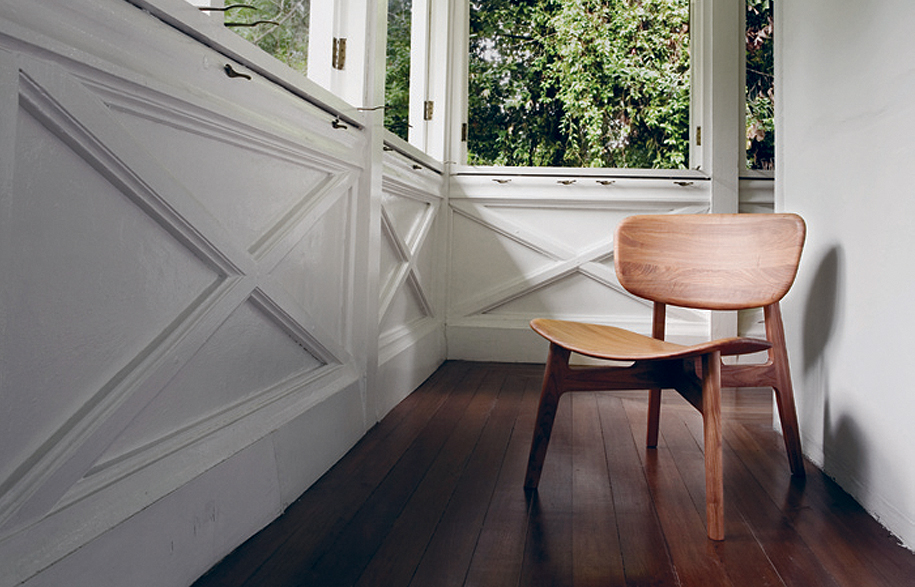 Image: Glide chair has the warm tactile quality of solid timber.
For Outofstock, it is connection that is the crux of their positive engagement – both between themselves and with clients. "The key is to communicate with each other frequently, clearly and concisely," Gabriel says. "Especially in relaying the design brief or what the client's needs and wants are, because the designers in other cities may not have met or spoken with the client in person."
Although there is much to be learnt from traditional methods and crafts, all that is creative is not lost in the contemporary world. Technology and travel have made it completely possible for Outofstock to discover and celebrate diverse traditions in their aim to 'bring back poetry and romance in the design of everyday items'. This can only serve to add richness into the way we experience furniture design, they believe. As Gabriel aptly describes: "When you bring people of different cultures together, you are accumulating vastly different experiences… Design is driven by inspiration and it is personal experience that inspires people."
Outofstock
outofstockdesign.com
Photography courtesy of Outofstck.
---