Tell us about the Patera lamp that you've designed for Louis Poulsen.
In a way it's a very simple structure. But it is also surprising. Because when you look at it from different angles, it changes its identity slightly. People often get curious when they study it.
I think a design is something that you should be able to understand at once. However, you should also be able to look at it again and again and see something new in it each time.
Just like a good piece of music, you can hear it the first, the second, and the tenth time; and you can hear it a year or ten years or a hundred years later. It's still a good piece of music.
You were first a musician before you went on to study at the Danish Design School. What sort of musician were you?
I was a classically trained musician [from the Royal British Academy of Music]. My instrument was the base tuba. I was then led into contemporary music. It was really experimental, sometimes quite sophisticated, sometimes really really bad, sometimes hard to understand for the audience…
So I had to be very convincing when I played. The harder the music, the more convincing I needed to be. The more intellectual it was, the more physically immersed in the performance I had to be. This was challenging, but it also meant that I became more technically skilled as a musician.
What made you decide to go into design? How did one lead to the other?
The reason changes whenever I answer this question [laughs]. With music, you need to practice a lot. And whenever I finished at the end of the day, I couldn't see anything. I was kind of jealous of the baker who would bake hundreds of bread every day. At that time I couldn't see the greatness or true value of music. In many ways music is able to do what no company is able to do. It creates culture and identity.
So music must have a great influence on you as a designer.
The good thing about music is that when I play these really complex contemporary pieces, I have to be able to play it so it is so intuitive that any person with absolutely no music background in music will be able to sense it and be touched.
For this Patera lamp for example, I hope it looks very natural and seductive, and speaks to your heart and to your feelings…
The Fibonacci sequence was the starting point for this lamp. But it can also be found in your other works such as the SWIRL lamp and the BeoPlay A9 music system for Bang & Olufsen. Why are you so fascinated by it?
As a designer it's a very good thing to start in Nature. Because what you find in Nature is the result of billions of years of evolution where only the best have survived.
If you take a closer look at Nature, you'll also find the Fibonacci sequence or Golden Ratio more or less everywhere. You find it flowers… and you actually find it in music, too.
It's something that fascinates and speaks to people, even though they might not know about it or understand it. We are a part of nature as well and as such it is within us, in our natural environment. We immediately feel familiar with it even though we don't know how it works or why.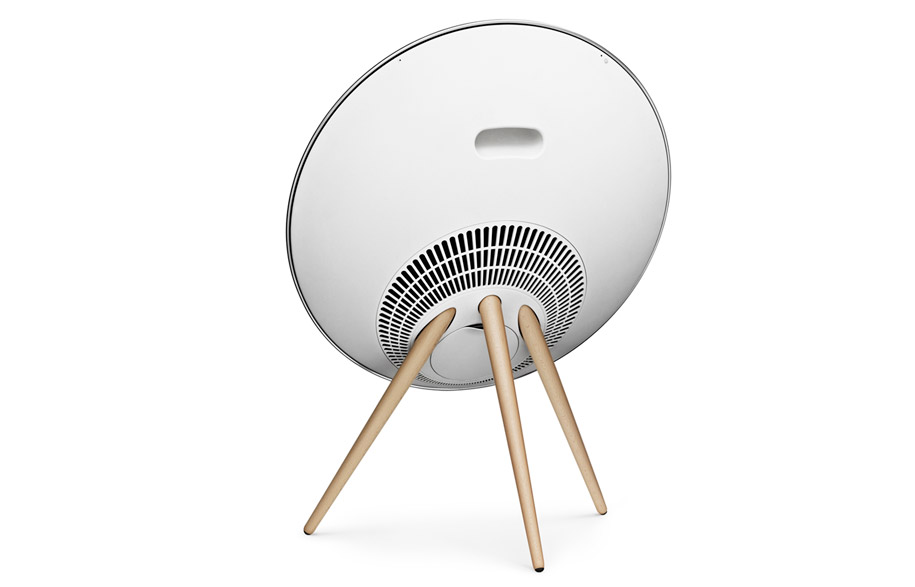 BeoPlay A9 music system
You try to keep your designs as simple as possible. Can this be a real challenge?
The Patara lamp looks very simple. But the way the pieces are connected, that took months of work. You don't see it, and you shouldn't see it. All you should say on seeing it is, 'Oh, that's a nice ball-shaped lamp'.
The starting point for your design process begins with action rather than in heavy analysis. Can you explain why?
I believe a lot in intuition. Let's say I'm designing a bed. First of all you should think, what is a bed? It's a kind of a nest, a place to rest, a place to make love… you try to find out what it means. And then immediately you make a drawing of it, or a small model. And when you do this, you should not be analysing. That's kind of the basic rules for performing music, too. When you are on stage you should never analyse. It's show time. After the concert you listen to the recording, then you analyse. Never at the same time. If you analyse while you are creating, you paralyse yourself.
The same goes with the design process. I try to get as many sketches and intuitive ideas down in the very beginning and then as I go, from time to time, I step back, analyse, make more, analyse, parallel to my research. I never start by seeing what was made before. If you start by seeing what was made before then the risk that you get too influenced, is there. I think not knowing too much helps you create something that has its own identity.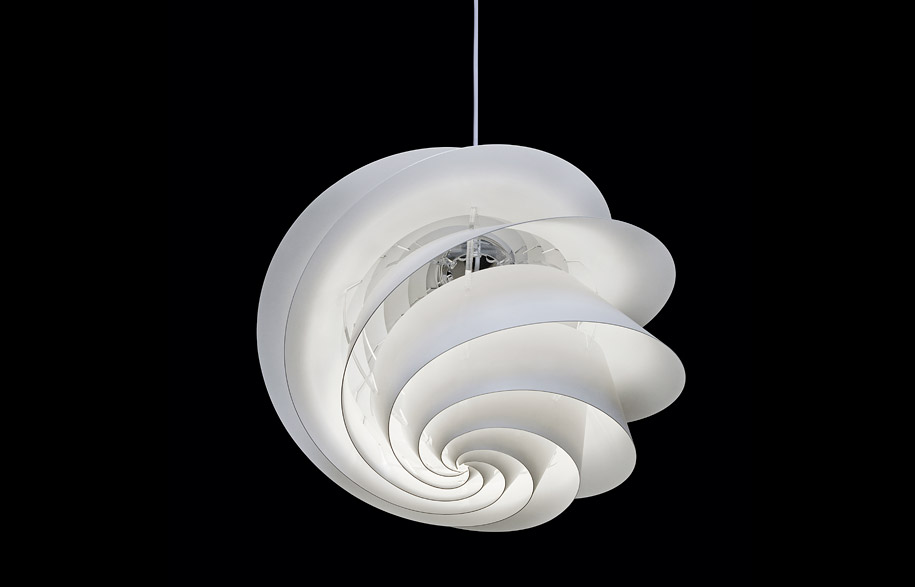 SWIRL lamp
How did Poul Henningsen, who enjoyed a longstanding partnership with Louis Poulsen, influence your work on Patera?
I used the principles from Poul Henningsen who worked his entire life to get as much light out of the light bulb as possible without ever experiencing the uncomfortable glare of it. To achieve this, Henningsen developed a strictly mathematical method such that light is directed downward where it is needed by reflecting the light towards the lampshades, which were angled differently depending on their placement in relation to the light bulb. This results in a wonderful 'glow' that characterises the lamps from Louis Poulsen. We used Henningsen's geometrical principles to achieve the same glow with Patera, but here we went even further: today we have to be very efficient with the energy and the light, so with Patera, as you see the lamp more and more from underneath, you will actually see the light bulb to ensure that there is direct illumination under the lamp where there might be a table. However, it will still be comfortable to look at since we worked to avoid sudden contrast between dark and light areas. When looking at the lamp from the side, the light bulb remains hidden and no matter from what angle you look at the lamp it will be comfortable to look at.
Tell us about your shared studio, B33, which you established together with Hee Welling and Steffen Juul.
The three of us started this space, and we now share it with eight to nine other creatives. Some work alone, others in pairs. We have created an environment that is helpful and quite powerful. We have the power of a bigger company, since [together] we all have a lot of contacts, experience and knowledge, which we share quite openly. To be honest, some of the most important designs coming from Denmark have been made in the studio.
Øivind Slaatto
slaato.dk
The Louis Poulsen showroom is located in Singapore. The brand is also carried by Macsk.
---