What attracted you to the world of design and architecture?
I always knew from a young age that I wanted to be involved in design. I always thought I wanted to be an architect but then learnt about interior design – which is what I went on to study. I was attracted to interiors for the quicker turn around time and the many varied and interesting materials, objects and furniture that could be incorporated. I suppose my mind works very well on a detailed level. My love of interiors and residential design has brought me full circle as we now offer building design services. I just love design and architecture when practised together as it is such a cohesive journey and you get to see what you have created when it is built.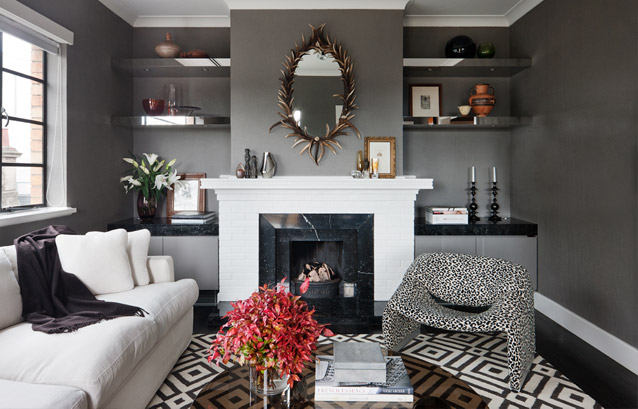 A bespoke St Kilda apartment that sits atop a Deco building with views of the city and bay. The dark colour palette was selected to provide a warm, cosy interior. The antique horn mirror is of particular note from Graham Geddes Antiques in Melbourne.
Who are the people alive or dead that you think are/were truly inspirational?
I think people are inspirational for different reasons. These could be work ethic, taste and style, for the work they have created and just general intrigue. I would have to say that in this order the people that are truly inspirational are my staff, Tom Ford, Richard Neutra the architect and Hedi Slimane, now head designer at Saint Laurent, formerly of Dior.
How would you describe your signature style?
The David Hicks design philosophy is founded on a holistic approach – considering architecture, interior design and decoration as one. Space and form, materials, finishes and furnishings are refined to ensure enduring quality and a unique expression of the client's intent within each project. We have a modern luxury aesthetic which is achieved through the cultivation of ideas that are brought to life in spaces that surprise, captivate and create desire or provide sanctuary.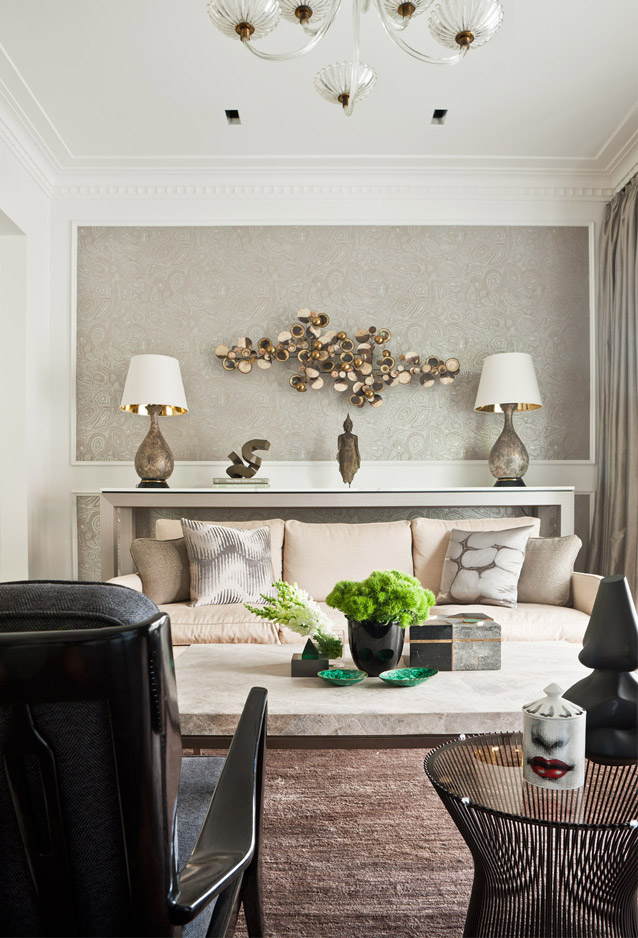 A renovation of a 1920's house in Melbourne has a vintage Italian undertone to it. Wallpaper panels on the wall with Fornasetti Agate pattern provides a backdrop to the vintage Curtis Jere raindrops wall sculpture.
What matters to you most in the work that you do?
I am very concerned with detail and quality on each project. I like to try to achieve the best out of everything I design. It is such a personal thing for me being a designer as I am doing what I love. It is sometimes hard to please everyone, even clients sometimes, as design is such a subjective matter. What ultimately matters to me most is the client's happiness with the end result.
Do you have a favorite residential project?
Every project we do is totally different and I really do like each and every one of them for their differences. One of my favourite projects is one that we have just completed where we were involved in the building design, interior design and decoration along with the garden and landscape design. This project was so fulfilling as it was such a cohesive effort. It allowed me to create a total experience for the client that has become a haven for them and their family.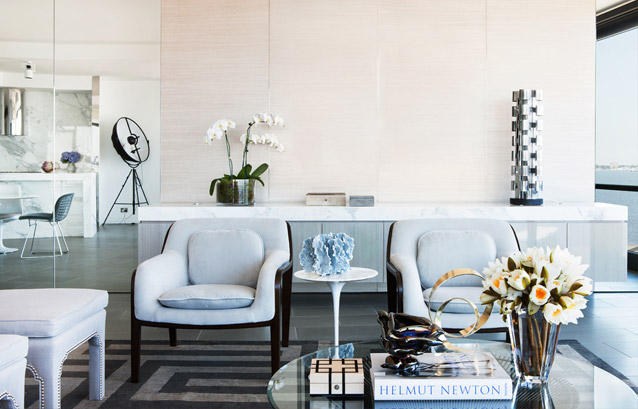 A serene palette of soft materials blend together to pick up the colours of the beach view outside. A collection of vintage furniture provides a further layer of softness. The vintage Curtis Jere skyscaper chrome lamp acts as a beacon at night.
What is your design pet hate?
My pet hate is bad detail and laziness in design. When something is not rationalised it really irritates me. I see so much laziness where things have just not been resolved. I suppose this is also my pet hate – that I am so analytical.
What do you think works without fail?
Keeping things simple and well detailed works very well for me. When things are edited and considered it shows. I also like to have fun with my decorative side and do often use elements that traditionally are not supposed to go together. This gives an element of surprise that also works.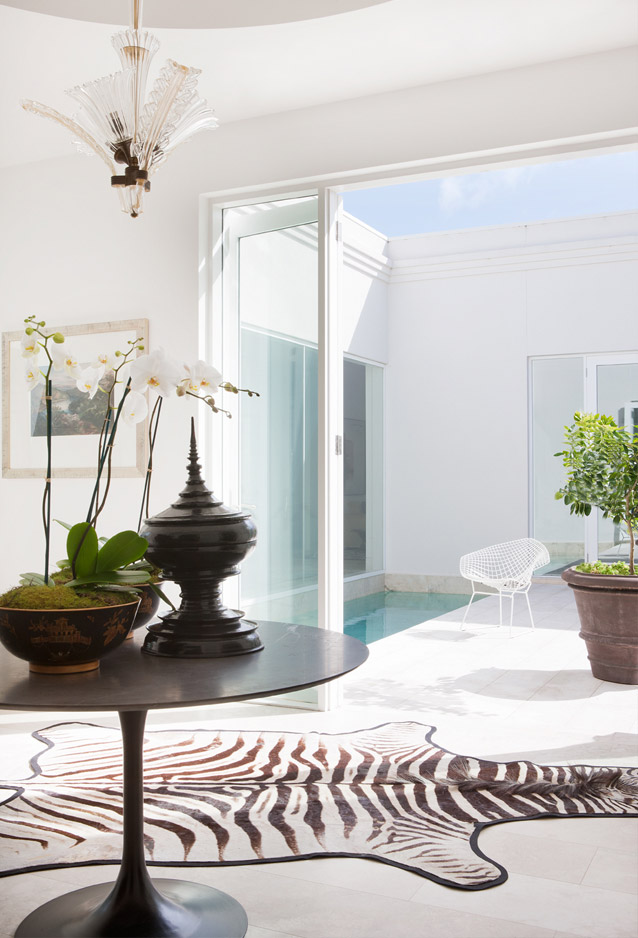 A new build project in Toorak, Melbourne with architecture and interiors by David Hicks. This house evokes modern Los Angeles design with its clean lines contrasted with vintage pieces.
You oversee a team of employees – what do you look for in the people you work with?
I look for the hunger. I have always been hungry and I find this can be one of the most important things you need to succeed. I also look for skills such as design or technical. Sometimes a person will be great at one thing but not the other. If you can pin point this and ensure that the person is aware of their capacity and they have the hunger to go further and they fit the company design style – then this is what I look for.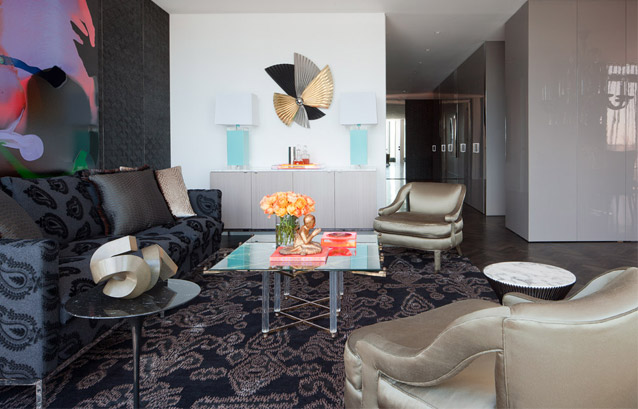 A fun refurbishment of a Docklands penthouse in Melbourne. Pattern and colour is juxtaposed to play on the Dale Frank painting. Paisley and ikat patterns contradict but sit easily together whilst vintage aqua lamps and fluoro orange bowl by Alexandra Von Furstenberg add another dimension to the painting.
You have had much peer recognition over the years. Is there a key moment that matters most?
There have been many moments and people that have mattered to me. It is very hard to pinpoint one in particular. Design is not something you can sit in a room by yourself and do. It takes many people to make it work and to give recognition.
What would the future bring that would make your career complete?
I do not think that my career will ever be complete in design. There is too much to do……
David Hicks
www.davidhicks.com
Photography: Shannon McGrath
shannonmgrath.com
Become a member of Temple & Webster at templeandwebster.com.au/habitus and enjoy $15 off your first purchase with code HABITUS!
Tags: David Hicks, Temple & Webster
---