In 2017 Rebecca Gibbs began Example, a brand, marketing and PR agency, as a joint venture with business partner Andy El-Bayeh. In 2019 the duo opened Example House in Rushcutters Bay. Formerly a mechanic's workshop, the space is not just the headquarters for Rebecca, Andy and their team of 17, but a flexible co-working space offering a range of membership options for freelancers, contractors and small-medium business teams. Having worked alongside each other numerous times previously, Caroline Choker and Vince Alafaci of Acme designed the unconventional office space off an open brief and sincere understanding of Rebecca, Andy and the values of Example.
Yet like many of us, Rebecca's intentions while studying envisioned a very different career path to that which she has now found. Studying a Bachelor of Arts in Media and Communications and working part-time at café, fashion journalism is what she had in mind. Early in her studies the café owner's wife, Sally Burleigh, offered her a week's internship at her PR office – one week turned into four years studying and working full time for clients across the entertainment, lifestyle, travel, and fashion and beauty industries.
"It strengthened what I was learning at university because I was getting to practice every day," says Rebecca. In addition, two full-time commitments taught her vital life skills in time management, personal discipline, and the ability to prioritise.
After university Rebecca moved to London and found a job with LD Communications. Here she stayed for three years between 2010 and 2013 and worked across some of the United Kingdom's most momentous events in recent history: The royal wedding (2011), The London Olympics (2012), and a milestone for Rebecca personally, the Rolling Stones 50th anniversary (2012-2013).
Not really planning to come home anytime soon, Rebecca was met with an offer to become Merivale's in-house publicist: too promising to refuse.
From the very beginning, Merivale has been known for its collaborative efforts with some of the most celebrated local interior designers and architects. One of its first hospitality venues, The Establishment Hotel (2000), was famously designed by SJB Interiors. "One thing that comes through at every stage of a Merivale project is this idea of collaboration, of being able to bring together experts in their field to create these incredible properties, and how closely all these elements work together to create Justin's vision," says Rebecca.
The Coogee Pavilion (2014) is a very significant venue for Rebecca, one that spans her first months with Merivale up until the present, still managing the venue's PR externally as Example. Three months in to her new role Merivale acquired what was then known as The Beach Palace to renovate, rebrand and reopen it putting Coogee Beach on the map in the way that Bondi is. Now, six years later, Example announces the opening of three new venues on the middle levels in late January 2020.
Which brings us back to Example and why, when you've got one of the most sought after jobs for one of the most innovative and successful hospitality giants in Australia, one decides to leave. Put simply, progress in the company is difficult when you're the head of your department, and for someone like Rebecca, who before she even fully began her career she was exceeding, growth is important.
A difficult decision that turned out very much to be the right one, saw Rebecca pursue contract jobs while she tested out next steps and potential directions. Andy El-Bayeh, who she had worked with and alongside at various points in their careers, became a regular collaborator on these jobs until they eventually decided to make things "slightly more official" – establishing Example. Expecting this to be a fairly small operation for a fairly large amount of time, when Jamie Oliver began buying back his restaurants in Sydney and Melbourne, he signed on with Rebecca and Andy. And so followed other major companies such as Merivale and later Diageo.
At its most refined, the ultimate goal for Example was to create something that offered an intimate understanding of the hospitality industry. "We wanted to create and offer something that had a really intimate understanding of the hospitality business." Says Rebecca. "Not just from a brand point of view but the actual operations and inner workings. It's a complex industry and there are a lot of things that you need to consider when you're marketing these companies."
As a key business practice they also pay particular attention to the constantly evolving nature of marketing and PR, making sure the existing team is always learning and up-skilling – and motivated to do so – and hiring for emerging specialties when that is what's required. In fact, recruitment has been an emphasis for the business, making sure that it's finding the right people and creating a culture one would want to be a part of.
And Example House is the perfect example of that. Between them, Rebecca and Andy have worked in a number of different offices including WeWork when they first started out. Fast growth encouraged them to find an office in Darlinghurst that could accommodate ten people, but it was a tight ten and although they didn't expect to grow beyond that, they soon did. Happening upon this former mechanics' site, they were immediately drawn to the building and its history. Bigger than they needed, they decided to open the space up to the wider community of creatives by way of a co-working office that catered to a variety of working habits and styles. This also gives the company the flexibility to be buoyant with staff number without concern of paying for empty space, or perhaps more likely, running out of space.
There are currently 17 people in Example's team and capacity in the space for approximately a third more, yet a calm energy reigns. Something Rebecca generously attributes to the finesse of Acme.
"We knew that it had to be Acme. We'd worked with them very closely on lots of new venue launches over the years," says Rebecca. An informal brief ensued, though it was important that there were plenty of loose spaces for people to break away to: "We didn't want it to be that traditional office set up". Both client and architect wanted to showcase the bones and history of the building, to celebrate the past rather than design over it.
Example House is uncanny as a reflection of Rebecca's career path so far: unexpected turns that once made, feel just right.
Example
example.com.au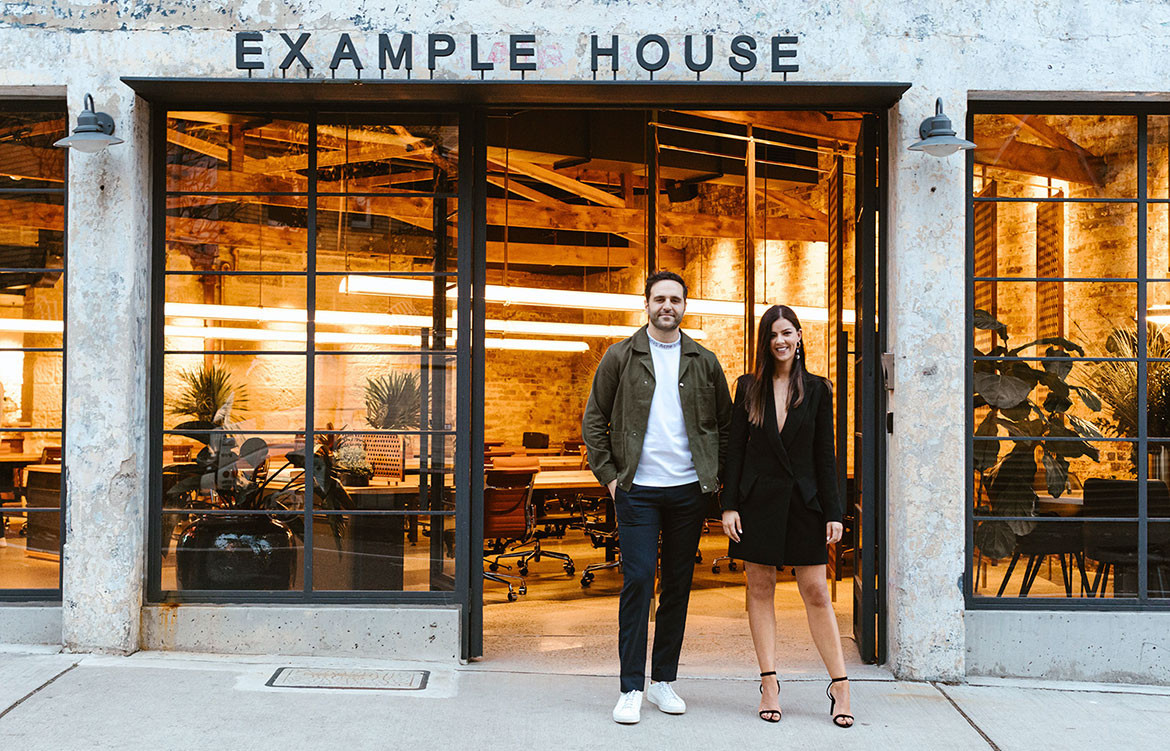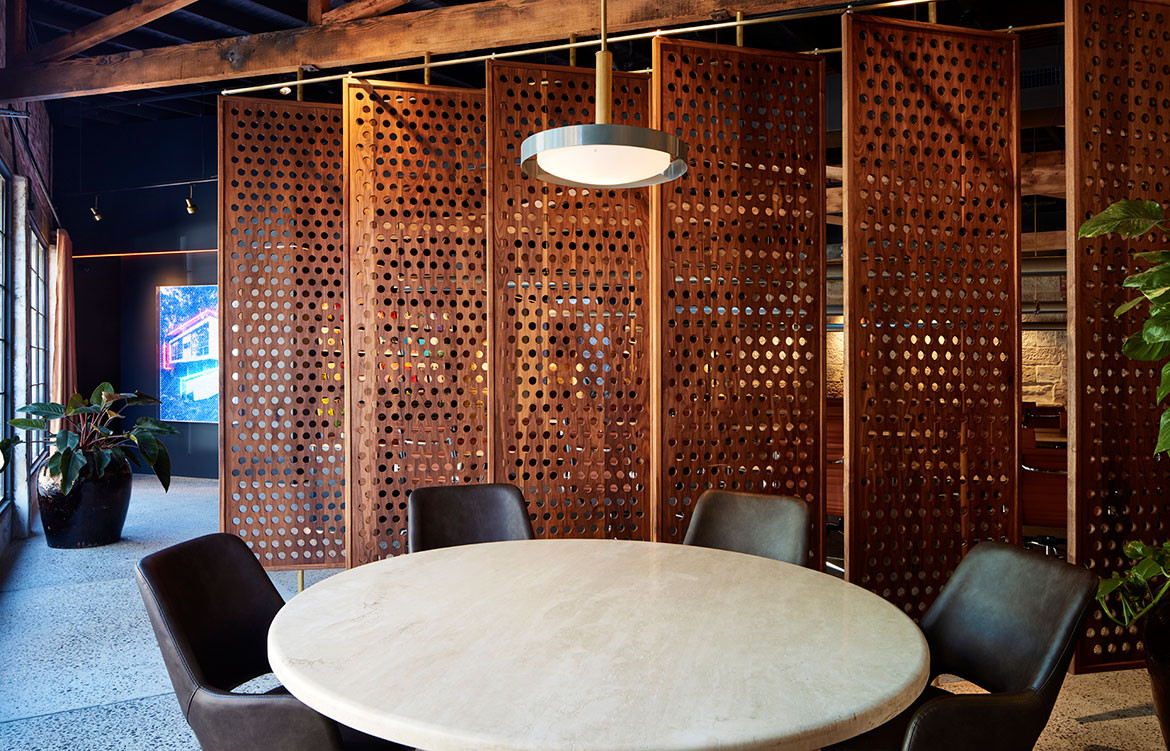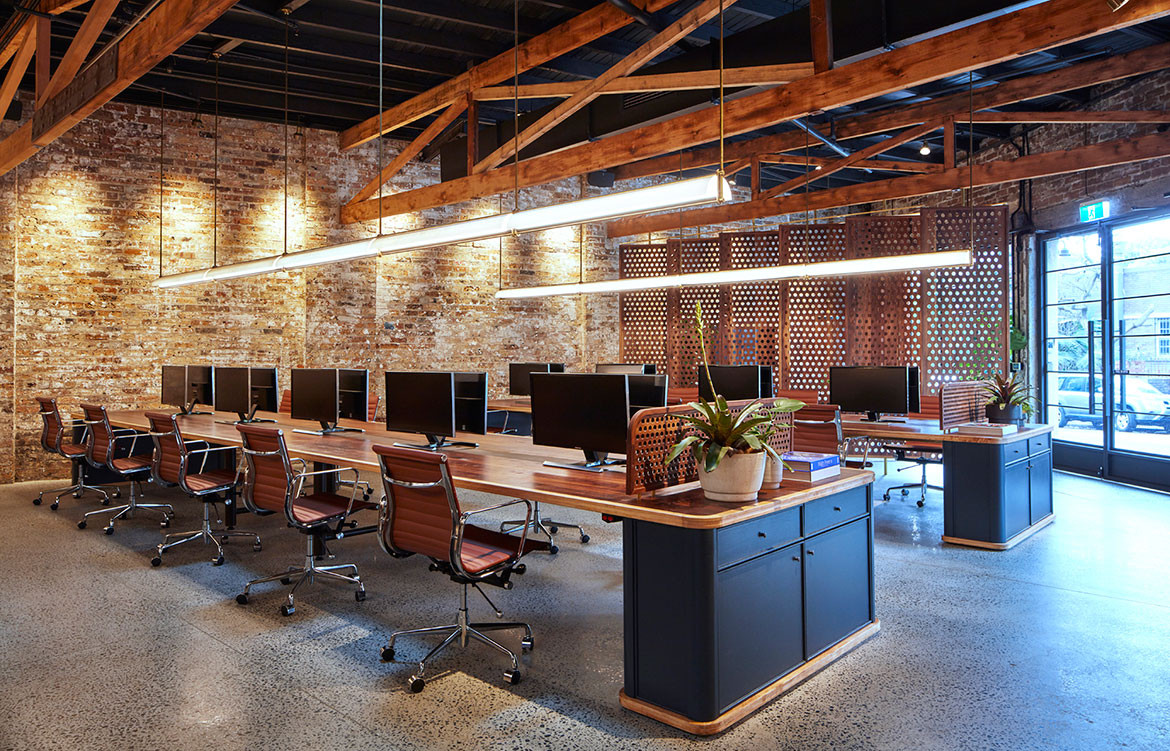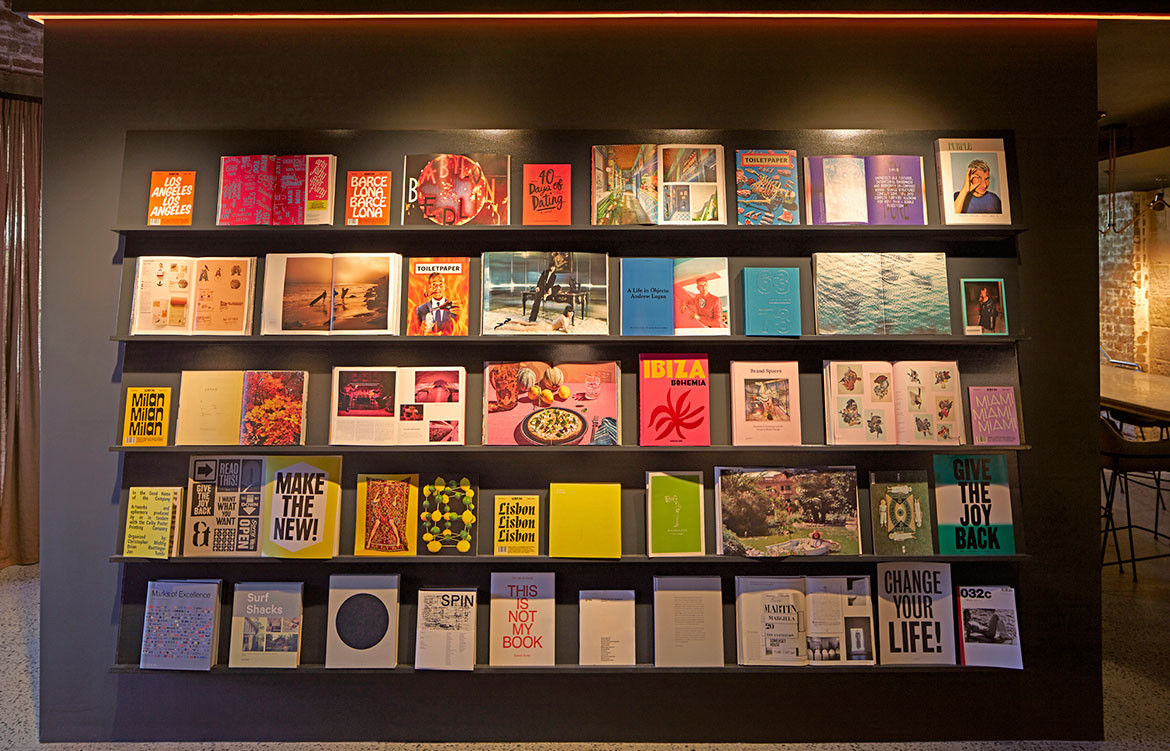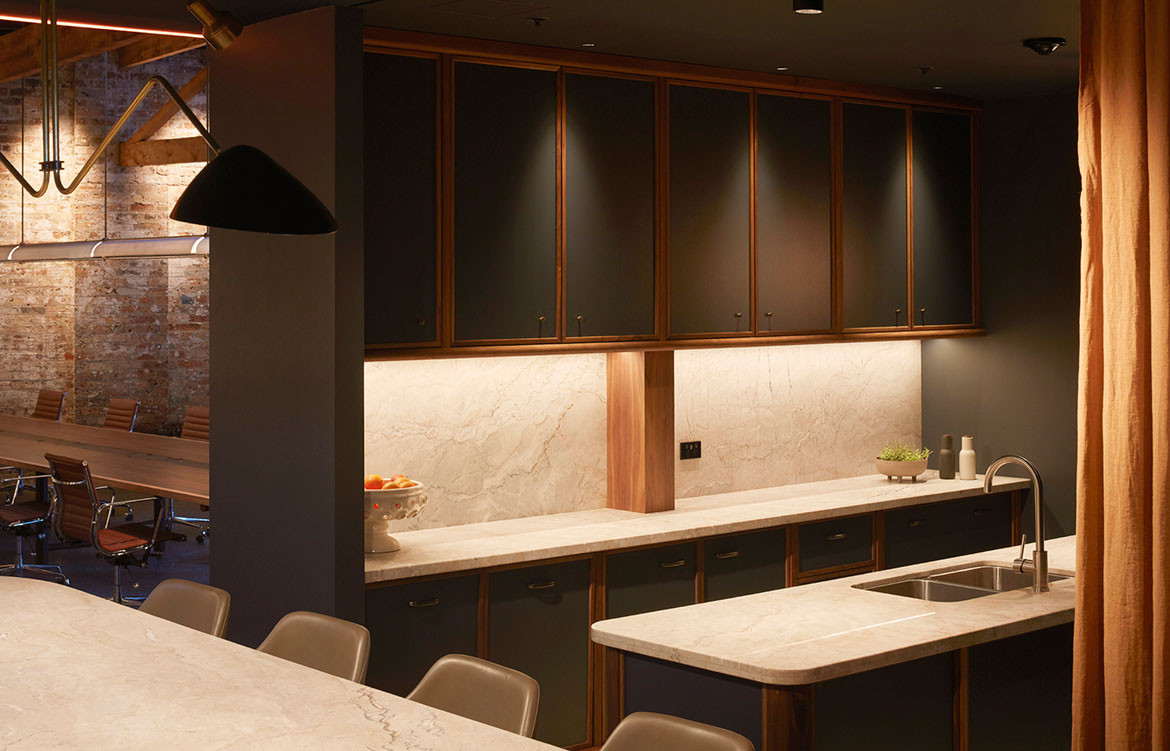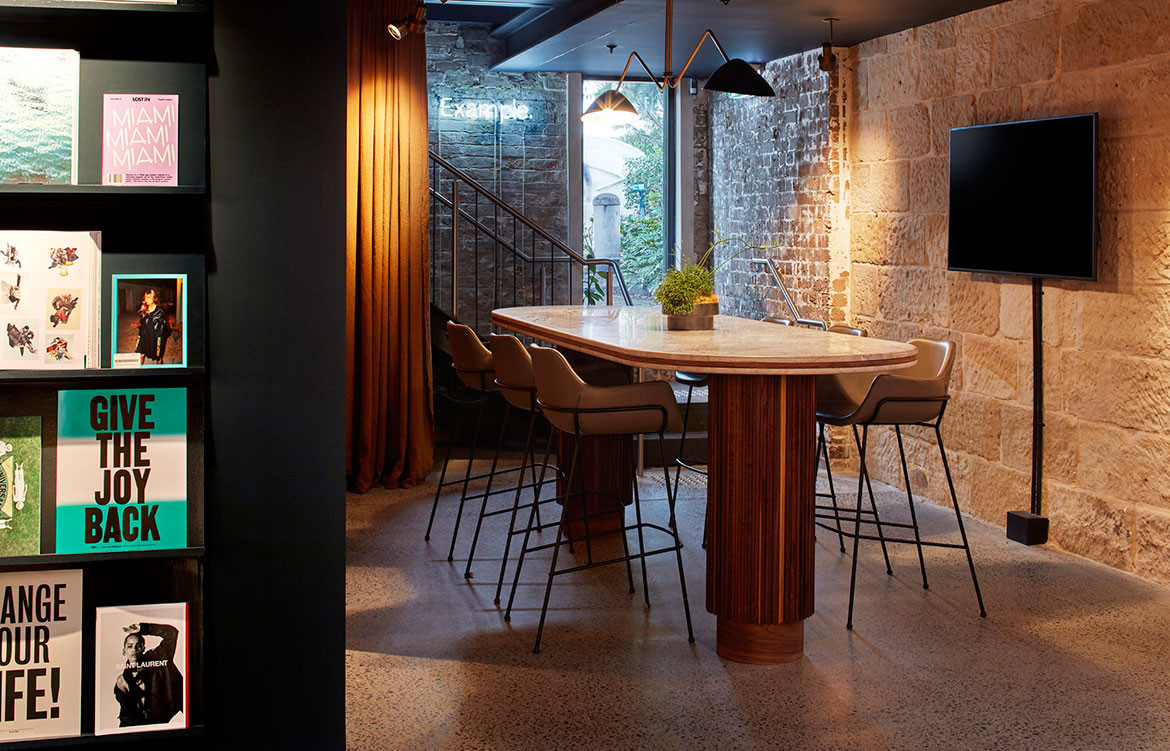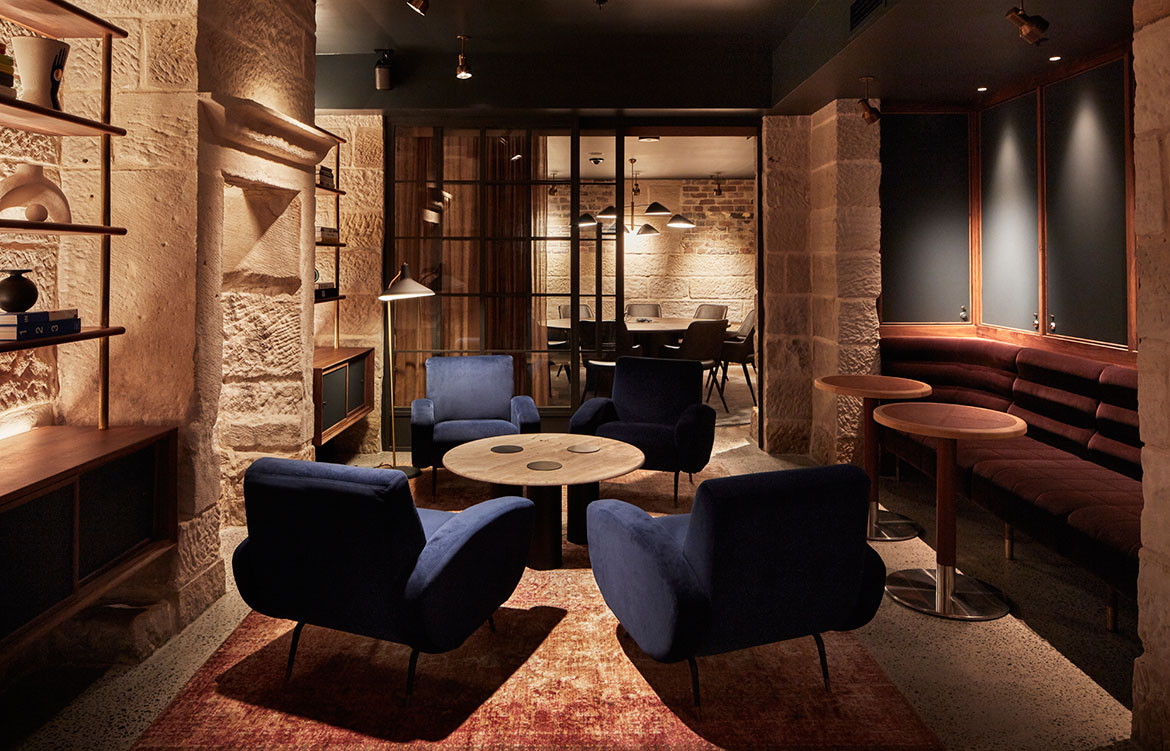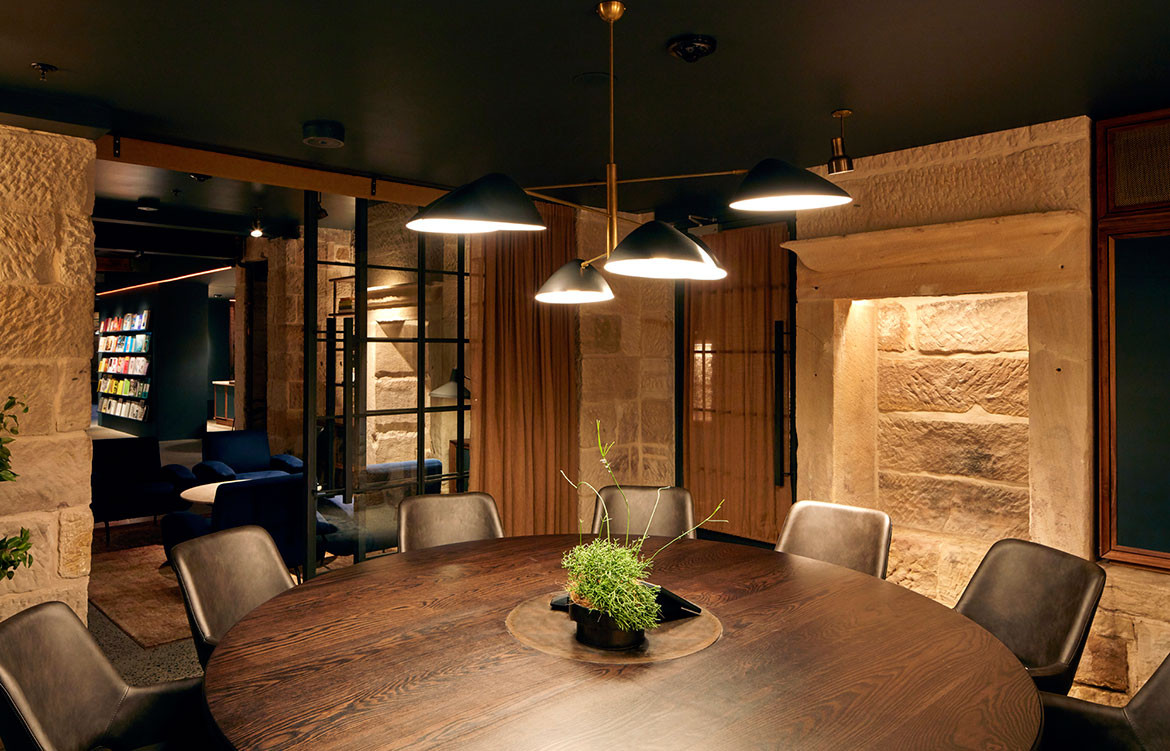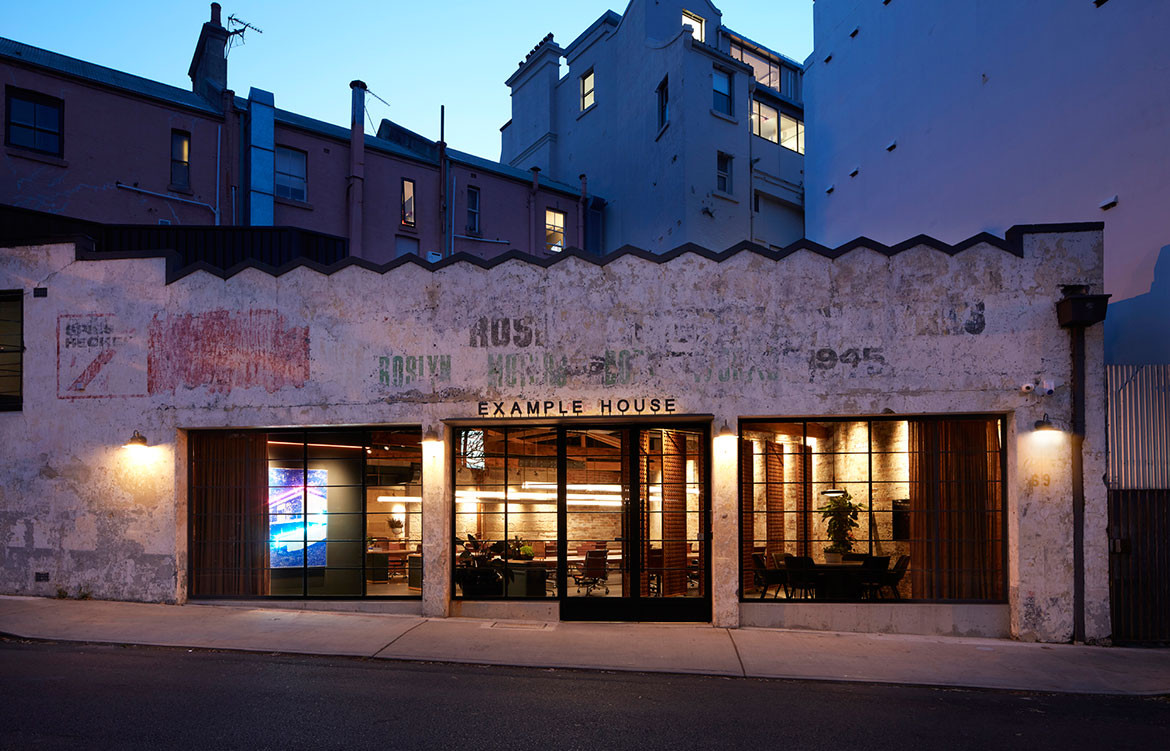 We think you might also like 5 Minutes With Acme
Tags: Acme, Andy El-Bayeh, Caroline Choker, Example, Example House, Holly Cunneen, Merivale, Rebecca Gibbs, Sally Burleigh, Vince Alafaci
---