Sam Leach's exhibition Dymaxion presents new and dynamic works explorig colour and scale that further his investigations into the concepts of Humanist and Futurist theorists such as Buckminster Fuller and Jacob von Uexkal.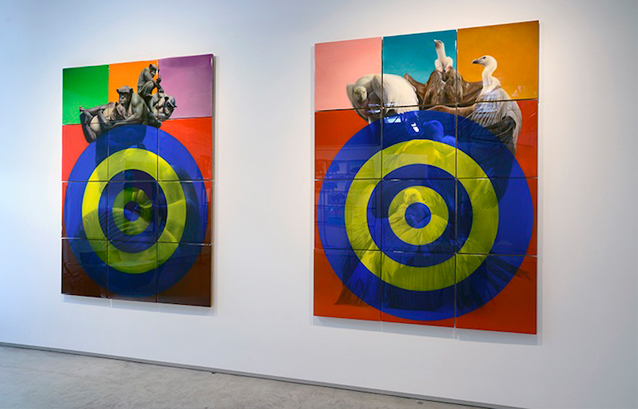 As Simon Gregg, Curator, Gippsland Art Gallery, states "Leach's paintings exude more than a faint aroma of scientific enquiry. Whether his primates, birds and other creatures are merely participating or actually conducting these enquiries is not clear, however there appears to be some form of logic at work whose parameters we can only speculate."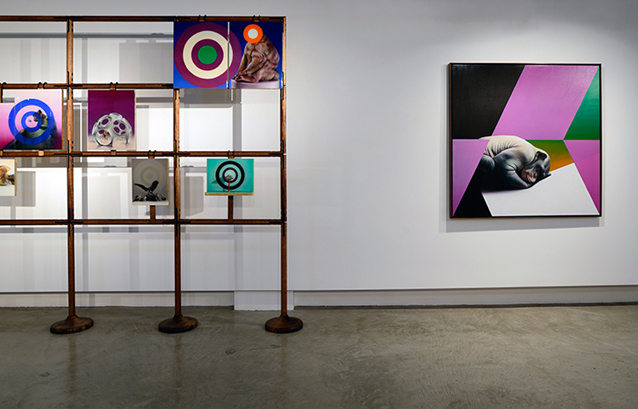 Leach assesses how reality has been perceived and produced historically, contesting ontological hierarchies. By questioning the culture of science and the modern dualist philosophy of man vs. nature in particular, Leach invokes a discourse about how new scientific knowledge constantly changes the relationship between humans and animals. 
Judy Millar's exhibition I Give You The End of A Golden Thread continues her exploration of the possibilities of gestural abstraction by using direct painting, screen-printing and digital reproduction on canvas, overlaying the techniques of painting and printing to create visceral canvases which enact a sense of the body.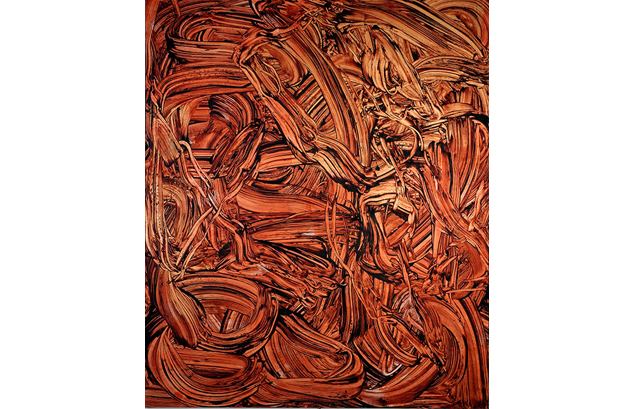 Snake Gate 2 by Judy Millar
In these works Millar succeeds in creating an experience of painting through which both hers and the viewer's world is directly addressed via a perpetual motion of ideas which inform the work – as Millar states, painting "is a way to think in a fluid medium". In both this body of work and in Millarss upcoming solo exhibition at the Institute of Modern Art, Brisbane in June, she has moved away from the academic and conceptual to create a highly personal exhibition: "I seem to have been surrounded by death – in response I wanted to come up with something life affirming, death denying and splendid", she comments.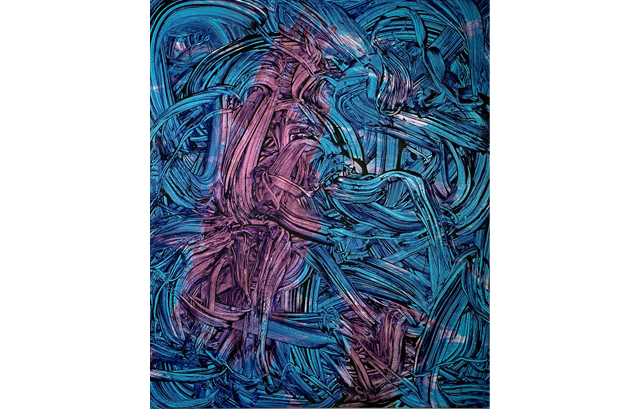 Snake Gate 4 by Judy Millar
Millar's colour paintings conceal traces of her working process, creating a visual tension between reality and illusion where the hard-edged and the gestural go hand in hand and the physicality of the artist is presented through definitive markings. These are images began with paintings but in all respects are intriguing for their similarity to photography's conceptual visual framework rather than abstract expressionism's perceived fluid thought process. 
Dymaxion and I Give You The End of A Golden Thread will be on display at Sullivan Strunpf gallery from 7 May to 8 June 2013. 
Opening drinks will be held on Saturday 3 May at 3pm, accompanied by an artist's talk with Sam Leach and Andrew Frost.
Sullivan + Strumpf
sullivanstrumpf.com
Hero image: Sebeok On Safari by Sam Leach
All images are courtesy the artist and Sullivan + Strumpf
---