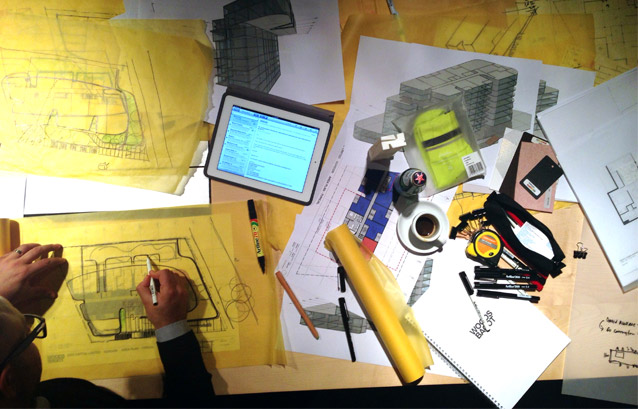 On My Desk: 
"I spend a lot of time drawing on yellowtrace, but I use white as well, Campos coffee from our coffee machine, a 3D printed model, San Pellegrino, samples for a project we're working on, my pencil case, tape measure for scale, my Woods Bagot notebook, lots of pens and pencils – can't live without my Lyra coloured pencils and liquid paper for mistakes – mistakes are good, my recently arrived mail order cycling oversocks, my iPad for email."
Design Huner Q+A:
Your name: Domenic Alvaro
What you do: Design Principal, Sydney studio, Woods Bagot
Your latest project: Bourke Street apartment development and Residence for the Ambassador of Kuwait in Canberra.
Who are three people that inspire/excite you:
1) Herzog & De Meuron
2) Antonio Citterio
3) My family
What is your favourite…
Car/bike/plane/boat model: My Pinarello Dogma and Wally power boats
Chair model: Superleggera by Cassina
Residential space: John Lautner's Arango House, Mexico
Commercial space: Swiss Re (the Gherkin)
Decorative product: Mid-Century Danish Ceramics
Functional product:  Sori Yanagi cutlery
Handmade good: The Grid from AB Projects
Meal: Home made pasta and tomato sugo
Restaurant: A Tavola, Darlinghurst
Drink: single malt scotch whisky, (Suntory)
Bar: New York's Standard Hotel roof top
Piece of technology: iPad
Historical figure: Michelangelo
Fictional character: Have to say James Bond
Vice: Chocolate
Virtue: I never quit
What does the term 'Design Hunter' mean to you?  Design Hunter. That continual quest for new and exciting evolutions of all things design including experiential not just product.
From high profile designers to trendsetting design hunters, the SID Insiders will be leading the Sydney Indesign experience by lending us their eyes and ears, sharing their thoughts on Sydney Indesign and giving a personal insight into their own design journeys. 
From their approach to Sydney, favourite haunts and city tips, right down to how they navigate their lives, make sure to follow their Twitter, Instagram andFacebook pages as they share their own experience of Sydney Indesign.
Register now for Sydney Indesign
sydneyindesign.com.au
Tags: Woods Bagot
---