Established in 2015, Australian brand Spiggy was created to bring a fresh perspective to the local architectural hardware scene. With founder Colin Wright at the helm, Spiggy has continued to define and redefine the role of architectural hardware as we know it.
Enthusiastic, passionate and driven, Colin talks us through his contribution to the Australian hardware landscape.
Habitus: How did the brand begin?
Colin: I worked as a designer in the UK prior to relocating here to Australia – when I arrived, I noticed that the choices for handles here were pretty limited. I saw a gap in the market for something more creative, something design-driven and better suited to the stunning architectural projects that I was seeing in Australia.
Habitus: Who were your first few collaborative partners? How did they influence your development?
I first approached Philip Watts of Philip Watts Design. I had used his products in the UK and wanted to see if we could represent him over on this side of the world. They had just started to expand throughout Europe, the Middle East and the USA, so the timing was perfect and we secured distribution for Australia, New Zealand and the South East Asia region.
Our first project together was for a collection of bespoke handles that really crossed borders from design to production – the collection was based on a sketched brief from a designer in Moscow and installed at NZ's largest private residence in the Bay of Islands for a Russian oligarch. I spent the next few years searching for another brand to represent, something more architectural to contrast with the more sculptural form of Philip Watts Design.
I was determined for us not to be just another supplier of handles. I didn't want to just stock us up with brands – the focus had to be based around design and designers.
Habitus: It seems like that first connection really set the tone for the brand. How did you keep up the momentum from there?
I eventually discovered an up-and-coming brand of the time, called Buster + Punch. Headed up by Buster Minale, an architect and custom motorbike enthusiast, I really connected with his creative process: using the techniques developed when building his motorbikes, he could transform ordinary hardware into something extraordinary. The brand has since transformed the design industry, with a growing collection of products quite literally achieving icon status. Sadly, such success is inevitably followed by many copies – while Buster + Punch continued to create new design icons, I became even more determined to represent authentic design.
Our latest collections epitomise this strategy and include products designed by globally recognised architects and designers. From architectural greats such as Arne Jacobsen, Frank Gehry and Norman Foster, to some of the world's most influential product designers such as Tom Dixon, Jaime Hayon and Karim Rashid. We are also keen to add some local names to our portfolio and would welcome enquiries from Australian designers to create new collections in alignment with our suppliers.
Habitus: What do you see as Spiggy's mission and purpose?
Our mission is simple: to provide an exceptional collection of authentically designed hardware, created by some of the worlds most renowned designers, transforming the doors of the design conscious. Our purpose is equally simple: to supply authentic, designer doorware for Australia's finest architectural projects.
Habitus: There's a lot of clarity in that mission and purpose. Simple to articulate, but certainly much more difficult to achieve in practice! How do you think this has driven Spiggy to be different to other brands in the hardware landscape?
Traditional hardware suppliers tend to represent numerous brands. While this gives you an overwhelming selection, the products tend to be significantly varied in terms of quality and standards.
At Spiggy, we have carefully selected the brands that we represent to provide a broad selection of products for a variety of applications, ensuring that every product is designed by reputable creatives and produced to the very highest quality. Keeping our brand offering to a minimum also means that we can really specialise in the brands that we represent.
Habitus: How do the designers and brands under the Spiggy name reflect its core values?
They are authentic, creative and dare to be different. In the same way that we have reconsidered the retail experience for handles (our new Brisbane showroom designed by Alcorn Middleton), the brands that we represent approach the design of a new handle from an entirely different perspective, starting from a blank page with every new product.
As designer Tom Dixon notes, door handles have "a particularly difficult and hyper-functional set of challenges, because they've evolved rather than being designed."
Habitus: In your opinion, what is the role and importance of exceptionally designed hardware products in our present context of architecture & design?
Architecture is predominantly visual. We admire the design, we can see the texture, the scale, the light, the shade. Handles, however, are the first touch point to any architectural piece, so as well as visually working with the scheme, they will also make an immediate connection with the user. It is therefore vital that both the aesthetics and kinetic qualities of the handle are carefully considered to appeal to our senses.
Does it look exceptional? Does it feel exceptional? How does it make you feel when you touch or use the handle?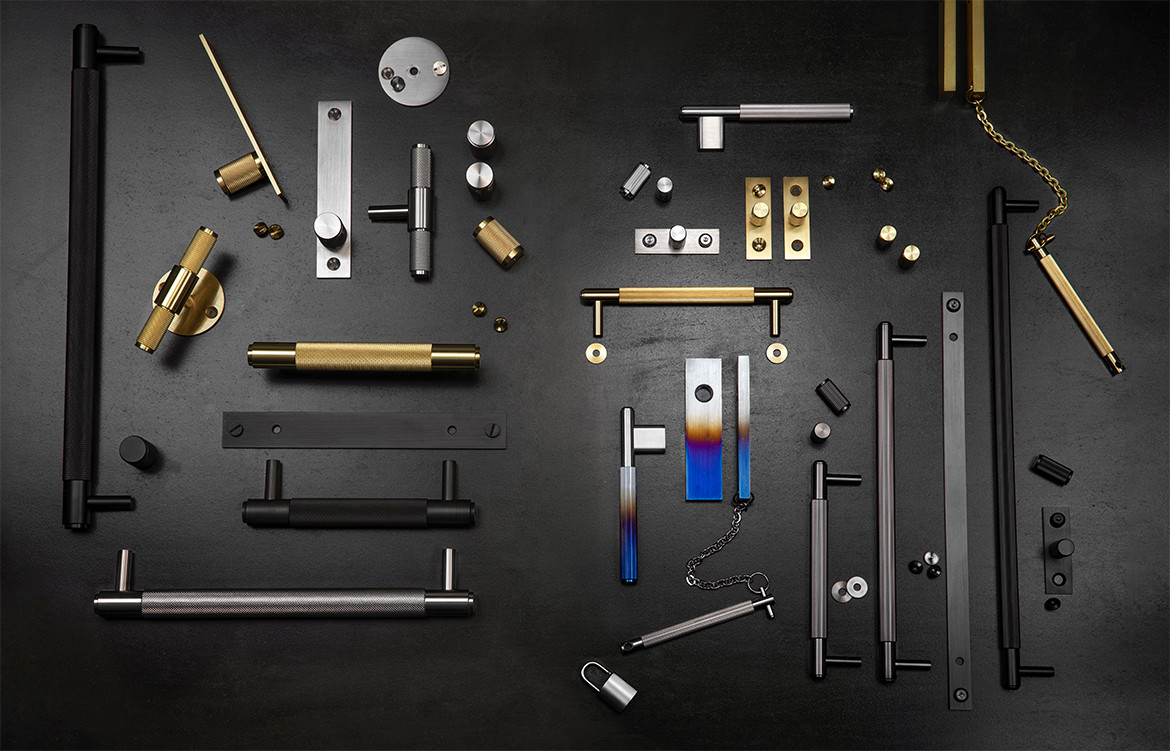 Habitus: That kinetic connection really is key to interacting with architecture – it can be so visceral. What do you envision for the future of Spiggy within the Australian architecture and design landscape?
Spiggy will continue to be a 'boutique' hardware supplier. We are not interested in being measured by the number of products that we represent. Instead, we will continue to remain true to our core values of providing authentic, exceptionally designed, quality products, appealing to a distinguished architectural and design client base.
Spiggy
spiggy.com.au
---