Above: Trophy Vase (left) and Stelingnight Formation (right)
The patterns of life and growth within our surroundings correspond to geometrical formulae that echo throughout our existence; there is no doubt how closely the spirals of natural occurrences such as snail shells, ferns and the growth pattern of leaves resemble the structures in our own bodies such as the cochlear of the inner ear and the corkscrew formations of protein molecules. It is thus obvious to see the resonance that exists between us and our environment in a pre-existing atomic relationship.
At a molecular level, it is possible that we connect more strongly with certain shapes and that the geometrical structures of our surroundings also influence our 'life force' or biological electromagnetic fields. Andrew Bryant uses his arts practice to connect with the natural world in an attempt to better understand the patterns of our environment and to blend a visual language of his terrain into human communication. He employs the basic, natural elements of earth, water and fire to create forms that are reminiscent of the local topography in which he lives and which energise space on a level that speaks to an intangible and ancient power.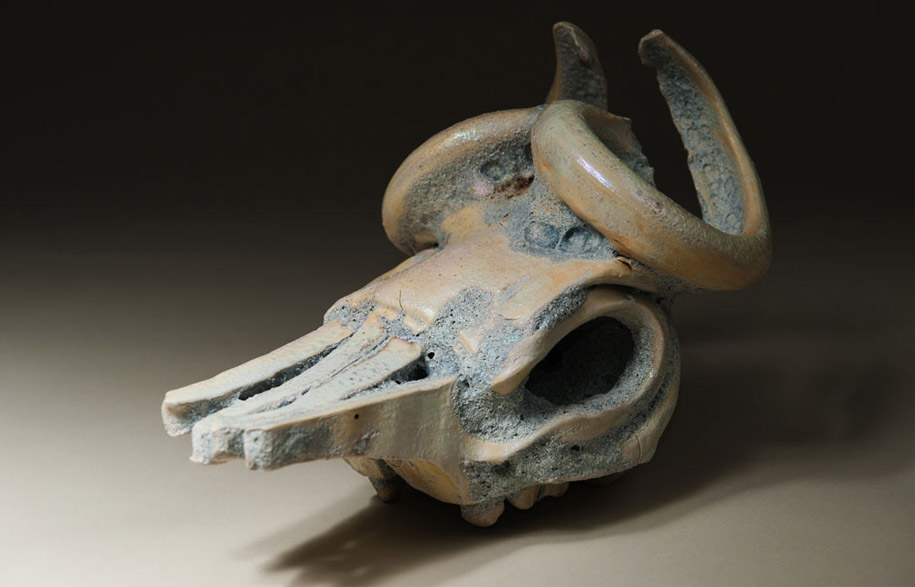 Lateral Space 021
The concept for his work is underpinned by the caprice of a ceramic form being akin to a living, breathing entity. For most of his work he uses techniques that reveal the skeletal components that could be imagined within and transforms them into sculptural pieces. Clay originates from the earth and is the most ancient of all worked material. In many cultures it is the belief on a mythological level that human kind is fashioned from clay and this is a well-considered addition in his choice for its use. His surfaces encapsulate the beautiful rock formations of sandstone and granite that make up the shore line of his home at the Sunshine Coast in Queensland. Using various paper clays, heavily grogged clays and porcelain for his work, he employs different firing environments to produce pieces that transmit strength and security in their rocky mimesis.
As part of our natural balance, our desire to exist in a place that is healthy for the mind and spirit is strong. Dwellings that have an exchange between interior and exterior materials and properties seem to accomplish this need. Bryant's sculptures carry ancient symbolic patterns, which compress the external into a form that seems to unleash raw natural energy into the space it occupies.
Bryant has worked in the ceramic field for 25 years. His experience ranges from production pottery to lecturing in Visual Arts. He currently lectures at the Sunshine Coast Institute of Tafe. He has exhibited across Australia and South Korea.
Andrew Bryant – Carbon Made
andrewbryant.carbonmade.com
About the Author: Caroline Ezzy has worked as an interior designer, radiographer, decorator, drawer and painter. In 2012 she become a convert in the field of ceramics. Writing about other ceramic artists has become a recent pursuit with published articles in two international ceramic journals.
---