Elke Kramer is the designer of Australian jewellery label Studio Elke, and she is almost always seen wearing a pair of her signature tassel earrings, with the rayon tassels gracefully brushing against her shoulders. Propped against her hip is nine month old baby Asher, and the pair of them are welcoming. "Vivienne Westwood once said: you have to design the same thing for seven years before people recognises you as a brand," she begins, "And although I'm not intentionally doing it, I have a voice, a creative voice, and I can't control what I design."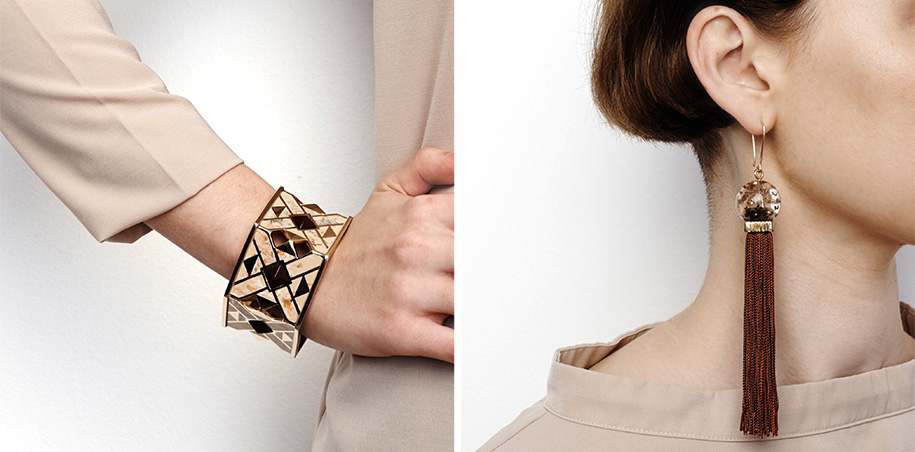 Sorcerer Bracelet / Tremble Tassel Earrings

For their Autumn/Winter 2016 collection, Studio Elke has created The Dreaming hero collection, which is largely inspired by Elke's business partner, Kate Hurst's, family trip to Robe in South Australia. Comprised of reworked favourites, like the Tremble Tassel Earrings, and newer iterations like the metal heavy Disorientation Earrings, the collection is earthy and maintains the signature aesthetic of Elke's work.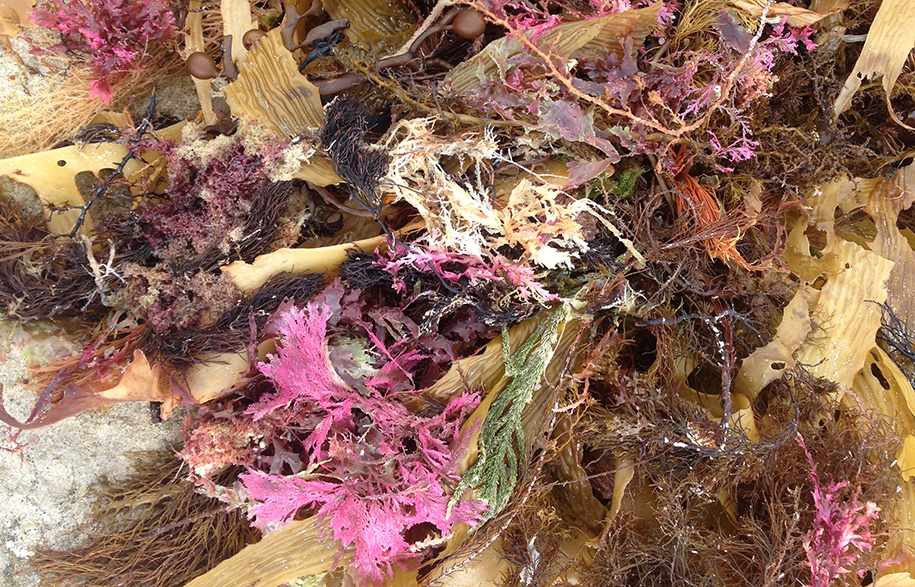 "I've tried doing things that are non-symmetrical, and I hate it. I try and do things that are organic, like using a riverstone, and I hate it," Elke says while laughing. There is a strong sense of symmetry that permeates all of her work, which, she thinks is largely due to working with Adobe Illustrator, and seeking a sense of balance in a fast-moving mind. "Getting something visually perfect is like solving a maths problem, and there's a certain joy in getting something really exact. I think if I were to go straight from sketching into making something, there might be a little bit more softness. But the rigidity comes from Illustrator, it's like using a knife, there's a precision. "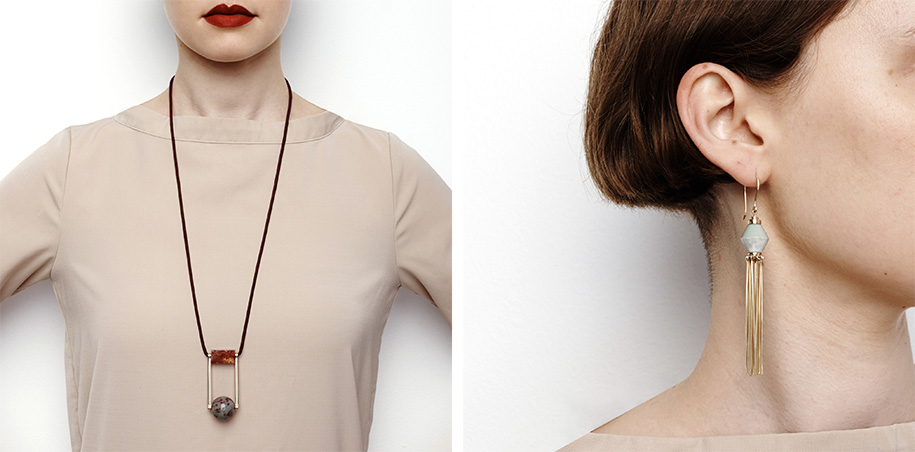 Pendant of Solitude / Disorientation Earrings

Having studied Graphics and Objects at the College of Fine Arts, the early days of Elke's career were spent as a graphics designer for Oyster magazine, before working as an in house graphics designer at Australian fashion label Sass & Bide. On a whim, while dreaming of working in fashion, she decided to make some jewellery for herself, which eventuated into a suggestion from a friend to create some jewellery pieces to accompany a fashion runway show, and then a further request for the jewellery to be stocked in the fashion label's stores.
Faced with this, Elke found herself buying a drill press for her living room, where she spent countless hours making each piece by herself, and unexpectedly running a business. "All of a sudden it was like, 'Oh, I have to actually make this? How do I do this in bulk? What is an invoice? What's an order form?" she recounts fondly.
After a brief attempt at getting a Chinese Ugg Boot manufacturer to create the delicate jewellery, which was, "a disaster," Studio Elke jewellery is now handmade in a small factory in Indonesia, where every component of the jewellery is made from scratch. Initially visiting the factory four times a year, Elke describes the long distance relationship as one that functions with a lot of patience and experimentation, "It's definitely a process of hit and miss, and often things we don't want the manufacturer to do ends up being the best thing we've ever seen. It's almost like a recipe: a little bit of marbling with 50% translucency here, a little bit of granite there."
"One of the things that we play with a lot is creating stone like qualities with resin, and being really experimental with the use of materials to create faux stone finishes," Elke continues, "We use charcoal, we use crushed shells, filaments of copper and sand, you know, to really generate and create new things that no-one else can create. It's not like you can go to a shop and buy a packet."
For inspiration, Elke places an emphasis to never draw upon other jewellery designers as a source, instead, preferring to draw upon multiple ideas and synthesising them with her own signature aesthetics, "I like to think that what we do is a mesh of hundreds and thousands of different things that you absorb in, and when you output, you create something that is not derivative. I think if there's just one thing that you always refer to, you can become a cliché."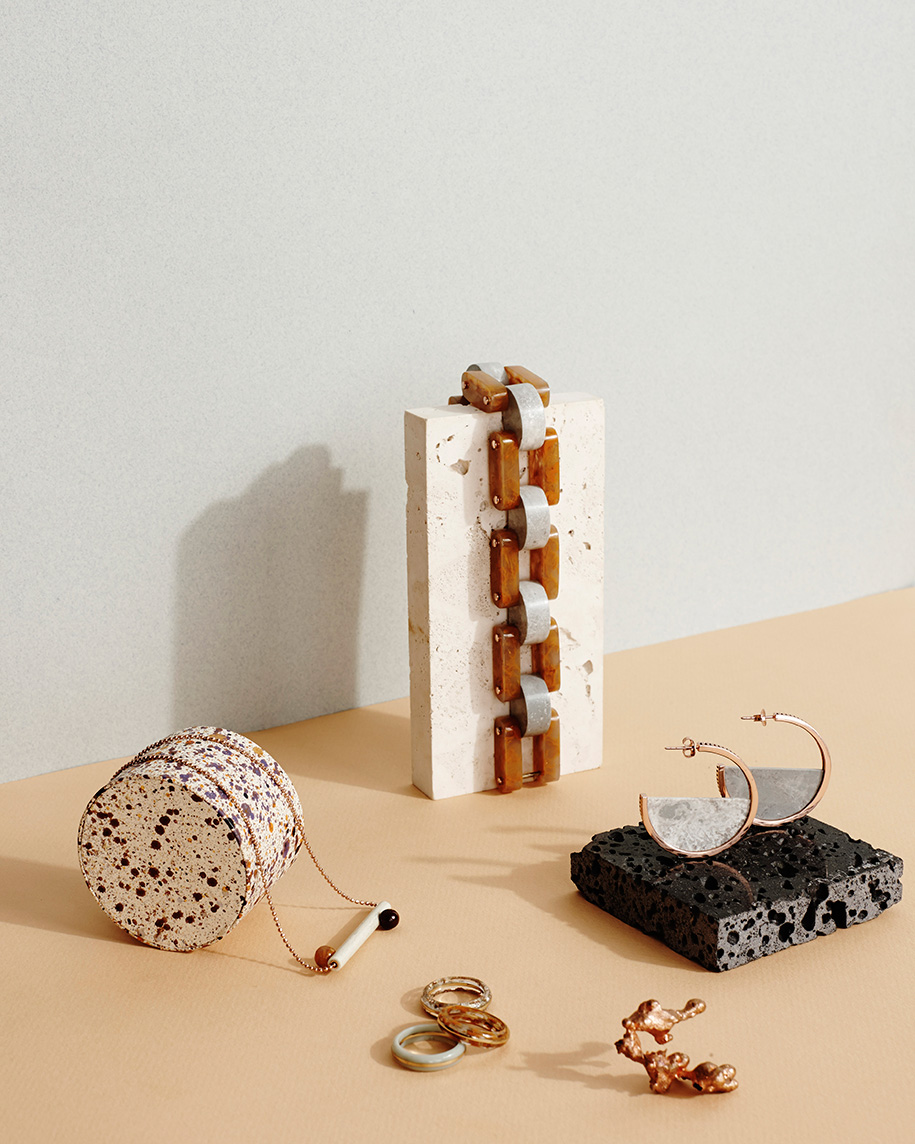 From these many points of inspiration, Elke's design process starts with sketches before migrating to Illustrator, and the act of designing is constantly evolving. Creating the perfect exactness is a long process, and Elke relies on her business partner Kate, to keep her on track.
"Starting is really hard, it's like, 'where do I go, which way do I take?' Once you're on the path and you're learning new things, and things are working, I just want to keep doing it forever," says Elke, "There is a tension though, because it's not art, it's a commercial product that needs to sell, and in order to sell, it needs to function in the system which is deadlines and fashion seasons, so sometimes you're forced to stop before you've even really reached the end, and you need to be at peace with that."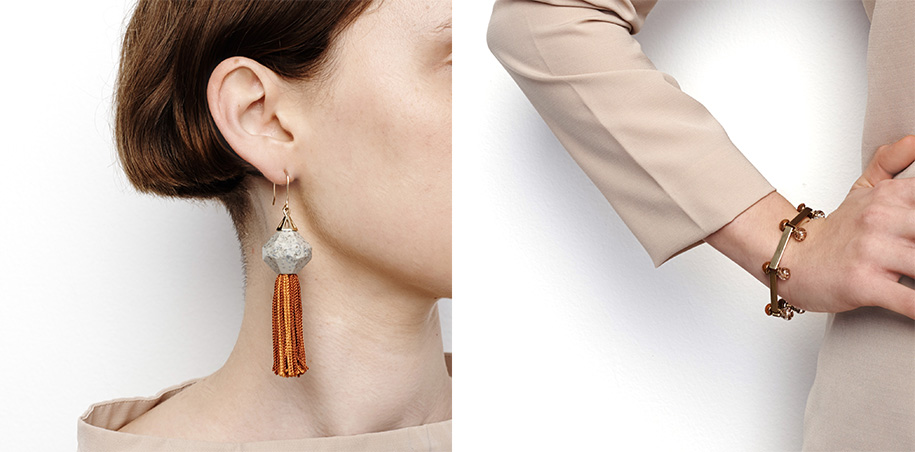 Mythical Tassel Earrings / Resin Impetus Chain Bracelet
On the horizon for Elke and Studio Elke are a myriad of cross-disciplinary forays. In 2015, Studio Elke collaborated with Australian fashion label Gorman to produce a jewellery collection, but they have more recently worked on an interior design project with Amber Road, creating lighting and tables that recontextualizes the visual feel of Elke's aesthetic.
For Elke, the transition and experimentation in other forms of design is an organic one: "For me, my jewellery does sit in the middle of fashion and object. It can make sense in both, or neither. It crosses over between art, object and jewellery. It doesn't fit neatly in any bracket, because i'm interested in all of these spheres."
Studio Elke
studio-elke.com
Tags: design process, designer, Jewellery, jewelry, studio elke
---