When it was first published in 1987, the Pontus Hulten edition of The Arcimboldo Effect celebrated the vegetal portraiture of Giuseppe Arcimboldo, an obscure Renaissance painter as "at once fantastic invention, complex political allegory, and profound metaphysical statement." Most of us just saw kooky fruit and veg faces. What's interesting in those portraits – besides the hilarious renderings of the Hapsburg courts of Vienna and Prague as future compost, which they were – is the imperfection of the produce itself. Amorphous cobs, gaudy gourds, truly gnarly tubers.
In the pursuit of apparent perfection we've colluded in the over-design of our perishables at the peril of losing all taste. Agribusiness has hijacked nutrition in favour of perceived beauty and we've played along to our own detriment. In controlled tests, consumers consistently pick the prettier produce on offer. But as more and more people begin investing time, energy and money into private and community gardens, as a culture we're going to have to become acclimatised to edible fuglies.
In 2014, French supermarket chain, Intermarché launched its 'Fruits et Légumes Moches' (Ignoble produce) campaign to critical acclaim but consumer frustration, it seemed these unsightlies were not actually to be seen in many stores. In Australia, Woolworths followed suit with its 'Odd Bunch' campaign, and Harris Farm Markets with its 'Imperfect Picks'. Thing is, most of the stuff on offer pays lip service to eccentricity while still being carefully graded within the bounds of established aesthetics. The message is strong, it's where the market wants to go – but we're not yet ready to abandon American beauty.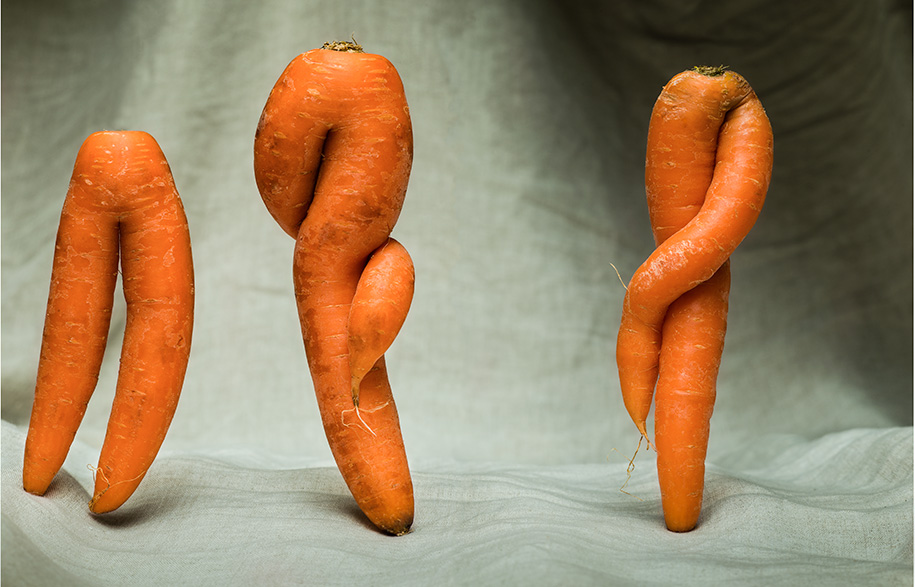 Melbourne property developer Neometro has begun working with the 3000acres urban cultivation group to embed residential and community gardening into its multi-residential offerings. The success of the pilot initiative at the 9 Smith Street, Fitzroy, development in 2014 emboldened Neometro to incorporate community gardens into its prestige Jewell development in Brunswick, Fitzroy, from the ground up. Ellie Blackwood of 3000acres explains, "Our speciality is in accessing and activating vacant land belonging to the two main public utilities – VicTrack and Melbourne Water. We've set up an open-source mapping platform that enables users to locate available land for activation, and we've developed toolkits to streamline the application and management processes. Our mission is not to target the food-insecure since there are already agencies doing that job. Our role is to normalise food access and the activation of under- or
non-used public land." VicTrack and Melbourne Water both, according to Ellie, "see that what they have is an asset for the community," but both are by nature risk-averse cultures. A large part of 3000acres' job then is to minimize this perception of risk, and also to temper the sense of immediate, permanent change. 3000acres' planting system involves modular, transportable tubs that can be easily shifted as need arises. "Since people are increasingly involved in growing their own produce they're going to have to get used to imperfection in outcome, although we strive to give them a perfect experience of community and sustainability," says Ellie.
3000acres was granted $170,000 seed funding from VicHealth. The Victorian Health Promotion Foundation which sees the cost benefit of ensuring healthy lives now compared to trying to remedy unhealthy ones too late.
Alexandra IIjadica launched Sydney's Youth Food Movement five years ago to address similar concerns. Put simply, "we realized that Millennials simply don't understand where food comes from, the effort involved in getting food to our tables every day. How do you value something you can't see? For most Millennials, food
comes in packets, is readily available and relatively cheap. You don't even really have to engage with produce apart from putting it in a microwave. No energy or thought is put into it." So much of YFM's focus is on education, with events like Meet The Maker where they bring farmers to town to talk about what they do all day, and answer questions – "some really basic, some sophisticated but in any case questions that need to be asked, and answered." says Alexandra.
The Youth Food Movement became actively engaged with the food chain last March, with the launch of its Waste Not range of sandwich spreads that double as flavour enhancers for soups and stews. Think Vegemite for the 21st century. All we need now is a new Arcimboldo.
The truly pesticide-free, sustainably produced, mindfully packaged and marketed produce in these images was sourced through the very excellent Flame Tree Coop in Thiroull, NSW.
Words by Stephen Todd
Photography by Tony Amos
This story was originally published in Habitus #36, the Nourish issue.
---