Walking around Milan, I got the feeling that some designers wanted to just disappear. At Nendo's poetic Invisible Outlines installation in the bright white Jil Sander showroom, for instance, Oki Sato and his team had created a series of minimal tableaux bringing together 16 of their projects – each mise-en-scene an ode to dissolution. There was the Flow collection of coffee tables for Alias, each one apparently melting into its attendant bowl. Thirty different shaped Jellyfish vases made from ultra thin transparent silicon undulated in a tank of water, amorphous. The Border tables interrogate the fragmented contours of a room. "We tend to perceive the existence and positioning of objects by subconsciously following 'outlines', and by distinguishing the "inside and outside" of these contours," says Oki. "This means that objects with obscure outlines cannot always be identified as objects, and conversely if outlines are visible, that information which is not visible can be subconsciously supplemented." Invisible objects may not be about to take off at retail, but philosophically speaking, they'll walk out the door. As design becomes a spectator sport set to take the place of fashion, Nendo seems to be bridling at being asked to merely make more 'stuff'. Which is of course paradoxical, since the Tokyo studio is one of the most prolific on the planet.
As graduates of the Design Academy Eindhoven, Andrea Trimarchi and Simone Farrasin of Formafantasma are vehemently opposed to the 'stuffness' of much design practice. Their show of recent lighting designs at Spazio Krizia was a manifesto of the Very Bearable Lightness of Being. Ethereal, the designers' skill is in making maximum impact with minimal gesture. They put that down to the fact that they "think about lighting and less about designing a lamp". The new Blush lamp for FLOS is a wall- or ceiling-mounted devise that features a dichroic filter adhered to sheet of heat resistant borosilicate glass. This light-harvesting unit is suspended along a tensile aluminium wire, the effect of light passing through it positively circadian. Their other new light for FLOS, called WireRing is composed of a custom made belt-like electric cable and a ring that contains an LED strip. Looped, it is a swooping white line in space emanating a gentle glow.
Konstantin Grcic strove to create lighting that was all but invisible by day, immaterial, coming alive only when illuminated at night. The result is his series of Noctambules (FLOS). The basic unit of the series is a simple cylinder, somewhat akin to a transistor tube: alone, it's quite stoic– stacked it becomes totemic. Cup and cone shaped 'shades' allow for directional up- or down-lighting while effectively shading nothing – they're totally transparent too. "My original concept was to create a column," says Grcic, "it was only later that the transparency of glass came into play and then I decided I wanted the system to almost disappear, to cease to exist."
Ronan and Erwan Bouroullec's Nesting Tables for Glas Italia, made from hewn slabs of glass, disappear inside one another. Meanwhile, the brothers' Baleno shelving for Cassina designate the meerest traces in space. Unadorned, they're just fine lines on a wall. Grcic's Soft Props sofa, also for Cassina, is composed of a simple metal railing attached to a solid block base – cushions are free-form, indeed optional.
For COS (a sub-brand of H&M) Azusa Murakami and Alexander Groves working under the banner Studio Swine created perhaps the most ethereal of presentations of this year's Salone. Their "blossoming sculpture", a kind of immaculate maypole, plopped wobbly drops of what seemed to be liquid but which burst into cloud-like puffs when touched. With nothing to take away except the memory of the experience, it was the most poetic – and least consumable – proposition at the Fair.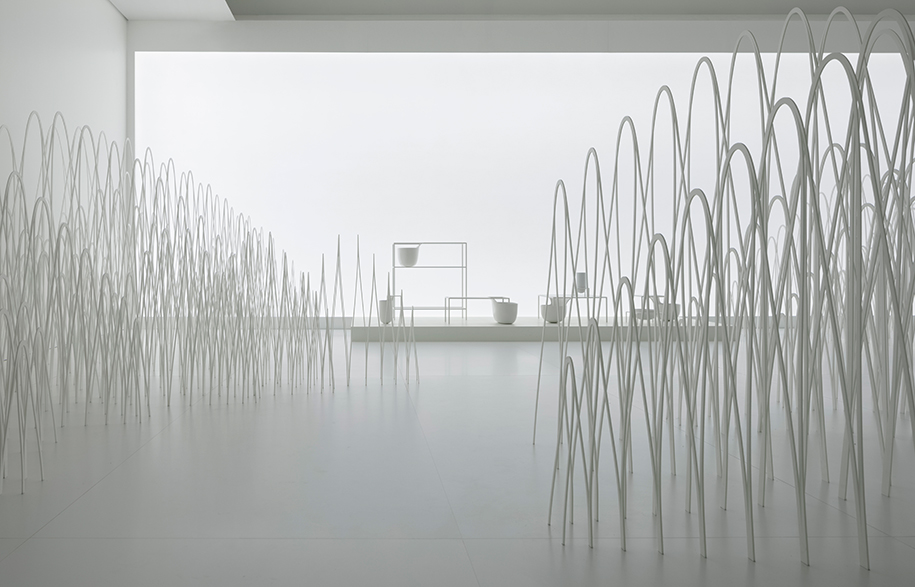 Hero and above: Invisible Outlines by Nendo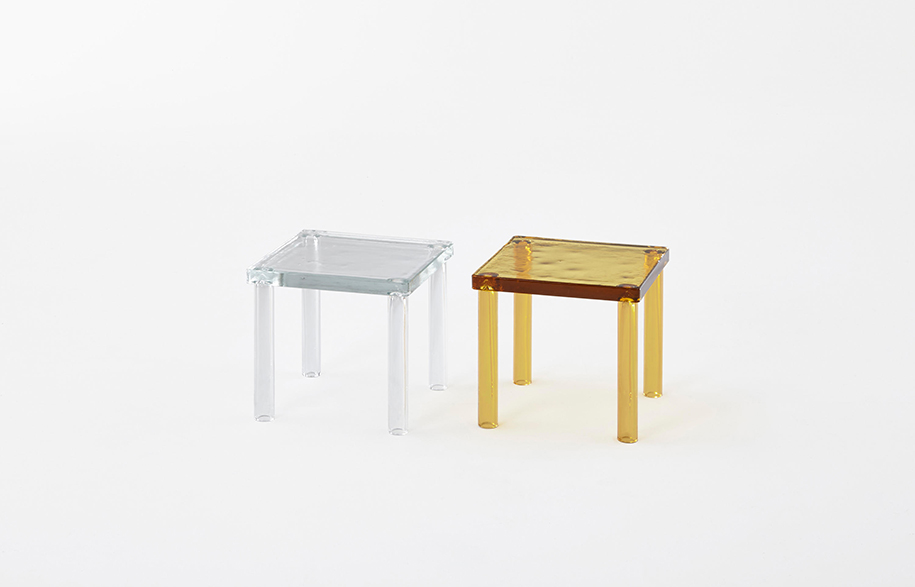 Nesting Tables by Ronan & Erwan Bouroullec for Glas Italia
Noctambule lighting by Konstantin Grcic for Flos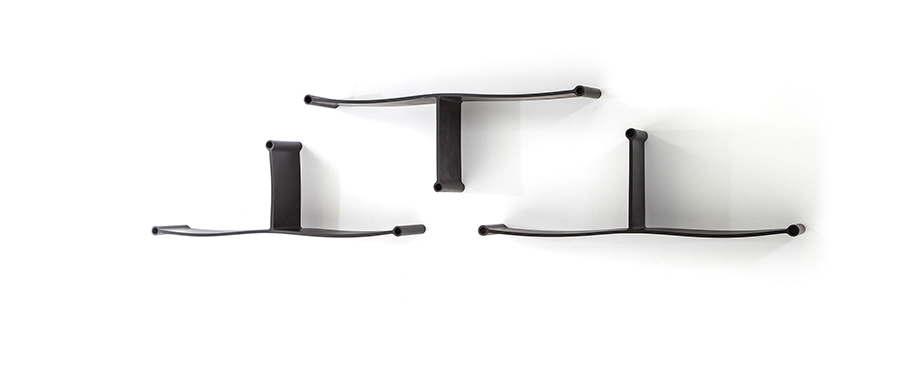 Baleno shelving by Ronan & Erwan Bouroullec for Cassina
---