Thomas Coward has worked with some of the coolest, funkiest, and most forward thinking bathroom brands out there, and as creative director of a fair few them – Artedomus, United Products and New Volumes – one could begin to wonder if he is the common thread. 
Originally from Cornwall in the United Kingdom, Thomas studied furniture design at Ravensbourne College in London – now famous for Foreign Office Architects' tile covered campus completed in 2010. It was during his time at Ravensbourne that he developed an interest in bathroom products – an interest that has marked his career to date.
In 2004 he came to Australia. "I moved to Melbourne and started working with Joseph Licciardi, who was hugely influential on my way of thinking," says Thomas.
Many of the most notable designs from Omvivo (founded by Joseph as a joint venture with Schiavello) can be linked to Thomas. In 2009, he designed the Latis Basin carved from natural stone. That was soon followed by Motif in 2011, another solid surface basin featuring etched glass.
"Our relationships with products can be complex so I try and consider those feelings as well tackling the inert functional aspects."
Thomas then began working with a number of well-known brands, leaders in the bathroom space. He has designed numerous basins for Artedomus and the interiors for their showrooms in Melbourne, Sydney, Perth and most recently, Il Bosco in Brisbane. In 2017 New Volumes was launched as a joint venture between Thomas and Artedomus. Collection 01 is a series of 12 pieces from eight local designers made from Elba, a dolomite-based raw material at least 250 million years old. "New Volumes has been a lifelong idea come to fruition. [It] is a brand working with Australian designers to produce collections from singular materials," he says. That same year his basin designs for United Products, Saturn and Ledge, were released followed by Lunar in 2018.
Although his interest in designing for the bathroom hasn't waned over the years, his approach has certainly changed. If you sat Motif next to Lunar, it's quite apparent. Thomas says his first designs were very much informed by wanting to make a statement. Now he is increasingly interested in using design to answer questions of a physical or emotional nature: "Our relationships with products can be complex so I try and consider those feelings as well tackling the inert functional aspects," he says.
Function, while imperative, is also"pretty simple". Conceptually, his work in the bathroom is more concerned with aiding the rituals of bathing and acknowledging the sanctity, privacy and vulnerability of the bathroom. "Materials and form should be sensitive to the naked body," he adds.
Furthermore, Thomas is intent on understanding the impact of his designs on the environment and holds some pretty radical – albeit convincing – ideas about the future for makers and consumers. "Designers will become stewards for the products they create and manufacture," he says. "We can't absolve ourselves of the responsibility of a product once it has been sold." As the reality of what happens to products and materials when they are discarded creeps increasingly into a mainstream consciousness, the responsibility is equally with designers, manufacturers and suppliers to educate their customers on the impact of their disposal decisions.
"Perhaps we will start leasing furniture, and never owning anything," muses Thomas. "Or the opposite, and your ownership does not end once you've finished with it. We make it too easy to discard materials."
His personal future involves more of the same, creating for a space he loves to be in himself. "I'm really into baths. And now phones are waterproof, I take even longer ones," he jokes. Suffice it to say you can expect his world and world views to continue to be a large part of the local design scene.
Thomas Coward
thomascoward.com
Photography by Marnie Hawson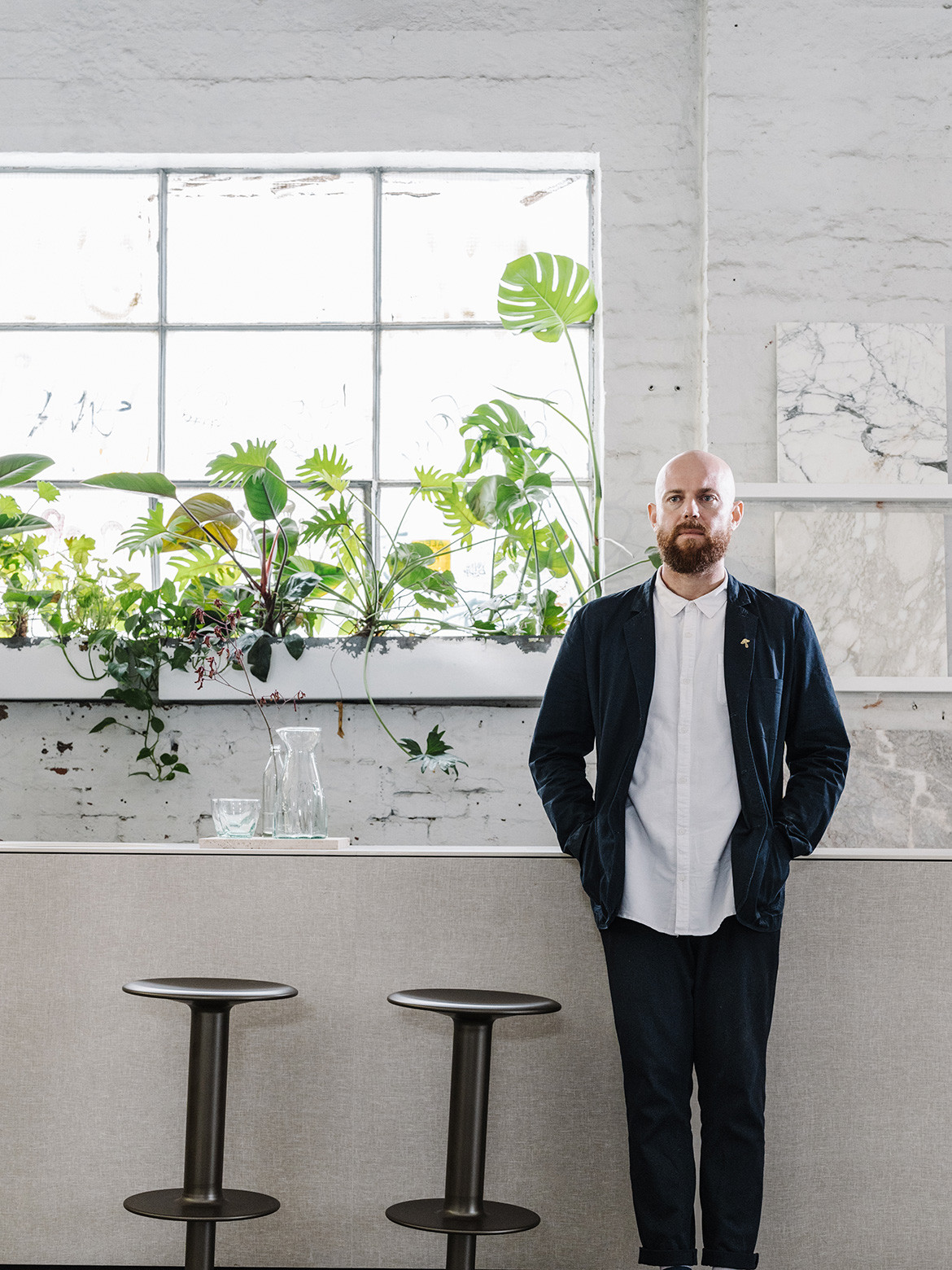 Tags: Habitus 48, Holly Cunneen, Marnie Hawson, Thomad Coward
---