V-ZUG's design language is famously pared back – it's why the Swiss boutique manufacturer is sought out by architects around the world for appliances that complement but never dominate an interior. And it's a language that the company's design team speaks fluently. This allows them "to explore something new, because you have that basis and that confidence from the beginning," says Industrial Designer Andreas Arrabiano.
Confidence is critical to letting the team to think expansively about what the future might look like and resulted in the ground-breaking circle slider interface. But innovation did not stop there. The Excellence line also introduced a stunning shot-peened aluminium handle and a new colour range in V-ZUG's signature mirror glass. There's also an autodoor option for those who prefer to go handle-free for a completely flush look. Behind the façade, new material selections were made with a focus on cradle-to-cradle recycling and cooking functions were optimised for even greater energy and water efficiency.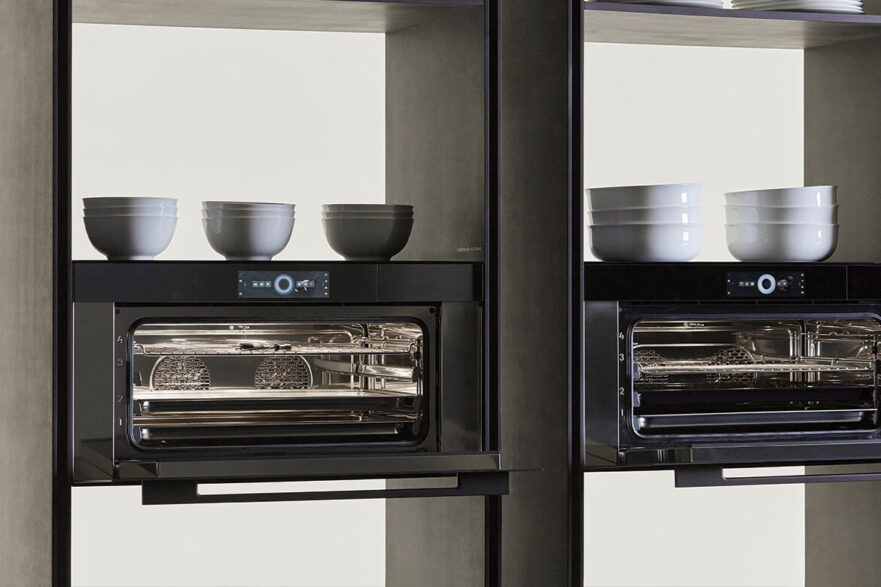 Arabiano explains that the extension of the glass colour range came from ongoing requests from A&D industry professionals for alternative options to use in lighter styles of kitchens.
"So we came up with Platinum, and this shade of grey with its metallic pigments blends perfectly into white kitchens and light environments as well. And Pearl, on the other hand, is more for the warm living trend, meaning natural materials like wood, or warm tones in stone and textiles."
Up to 60 variations of each shade were produced and then tested with the company's three glass suppliers to ensure consistency of supply. In all the colour process took two years, and the development of the entire Excellence line five years. The creation of the new shades was ultimately the most satisfying element of the project for Arabiano's colleague and fellow Industrial Designer, Killian Hurliman.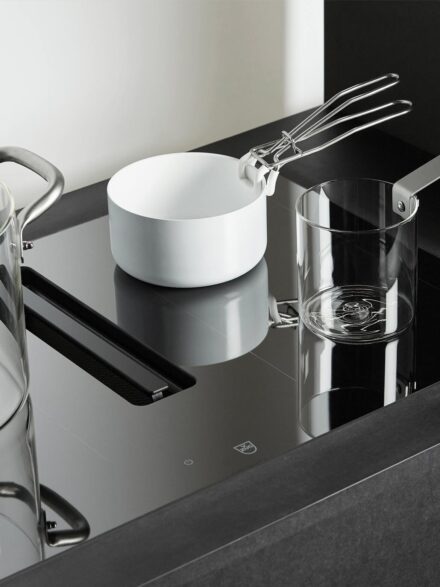 "It is difficult to define colours, and then to produce them," says Hurliman. "I think we have created something timeless with the new colours for the Excellence Line. Our units now fit into most rooms, they can pick up a mood or integrate seamlessly – they're a statement in understatement. [And] by designing products that are timeless [we] increase the lifespan. In our society, 'trends' are the biggest enemy of sustainability."
It's a salient point and another consistent thread running through the design team's approach. V-ZUG's carbon-neutral production status is enhanced by its sector-leading commitment to circular economy principles where the 'future' of a product considered from Day 1 when the design team can have the most influence on its lifelong sustainability. When it became apparent that the circle slider innovation would require a piece of plastic at the faceplate to the mirror glass, V-ZUG recruited an expert in plastics to develop a new high-quality, durable solution that would withstand 600 degree temperatures, last 20+ years but then be easily recycled with the company's recycling partners.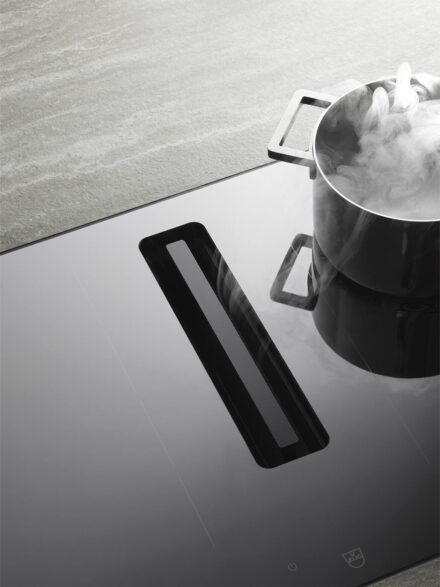 When pressed to name the outcome of the design process he found most satisfying, Arabiano references the handle, which was milled from a single piece of aluminium and became a tactile link to the circle slider.
"The challenge was that it feel natural; the handle has this concave front which the thumb saddles, and the radius, it's the same as milled into the circle slider so it naturally connects these two elements. The warmth of the touch points was also important to us; although the device is very technical and the materials are very hard, the handle and circle slider become haptically very pleasant due to this matte surface and this field of tension. This results in a nice user experience."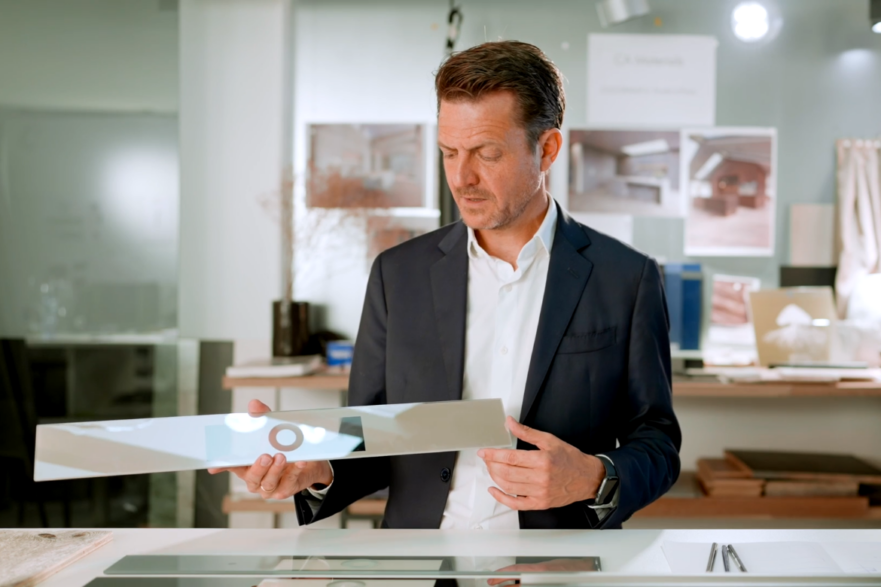 The design team's paramount concern for user experience (whether physical, digital or both) is clear, and earlier we discovered how V-ZUG created a number of customer and cooking personas which the design team used to imagine unique experiences for each type. Nothing unusual there – what is more interesting is that when the design team talks about why the company's design language and its products warrant the 'Excellence' label, they continue to use personification techniques. This is less expected and really speaks to their care for what they do and their closeness to the product's journey.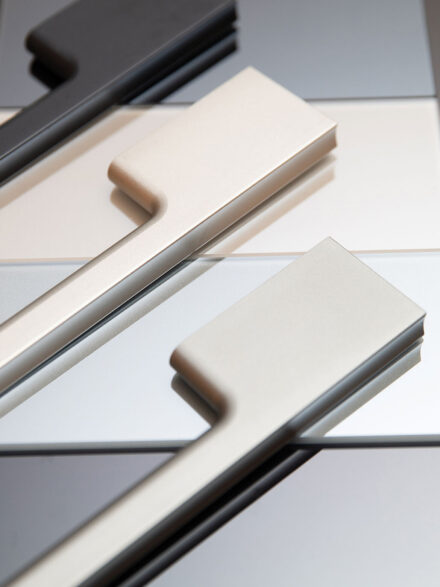 "In German 'excellence' is a feminine word," explains Arabiano, for example. "I like the strength and the independence associated with it. And that's exactly how I see our brand and I think the products reflect that quite nicely. Its frankness, its independence, and this feminine touch to it… it's a reflection of the world in the product and therefore for the brand. So it's like a small circle itself."
Similarly, UX/UI Designer Gunnar Donis describes good design as listening to "a very calm person talking with deep voice" and Kevin Perlinger talks of the micro-interactions that generate the almost invisible transitions of size and brightness in an interface that "bring it to life".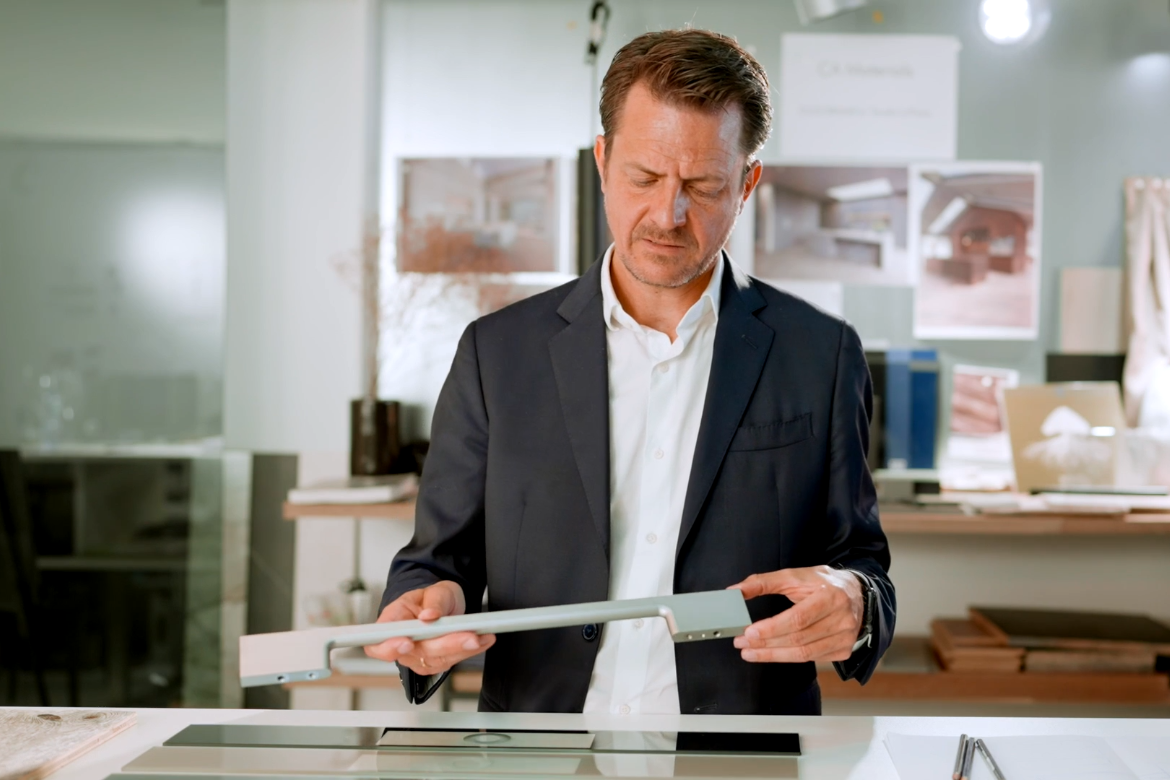 All three designers were at Salone 22 and were on hand to witness visitors' responses to the new collection.
"I have very fond memories of the recognition of our competitors – there were many engineers, designers and managers of the brands on site," says Arabiano. "But most of all, the expression 'Che bello' is still ringing in my ears, which means 'How beautiful' in Italian. Hearing this as a spontaneous reaction from many Italians, who celebrate aesthetics in their everyday lives like no other people, was very flattering."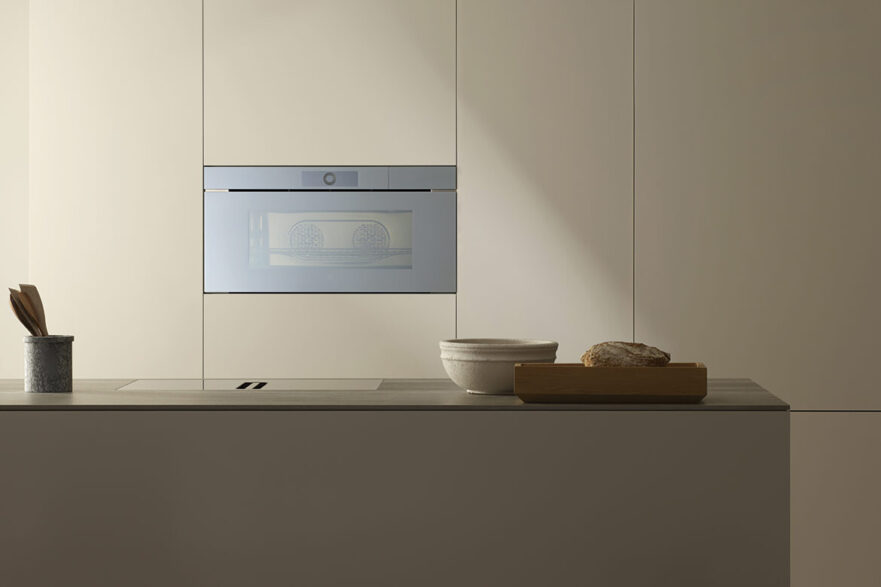 So what comes next for V-ZUG? Well, there's a quote which goes something like the best way to predict the future is to create it. Von Freeden won't reveal what the design team is working on right now, but if Excellence is anything to go by, it will be something special and well ahead of its time. In the meantime you can enjoy the full V-ZUG range in Winning Appliance showrooms throughout Australia, including the CombiSteam Grand, PowerSteam and Combi CookTop which are being released new-to-market domestically in 2023.
---