How did The Super Cool start?
We saw that pop up's were moving in a unique direction and felt Melbourne would be open to our idea of the pop up 2.0 – where a business literally keeps moving locations all the time to provide a unique retail experience. We saw that low-fi homes and spaces were gaining momentum and people from all backgrounds and budgets were caring about the spaces around them more & we wanted to provide a retail environment where we gathered a mix of young designers, vintage objects and displayed them in a "real" living way.
Who were the main people involved?
TheSuperCool is Noonie & I – we're married and conceived the idea on our honeymoon where we visited some of the most inspirational places in the world; NYC, Paris, Barcelona, Majorca, Lisbon, Berlin, Stockholm & London!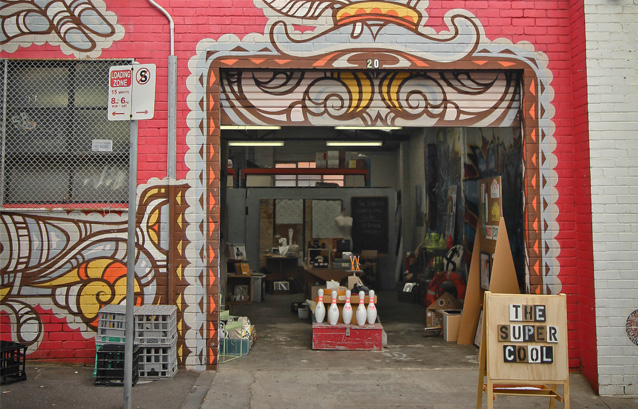 TheSuperCool at St Ali Cafe – photo by Marsha Golemac
What motivated the decision to be a mobile shop? Was this the idea from the beginning?
We wanted to be mobile so we could create a sense of urgency for people to connect with us before we moved on. This idea of taking retail to the people rather than opening a shop and expecting people to come to you was what drove us to make TheSuperCool mobile.
How has your process for packing, moving and setting up shop evolved since you began? Were there any particular breakthroughs that made the process easier?
This has been the biggest learning curve. Logistically this element of the business is not easy and very intense. We used to hire a van each time we moved. Now we have our own van called Paco who helps us with moving stock from our warehouse to each mobile shop.
When we first began, we didn't have any warehousing – we used our home (full of boxes!) and we used our parents' garage. Now we have a small warehouse and next year we'll have a bigger one with proper inventory systems. We are also moving from a manual system to a computerized system. We have become quite good at packing and unpacking, avoiding cardboard cuts, breaking down boxes quickly and managing how much stock to pack.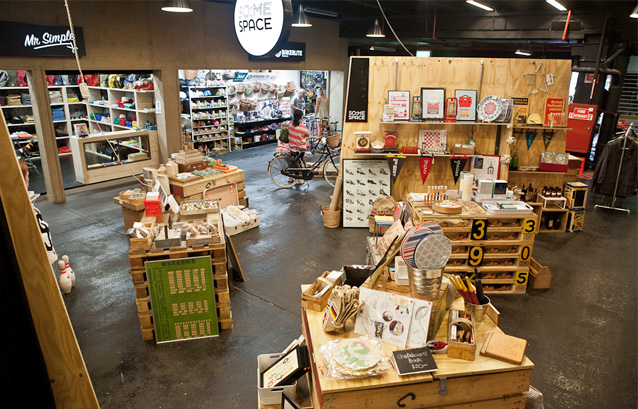 TheSuperCool at SOME Space – photo by Robert Go
How do you decide where you will set up?
It's about 3 keys things for us.
Location (foot traffic and going to a neighbourhood that has the TheSuperCool potential)  e.g. South Melbourne Market space where we have a shop in at the moment
Brand relevance – Is this space unusual, not a traditional retail experience and has that cool factor? E.g. Great Dane's loading dock in Fitzroy where we popped up in March-April this year
Collaboration – Does this space collaborate with other like-minded creative's in any way?  E.g. Pope Joan, St Ali, Middle Fish – we like to collaborate with food venues for something different.
Have you had any nightmare moments? How did you resolve them?
Plenty! Working in a pop up environment often means you are limited with your infrastructure so when we were at Westfield Doncaster – when one of us was by ourselves working in the shop, we couldn't leave to go to the toilet until someone else came to work with us as we didn't have a proper door or walls to close up the shop. So you have to ration your food and water intake!
What has been your favourite place to set up so far?
OOOHhh that's like asking which child is your favourite! Each experience has taught us new things about that area like average sales, multiple sales, what that neighbourhood is interested in, what they value in terms of our product and how they react to our concept.
One of our favourites is SO:ME Space in the South Melbourne Market. We loved the community feeling of SO:ME Space, how its integrated within the market and its an unexpected retail environment and the locals and regular customers have embraced us so warmly.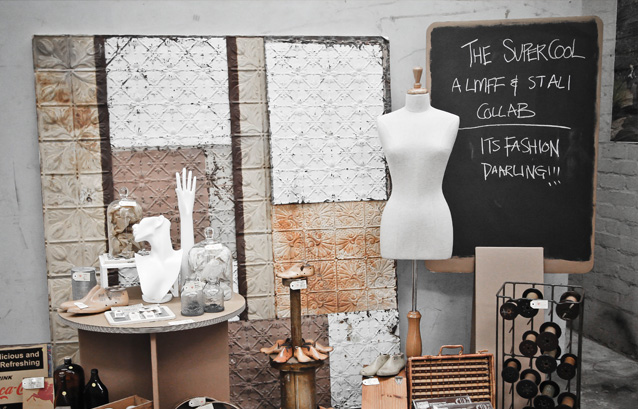 TheSuperCool at St Ali Cafe – photo by Marsha Golemac
Where would you like to see The Super Cool go in the future?
We'd like to continue with the 3 ways we connect with people ….
Online
Our semi-permanent shop at SO:ME space within the South Melbourne Market
Our roving pop up's – a different one each month
We are in the process of doing some product development of our own (small bits and pieces to begin with) and we'll see how that goes and expanding into doing more brand collaborations where we push boundaries a bit more.
TheSuperCool are currently operating out of a shipping container as part of The People's Market in Stanley St  Collingwood.
Tags: TheSuperCool
---