Coil upon coil, Zhu Ohmu's works slouch and slink, plants seemingly woven into the ins and outs of the ceramic vessels. The works are a manifestation of her passion for the "symbiotic relationship between nature and the urban environment," and the striking result of a trained artist, but a self-taught ceramicist.
Zhu Ohmu is a pseudonym, harking back to Taiwanese born, Melbourne based Rose Weir's cultural heritage. "I'm trying to reclaim and reconnect to my cultural heritage with my artistic identity – Zhu was the name of the first documented ancestor from my mother's paternal lineage," Rose explains.
Rose lost some of that connection with her culture while growing up in New Zealand, where she graduated from the Elam School of Fine Arts with Honours, in 2011.
Rose may have studied art, but her focus was on water colours and paintings. Her first foray into clay was when she "started playing with air dry clay to hold (her) growing collection of houseplants." Her friend Hannah Valentine invited her to do a two person show, and Rose's beginnings in ceramics began to flourish.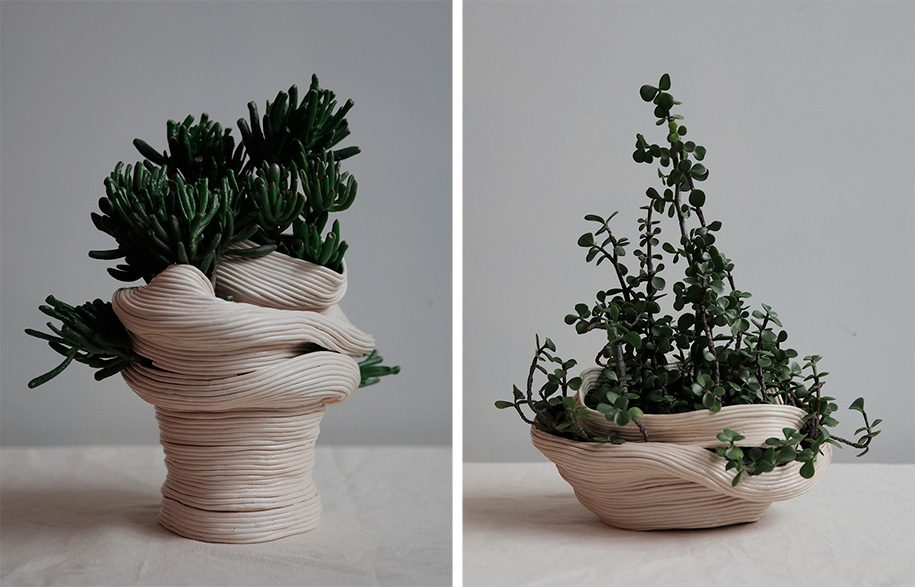 Pushed by the upcoming exhibition, Rose felt she needed to "do ceramics properly," but a Christmas time period meant no pottery classes were available. Like any good millennial she took to blogs and YouTube tutorials. "In hindsight, teaching myself without being overly influenced by formal techniques encouraged me to be very experimental," says Rose, "and helped me form an amoebic aesthetic through this medium."
"I originally explored clay coils as a response to 3D printed ceramics. Corresponding to biomimetics – the imitation of models or systems of nature," Rose explains, "I wanted to see how forms would turn out if I copied the way the 3D printer mound coils on top of each other with my hands."
The result is charming – and though technology inspired – a clear celebration of the artist's hand. "Vessels are built through stacking, folding, pressing, pulling and these actions are often dictated by the weight of moist clay," Rose explains, adding that forms emerge intuitively.
Being self-taught comes with its obstacles. "The self-formulated coiling technique often leads to breakage and misconstruction during the building, drying and firing stages," says Rose. But she has learnt to embrace these breakages, learning from the Japanese concept of wabi-sabi.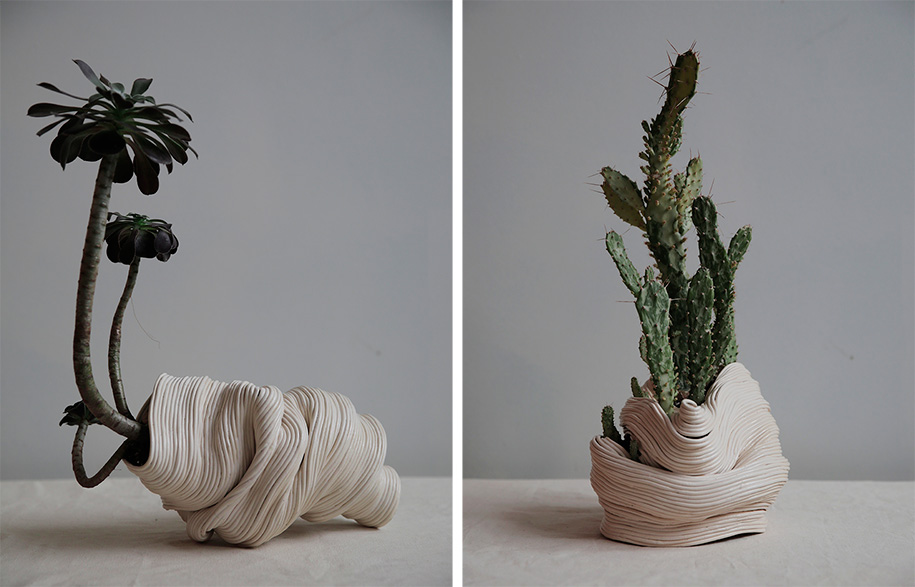 The unknown also means Rose must allow her works to evolve naturally, often with the choice of plant to add to a piece made towards the end, when she knows what will fit. The vast variety of plants she uses in her works is testament to her love of botany. "I constantly find inspiration from mother nature and those who promote sustainable living," says Rose, adding that this list encompasses" scientists, activists, photojournalists, philosophers and indigenous communities."
Her passion for the environment has also led to her involvement with the Honey Fingers Collective, which she describes as "both a creative pursuit and a way to contribute to our urban ecology."
Aside from working on projects with the collective, Rose says she's "just letting things progress organically, a bit like my coil pots, and seeing where things take me." The young artist isn't afraid of big projects however, " I do have some large ambitions," she says "For example I'd love to work on a piece one day involving large scale reforestation – like Joseph Beuy's 7000 oaks."
Zhu Ohmu
zhuohmu.com
Words by Naomi Russo.
Tags: art, australian, ceramics, design, green, naomi russo, plants, zhu ohmu
---