Modern society is perhaps more reliant than ever before on objects. Ubiquitous smartphones and computers pre-empt our daily movements and connect us to others, but does our increasingly virtual life create a disconnect with the physical?
"We're so consumed with screens, and the digital transmission of concepts and ideas," says Charlotte Day of the Monash University Museum of Arts (MUMA). "So we wanted to question what that means for the practice of sculpture. We thought in a kind of sci-fi way about what future art might look like, and what those audiences might think about the art of today. Will it seem old-fashioned? Will it address the key concerns and views of its time?"
MUMA's new exhibition, Future Eaters, explores the convergence of technology and identity. "We're seeing a fascinating amalgamation between the human body and the tech it depends on, which reflects both the anxieties and potentials of the world we're living in," says Charlotte.
In order to establish a new context for the exhibition, MUMA approached Damiano Bertoli, an artist known to create sets for re-considering particular historical moments. In this instance, his artwork would be the design of the exhibition itself.
"Largely, the way we exhibit art is so very conventional – the white, minimalist gallery look is the most common experience," Charlotte says. "So I thought if we could situate the artwork in a space that feels slightly removed from the present moment, then maybe we could look at it differently, and develop a different language around it."
Damiano drew on his interest in the iconic Eighties Memphis Group and the work of the Super Studio of the 1960s, folding both historical styles into his presentation of the space. Rather than a white cube, every wall is a bold, almost brash, colour – an unusual backdrop for contemporary art which is so often conceived to be displayed against white walls.
A common thread throughout the works is a strong sense of materiality, ranging from hyper glossy, futuristic materials, to forms which are decomposing, or damaged. "It goes from one extreme to the other, their attention to materiality is quite purposeful in that regard," says Charlotte. "It's about creating something that only really makes sense when you're in physical proximity to the work."
Future Eaters runs from 22 July – 23 September 2017.
Words by Sandra Tan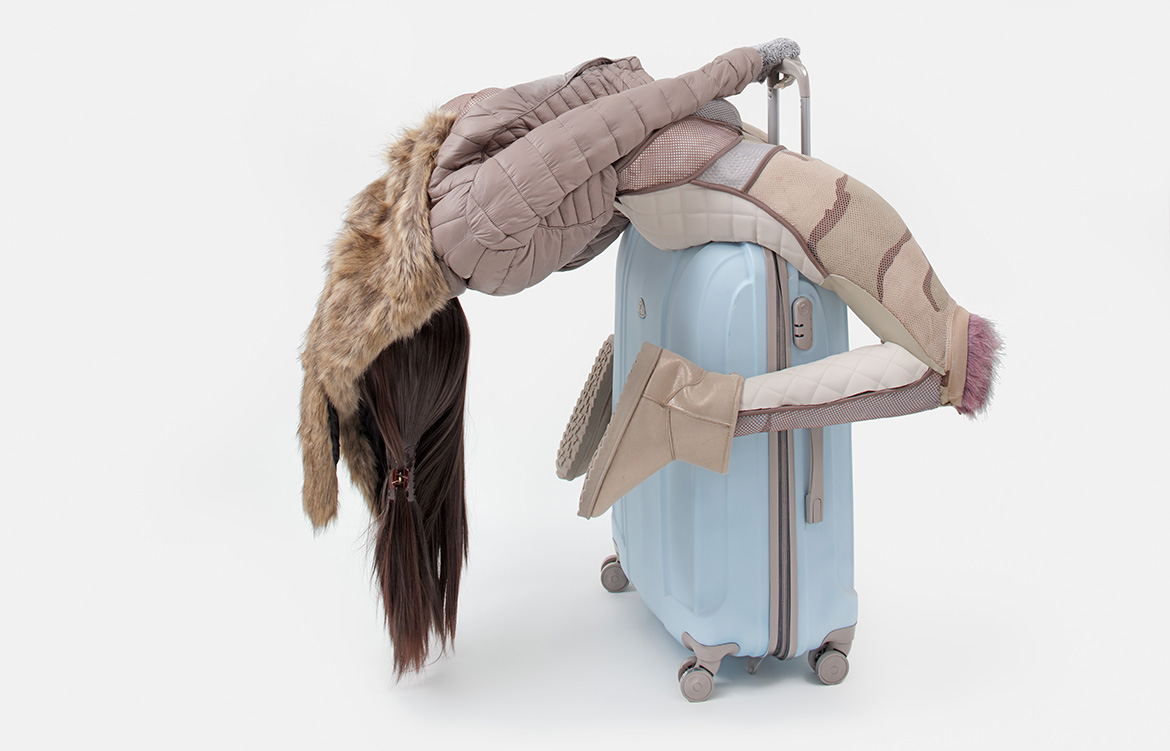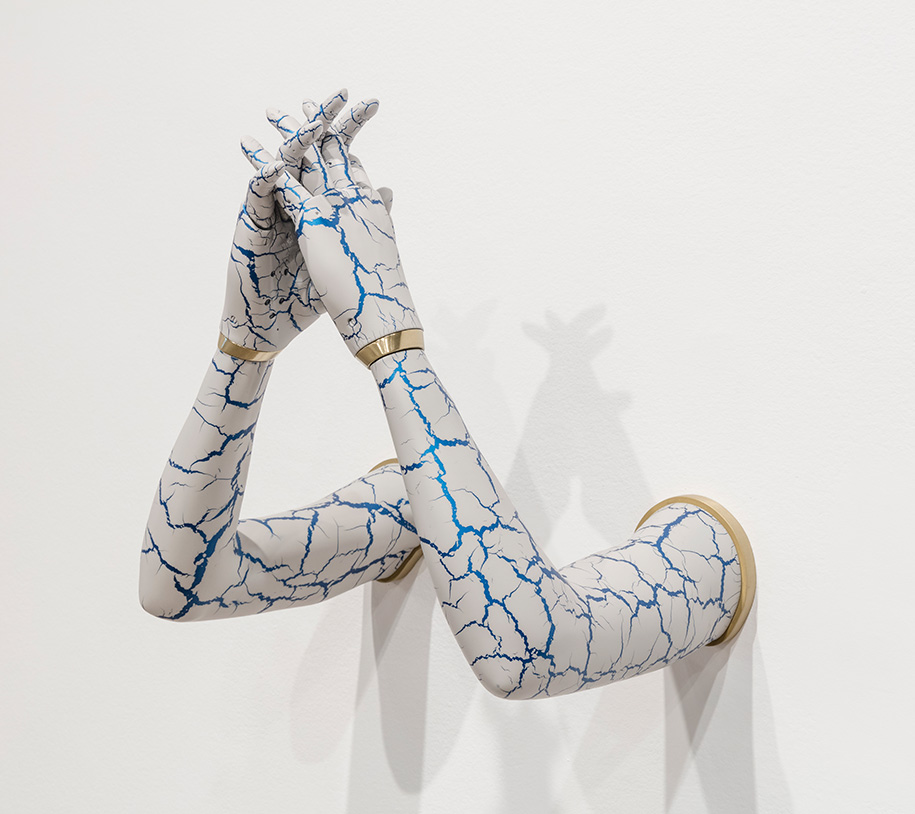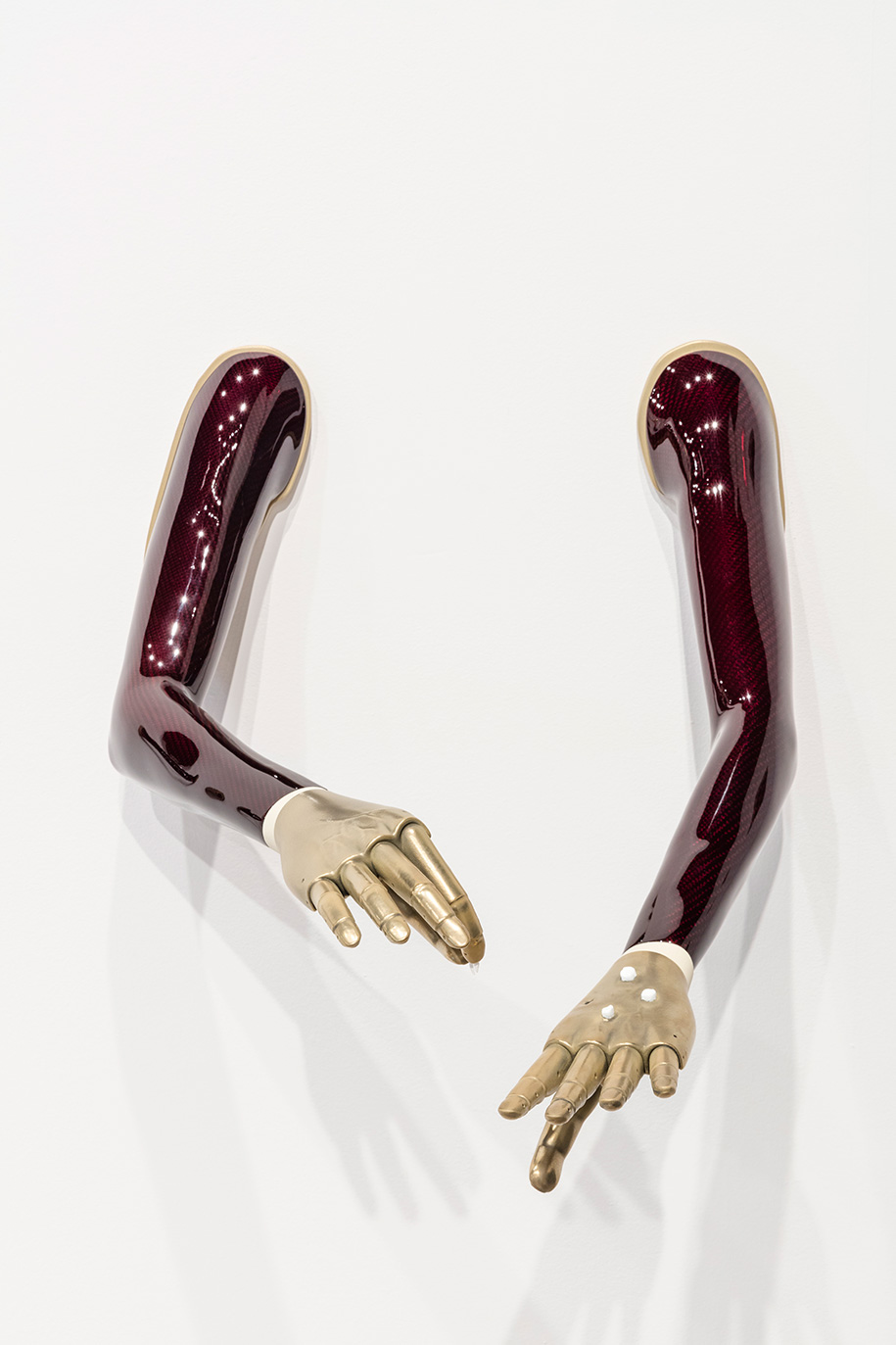 ---