The architects say that their objective in designing this house was to create an ecosystem, a kind of self-sustaining house with its own green lungs to combat the air and noise pollution of the city outside. At the same time, it is an exercise in refuge and prospect, combining the convenience of the city with the life-enhancing benefits of nature.
Originally conceived as a two-storey building, the architects found that by going up to three storeys they could increase the amount of green space by 60 per cent – twice the mandated green space for Bangkok. Then, by adding pocket gardens at each corner of the house and adding a green roof they could increase green space by 90 per cent and ultimately 150 per cent once the vegetation, including vines over the mesh and white steel rod walls, fully matures.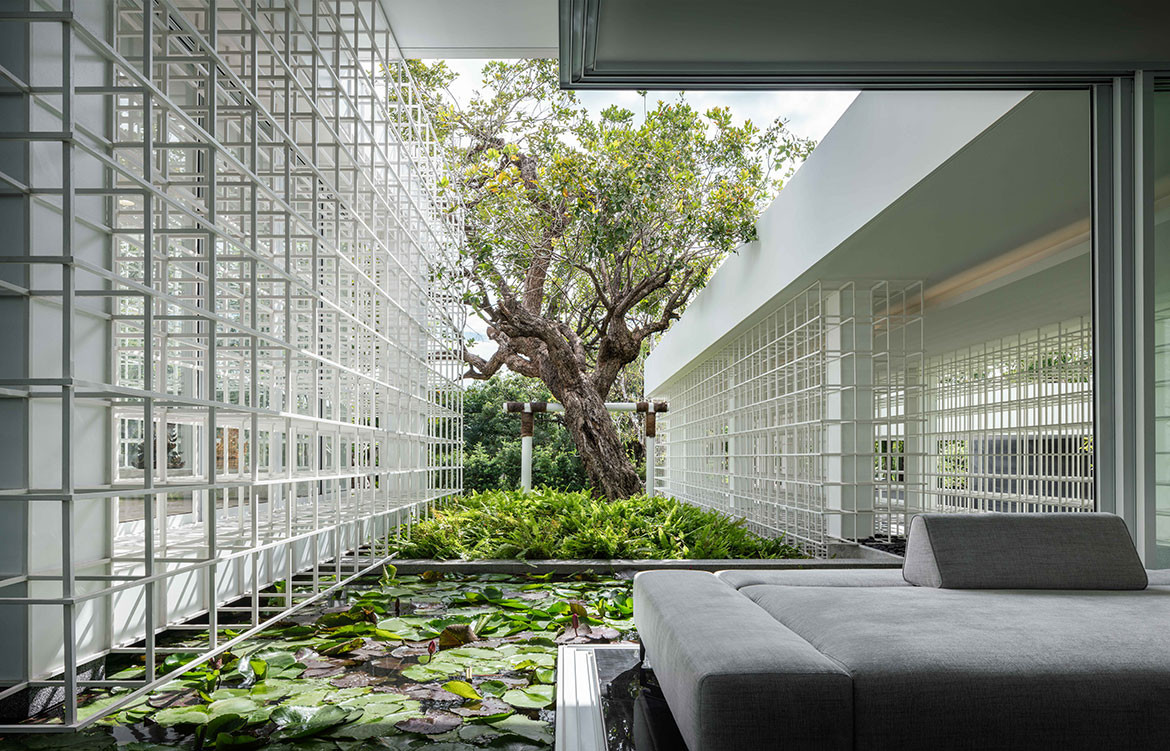 This strategy was aided by placing the infinity edge pool on the first floor as part of the primary residence. This left more space at ground level for landscaping while also enhancing privacy. At ground level there is also a fully self-contained guest suite, the 'garden villa', and a Buddha shrine (meditation) room, the latter a glazed garden pavilion framed externally by a screen of slender white metal rods that will eventually be covered in vines. A similar sculptural frame forms an entry sequence leading from the garage to the 'garden villa' blurring the division between the lush garden and the interior. This arrival sequence is staged, culminating in a lotus pond signalling the proximity of the meditation room.
The impression at ground level of total transparency and connection with the garden is replicated with the first floor 'pool villa'. Here, a double-height living space with floor-to-ceiling windows leads out to a terrace and the pool, the experience is of living among the trees, effectively in a tree house. Perforated aluminium screens with etched images of a Plumeria tree offer a subtle decorative element, provide privacy, and mediate the climate – the architects found that a 39-degree-Celsius day outside translates into a 26-degree-Celsius day inside due to the screening and natural ventilation.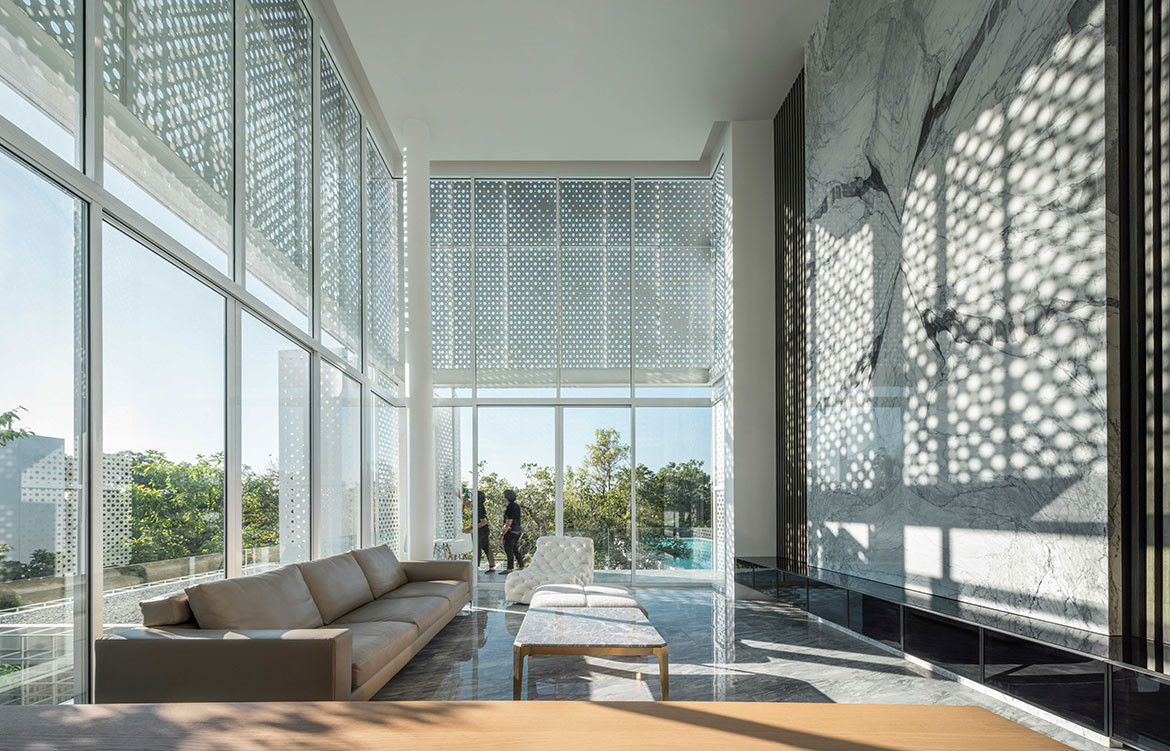 The living quarters sit behind and around the void that extends up to the second floor; another self-contained 'villa' set among the tree tops with expansive views.
This is a house that seems to de-materialise so that the residence, far from imposing itself on the garden landscape, becomes a part of that landscape. It artfully uses cladding and screening to provide privacy while also generating the sense of connection to the cool, green garden outside.